Everyone loves a pizza party. Pizza night has always been something special to me for as long as I can remember.
Just about every Friday night as a kid I would walk around the corner to the local pizzeria and pick up a pizza and an antipasto salad before I settled in to watch my favorite T.V. shows. I can still remember the smell of the pizza sauce and freshly baked pizza crust wafting through the cardboard box on my walk home.
The next time you're having a pizza party, remember that delicious pizza deserves delicious appetizers. It doesn't matter if it's a small dinner with the family or an event with a big crowd. You need to serve the best side dishes!
How Do You Choose What To Serve?
Let's face it. I'm not some big shot food editor at a fancy food magazine. But I do know good pizza and I know good appetizers for pizza.
I've been working on the menu at Mortadella Head for a long time. I'm always trying out new recipes, coming up with specials and paying attention to what our guests order with their pizza.
I ask people who come into the restaurant for their feedback and learn what their favorite foods are to go along with pizza. I took this information and created a list of my favorite recipes and their favorite foods.


Here's a list of what I think are the best appetizers and side dishes to serve with pizza as the main course.
First of all, make sure you pronounce it the right way! The "ch" should sound like a "k".
Take some toasted bread and rub it with a whole garlic clove. Add fresh tomatoes, fresh basil and extra virgin olive oil.
You can also make an Italian bruschetta bar where the guests can choose from a variety of toppings to put on their toasted bread.
This is a great idea for any dinner party. For toppings, use things with bright colors like homemade pesto, roasted red peppers and yellow cherry tomatoes.
Here's a delicious bruschetta recipe to try next time you have guests!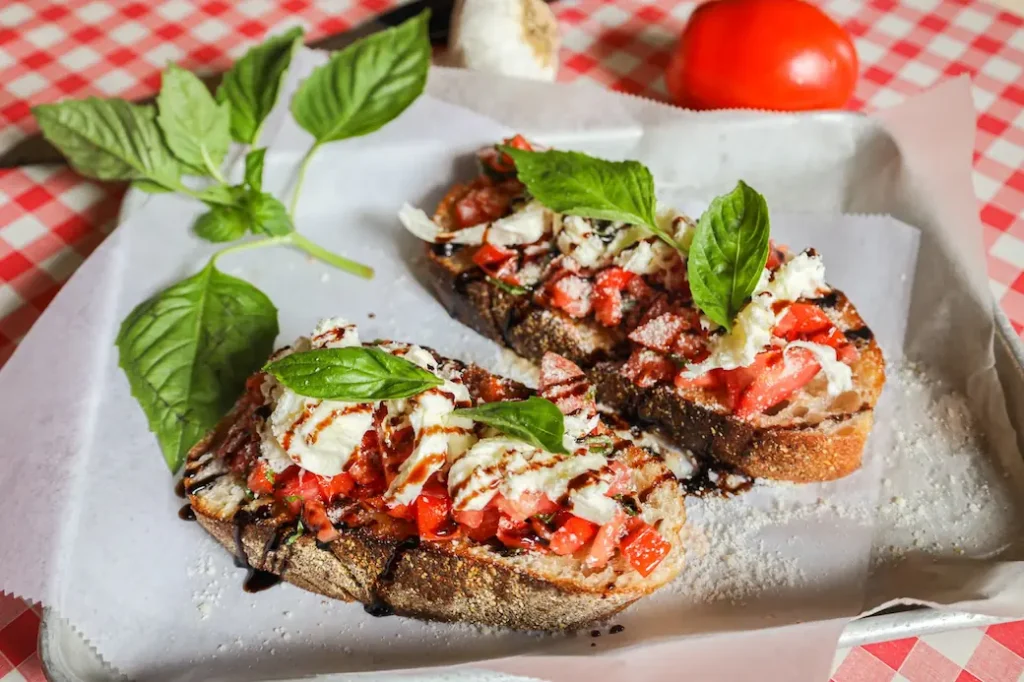 You're probably used to seeing meatballs as part of the main meal served with pasta. But meatballs are also the perfect choice for an appetizer.
Make them a little smaller than usual and serve them in a bowl of sauce with toothpicks. If your guests like spicy meatballs, simmer them in a Fra Diavolo sauce before serving.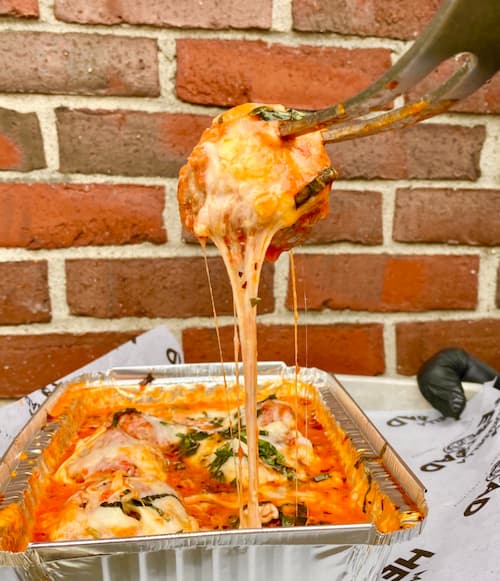 Boneless or bone-in, Buffalo wings are perfect for a pizza party.
Every great appetizer should be eaten with your hands and these hot wings are made to be finger food. Serve them with a blue cheese dressing and celery sticks.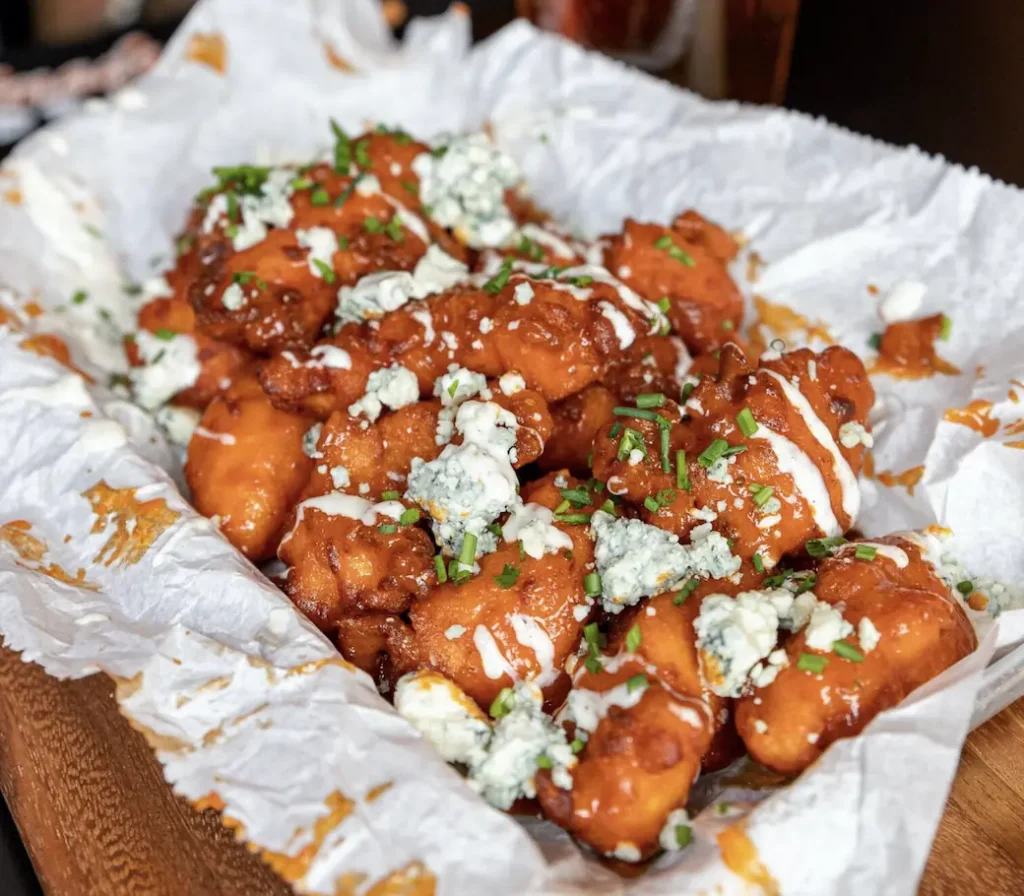 You can really get creative with this one at your next pizza party.
Use thin sliced prosciutto, salame, soppressata and capicola for the meats. It's always good to have a variety of cheese too.
I like having a hard cheese, a semi-soft cheese and a soft cheese. Try a good parmesan cheese, and Irish cheddar and fresh mozzarella. Add nuts, pickled veggies and jams.
This is a great appetizer for any main dish.
When done right, a Caesar salad is the perfect pizza side dish. Chop your romaine lettuce up small, coat it evenly in a homemade Caesar dressing and use crispy, garlicky croutons.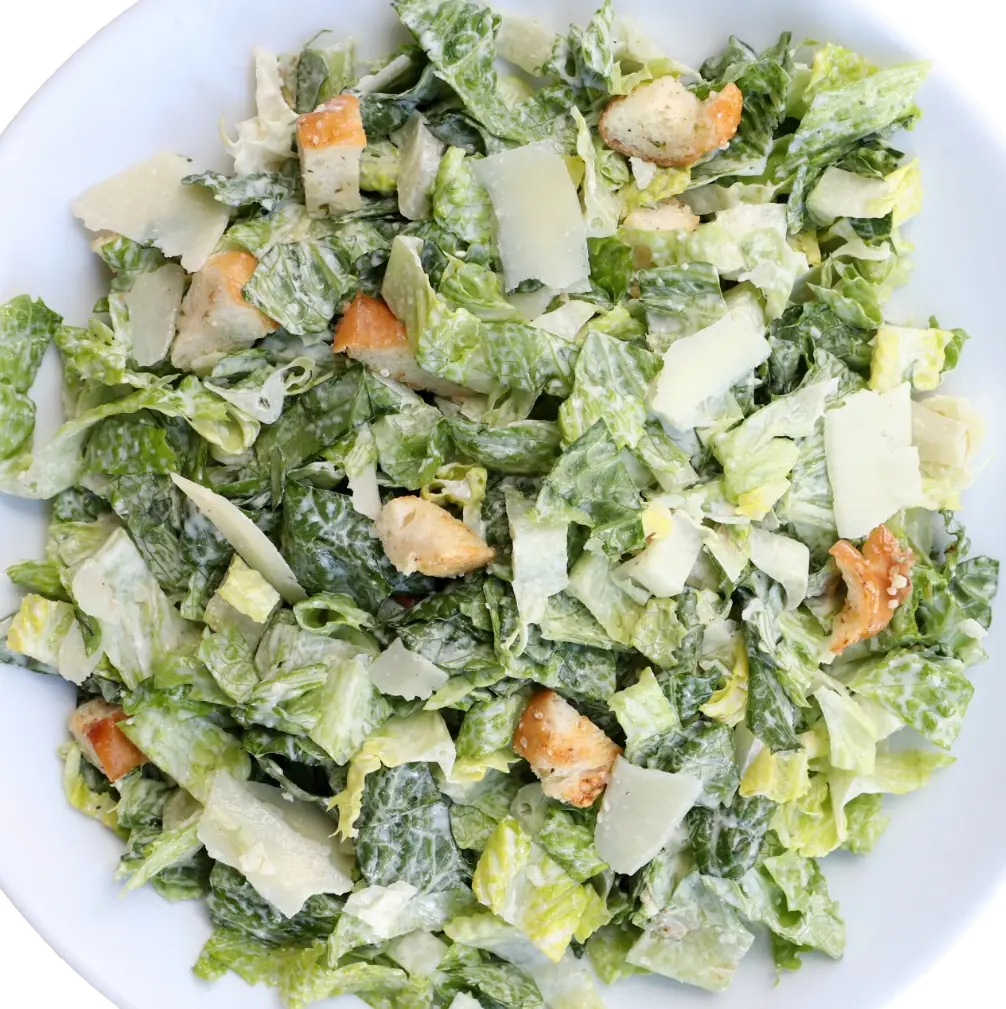 Garlic knots tossed in garlic butter, parmesan cheese and garlic are great! Dip them in a good tomato sauce and you can't go wrong.
Just like Buffalo wings, these chicken wings can be made boneless or bone-in. The tangy BBQ sauce and sweet honey are the perfect combination.
What's your favorite dipping sauce? Are you team Ranch or team Blue Cheese?
I'm not talking about any old potato salad. I'm talking about a potato salad made with the perfect homemade red wine vinaigrette, green beans and bacon. Add your favorite fresh veggies and it's an easy side dish to serve with pizza that everyone will love.
This is the perfect side dish for so many meals. It's basically stewed red peppers that are so delicious it will blow your mind. I think it's best when served at room temperature.
Nothing beats good, hot, crispy onion rings. If you haven't had them with a side of our homemade Calabrian chili mayo as a dipping sauce you don't know what you're missing.
French fries and a slice of pizza are what we all ordered as kids. Now it's time to put a fun twist on your fries. Toss them in butter, garlic and Parmesan cheese to make the ultimate Garlic Parm Fries!
Make your zucchini fries about ¼ inch thick. Bread them just like you would a chicken cutlet and fry them in olive oil. Serve them with a side of marinara sauce. They are a really tasty side if you pick up a jar of Mortadella Head marinara sauce to dip them in!
This pasta salad is my favorite.
The little rice sized pieces of pasta soak up the vinaigrette perfectly and if you chop up your veggies nice and small, you get the perfect ratio of each ingredient in every bite.
Add some cubed mozzarella and baby spinach!
I love our Old School Antipasto. We dice up our cold cuts and cheese. We slice our red onion really thin. The red wine vinaigrette is perfect with the crispy mixed greens.
You may have had garlic bread before, but we like to take garlic bread to the next level at Mortadella Head.
We start with our Roman Pizza Bianca. We slather it with our homemade garlic butter. Then we add loads of aged mozzarella to make it a really cheesy bread. It gets tossed in the oven until the cheese gets all gooey and hot.
If you like pepperoni garlic cheese bread no problem. We'll load it up with our awesome pepperoni slices.
I like jalapeno poppers when they are homemade with a cream cheese mixture that has bacon and cheddar.
They can be fried or baked. Dip them in some Ranch or our spicy Calabrian chili mayo.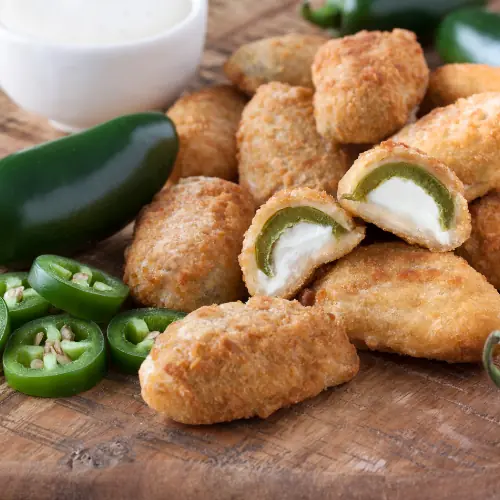 If you want to add some fresh veggies to the table this is a good option.
Load it up with sliced peppers, carrots, celery, broccoli, cauliflower and cherry tomatoes. Put out a variety of dressings and dips to make it fun.
An antipasto platter is great because you can get creative.
Go to your local Italian grocery store and pick out a variety of pickled vegetables, olives, dried salami and different cheeses. Arrange it on a platter and make it look beautiful!
A spinach salad can be a really great thing if you do it right. And by doing it right I mean adding warm bacon, grilled chicken and crumbled blue cheese.
A spinach artichoke dip is a great idea. Serve it with crispy pita chips or put it on your crudite platter
My green beans get simmered in a garlicky tomato sauce and are so good they can be served with anything. Put them out with the pizza and you'll be surprised at how fast they disappear.
All you need are green beans, olive oil, garlic and crushed tomatoes. Season with salt and pepper and let them simmer away!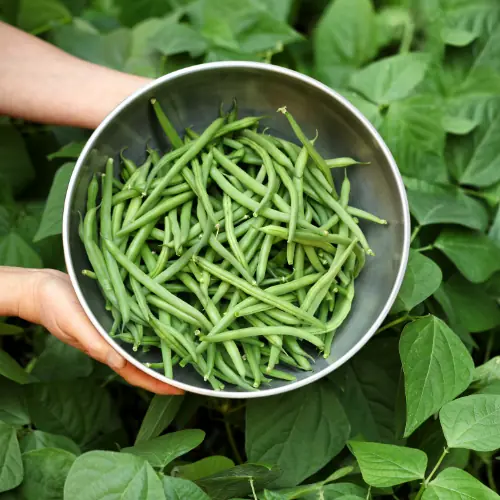 These are a fun side dish to make. Sear them in a pan with olive oil until they are soft or roast them in the oven. Toss them in sea salt and that's it!
Beware! You might get a spicy one in the batch.
A chopped salad can be awesome when done right.
Make sure everything is cut uniformly. Add cheese and hard boiled eggs. You can even throw in some chickpeas. Toss it all in a great vinaigrette and your guests will love it. It's so easy!
First we take our boneless wings that are marinated in buttermilk and fried to a crispy golden brown. Then we toss them in a Buffalo sauce that has just the right amount of spice.
We place them over a fresh garden salad and serve with our homemade creamy Gorgonzola dressing. Wow!
Yes. You read that correctly. We have figured out how to take chicken parmesan and fit it perfectly inside a tight little eggroll. We fry it up and dip it in the best tomato sauce around.
It's the best! Watch this video and make them at home!
I'm not talking about just any fried calamari. I'm talking about Rhode Island style fried calamari.
Toss the crispy rings and tentacles in garlic butter, parmesan cheese and cherry pepper rings. Serve them with Calabrian chili mayo and marinara sauce for dipping!
This one has grilled marinated chicken, poached pears, figs, candied walnuts, Gorgonzola and red onion over mixed greens. It's a huge hit at Mortadella Head.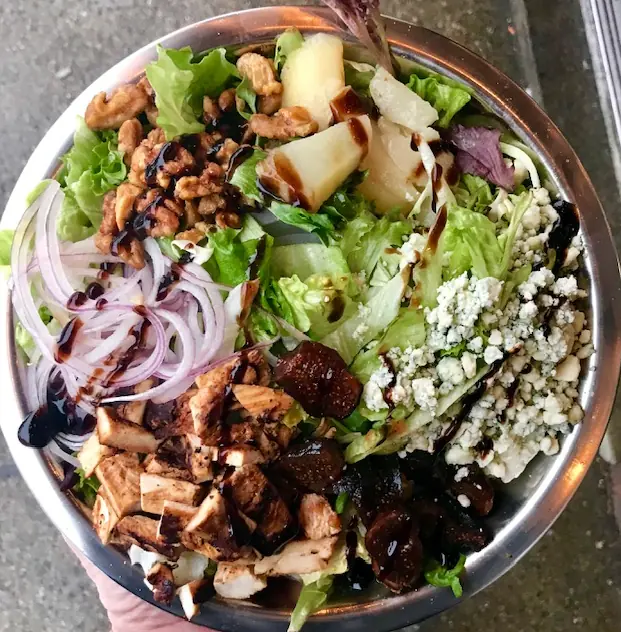 This perfect mix of crisp salad greens, Kalamata olives, feta cheese and fresh vegetables is perfect with a hot pizza right out of the oven.
The way the feta mixes with the tangy red wine vinaigrette makes me think this salad was actually created by the Greek gods back in the day.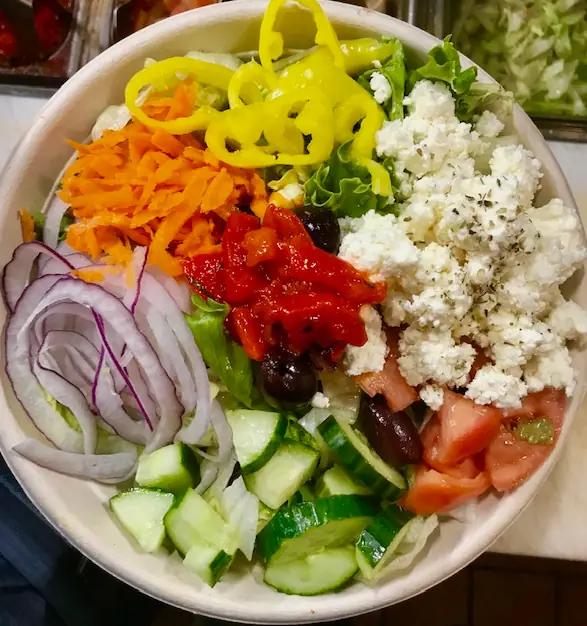 If you need to eat your greens, it should probably be broccoli rabe.
This bitter green is perfect with the rich melted cheese and tangy tomato sauce on the pizza. You can saute it in a pan with olive oil and garlic.
Another way to cook it is to toss it with olive oil, salt, pepper, garlic and Romano cheese then roast it in the oven. It will caramelize and all of the flavors will come together like magic. Squeeze on a little fresh lemon juice to make it perfect. Go check the full recipe!
This is so easy, but also so good. Get a few cans of beans like cannellini, kidney and chickpeas. Chop up some celery and red onion. Toss with extra virgin olive oil, red wine vinegar and oregano.
It's the perfect last minute side dish.
If you can get your hands on good tomatoes this should be on your table.
Chop some tomatoes and toss with fresh basil, cubed mozzarella and extra virgin olive oil. Check our caprese salad recipe for more details!
This is a spin on the famous Roman pasta dish. I hope I don't piss off any pasta fundamentalists with this one.
We take our fries and toss them in garlic butter and Romano cheese. Then we add a fried egg, bacon and more cheese. Are you mad yet?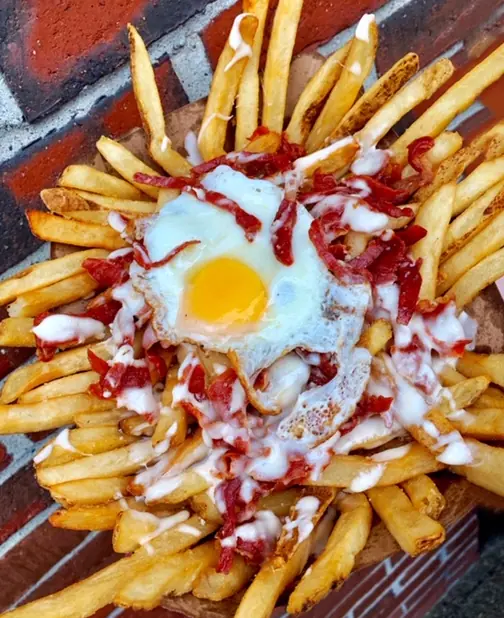 These are a best seller at Mortadella Head. We smother our fries in mozzarella cheese, brown gravy and a beautiful cheese sauce.
It is a delicious appetizer with your favorite slice of pizza.
This is a great appetizer to serve with pizza if you have some vegetarians who like good cheese.
The choices are endless, so get creative. Use some mild cheeses and some pungent ones. Some hard cheese and some soft cheeses.
Here's a list you could choose from: parmigiano reggiano, pecorino Romano, gorgonzola, provolone, brie, gouda, ricotta salata, Stilton, Roquefort, chevre, cheddar cheese, fresh mozzarella, and manchego.
You can also add nuts, dried fruit, jams and honey to make a beautiful cheese platter.
This is made with fried eggplant slices filled with a mix of cheese and baked in a tomato sauce.
At Mortadella Head we add mortadella slices to the cheese mix.
It's great as an appetizer, side dish or main course. People love our eggplant involtini so much they have asked us to start shipping it – and we did!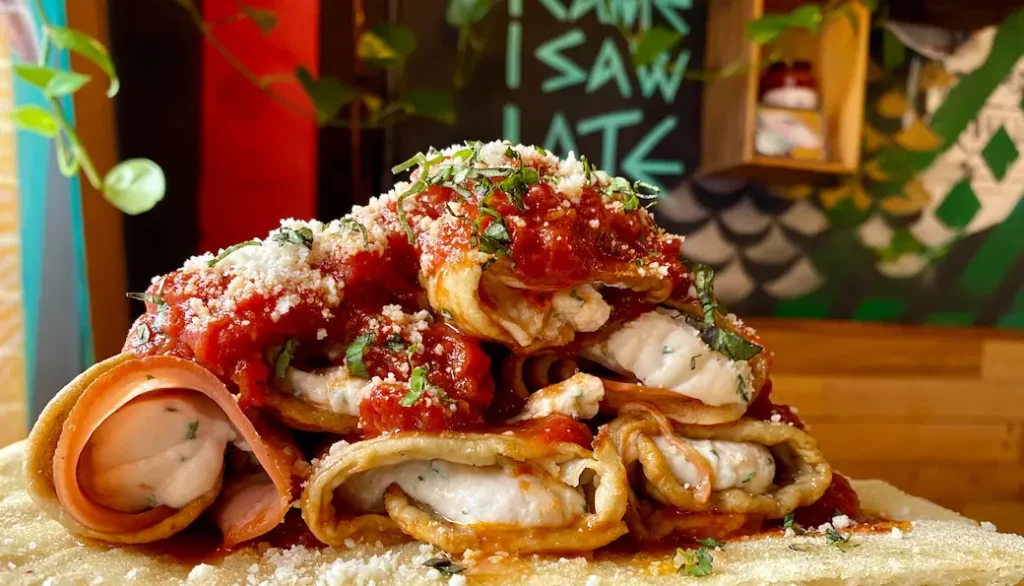 Get some fresh baby arugula and toss it with halved cherry tomatoes, thin sliced red onion, olive oil and fresh lemon juice. It's so simple, but so delicious. It's great with pizza or a fried chicken cutlet.