If you follow this blog, you know I have a soft spot for those quick pasta dishes that make the best of just a few ingredients. And this lemon pasta recipe is one of the best among them.
In Italian cuisine, there are many minimalist dishes that stem from the concept of using only a bunch of ingredients that could be easily found in the homes of ordinary people. Spaghetti aglio e olio, sedanini con crema di soffritto, pasta with zucchini and cherry tomatoes-all these pasta meals were born to be easy, quick, and delicious.
Lemon pasta (or pasta al limone) has the same purpose.
It basically involves cooking the pasta in a pan along with lemon peels and garlic, using a special method that allows the essential oils of the lemon to be absorbed by the pasta, while giving it a creamy texture.
This way you will get a delicious pasta dish with a zesty citrus flavor, ready in less than 20 minutes and perfect for refreshing your palate on summer days.
Let's see how to make it!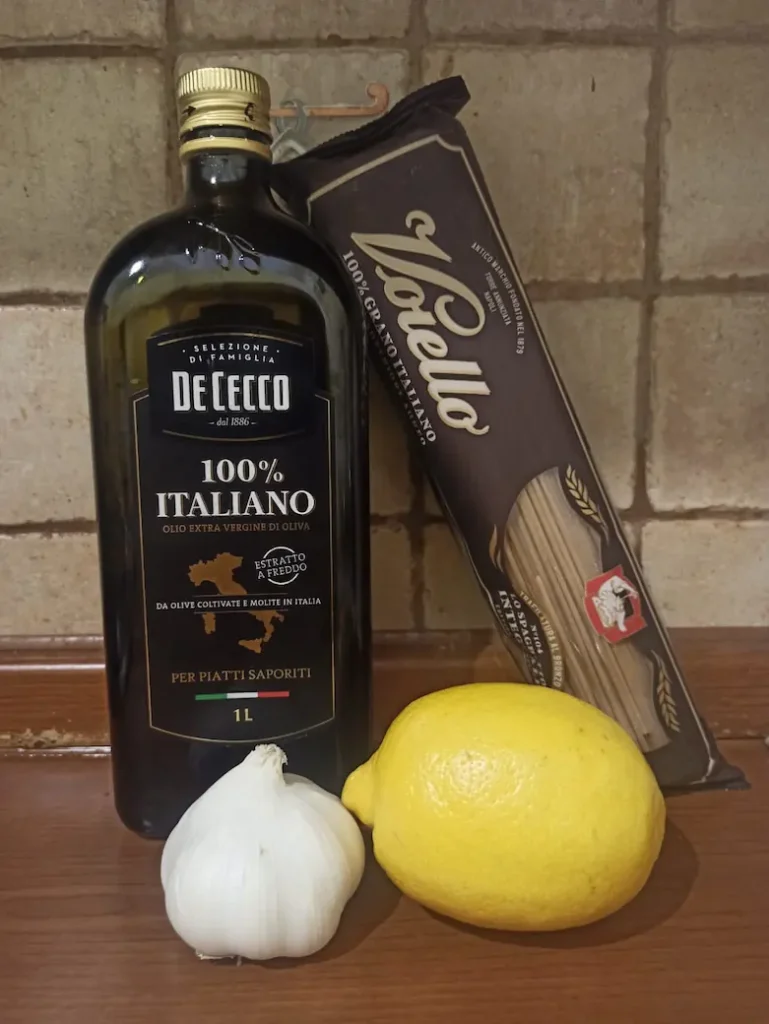 Ingredients
This lemon pasta recipe has only 5 essential ingredients:
spaghetti: or whatever kind of long-shaped pasta you prefer;
1 lemon, quite obviously;
1 chopped clove of garlic: don't use store-bought powder. Get a real clove!
extra-virgin olive oil: to sauté the lemon peel and garlic. Alternatively, you can use 1/4 stick of butter;
a tablespoon of coarse salt.
Optional ingredients: in addition to those, you can add some chopped parsley, grated parmesan, or grated lime peel. For this time, I chose to use only the parmesan.
Many people also like to add a bit of heavy cream, but I don't think you need it. If you cook this dish as I'll show you below, you'll be able to turn the ingredients above into a creamy emulsion without extra help. It's cheaper and healthier.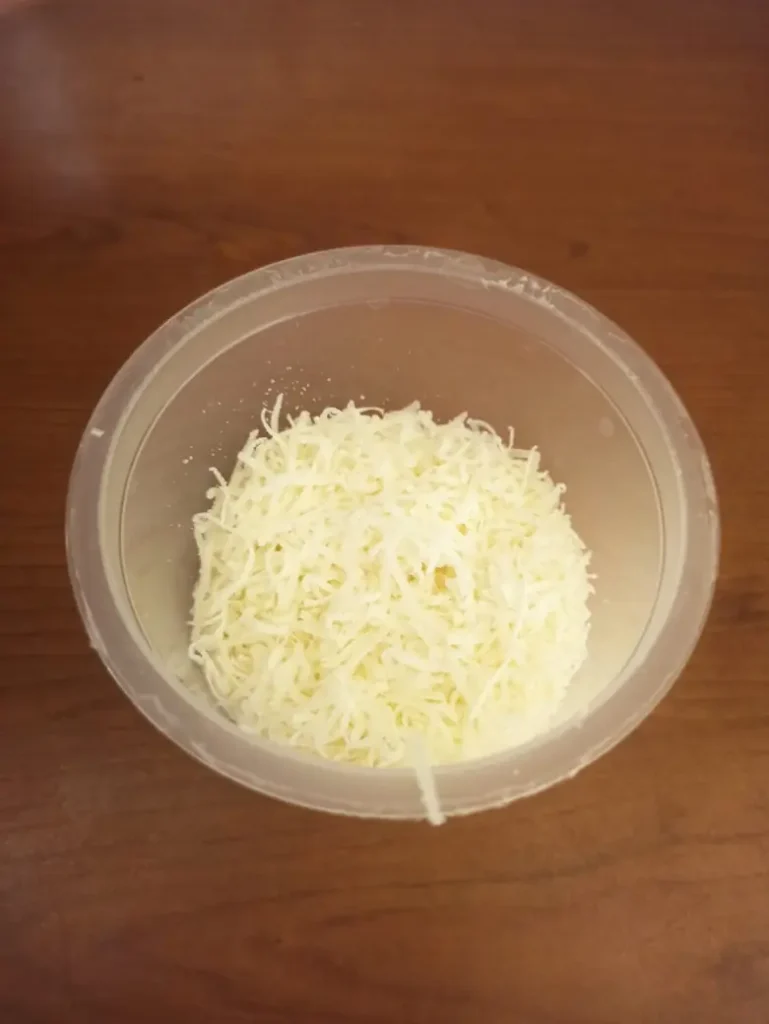 How to make the best pasta lemon
This lemon pasta recipe has a different cooking method than usual. Instead of putting the pasta in a pot full of boiling water, you cook it in a pan along with oil and garlic, using very little water at a time.
This method is called risottare in Italy, and it is the same method you use to make risotto. It allows you to extract all the starch from the pasta (or rice) and combine it with the rest of the ingredients to make the dish more creamy.
Are you ready to try it?
Step 1: Boil water in a small pot and bring it to a boil. You don't need a lot of it. 2 cups should be enough.
Meanwhile, oil (or butter) a saucepan and toss in the chopped garlic and lemon peels, then cook over low heat for a few minutes until the garlic turns golden brown. After that turn off the heat and wait for the water in the other pan to come to a boil. Salt the water.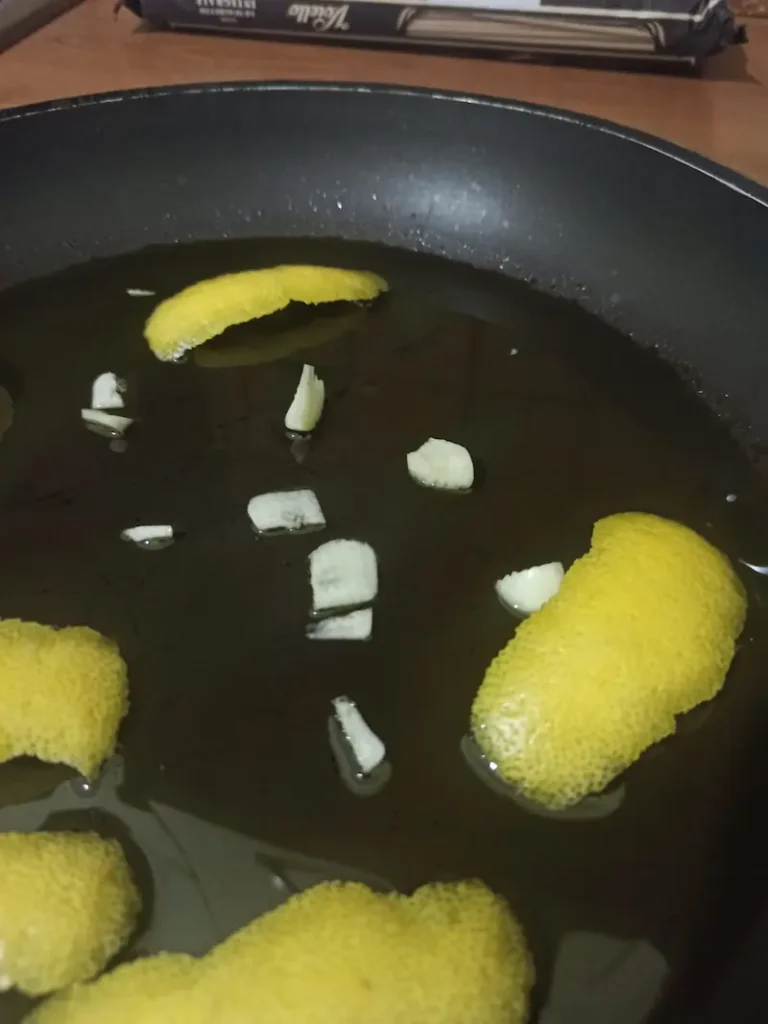 Step 2: Remove the lemon peels from the pan, add the spaghetti, turn the heat back on, and pour over 2 ladles of the boiling water. Stir well with wooden chopsticks, trying to keep the noodles from being in too much contact with any unwetted sides of the pan.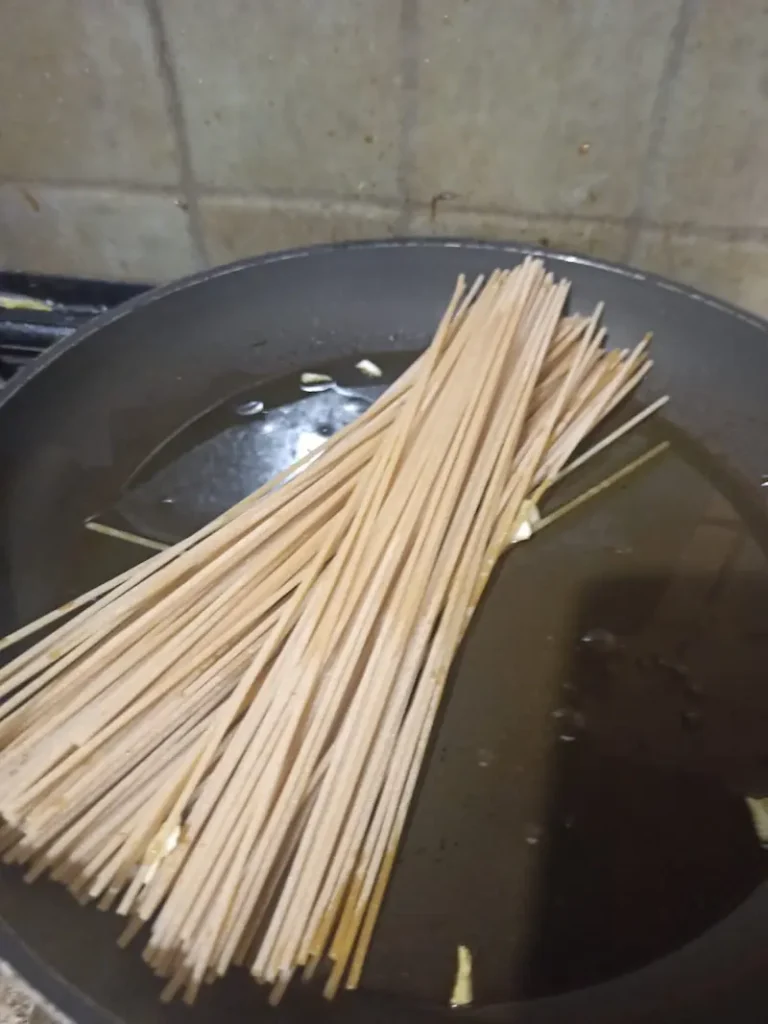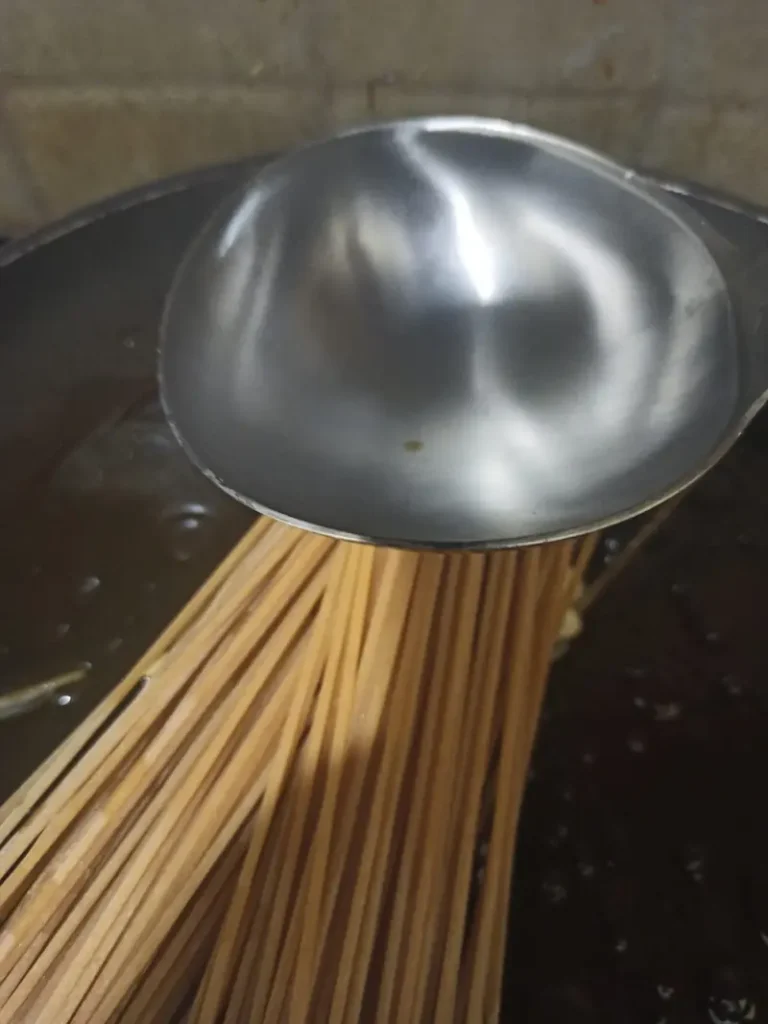 Step 3: After a few minutes, the water will have been absorbed by the noodles and you will begin to see the starch settle to the bottom of the pan, forming a kind of cream. Add 2 more ladles of water and let it absorb.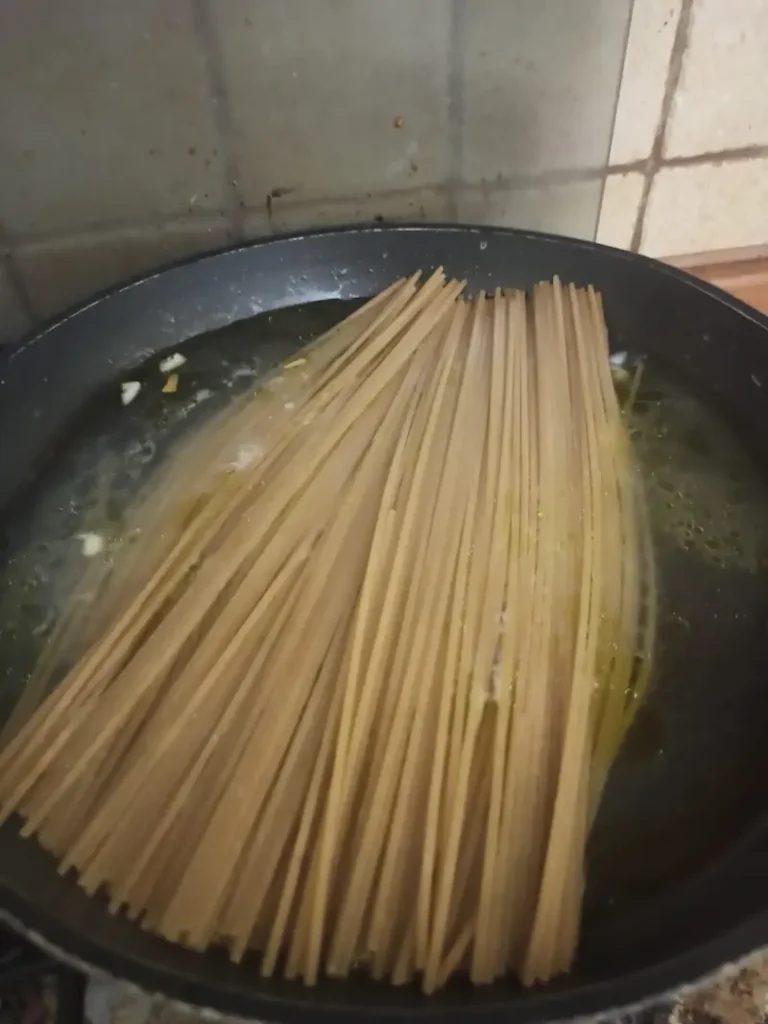 Keep doing so until the pasta is cooked.
Step 4: Remove the pan from the heat, give it one last stir with chopsticks, and scrape some lemon peel over everything.
If you chose to add Parmesan cheese, pour it over the pasta, cover everything with a lid, and let it sit for 5 minutes. This will make the cheese blend with the starch released from the pasta, giving it extra creaminess.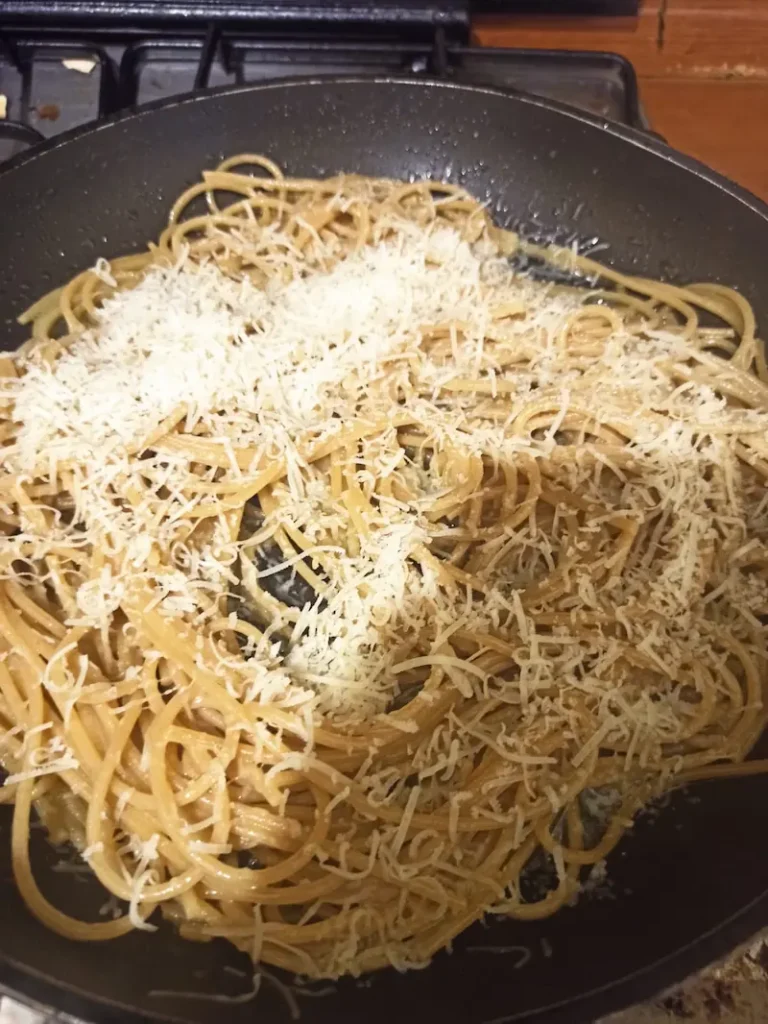 Serve aside with some more grated parmesan cheese.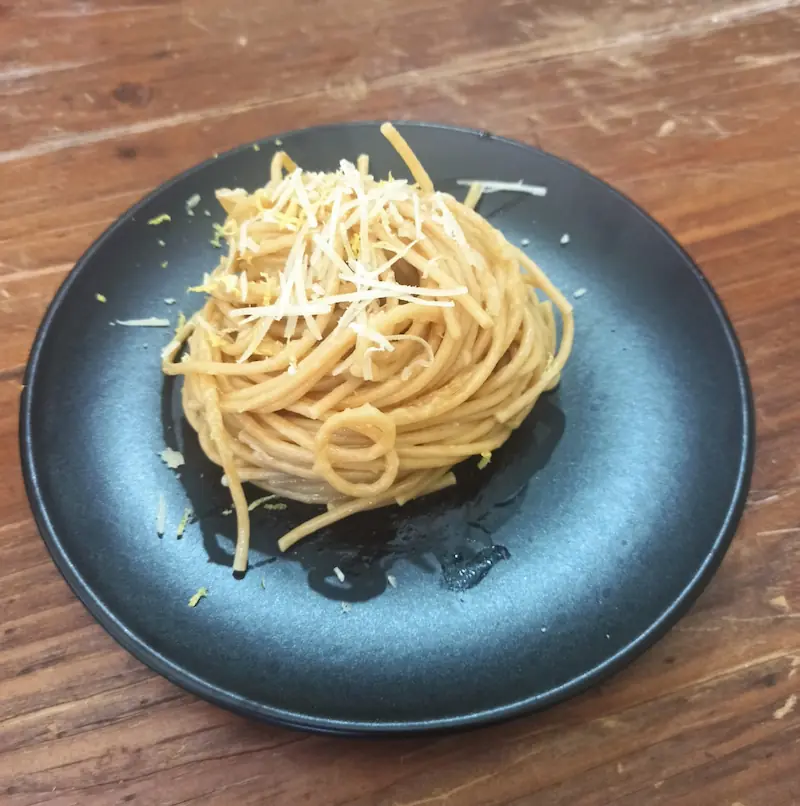 That was easy, right? That's the beauty of this lemon pasta recipe.
Next time, I'm going to make it with parsley instead of parmesan. Let me know if you tried it at home!
Print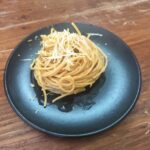 Easy Lemon Pasta Recipe
---
Author:

Total Time:

20 minutes

Yield:

2

1

x

Diet:

Vegetarian
Description
This easy lemon pasta recipe uses a special cooking method that turns the pasta starch into a zesty cream. It's perfect to refresh your mouth on a hot summer day.
---
5 oz spaghetti

1 lemon

1 garlic clove

2 tbspExtra-virgin olive oil

a pinch of coarse salt

2 oz grated parmesan cheese (optional)

grated lime zest (optional)

fresh chopped parsley leaves (optional)
---
Bring 2 cups of water to a boil and add salt. In the meantime, peel the lemon.
Oil a saucepan and add the lemon peel along with a chopped clove of garlic, and sauté on low heat until the garlic becomes golden brown. Then, turn off the heat and wait for the water to boil.
Remove the lemon peels from the saucepan and add the spaghetti, spreading them over the oil. Turn the heat back on, and add two ladlefuls of the boiling water, spreading them well over the pasta. Stir with wooden chopsticks.
When the water will be completely absorbed into the pasta, add 2 more ladles. Keed doing so until the pasta is cooked al dente.
Take the saucepan away from the heat and add any of the optional ingredients. If you choose to add parmesan cheese, cover with a lid and let anything rest for 5 minutes, then stir again. This way, the cheese will mix with the pasta starch and the oil to give your dish a creamier texture.
Enjoy.
Notes
You can use butter instead of oil.
You can also grate the lemon peels instead of just adding them to the pan. This way, they'll incorporate in the final dish, making it more citrusy.
Prep Time:

10

Cook Time:

10

Category:

Pasta

Method:

Cooking

Cuisine:

Italian
Keywords: lemon pasta, pasta al limone
Pasta Al Limone Tips and Tricks
Creating the perfect Pasta Al Limone is both an art and a science. While the recipe itself may seem simple, there are nuances that can elevate your dish from good to truly sublime. Here are some tips and tricks that will help you master the craft of making authentic Pasta Al Limone.
Ingredient Tips
Pasta
Choice of Pasta: Long, flat pasta like linguine or fettuccine is ideal for holding onto the creamy lemon sauce.
Lemons
Fresh is Best: Always use fresh lemons for the most vibrant flavor.
Organic Matters: If you're using lemon zest, opt for organic lemons to avoid pesticides.
Cheese
Parmesan vs. Pecorino: Parmesan is more traditional, but Pecorino can add a sharper flavor. Feel free to experiment!
Dairy
Heavy Cream: For a creamier sauce, you can use heavy cream instead of milk.
Technique Tips
Lemon Infusion
Zest First, Juice Later: It's easier to zest a whole lemon than one that's already been juiced.
Cooking Pasta
Salt the Water: Make sure the pasta water is well-salted; it should taste like seawater.
Al Dente: Cook the pasta until it is al dente for the best texture.
Building Flavor
Garlic: Consider lightly sautéing a minced garlic clove in butter before adding your lemon juice and cream for added flavor depth.
Thickening the Sauce
Starchy Pasta Water: Reserve some pasta water before draining. The starchy water can help thicken the sauce and make it cling to the pasta better.
Finishing Touches
Seasoning: Adjust salt and pepper before serving.
Fresh Herbs: A sprinkle of fresh basil or parsley can add both color and flavor.
Presentation and Storage
Garnishing
Finalize your dish with a sprinkle of lemon zest and freshly grated cheese for extra flair.
Leftovers
If storing leftovers, keep the pasta and sauce separate if possible to prevent the pasta from getting too mushy when reheating.
What to Serve with Pasta Al Limone
Pasta Al Limone is a creamy, citrusy delight that captivates the palate, but what should you serve alongside this Italian masterpiece? While the dish can stand alone as a meal, certain accompaniments can elevate the dining experience. Here are some ideas for what to serve with Pasta Al Limone:
Salads
Arugula and Parmesan Salad
The peppery arugula and salty Parmesan offer a nice contrast to the creamy lemon sauce.
Caprese Salad
Fresh tomatoes, basil, and mozzarella pair well with the lemon undertones of the pasta.
Proteins
Grilled Chicken
A simply seasoned grilled chicken breast can be sliced and served either on top or alongside the pasta.
Seafood
Consider serving it with grilled or baked fish like salmon or sea bass, which complements the citrusy flavors of the pasta.
Vegetables
Roasted Asparagus
The nuttiness of roasted asparagus pairs well with the creamy lemon sauce.
Garlic Bread
While not a vegetable, garlic bread is a staple side that goes well with almost any pasta dish, including Pasta Al Limone.
Soups
Minestrone
This Italian vegetable soup provides a lighter, more vegetable-focused contrast to the rich pasta dish.
Italian Bread Soup (Ribollita)
The hearty flavors of this classic Tuscan soup can provide a robust contrast to the light, creamy pasta.
Beverages
White Wine
A light, crisp white wine like Pinot Grigio or Sauvignon Blanc can complement the citrusy and creamy flavors of the pasta.
Sparkling Water
For a non-alcoholic option, consider sparkling water with a splash of lemon or lime to keep with the citrus theme.
Pasta Al Limone FAQs
Whether you're new to making Pasta Al Limone or just curious about some of its aspects, you may have a few questions. Below are answers to some of the most commonly asked questions about this creamy, citrus-infused Italian classic.
Q: What type of pasta works best for Pasta Al Limone?
A: Traditionally, long, flat pasta like linguine or fettuccine is used for Pasta Al Limone. These shapes work well in holding the creamy sauce, but feel free to use what you have on hand.
Q: Can I use bottled lemon juice instead of fresh lemon?
A: While bottled lemon juice can be used in a pinch, fresh lemon juice is recommended for a more vibrant and authentic flavor. Additionally, fresh lemon zest adds another layer of citrus aroma to the dish.
Q: Can I substitute the dairy for a non-dairy alternative?
A: Yes, you can substitute the cream with coconut milk or any plant-based milk to make a vegan version. However, keep in mind that this will change the flavor profile of the dish.
Q: How can I make the sauce thicker?
A: If you find that your sauce is too thin, try adding a bit more grated Parmesan cheese and continue stirring. You can also use a small amount of reserved starchy pasta water to help emulsify and thicken the sauce.
Q: Is Pasta Al Limone served hot or cold?
A: Pasta Al Limone is typically served hot, immediately after cooking. The sauce tends to thicken as it cools, losing its creamy consistency, so it's best enjoyed fresh.
Q: Can I add protein to this dish?
A: Certainly! Grilled chicken, shrimp, or even slices of smoked salmon can make excellent additions if you're looking to add some protein.
Q: How long will leftovers keep in the fridge?
A: Stored in an airtight container, Pasta Al Limone will keep for up to 2 days in the fridge. It's best to store the sauce and pasta separately if possible to prevent the pasta from getting too soggy.
Q: How do I reheat leftovers?
A: For best results, reheat on the stovetop over low heat, adding a splash of milk or reserved pasta water to bring the sauce back to its creamy consistency. Microwaving is also an option, but be sure to stir frequently for even reheating.