Are you looking for a great way to make broccoli that's perfect for busy nights when you don't have a lot of time? Here's an easy recipe using frozen broccoli that will change the way you look at frozen veggies forever.
I keep frozen vegetables in my freezer at all times. Easy dinners become even easier when you can whip up a tasty side dish with a bag of frozen broccoli and a few other simple ingredients.
Frozen vegetables are actually very healthy and delicious. Sometimes I even prefer frozen over fresh. Frozen broccoli cooks up faster than fresh broccoli. It's already cleaned and trimmed into perfect sized broccoli florets, ready for cooking.
Forget about the boring steamed broccoli. Let's turn on the stove top and start cooking. Here's the best way to turn a bag of frozen broccoli into something really delicious.
The cooking time for this recipe is only about 10 minutes and you'll be able to pull off some really delicious and easy meals with it.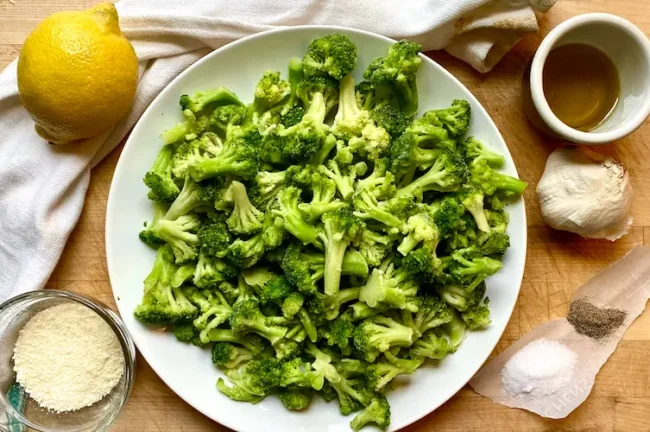 Here's What You Need to Make the Best Sauteed Frozen Broccoli
You'll be able to find all of the ingredients for this recipe at your local grocery store. For specific measurements check out the recipe card below.
Frozen Broccoli: get a bag of frozen broccoli florets at the supermarket. You might even already have a bag in your freezer.
Olive Oil: a decent quality olive oil will work for this recipe. It can be a light olive oil or an extra virgin olive oil.
Garlic: you want to use fresh garlic for this recipe. Peel and smash a few cloves with the side of a chef's knife and chop them up really fine.
Parmesan Cheese: I love getting a block of parmesan cheese and grating it myself. Grating your own cheese is always better.
Lemon: a fresh lemon for this dish is important. You'll be using the juice and the zest. This is going to add a lot of freshness to this dish.
Seasoning: always use Kosher salt and fresh cracked black pepper.
How to Make the Best Sauteed Frozen Broccoli
This is a quick recipe you'll be making on the stove. Put a little olive oil in a large skillet and place it on medium heat.
Add the garlic to the pan and allow the garlic to heat up with the olive oil.
When the garlic starts to become fragrant and turns golden brown, add the frozen florets to the pan.
Do your best to keep the broccoli in a single layer on the bottom of the frying pan. This will allow it to sear properly.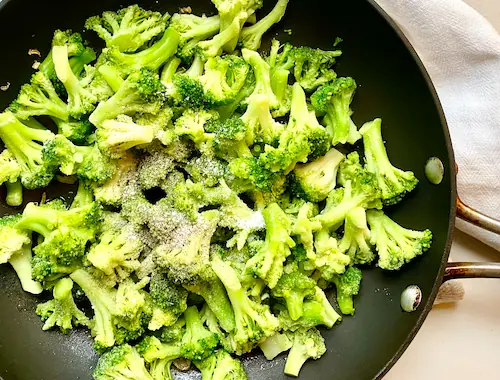 Season the broccoli with salt and pepper and give everything a good toss in the pan. As the frozen broccoli starts to thaw, you'll notice a little bit of water in the bottom of the pan.
At this point, put the grated parmesan cheese, lemon zest and lemon juice in the pan with the broccoli. Turn the stove top up to medium-high heat and start stirring all of the ingredients together.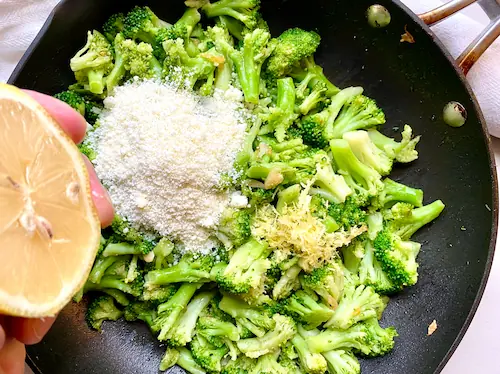 The olive oil, excess water and cheese will start to create a beautiful sauce that coats the broccoli.
Keep in mind that the size of the broccoli florets will determine the cook time. Larger pieces of broccoli will take longer than smaller pieces to cook through.
Transfer the sauteed broccoli to a serving bowl and enjoy!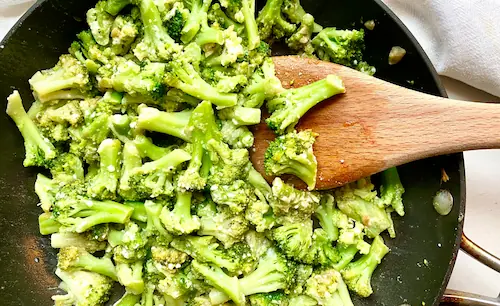 The Best Frozen Sauteed Broccoli FAQs
Can this recipe be made with fresh broccoli?
Yes. You can definitely make this recipe with fresh broccoli. When I saute fresh broccoli I like to blanch it first. Blanching fresh vegetables is when you place them in boiling water for a couple minutes.
Can I use garlic powder if I don't have fresh broccoli?
If you don't have fresh garlic, garlic powder is a good alternative. Use ⅛ a teaspoon of garlic powder for each fresh garlic clove you'd use.
Do I have to use lemon zest in this sauteed frozen broccoli recipe?
No. You can just use the juice. However, if you have the chance, I strongly recommend using lemon zest whenever possible. It really brightens up every dish.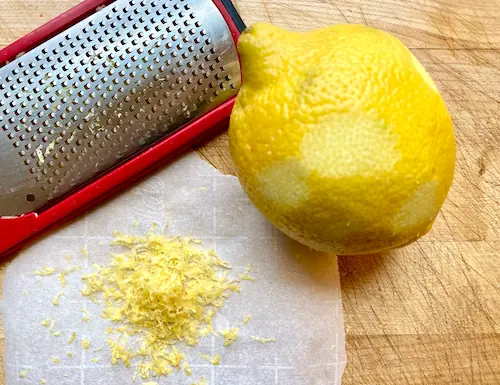 What are some other ways to cook frozen broccoli?
One of my favorite cooking methods for any vegetable is roasting. It works well with fresh vegetables and frozen vegetables. Take the broccoli, mix it with olive oil, garlic, grated parmesan cheese and your favorite seasoning. Make sure all of the broccoli is well coated.
Lay everything on a baking sheet in a single layer and put it into a hot oven. When you can smell the broccoli roasting, give everything on the sheet pan a flip and put it back into the oven for a few more minutes. A crispy broccoli with lots of caramelized parmesan cheese is a really great dish that's easy to make.
What other frozen vegetables are good when sauteed?
I think any frozen vegetable is great for sauteing. I like green beans, Brussels sprouts and broccoli. Frozen cauliflower is also a great choice.
Like I previously said, a freezer full of frozen vegetables opens up the opportunity for many different methods of cooking. You can even make a great stir fry with chicken, shrimp or beef.
What to Serve with Sauteed Frozen Broccoli
There are so many different ways to incorporate frozen broccoli into your meal. Here are some great suggestions.
Pasta: Add some chicken and ziti to the sauteed broccoli and make a chicken, broccoli and ziti. It's great for big family dinners.
Steak: Sauteed broccoli is a great side dish for a big juicy, ribeye steak.
Salad: Adding room temperature roasted or sauteed vegetables to a salad is a great way to try something new. The vinaigrette and the broccoli taste great together.
Print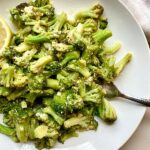 Sauteed Frozen Broccoli
---
Author:

Total Time:

10 minutes

Yield:

4

1

x

Diet:

Vegetarian
1 lb bag of frozen broccoli florets
3–4 garlic cloves finely chopped
2 tablespoons olive oil
1/2 cup grated parmesan cheese
1/2 fresh lemon
Salt and pepper
---
Place a large frying pan over medium heat
Add olive oil to the pan
Add garlic to the pan and let it toast for 2-3 minutes
Add broccoli to the pan and season with salt and pepper
Allow broccoli to cook with the olive oil and garlic for about 5 minutes, tossing frequently
Add grated parmesan cheese to the pan and turn up heat to medium-high.
Toss the broccoli with the cheese for another 2 minutes.
Squeeze the juice of a half lemon and the zest of a half lemon to the pan and toss for an additional minute.
Transfer to a serving plate and enjoy!
Cook Time:

10

Category:

Side Dishes
Keywords: how to saute broccoli