If you're looking for the perfect way to give some of your favorite dishes a delicious creamy and spicy kick, I have the recipe you need.
The Calabrian Chili Mayo I make at Mortadella Head is a creamy sauce made from Calabrian chili peppers. It's used as a drizzle to finish our artisan pizza and it's also used as the perfect spread for our big fat sandwiches. It's so good it can be a great dipping sauce for just about anything.
If you haven't tried our Gomorra Pizza or Cuban Crisis sub yet, you need to get in here ASAP!
There are a lot of spicy mayos out there. Most use hot sauce or Sriracha. There's something about ours with the Calabrian chili peppers that make this spicy aioli recipe something special.
What Are Calabrian Chili Peppers?
Calabrian chili peppers are spicy red peppers that are grown on farms in Southern Italy. More particularly, they are usually grown in Calabria which is the toe of the boot when looking at a map of Italy.
In Italy, they go by the name of Peperoncino Calabrese. They are known to have a flavor that's been described as fruity and smoky which really shines through in this delicious recipe I'm about to give you.
How spicy are they? Sources say they are about 10x spicier than jalapeno peppers, but not as spicy as cayenne. So somewhere in between if that's helpful to you.
If you want to learn more about them, check out our article that takes a deep dive into the world of Calabrian chili peppers.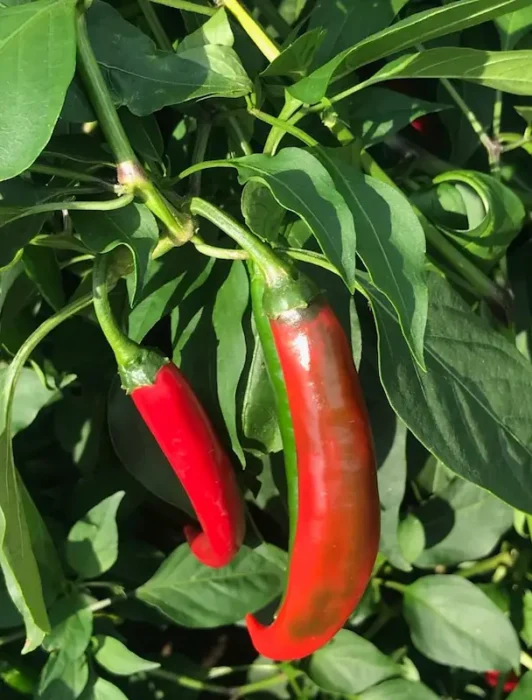 Why this is such an easy recipe to make
This recipe is designed to be the quickest way to make our Calabrian Chili Mayo. That being said, we're making it with a good quality mayonnaise that you can buy at the supermarket.
However, if you're feeling adventurous and you want to make your own homemade mayonnaise, here's a quick recipe.
How to Make A Your Own Mayonnaise
If you're set on making your own mayonnaise there are several different ways to do it. I think this is a really easy recipe if you have a mixing wand or immersion blender.
Put 1 egg yolk, a tablespoon of lemon juice and a teaspoon of dijon mustard in the bottom of a mason jar.
Cover these ingredients with a cup of vegetable oil, canola oil or light olive oil.
Put an immersion blender all the way down to the bottom of the jar and start to blend it together slowly. Don't move the wand of the blender up and down, but instead turn and roll the jar to allow all of the ingredients to come in contact with the blender blades. Add your preferred amount of salt to taste.
If you don't have an immersion blender you can do this in a large bowl with a whisk. Roll up your sleeves and go!
On another note, I usually suggest using extra virgin olive oil in most of my recipes. I specifically didn't suggest using extra virgin olive oil for this homemade mayonnaise recipe because it can become bitter. A lighter or neutral oil will yield better results.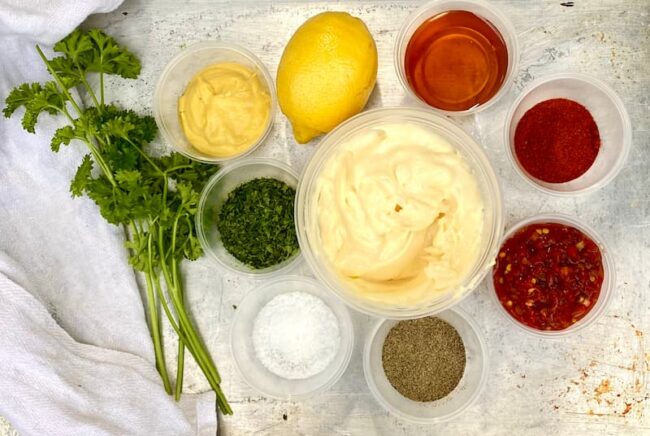 Ingredients Needed for Your Spicy Aioli / Calabrian Chili Mayo Recipe
You only need a few simple ingredients for this spicy sauce. You should be able to find everything at your local grocery store.
For the exact measurements see the full recipe in the recipe card.
Calabrian Chili Peppers: I have started seeing Calabrian chili pepper products in the Italian specialty aisle in most supermarkets lately.
For this recipe I use crushed Calabrian chili peppers that come in a jar. If you buy a jar of whole Calabrian chili peppers you can remove the stems and toss them in the blender.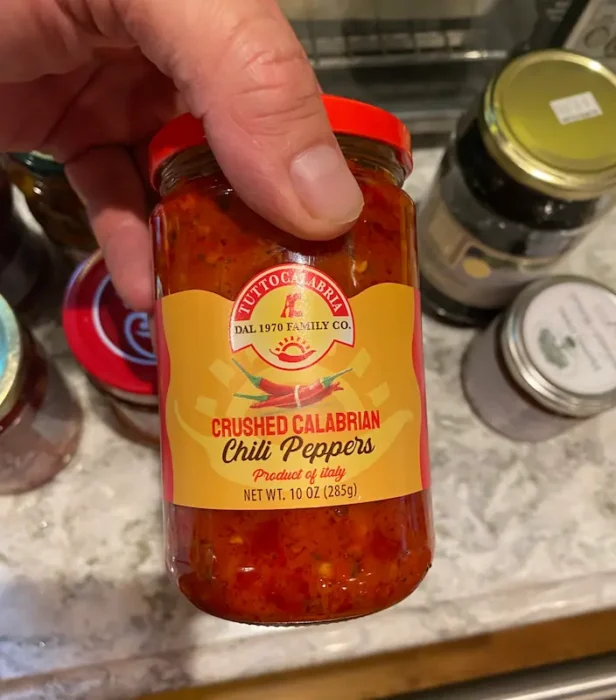 Mayonnaise: Since mayonnaise is one of the main ingredients for this recipe, you want to make sure you use a good one. I suggest a mild creamy mayo like Hellmann's. If you're from the South you're probably a Duke's diehard, so feel free to use it.
If you want to make homemade mayonnaise you can do that. A homemade aioli is usually delicious, but for this recipe it's not necessary. Regular mayonnaise from the store will work just fine.
Honey: Get good quality honey. If you can find local honey that's even better. Local honey has a lot of health benefits.
Whatever honey you use will balance out the heat from the peppers and give it a sweet aftertaste.
Dijon Mustard: I like a little dijon mustard in this recipe. You don't need anything too fancy, but use something good enough to use in a vinaigrette. It will add a nice complexity to the final product.
Lemon Juice: I always have fresh lemons on hand. I think fresh lemons make this delicious recipe even better.
Parsley: Flat parsley or curly parsley can be used in this recipe. I used curly parsley for this batch because it's what I had on hand.
If you have fresh parsley, chop it up really fine. If you only have dry parsley that will work.
Cayenne: The cayenne pepper adds a little extra heat to the recipe. It allows you to adjust the heat without altering the flavor too much.
The Usual Suspects: You always need salt and pepper. I go with Kosher salt and a fine ground black pepper for this recipe.


How to Make The Calabrian Chili Mayo
This is so easy.
Take all of the ingredients and put them in a large mixing bowl.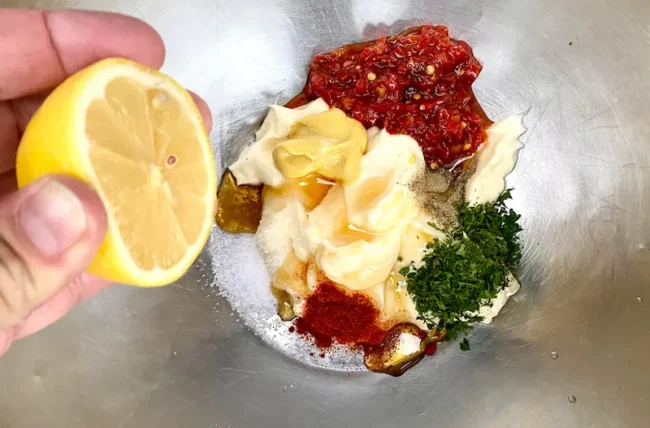 Using a whisk, mix everything together until it's fully incorporated.
When it's ready it will have a similar consistency to 1000 Island dressing.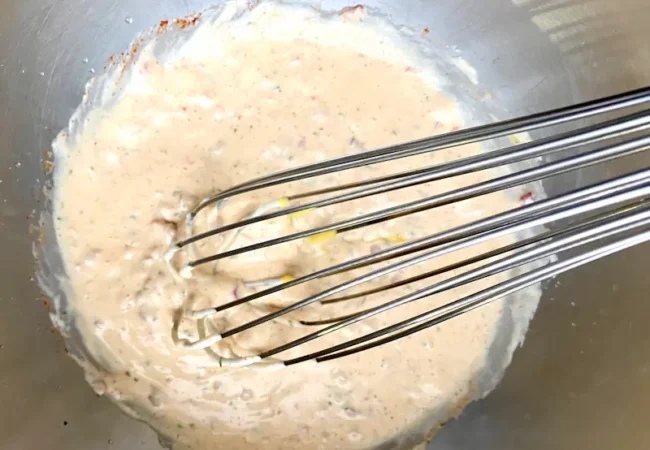 Transfer it to an airtight container and store it in the fridge for up to two weeks.
Calabrian Chili Mayo / Spicy Aioli FAQs
Q: If I don't have Calabrian chili peppers what ingredients can I use as a substitute?
A: If for some reason you can't find Calabrian chili peppers try using Sriracha, crushed hot pepper relish or finely diced cherry peppers. You'll still end up with the perfect spicy condiment.
Q: What are some good ways to use the Calabrian Chili Mayo?
A: Use it as a drizzle on pizza.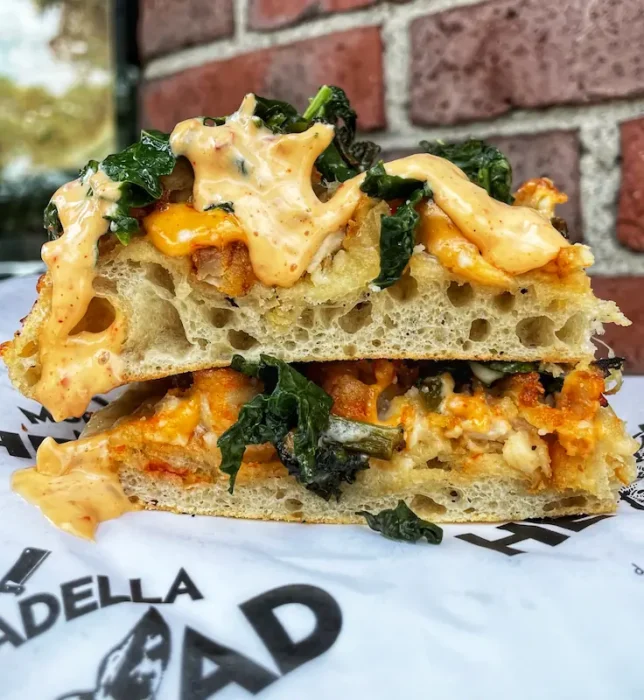 Spread it on your roll when you make a sandwich. Put it in a small bowl and use it as a dip for potato chips, onion rings and french fries. It's also great with sweet potato fries. Use it like you would a remoulade and serve it with crab cakes. Squirt it on hot dogs and hamburgers for a spicy and delicious change of pace.
Serve it as a dip with your Cruditès platter at your next party. It's great with all of the fresh cut raw veggies. Add it to fish tacos with a squeeze of lime juice.
It's the perfect sauce for dipping chicken wings and chicken tenders
A grilled eggplant and roasted pepper sandwich with the Calabrian chili mayo is a great vegetarian recipe.
Q: What is the difference between Calabrian chili aioli and spicy Sriracha aioli?
A: Although they are similar, they have different flavors because they are made with different peppers. The Calabrian chili aioli is made with Calabrian chili peppers. A Sriracha aioli can be made with a couple different types of peppers.
The Sriracha that we are used to here in the United States is made from red jalapeno peppers. These red peppers are the ripe version of the green jalapenos you are used to seeing.
Even a simple Sriracha aioli that only contains Sriracha and mayo will have a very different flavor profile. This is because Sriracha is made with vinegar, garlic powder and sugar.
Q: I don't like mayonnaise. What can I use as a substitute?
A: If you don't like mayo or want to make it a bit healthier, try using greek yogurt. It will have a similar consistency without the fat. It will change the flavor, but you'll still enjoy it.
Q: How can I make a vegan version of this Calabrian chili mayo?
A: Keep it vegan by substituting the regular mayonnaise for vegan mayonnaise and the honey for agave. Use it when you need to make some delicious recipes for your vegan friends.
Print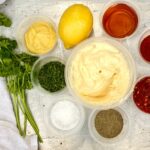 Calabrian Chili Pepper Mayo (Spicy Aioli)
---
Author:

Total Time:

5 minutes

Yield:

16

servings

1

x
2 cups of mayonnaise

½ cup Calabrian chili peppers

1 teaspoon finely chopped parsley

1 teaspoon honey

1 teaspoon dijon mustard

1 teaspoon fresh lemon juice

Salt and pepper to taste
---
Add all ingredients to a large bowl and whisk everything together until completely mixed. Store in an airtight container in the refrigerator for up to one week.
Prep Time:

5

Category:

Sauces