Making pizza at home is really fun. It's a great activity to do with your kids and there's really nothing better than homemade pizza dough.
In the last months, Chuck has been sharing some of our best pizza recipes on this blog. Today, I want to show you how to make them perfect with my special 72 hour pizza dough recipe, that I learned from the best pizza maker in Rome.
You can use it to make a nice pizza bianca, like I'll show you below, or to make dough for any kind of pizza you'll ever want to make from now on.
One recipe that fits all. Let's start!
What is Roman pizza?
Have you ever had authentic Roman pizza? Authentic pizza straight from Rome?
It's a different type of pizza dough. Most people are familiar with Sicilian and Neapolitan pizza recipes. Roman pizza, on the other hand, is not widely known here in the United States.
This 72 hour pizza dough is all about a long fermentation time that's going to make the difference between good pizza, and great pizza.
It's a cold-fermented dough. It's going to create such a beautiful crispy crust that it will definitely become one of your favorite pizza dough recipes.
And it's such a simple recipe! With minimal effort and some simple ingredients from the supermarket or grocery store, you can impress your friends and family with your own dough.
The first time I saw the Roman pizza Bianca, I was mesmerized with it. It's light and airy in the middle, but sturdy on the bottom to support all of your favorite toppings.
I love Sicilian pizza, don't get me wrong; but it's heavy, and lacks the airiness in the middle.
Right away I knew I had to learn how to make it and bring it back home. But first, I needed someone who knew what they were doing to teach me their ways.
So, I started searching on the internet. I kept reading about the best pizza maker in Rome, Gabriele Bonci. People call him the "Michelangelo of pizza."
The Michelangelo of pizza
If I wanted to learn from the best, I had to get in touch with this guy.
So I started reaching out to him and every blogger I could find that wrote about him. Maybe someone could get me a class with him.
I kept getting turned down. I was always getting answers like, "He's too busy," "He's not giving classes right now," "He's opening a new restaurant and doesn't have time."
But I kept at it, knowing we would be going to Italy soon to visit my father, who lives there for part of the year. I knew if we could land a pizza making class with "The Michelangelo of pizza" himself, it would make the whole trip worth it.
After months of pestering and stalking this guy down, he finally agreed to meet with me, and I took a cooking class with the top Roman pizza man in Rome.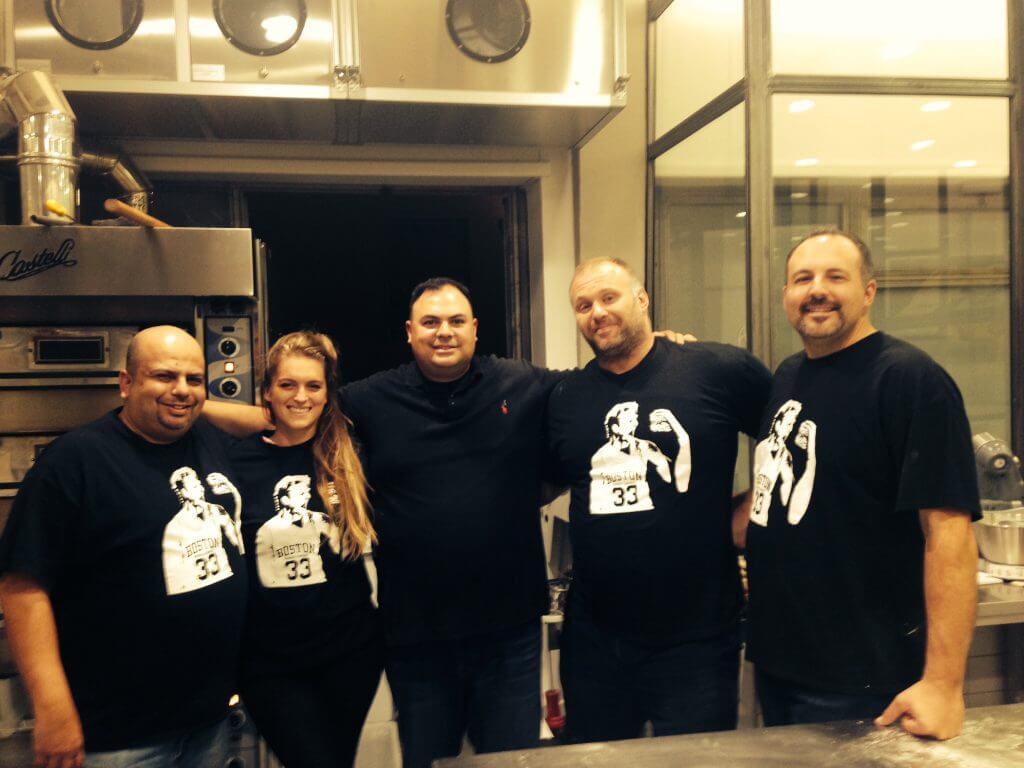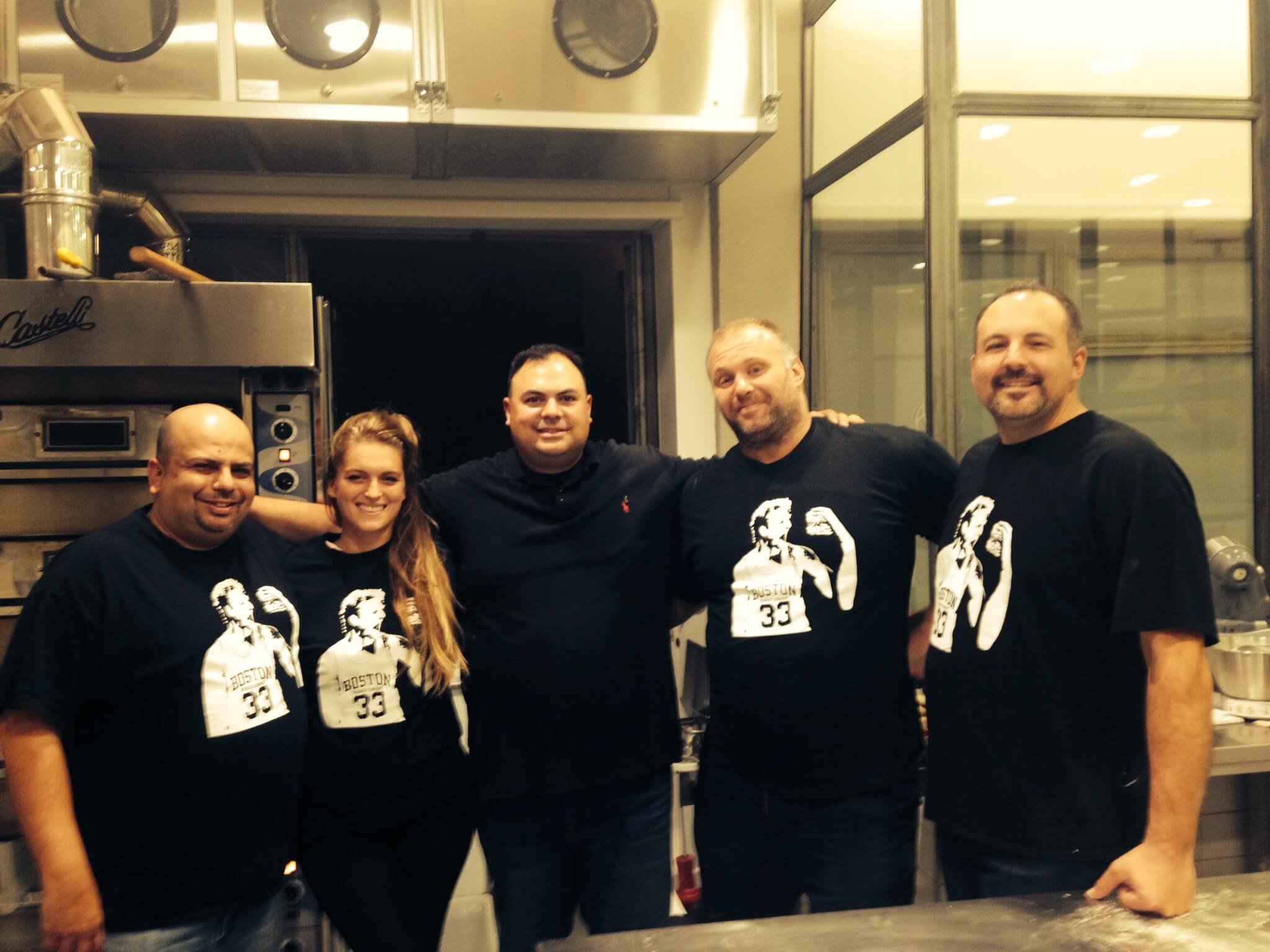 What did I learn?
Two really important things: high hydration and long, cold fermentation. When I say long, I mean 72 hours.
It's what gets you super light and airy texture and lots of flavor.
We're going to be going over all of that in our 72 hour pizza dough recipe today. I'm going to be showing you the ins and outs of making the perfect Roman pizza Bianca. Here's what I'll cover:
The ingredients

How to make the dough

How to handle the dough

How to bake the dough
*(I also made a YouTube video about this, in case you don't feel like reading)*
HERE ARE THE MAIN INGREDIENTS FOR THIS 72 HOUR PIZZA DOUGH
My 72 hour pizza dough recipe doesn't have many ingredients. But make sure to pick quality ones, and to respect the ratio that you'll read in the recipe card below!
Here's what you need.
Flour: For Roman pizza, a high-protein flour makes the best pizza dough. It's usually easy to find at the grocery store. Most bread flour is higher in protein than all-purpose flour.
Water: This is probably one of the most important aspects of Roman pizza dough. Higher hydration is what we want. We use a 75% hydration, flour to water ratio. In other words,  if you're using 10 pounds of flour, you'll use 7.5 pounds of water. 5 pounds of flour, 3.75 pounds of water. Basic math.
Yeast: Instant yeast works fine in this recipe. If you prefer fresh yeast or active dry yeast that's fine too.
Salt: Get a high-quality Kosher Salt or a fine sea salt.
Extra virgin olive oil: Invest in a high quality extra virgin olive oil. This is going to add some great flavor to your Roman pizza Bianca.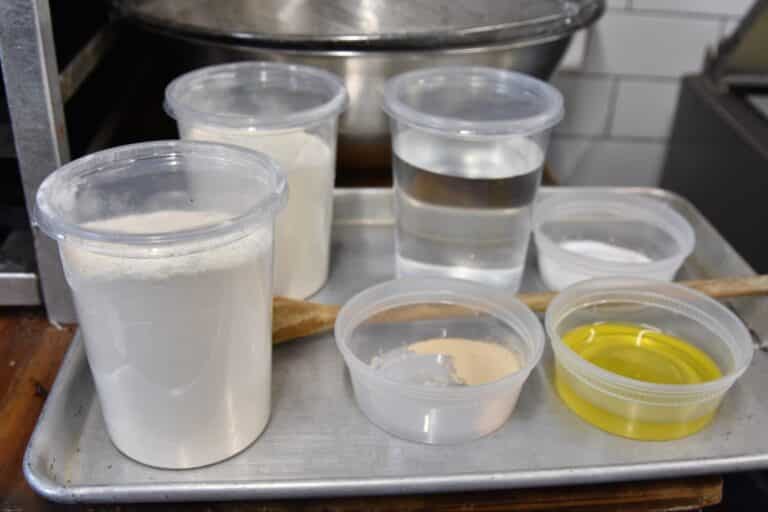 How to make roman pizza bianca with a 72 hour dough recipe (It's easier than you think!)
Any Roman pizza recipe starts with making a good dough. So let's mix our dry ingredients.
Combine flour and yeast in a large bowl. Mix them well with a wooden spoon, then create a neat circular mound at the bottom of the bowl.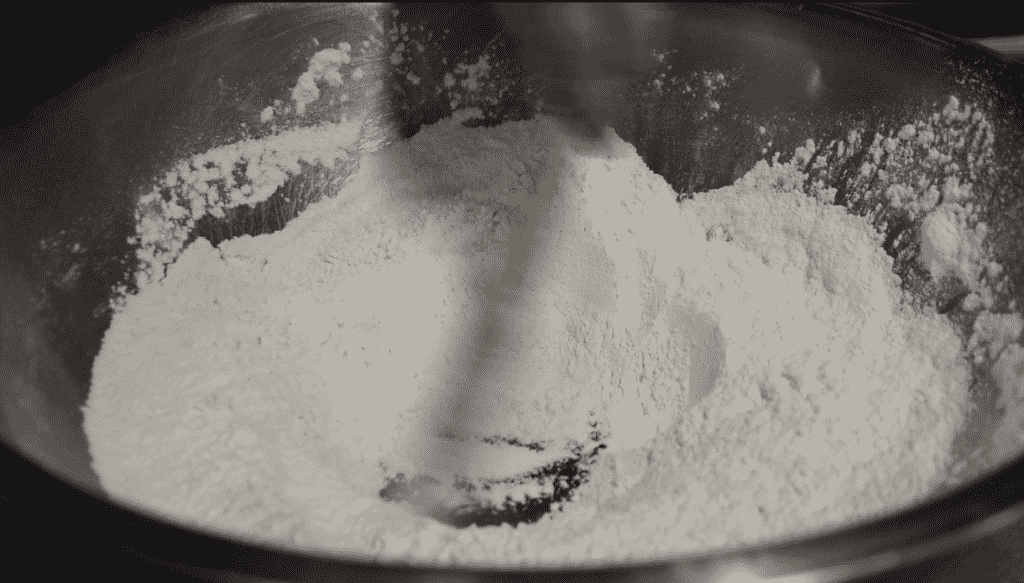 Once you have your water measured out, add it right to the bowl. For best results, use cool water.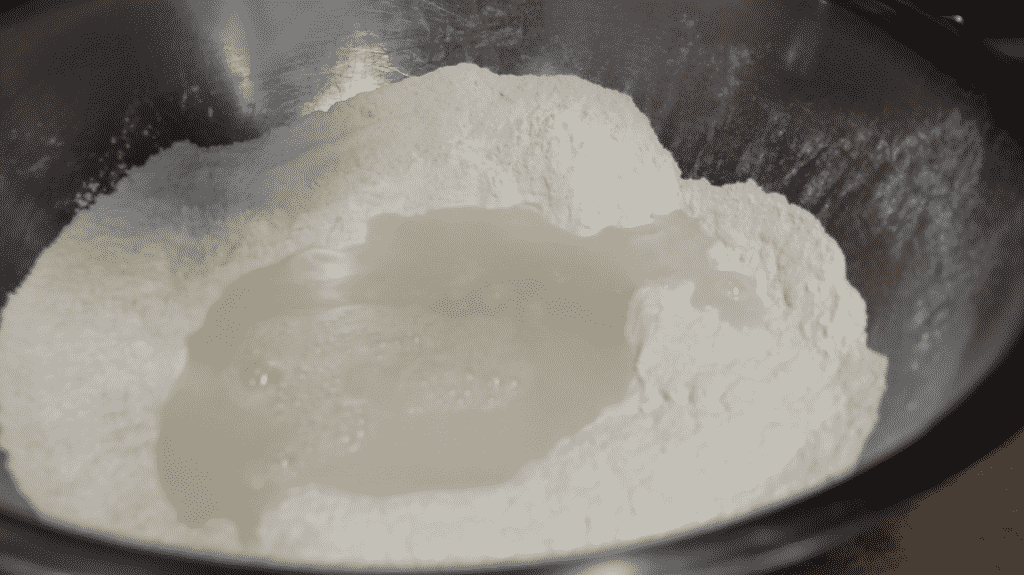 Start mixing it all together for a couple of minutes. Keep using the wooden spoon. At first, it's going to look like a big mess, but don't worry. It'll start to come together.
When a rough dough ball forms, start folding in your olive oil.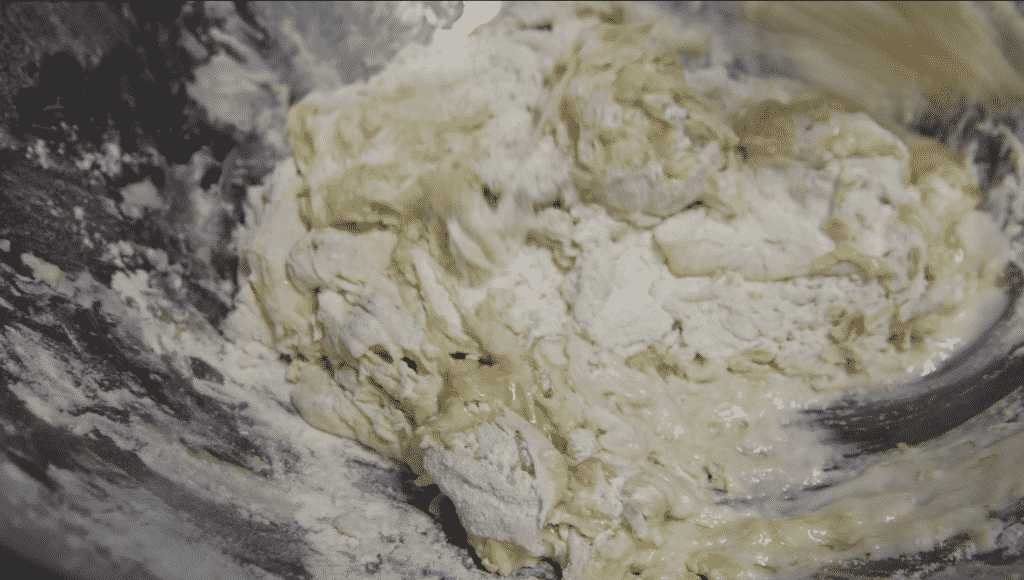 Once the olive oil is mixed throughout, add your salt.
Usually, the salt tends to get after the yeast and slow it down. So, I like to add my salt at the very end. It gives the yeast a chance to start working. Fold the salt in, and keep mixing just as you have been doing until now.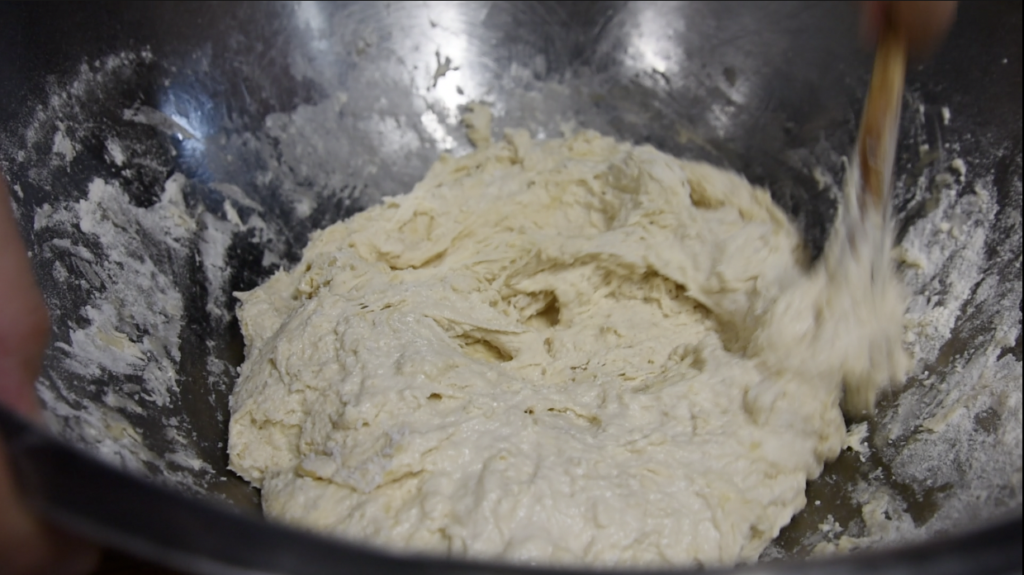 Cover the bowl with plastic wrap and put it into the fridge for 48 hours.
For the next couple of days, we're going to leave the dough in the fridge. This is the bulk fermentation stage. The yeast will do its magic and the dough will start to bubble up. During those 48 hours in the fridge, the yeast will do its magic and the dough will start to bubble up. It's the part of the slow ferment process when the dough develops its amazing flavors. At the end, it will look something like this: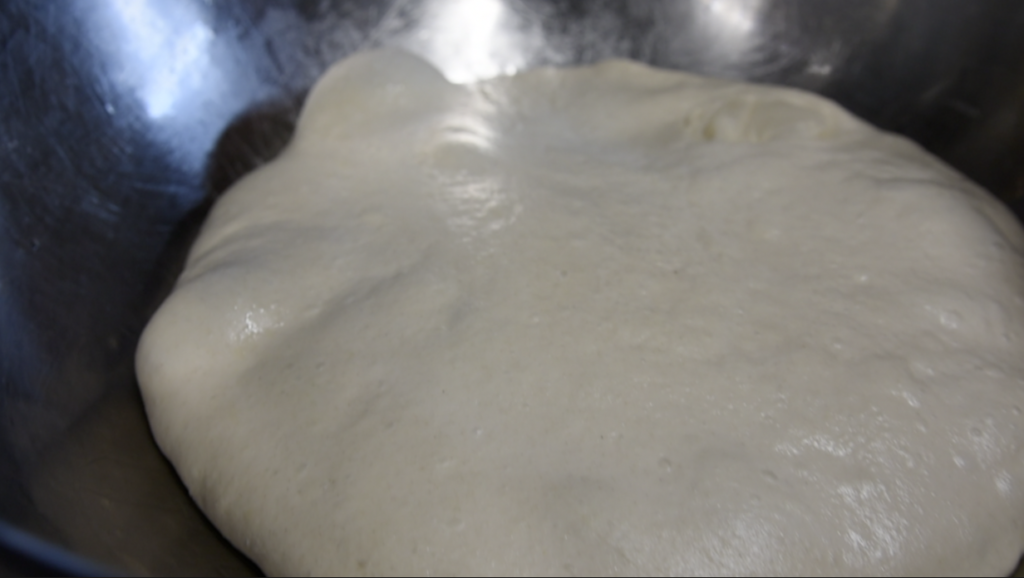 After 48 hours in the fridge, it's time to cut your dough into equal portions to fit your pizza pans.
First, you need a floured surface. You can use your kitchen counter or a large cutting board.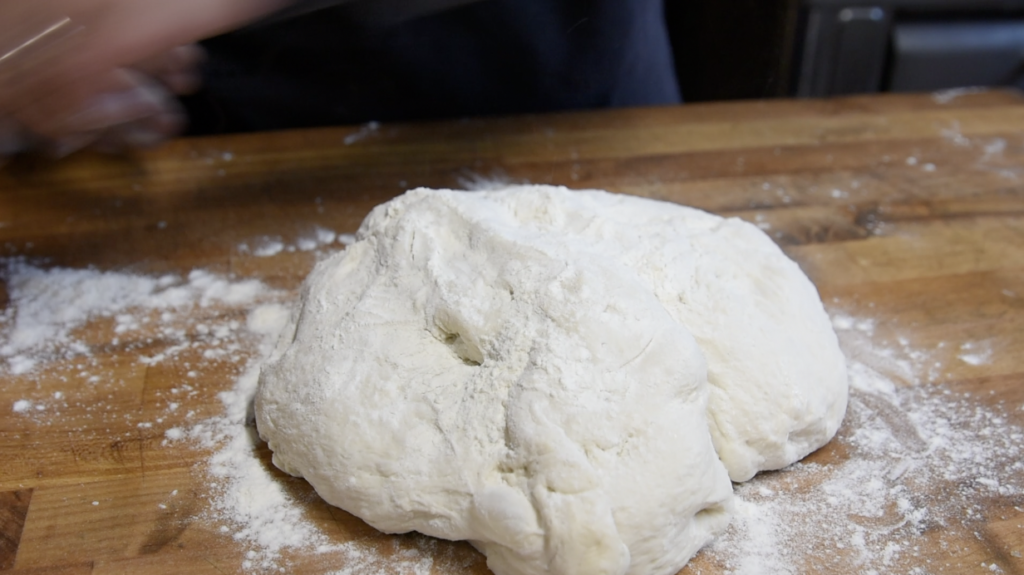 You're then going to knead the dough by grabbing it and folding it in half, squeezing and pinching the edges as they come together. The process will look like this: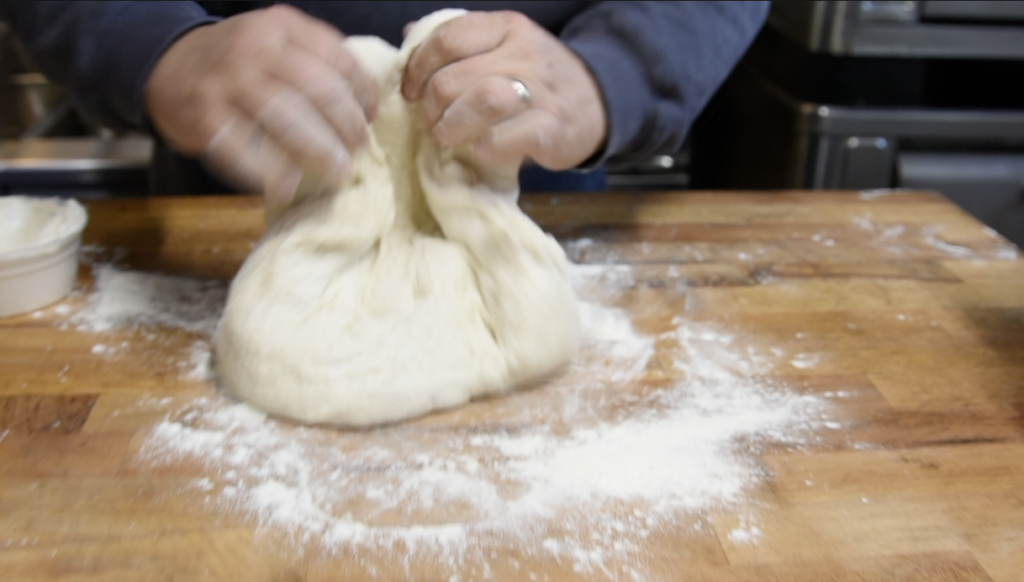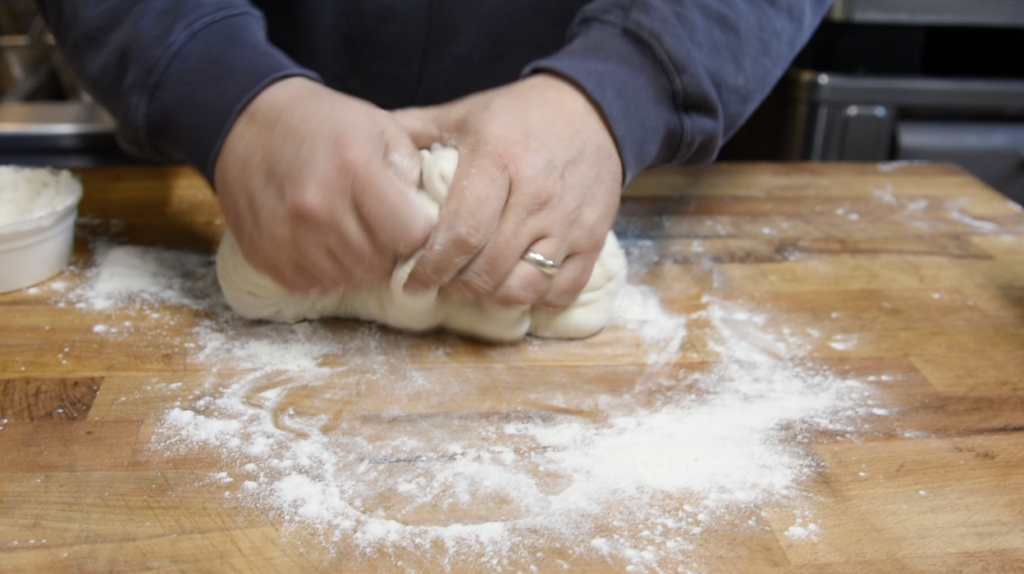 You want to keep the air inside of the dough ball as much as you can.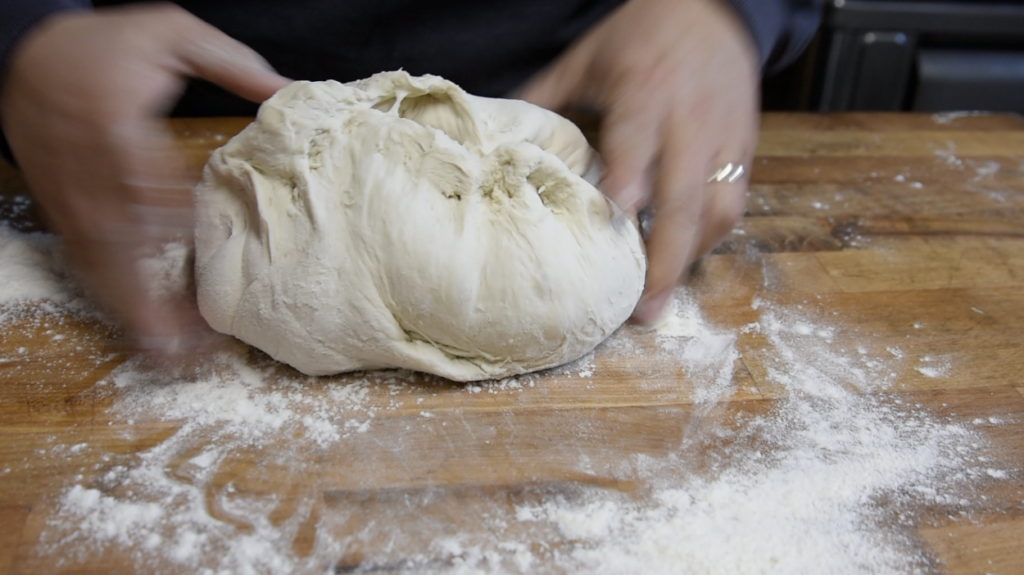 Half and fold about ten times, or until the dough gets a nice circular shape. Place it with the smooth side up onto the floured surface and rotate it until it forms a tight ball. The edges of the dough should be underneath.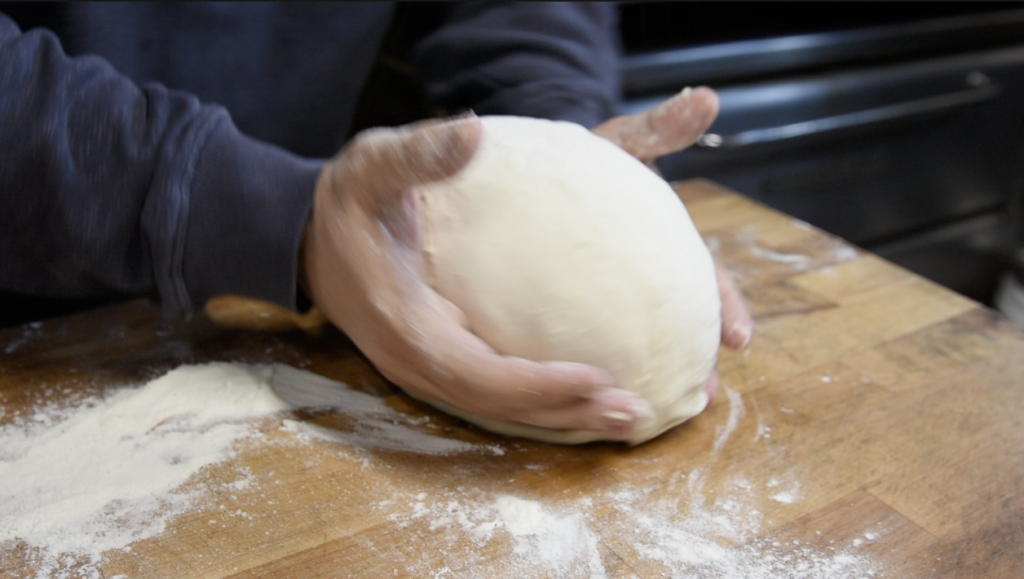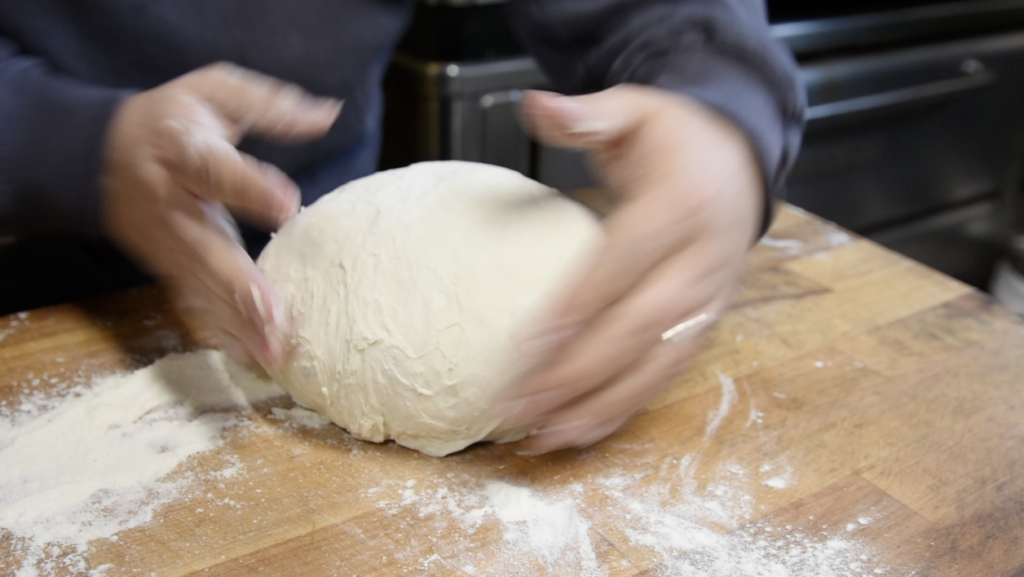 Now, place your dough ball in a bowl or a plastic container and cover with a damp kitchen towel or plastic wrap. Then, put it back in the fridge for another day (I know, I know, it's so long, but this is the price you pay for a delicious Roman pizza!)
After another day, your dough has been fermenting for 72 hours!
When you're ready to make your Roman pizza bianca, remove your dough balls from the fridge and let them stand at room temperature for a couple hours. This will let your dough rise and relax. It will be easier to handle.
After another day, your dough has been fermenting for 72 hours!
When it comes to room temperature, place the dough ball back onto the floured surface. If the process was done correctly, your dough will look like this: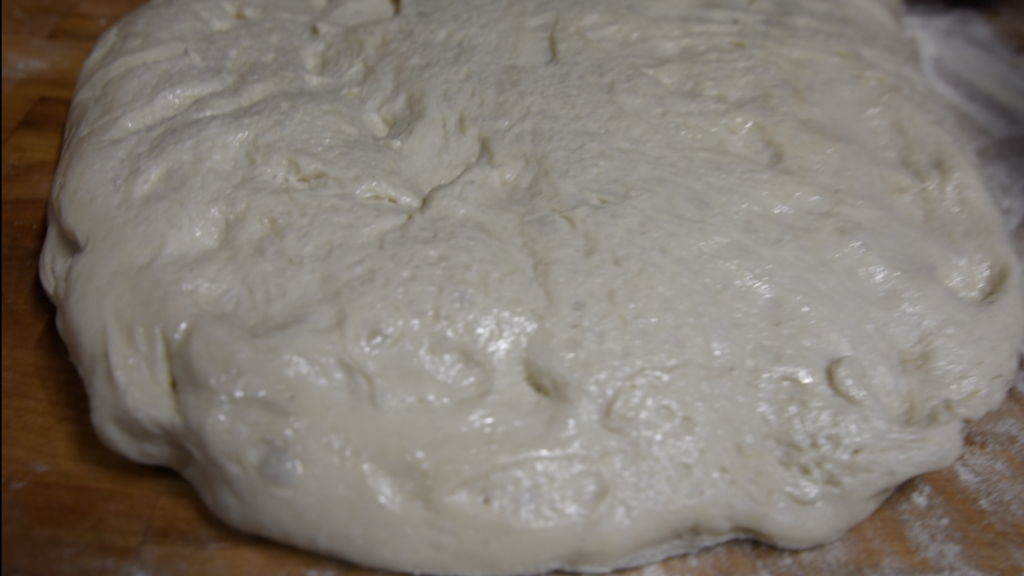 Cover the dough ball with flour so you can handle it without too much stickiness, and spread it around to get it to resemble the shape of a sheet pan.
We make this type of pizza in a pan. No need for a pizza peel, baking steel, or professional pizza oven. A slightly oiled sheet pan and a home oven will work just fine. However, if you can find a pan made of blue steel, your pizza will come out better – as this type of pan works great with high heat.
Once the dough is shaped to your liking, use your fingers to crimp the edges down, trapping all of the air inside.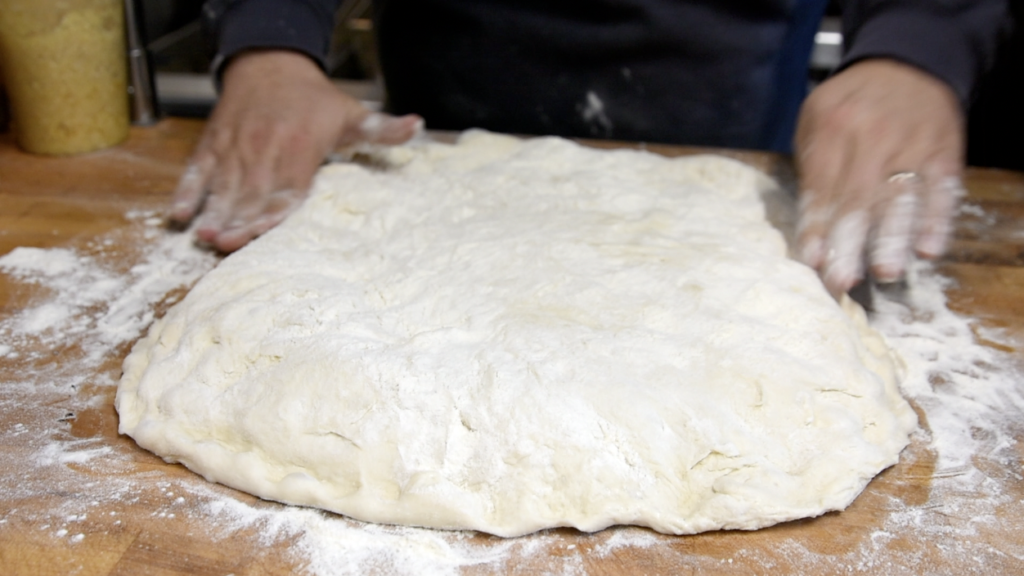 Now, keep using your fingers to create little air pockets all over the dough. The more the merrier. This helps create that nice airy "crumb" that we're looking for.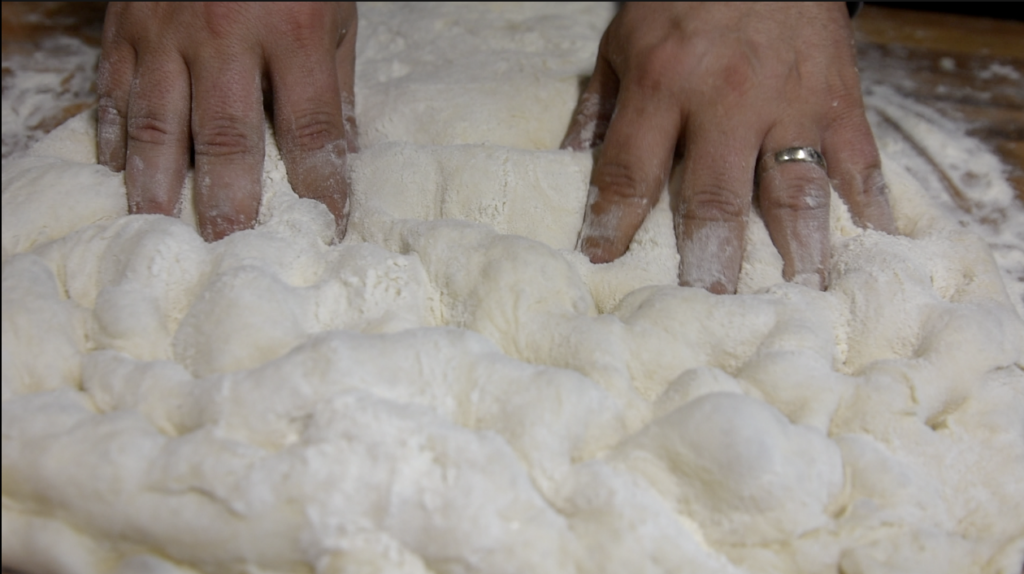 Now carefully transfer the partially spread out dough from the work surface to the oiled pan. If you watch the video you'll learn a little trick on how to do that. Stretch the dough to the edges of the pan.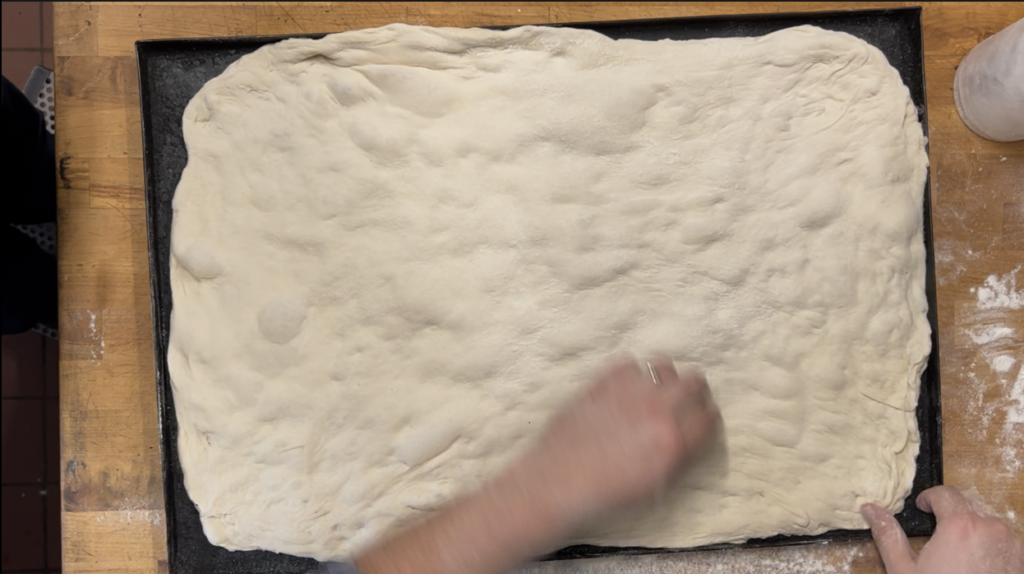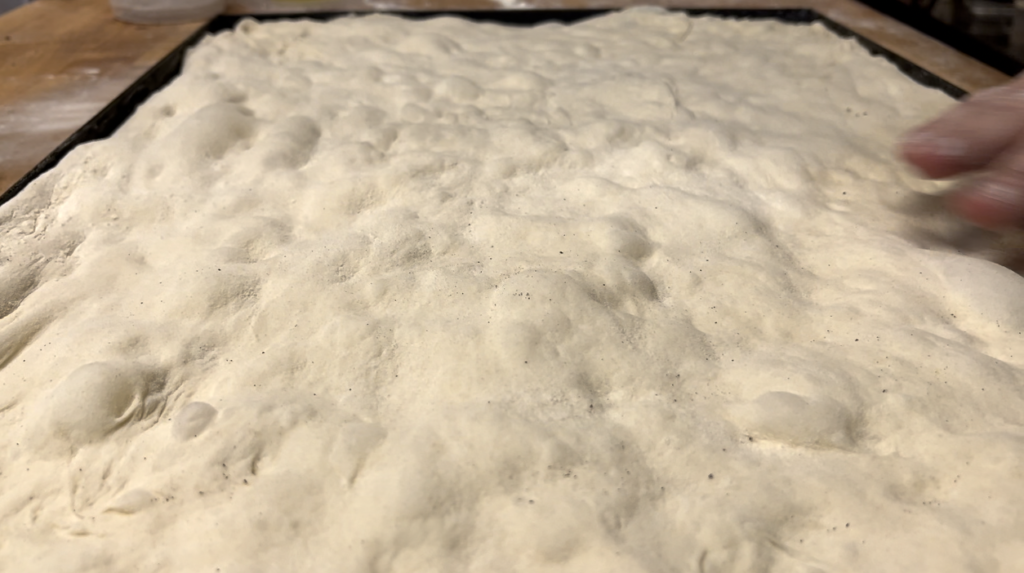 Drizzle the surface with olive oil, and put the pan in the oven at 400° F for 12-15 minutes. About halfway through, take a knife and poke all of the air bubbles, to keep the surface of the dough nice and even.
If you're going to load it with sauces and toppings, it's important to note that the pizza is going to go back in the oven for another ten minutes. The dough will become much more crispy after its second round in the oven.
Congratulations! You're now a Roman pizza Bianca master!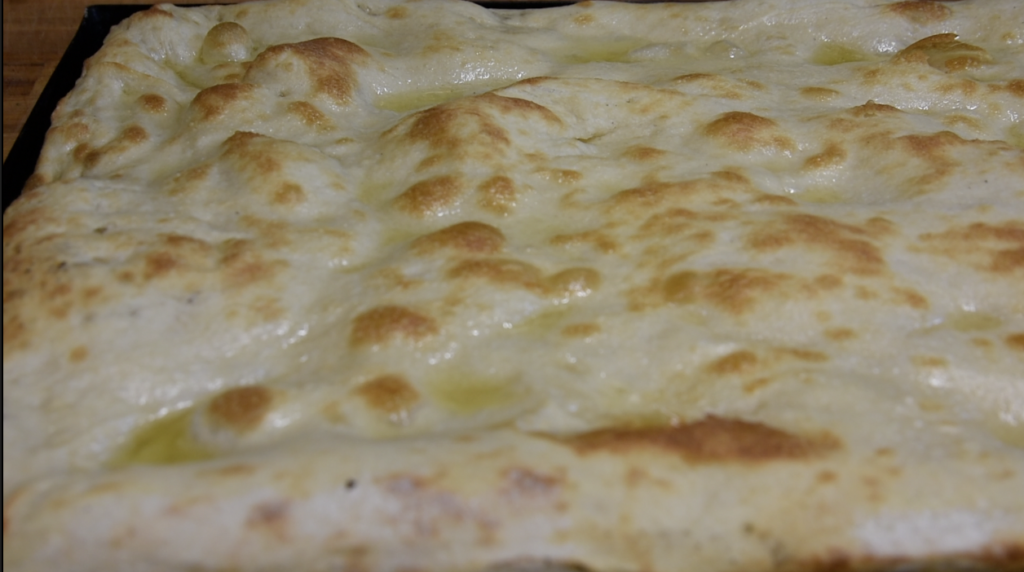 72 HOUR PIZZA DOUGH RECIPE FAQs:
Q: Do I have to wait the entire 72 hour fermentation process?
A: If you're pressed for time, you don't have to wait the entire 72 hours. Your Roman Pizza Bianca will still be very good, but you won't develop as much flavor and the dough probably won't be as light and airy as it would be with the full 72 hours. Using lukewarm water and not putting the dough in the fridge will speed up the process, but the results won't be as good.
Q: Do I have to let the dough ferment in the fridge?
A: You don't have to let it ferment in the fridge, but a long and cold fermentation is what allows the yeast to work and create so much flavor.
Q: Do I have to use so much water?  A wet dough is really hard to work with.
A:  You can use less water if you choose, but you won't get the airy and light crumb that we are striving for.
What to do with it
This 72 hour pizza dough recipe will get you a nice pizza bianca, but you can also use it as a base for any other type of pizza. For instance, if you like white pizzas, you can add any topping of your choice and enjoy.
But you could also:
Turn it into a Pizza Rossa: Use your favorite marinara sauce, or make a quick tomato sauce with crushed tomatoes and olive oil, and pop it back in the oven for a few minutes.
Make some Pizza e Mortazza: Cut the pizza bianca into small pieces, open them up and fill them with mortadella.
Make a Stuffed Roman Pizza: If you really want to impress your friends, slice the pizza dough in half, as if it were a sandwich. Fill it with your favorite sandwich stuffing, and top it with your favorite pizza. We stuffed an entire pepperoni pizza with chicken parm, and everyone loved it!
We even use it to make our beloved Meatball Parm!
There are infinite uses for it. I hope you enjoy making it at home. And if 72 hours are too much, we have a smoking hot slice waiting for you here at Mortadella Head!
Print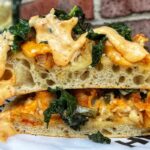 Easy Roman Pizza Recipe – 72 hour dough recipe
---
Author:

Total Time:

3 days

Yield:

2

large pizzas (18"x 26")

1

x
Description
Learn how to become a Roman pizza master! We're going to show you the ins and outs of making Roman pizza as taught to us by the Michelangelo of pizza.
---
5

lbs high protein flour

3.75

lbs of water

2.4

dry ounces of salt

3 grams

of yeast

3.2 ounces

of olive oil
---
Dump your flour and dry yeast into a bowl, and thoroughly mix, making a hole in the center.
Add your water, a little at a time, mixing more to incorporate with the flour and yeast.
Once incorporated, fold in olive oil to the mixture, and keep mixing.
Once everything is blended together, add your salt at the very end, and mix to combine.
Cover the dough, and refrigerate for 48 hours.
After 48 hours, start kneading the dough. Flour your work surface to avoid sticking. Take each end of the dough, and fold the ball in half, pinching the two edges together once they're joined to seal in the air. Do this about 10-15 times, or until a dough ball begins to form.
Take your dough ball and cut it into two or more equal parts according to your needs. With 5 lbs of flour, you can make two balls that'll fit into an 18″x26″ baking sheet (each).
Put the dough balls on the table with the edges at the bottom, one at a time. Turn them with your hands, folding them underneath themselves.
Put each dough ball back in the fridge for another 24 hours.
Flip one of the balls out of the fridge, and begin spreading it out on the counter to form a shape similar to a pizza tray. Crimp the edges down, and use your fingers to create air pockets over the surface of the dough.
Carefully transfer the dough into an oiled baking sheet. Use your hands to spread the dough to the edges.
Drizzle with olive oil and cook in a 400° oven for 12-15 minutes, taking it out halfway to poke and deflate all of the rising dough bubbles.
Top with your favorite pizza toppings, and cook one last time for about 10 minutes.
Enjoy!
Notes
Ingredients are given in weight as opposed to volume to make this recipe as accurate as possible.
Prep Time:

72 hours

Cook Time:

10 minutes

Category:

Pizza

Cuisine:

Italian
Keywords: 72 hour pizza dough recipe, roman pizza bianca