Today I'm gonna show you how to make a white roman pizza stuffed with pulled pork and broccoli rabe, and topped with bruschetta and garlic cream sauce.
I'm sure your mouth is watering just reading the title. I mean look at that!
The bitterness of the rabe blends into the savory of the porchetta to create a delicious contrast of flavors. Top it off with marinated tomatoes, garlic cream sauce, and all the mozzarella you can think of, and you'll never stuff a pizza with just cheese again.
To some, this may seem a bit over the top. A loaded sandwich? Topped with an entire pizza?!
But once you get to reading (or watching) and you find out what it took to create this masterpiece, we nearly guarantee that it'll make its way into your dinner rotation.
What makes this stand out?
Growing up in an Italian house, I never had broccoli. I had rabe. Ask any of your Italian friends, I bet they had rabe too.
When prepared right, rabe tastes bitter and nutty. While some people may not like this by itself, it'll taste perfect when paired with the right blend of savory.
That's why we created the perfect Italian porchetta recipe (COMING SOON…) to combine this with.
Italian porchetta at its core is savory, fatty, and moist. If you get porchetta right in the homeland, you'll have all belly pork, aka huge slabs of meat.
We do it a little differently here. To preserve the fattiness and moisture, we make pulled porchetta. That way, every single bite of porchetta will be as juicy as ever.
The savoriness and juiciness of the porchetta contrasts the rabe perfectly. It's why the Pork & Rabe sandwich is one of our favorites!
But we wanted to spice it up just a little bit more. The flavor in the Pork & Rabe sandwich is bursting, so the pizza topping had to be light. Our fresh marinated tomatoes mixed with our homemade garlic cream sauce and some mozzarella cheese did the trick just perfectly.
And that's how this Stuffed Roman Pizza came about. We're about to give you a LOT of authentic Italian tips and tricks, so take notes and get ready!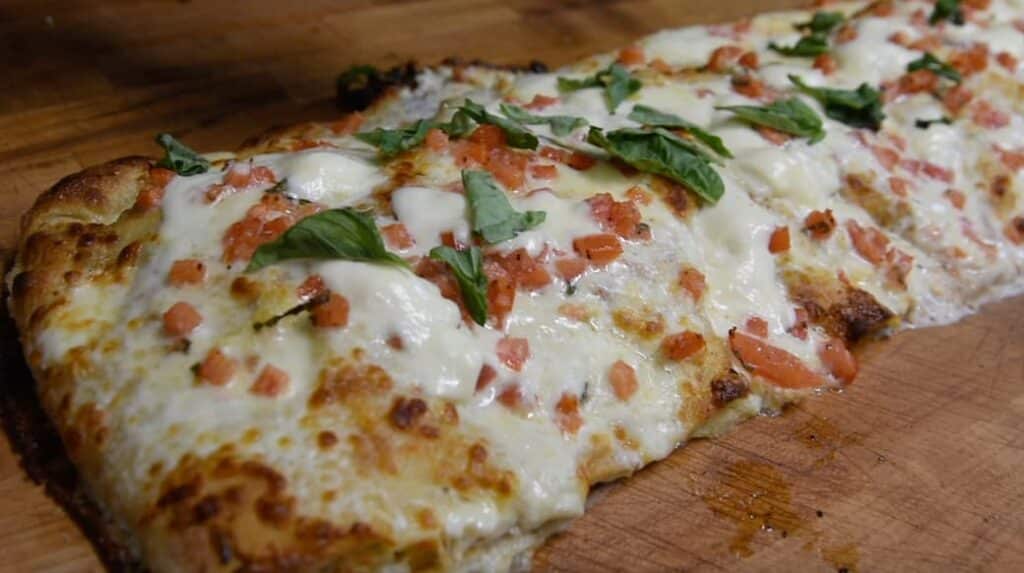 Roman Pizza Bianca: To make a good pizza, you need a good dough. Check out our video to learn how to make this!
Sliced Provolone Cheese: This will melt right into the porchetta and rabe.
Slow Cooked Pork: This is super easy to make.
Broccoli Rabe: Use our recipe for this!
Grated Romano Cheese: You can also use grated parmesan cheese if you'd like.
Garlic Cream Sauce: Check out our very own recipe!
Mozzarella Cheese: We're using two kinds of cheese for this. We have low moisture mozzarella cheese, and fresh mozzarella cheese.
Marinated Tomatoes: Toss some chopped tomatoes up with salt, pepper, basil, and olive oil.
Olive Oil: Use a nice quality olive oil.
Garlic: It really makes everything taste better.
Take your Roman pizza Bianca and cut it in half.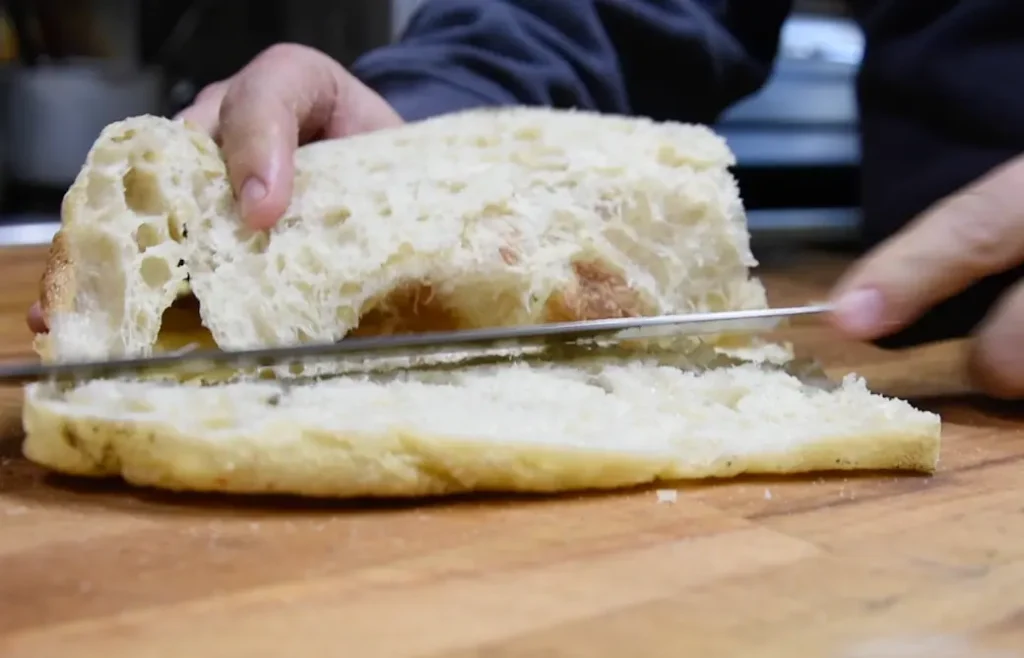 Begin to layer the bottom half of the Roman pizza Bianca with provolone cheese. It's important to layer the cheese on first so the meat doesn't soak through the shell. Once bottom is layered, top with pulled porchetta, broccoli rabe, and grated Pecorino Romano cheese.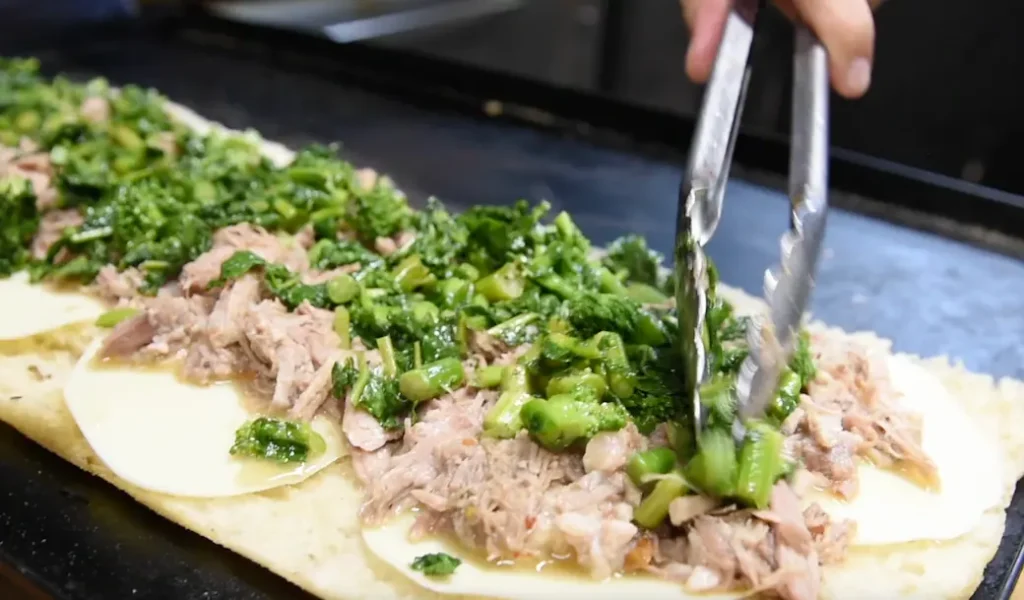 Cover the ingredients with the top layer of the Roman pizza Bianca shell, and begin to spread your garlic cream sauce all over the top. Add fresh chopped garlic, mozzarella pizza cheese, and marinated tomatoes.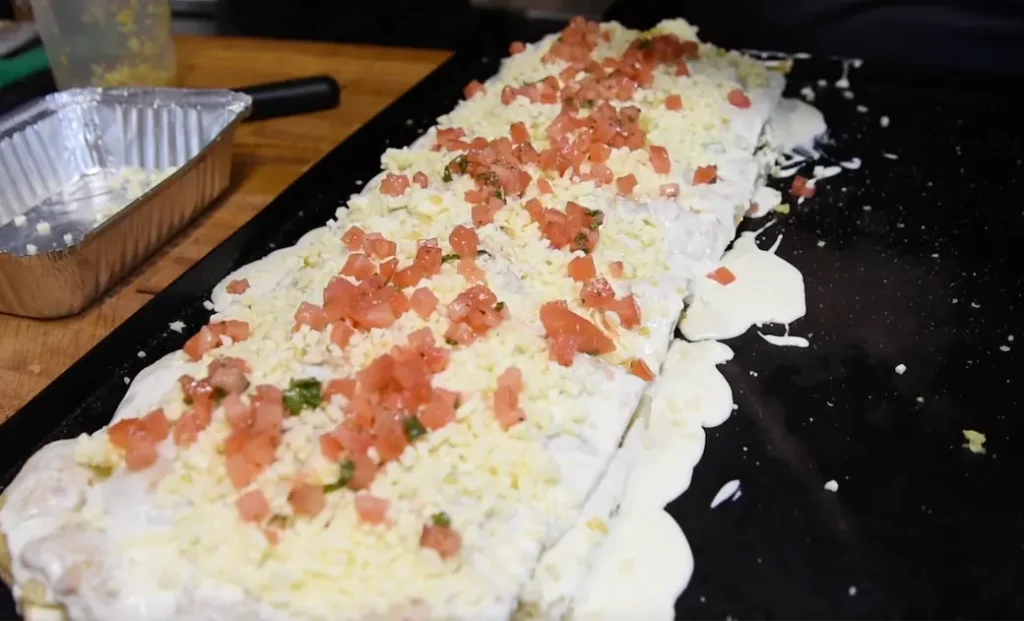 Top with some grated Pecorino Romano cheese, and then put it into the oven at 400° F for 15 minutes total. After 10 minutes, take it out, top with fresh mozzarella cheese, and then put it back in for another 5 minutes. Top with fresh basil, and serve!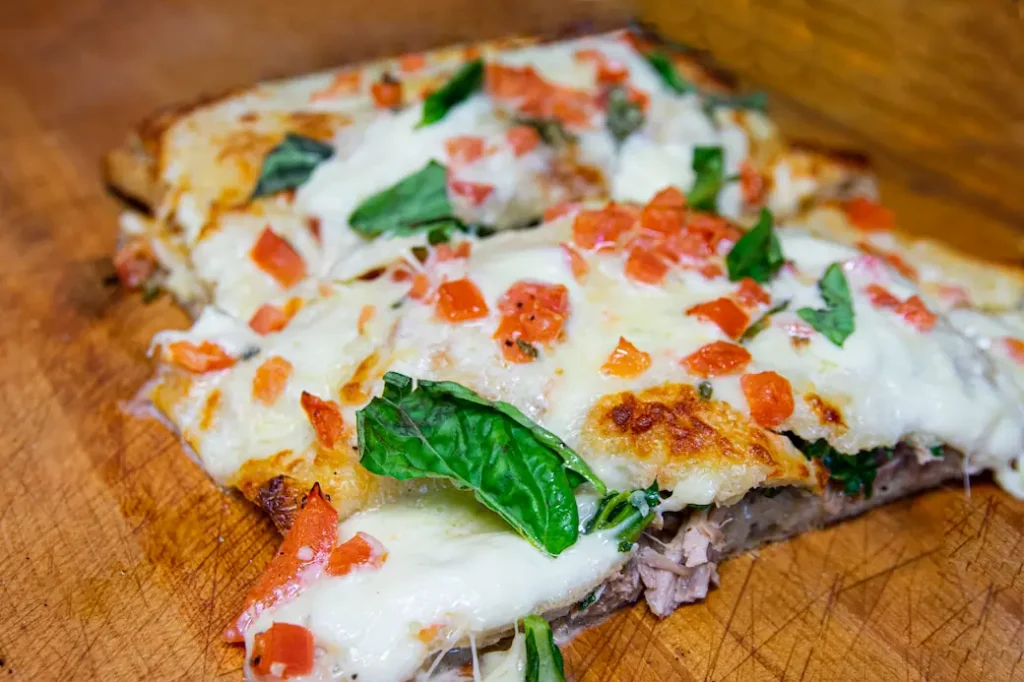 STUFFED ROMAN PIZZA FAQS:
Q: What else can I use besides slow cooked pork?
A: Italian sausage would be a great substitute for this.
Q: Do I have to use Roman Pizza Bianca to make this?
A: No, you can use your favorite type of pizza dough.
Q: What if I don't like white pizzas?
A: Try a red sauce. It'll be just as good!
Wine: A dry white wine will pierce through the flavors wonderfully. Try this with a Pinot Gris or Chardonnay.
Appetizer: A nice meat and cheese board would be the perfect addition to this.
Salad: Use those extra marinated tomatoes and mozzarella to make a nice caprese salad.
Print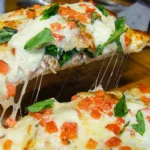 white stuffed roman pizza with pork, rabe and garlic cream sauce
---
Author:

Total Time:

58 minutes

Yield:

1 pizza tray
Description
A loaded sandwich? Topped with an entire pizza?! To some, this may seem a bit over the top, but we nearly guarantee that it'll make its way into your dinner rotation.
---
Roman pizza Bianca

1/4 lb sliced provolone cheese

2 cups grated mozzarella cheese

1/2 cup fresh mozzarella cheese

1 cup fresh tomatoes marinated in olive oil, salt, pepper, and basil

1/2 cup grated Pecorino Romano cheese

3 cups slow cooked pork

1-2 cups garlic cream sauce

2 tbsp olive oil

1 tbsp fresh garlic
---
Cut your Roman pizza Bianca in half.

Layer the bottom half of the dough with provolone cheese.

Once the bottom is layered, spread pork all over the provolone.

Top porchetta with rabe and grated Pecorino Romano cheese.

Cover the ingredients with the top half of the dough. Spread garlic cream sauce over the top.

Dot cream sauce with garlic and marinated tomatoes. Top with more mozzarella pizza cheese.

Bake in the oven at 400 degrees for 18 minutes, or until the cheese is golden brown.

Take the pizza out after 10 minutes and layer on some fresh mozzarella.

Enjoy!
Prep Time:

40

Cook Time:

18

Category:

Stuffed Pizza

Method:

Baking