I admit it. Both me and Chuck talk way too much about caprese salad.
But it's such a delicious recipe, and it takes no time to make! With just a few healthy ingredients and five minutes of your time, you can make both a perfect appetizer and a wonderful side dish that goes well with a lot of other foods.
It's definitely one of my favorite foods, and although the web is full with easy recipes for it, today I want to share the one I'm used to.
What's caprese salad?
Locally known as insalata caprese or simply Caprese, this tasty Italian salad originated in Campania. It owes its name to the island of Capri, one of the most beautiful places in the region. It's made mainly with tomatoes, mozzarella cheese and basil, although people like to customize it with some additions.
It's a fresh and tasty salad, and it has a lot of health benefits that we'll cover later. Here's how to make it at home.
Ingredients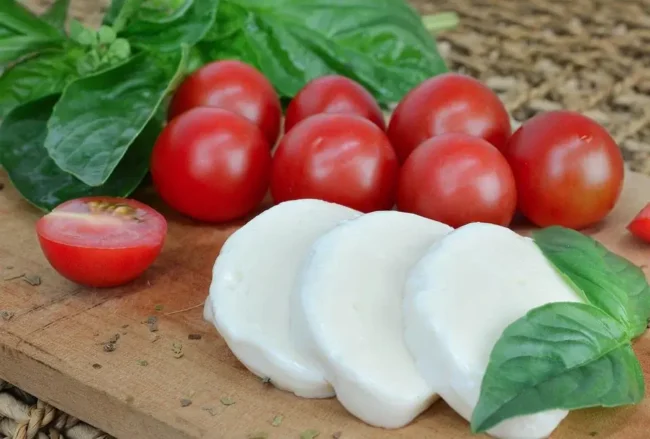 As with most of the best Italian dishes, caprese salad is made of a few simple ingredients at room temperature.
Tomatoes: as you may know, Campania is the region where San Marzano tomatoes are grown. So, it makes sense that they are the type of tomato traditionally used to make caprese salad. If you don't have any, try some good plum or Roma tomatoes. The important thing is that they are fresh and of good quality.
Fresh mozzarella cheese: preferably buffalo mozzarella. It's the one traditionally used for caprese salad, and it gives it a totally different spin than ordinary mozzarella.
Extra virgin olive oil and fine salt: just a tiny little.
Fresh basil leaves: for flavor and decoration.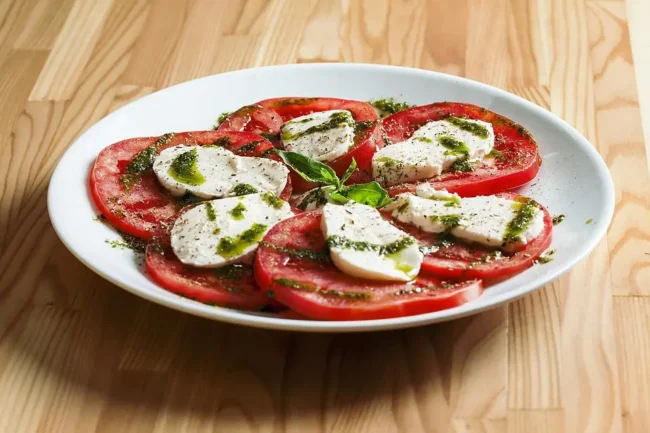 How to make a true Italian caprese salad
Many people like to just dice all the ingredients and to mix them in a large bowl. However, I prefer a different method.
Step 1: Take the tomatoes and cut them into round slices.
Step 2: Lay each slice on a large tray or plate, creating a bottom layer of fresh tomatoes.
Step 3: Slice the buffalo mozzarella, and lay each piece on top of the tomato rounds.
Step 4: Now add a drizzle of oil and a sprinkle of salt.
Step 5: Garnish with the basil leaves. I usually lay a leaf on top of every mozzarella slice.
That's how my grandma would make a caprese salad. You can serve it as an appetizer or a side dish along with a few loafs of toasted bread. I would serve about 4 – 5 slices for each person, but you can also leave it on the table and let everyone decide how much to take.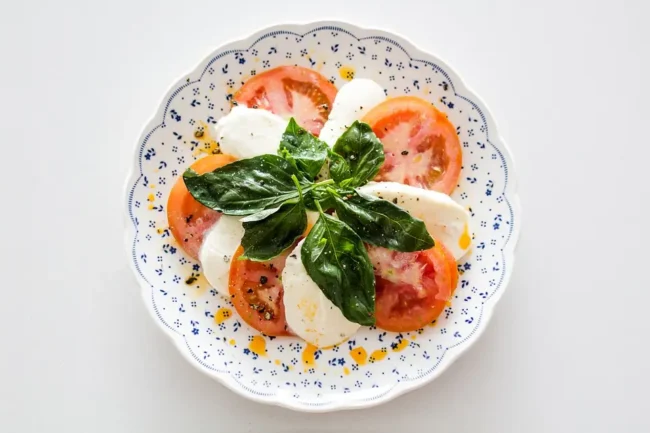 Optional additions
That was the traditional way of making insalata caprese. However, there are also some alternatives that you may like to try.
Black pepper and oregano: a simple and effective solution to add a little more flavor. Anyway, I would add just a pinch. This caprese recipe is flavorful enough on its own.
Pesto: a good Genovese-style pesto can take your caprese salad to the next level. Alternatively, try our oregano pesto, or our pesto without pine nuts recipe.
Balsamic dressing: a very common addition. Make a simple balsamic reduction with 1 tbsp honey, 1 tbsp juniper berries, 1 cinnamon stick, and 8 oz balsamic vinegar. If you don't know how to make it, I will share a recipe soon. Add a drizzle on top of the caprese salad, and you're good to go. And if you drop some of it on your clothes, check our guide on how to clean balsamic vinegar stains!
Avocados: I've never tried it, but a lot of people seem to like adding avocado slices, or using them instead of mozzarella as a vegan alternative.
You can also use your caprese salad as a topping for pizza or bruschetta. It's delicious!

What to serve with caprese salad?
As I was saying, caprese salad can be used either as a side dish or as an appetizer. Whichever way you decide to use it, here are some pairings to try.
Main dish: a simple pasta dish with a light dressing. If you're looking for healthy foods to add to your weekly rotation, spaghetti aglio olio e peperoncino is a great, delicious option. Alternatively, you could try my lemon pasta recipe, or make some pasta with soffritto cream. On the other hand, if you're not watching the calories, caprese salad goes great with pesto pasta.
Meat: Try making bresaola rolls stuffed with ricotta and arugula. Or wrap prosciutto around breadsticks and serve them on a platter. Alternatively, you can also pair caprese salad with meat skewers or meatballs.
Fish: If you are not intolerant, people tell me that caprese goes great with shrimp. Alternatively, you can pair it with a tuna filet or smoked salmon.
Wine: I would go with a full-bodied rosé wine, or a medium bodied red wine.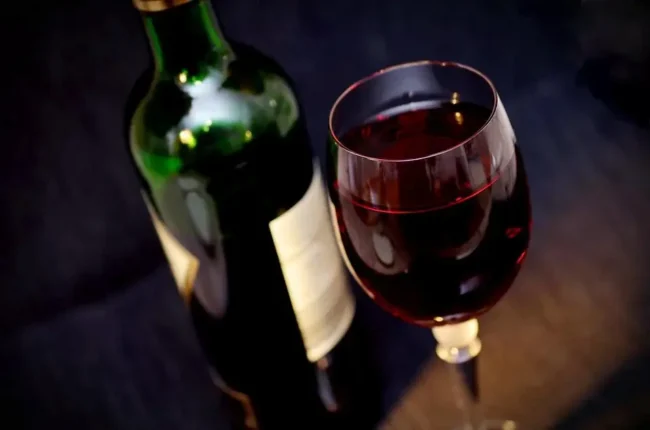 Is caprese salad healthy?
Sure it is! One of the things I love about this recipe is that I can fit it into any diet.
Each of its ingredients has important health benefits.
Tomatoes are an excellent source of vitamin C, vitamin K, vitamin A, and potassium.
Basil has lots of natural antioxidants and essential oils, some of which have anti-inflammatory properties and also work as enzyme-inhibiting oils.
Finally, mozzarella cheese is rich in calcium, protein, sodium, chloride, iron, and potassium.
An average serving of caprese salad can give you about 40% of your daily vitamin C intake and 18% of your calcium intake. In addition, the substances in basil and tomato are linked to better eye and heart health.
Theoretically, the nutrients in caprese may reduce the risk of cancer, diabetes, arthritis, and heart attack. In my opinion, this is a bit of a stretch, as you'd have to eat lots of it to get visible results. Anyway, it is definitely worth including in your healthy meal plans.
If you're curious about the precise nutritional values of the caprese salad, check out the recipe card below.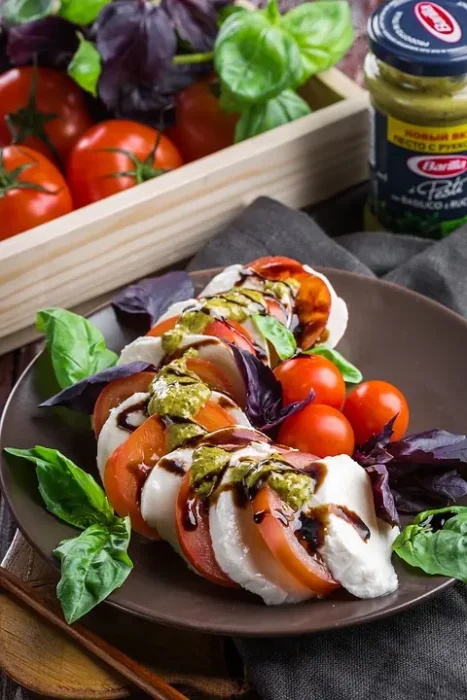 Recipe card
In short, caprese salad is a delicious quick dish that requires just a few fresh ingredients. Now you know how to make it like we do in Italy, and how to customize it with different toppings.
Here's a recipe card with the precise instructions and amounts for each ingredients. You can print it, or use it as a shopping list from your smartphone.
Have fun making caprese salad at home!
Print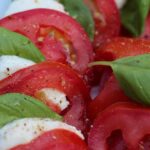 Easy caprese salad
---
Author:

Total Time:

5 minutes

Yield:

4

1

x

Diet:

Vegetarian
Description
A tasty salad from Southern Italy, made of just a few healthy ingredients. Use it as your next appetizer or side dish!
---
4 San Marzano tomatoes
1 pound buffalo mozzarella cheese
1/2 cup of fresh basil leaves
2 tbsp extra-virgin olive oil
1 pinch of fine salt
---
Cut the tomatoes and the buffalo mozzarella into 1/4″ thick slices.
Lay the tomato slices on a large tray or plate, creating a bottom layer.
Lay a slice of mozzarella on top of each piece of tomato.
Now add a drizzle of oil and a sprinkle of salt.
Garnish with the basil leaves.
Enjoy
Notes
The nutrition information below is calculated automatically by an online tool at verywellfit.com. It might not be always accurate, and if you rely on this information for your diet we recommend double checking with your own tools.
Prep Time:

5

Category:

Side Dishes

Cuisine:

Italian
Nutrition
Serving Size:

1 person

Calories:

375

Sodium:

45 mg

Fat:

32.9 g

Saturated Fat:

1 g

Carbohydrates:

6.1 g

Fiber:

1.5 g

Protein:

15.3 g

Cholesterol:

0 mg
Keywords: caprese salad, insalata caprese