When you walk through the supermarket you probably see a ton of glass jars filled with factory made pesto.  Some are probably good and some are probably not that great.   
I'm a big believer in the idea that a fresh batch of pesto is far superior to a canned pesto recipe from the store.   
The Summer months are the best time of year to make basil pesto.
It's that time of year when the Summer gardens are full of fresh herbs and veggies.  You walk outside and you see tomatoes, cucumbers, and peppers hanging off all of your plants.  
The basil plant is massive.  You have to do something great with all of those fresh basil leaves. 
​Here's what you need to do when you have a ton of fresh basil.  Make fresh pesto.
The traditional pesto made with fresh basil is also known as Pesto Genovese. 
​I'm going to show you a great recipe for making homemade basil pesto.  I like it because if you store it correctly you won't have to use store-bought pesto during the Winter months.
You'll be able to bang out some really nice pasta dishes.  It's pretty versatile and doesn't just have to be a pasta sauce.  
Let's make some pesto!
The Main Ingredients to Make the Homemade Canned Pesto Recipe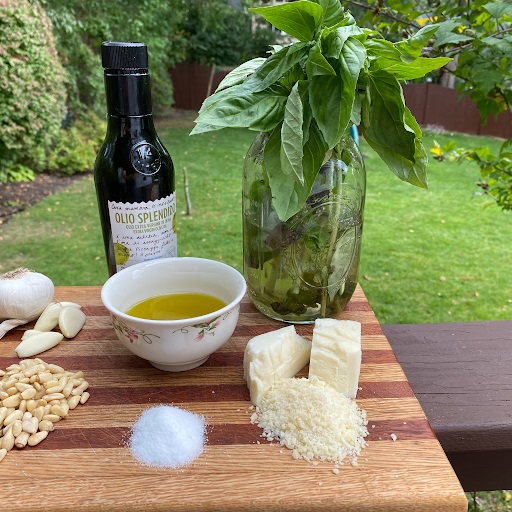 The ingredients you need to make this pesto recipe are pretty simple.  You can find just about all of them at your local grocery store.  It's important that you use the best ingredients you can find.  Please see the recipe card below for the exact amounts of each ingredient.
Basil
When making pesto Genovese you need fresh basil leaves.  If you have a garden with basil plants this is a great way to use them up.  You can also buy some fresh basil from the supermarket.
Garlic
You're going to need fresh garlic cloves in this pesto recipe.   I like using American grown garlic.
Cheese
Get yourself a nice block of parmesan cheese.  Grate it yourself for the best results. You may see it called Parmigiano Reggiano in the store.  
Olive Oil
I suggest using extra virgin olive oil for when you make basil pesto.  It's a really important ingredient that holds all of the other ingredients together. 
Pine Nuts
These are called pignoli in Italian.  I strongly suggest adding pine nuts to your basil pesto.
Seasoning
Some Kosher salt and freshly cracked black pepper are all you need for seasoning your basil pesto.

How to Make Your Fresh Canned Pesto Recipe
The traditional way to make pesto is in a mortar and pestle. It's easier and faster to use a food processor or a blender so I'm going to give you instructions based on this method.
First add your basil, garlic, pine nuts, salt and pepper to the blender or food processor.  Blend these ingredients into a paste.  
Once you have a paste, slowly drizzle the olive oil into the machine while it's on.  This will allow the olive oil to evenly distribute into the other ingredients.
Empty the contents of the blender into a bowl.  Add the grated cheese into the bowl and fold it into the pesto mix.
Now you're ready to use your freshly made pesto immediately or store it for a later date.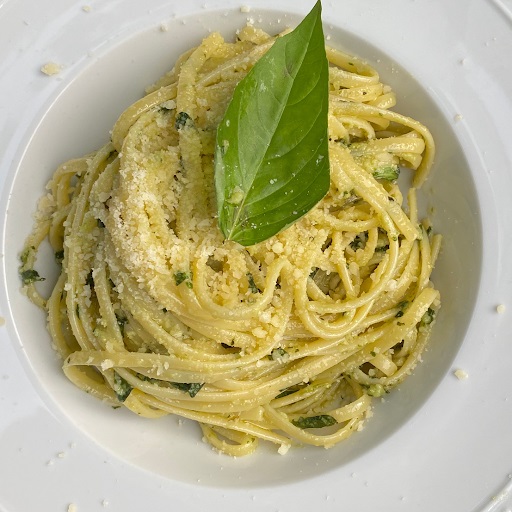 Fresh Canned Pesto Recipe FAQs
What is the best way to store homemade basil pesto?
If you make a big batch of your own pesto you will need to store it. I like freezing pesto.  You can store it in a freezer safe airtight container.  
I've heard some people say they like freezing it in ice cube trays first because they can use each cube as an individual serving.  You can then store the frozen pesto cubes in a freezer bag.
​What is a substitute for pine nuts?
Some people are allergic to pine nuts.  If that is the case you can leave them out totally or use sunflower seeds or pumpkin seeds instead.
What are some interesting ways to use the basil pesto?
​​There are countless ways to use basil pesto.  Here are a few.
​Boil your favorite pasta and toss the hot cooked pasta with room temperature pesto.  Add extra grated cheese and serve it up!
Put your homemade pesto in a saute pan on medium heat.  Add halved cherry tomatoes, heavy cream and extra grated cheese.  You'll have a really delicious easy pesto pasta recipe with a creamy sauce.
​Use your homemade pesto sauce as a spread for sandwiches.
Do I have to use parmesan cheese when I make homemade pesto?
​Parmesan cheese can be substituted with pecorino Romano in this basil pesto recipe.
Print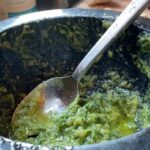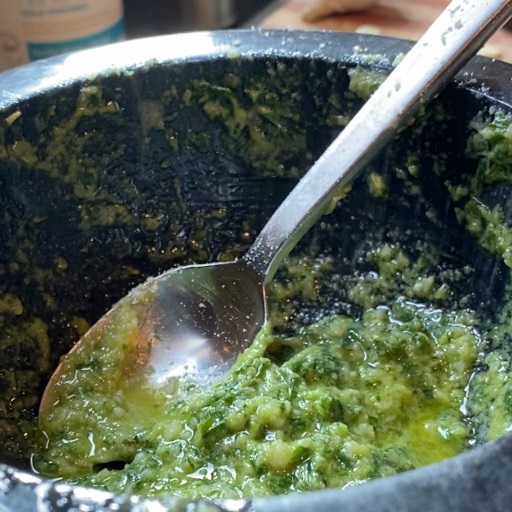 Easy Basil Pesto Recipe with Pine Nuts
---
2 cups of fresh basil leaves

2 tablespoons of pine nuts

2 cloves of fresh garlic

½ cup of extra virgin olive oil

½ cup of freshly grated parmesan cheese

Salt and pepper to taste
---
Add basil, garlic, pine nuts, salt and pepper to food processor or blender.

Blend until smooth.

With machine still running, slowly drizzle in the olive oil.

Transfer ingredients from the blender to a bowl and fold in the grated cheese.

Enjoy!