I'm going to let you in on a little secret.
It's not some groundbreaking secret that will lead to the best and most authentic Italian cooking you've ever done in your life, but it's a little life hack for when you want to cut back on your sodium intake.
As people kick start their New Year's resolutions, everyone is always trying to find a way to make it so they're ingesting more fresh vegetables and simple ingredients, and less sodium.
Especially since more sodium can lead to an increase in water weight, decreasing the amount of sodium that you consume will help in assisting that you can keep the New Year's weight off, and have it stay off.
Of course, this poses a challenge to my fellow Italophiles and pasta lovers. How can one lose weight AND still use the delicious recipes that they grew up loving?
Which brings me to my little secret…
Low sodium tomato sauce.
View this post on Instagram
By eating this with some high quality pasta, you'll be sure that you're eating only the best of the best ingredients while enjoying the food you've known and loved.
Here's the number one thing that I have to say when it comes to keeping your tomato sauce as low on sodium as you can:
Use fresh ingredients.
More specifically, fresh tomatoes.
I know, I know, you're probably thinking, "why not just use less salt?"
But table salt or sea salt doesn't really add much to your daily sodium intake at all.
It's the preservatives and added sugars that typically are found in canned (or even jarred) Italian tomatoes that will do you dirty. Looking at you, cans of Hunts tomato sauce.
By eliminating the use of preserved tomatoes and only using natural ingredients you're ensuring that the preservatives and additives that are typically added into canned tomatoes are out of your red sauce, and nowhere near your food.
And before you go wondering about whether or not you need to make your own tomato paste, don't worry. This Italian recipe doesn't call for any of that.
Genius.
Here's our easy recipe for a very low sodium tomato sauce that you'll be able to enjoy all year round.
Print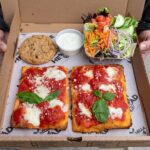 Low Sodium Marinara Sauce
---
Author:

Total Time:

4 hours 20 minutes

Yield:

1/2

lb

1

x

Diet:

Vegetarian
1 lb of fresh plum tomatoes.
3–4 cloves of fresh garlic cloves, sliced (garlic powder works too, but isn't as fresh)
1/2 of a large fresh onion, diced
3 tablespoons of extra virgin olive oil
4–5 leaves of fresh basil and other fresh herbs
A dash of red wine, optional
Salt, black pepper, and crushed red pepper
---
Boil salted water on the stove in a large pot.
Now wash the tomatoes. With the tip of your knife, pop out the little part where the stem was. Cut a little "X" in the bottom of the tomato.
Place your tomatoes in the boiling water for about 10 minutes. Take them out and let them cool off.
Peel the skin off of the tomatoes. That little "X" you cut on the button makes it easy.
Cut the peeled tomatoes in half and scoop out some of the seeds. Get as many as you can.
Place the tomatoes in a blender or food processor and puree them.
Heat some olive oil in a skillet on low heat. Add your sausages, sliced garlic and diced onion. Let them cook for about 10 minutes until the onions are soft and translucent, and sausage is brown on both sides. At the end, add your dash of red wine if you decide to add it.
Pour in your tomatoes from the blender and bring it to a boil on high heat. When it starts to boil, turn it down to medium heat and let it simmer.
Add some salt and pepper and let it simmer for 3-4 hours, stirring every 20 minutes or so and taking the olive oil off of the top of the sauce.
Enjoy your favorite pasta dishes with the best low-sodium pasta sauces you will ever eat!
Notes
If you don't want to spend much time on the stove, you can use the same ingredients for our quick fresh tomato sauce recipe. Use it to dress some spaghetti, it will be delicious!
DISCLAIMER: The nutritional values indicated below have been generated with an online tool. If you need them for medical reasons, we recommend double-checking with your own tools or doctors.
Prep Time:

20

Cook Time:

240

Category:

Sauces

Method:

Cooked

Cuisine:

Italian
Nutrition
Serving Size:

1/2 lb

Calories:

481

Sugar:

18.5 g

Sodium:

216 mg

Fat:

43 g

Saturated Fat:

6.1 g

Carbohydrates:

26.8 g

Fiber:

5.3 g

Protein:

6.1 g

Cholesterol:

0 mg
Keywords: low sodium marinara sauce recipe
Marinara Sauce with Fresh Tomatoes FAQs
View this post on Instagram
Does it matter what type of tomato I use?
Not really. A good ripe tomato during tomato season is perfect. If it's not tomato season, I've had the best results with plum tomatoes from the grocery store.
What kind of healthy pasta should I use?
I love eating this with chickpea pasta. My favorite kind is Banza, but you can really use any. Additionally, I've had my tomato sauce with cauliflower gnocchi from Trader Joe's before too, and it's amazing.
Of course, any kind of freshly made pasta or gnocchi is fair game as well. If you don't feel like making this on your own, you can try using some from the imported foods section of your supermarket.
Can I make this sauce and use it in other ways?
Yes! Use it like you would any other tomato sauce. Make chicken parmesan, use it as a pizza sauce or use it as a dipping sauce with homemade mozzarella sticks.
Can I freeze this fresh tomato sauce?
Yes. If you can get your hands on a bunch of tomatoes, make a big batch and store it in the freezer. After you make it, let it cool and put it in an airtight container. It's night to have this versatile sauce on hand for whenever you need it.
Can I make a homemade spaghetti sauce using cherry tomatoes?
Yes. You can make a homemade sauce using cherry tomatoes. With a cherry tomato sauce the process is different. When I make a sauce using cherry tomatoes I don't blanch and peel the tomatoes. I cut the cherry tomatoes in half and toss them right in the pan with the olive oil and garlic.
Can I use fresh tomatoes with my usual homemade marinara sauce recipe?
Yes. If you have a marinara sauce recipe that your family loves, try substituting the canned tomatoes with the fresh tomatoes. You can still add whatever ingredients you would normally add. There are so many different methods when it comes to making tomato sauce. Some people add a teaspoon of sugar, some add a pinch of red pepper flakes. You should make your tomato sauce the way you and your family enjoy it.