This poached pears recipe is awesome! We make them in the restaurant all the time, and sell them on pizzas, subs, and salads. We soak them in a simple syrup for half an hour to give them the amazing, cinnamon flavor that everyone loves. We're going to show you how we make them, so you can try them for yourself at home.
Remember when you were a kid and you'd get home from school on a crisp autumn day? The temperature was just starting to drop, school just started back up for the year, football was on in the back, and you were always in a really great mood?
That's what this recipe smells like.
Every single time I smell these delicious poached pears, I'm taken right back to my childhood; with my house being filled with the fragrant aroma of early to late fall.
The secret? It's all in the cinnamon sticks.
Not granulated cinnamon, big old-fashioned cinnamon sticks that you used to see at your grandmother's house. They absorb into every bit of the mixture to fill your house with that sweet, cider-like scent.
And guess what? They taste exactly how they smell.
When paired with a gentle simmer, the honey, sugar and cinnamon sticks make a thick syrup and seeps into every bit of the pears to make them soft, chewy, and bursting with flavor.
This is a great option for your next dinner party. There's something about poaching pears that adds a sophisticated touch to every meal. Maybe it's in the hints of spice, or perhaps the luscious syrup that the pears spend a lot of time in. There's nothing as yummy as a nice, tender pear.
You'll want to quit your job and work on a farm selling cider donuts and poached pears by the jar.
Until you save up the money to do so, I'm gonna show you one of my favorite ways to poach these so they turn out amazing.
*Don't feel like reading? We've got you covered. Watch our YouTube tutorial below!*
What you need to poach the perfect pear
Pears: We use bosc pears, but any kind of pear will work just as well.
Sugar: Use granulated sugar instead of powdered sugar.
Water: A lot of people like to simmer their pears in a white wine and water mixture, but we're just using water today. Measure out one quart for this.
Honey: Get a jar of some nice, raw honey from your local farm stand; it makes a huge difference.
Cinnamon sticks: You can get a container of these at your local supermarket. Use one cinnamon stick, or use a bunch. It's entirely up to you.
Vanilla bean (optional): We didn't use a vanilla bean in our recipe, but if you had one, it would be a delicious addition. A dash of vanilla extract would work too.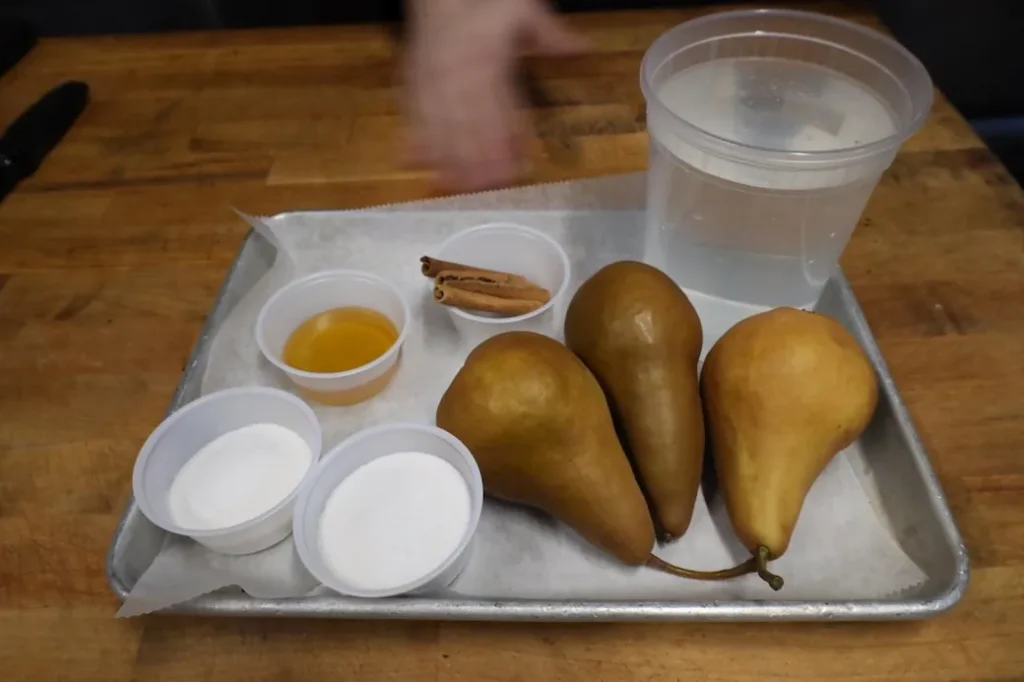 This recipe is so much easier than you would think.
Use a vegetable peeler to peel each of your whole pears. Cut them in half, cutting the stems off and taking the seeds out. Make sure you use a sharp knife, as they can be hard and tough to cut.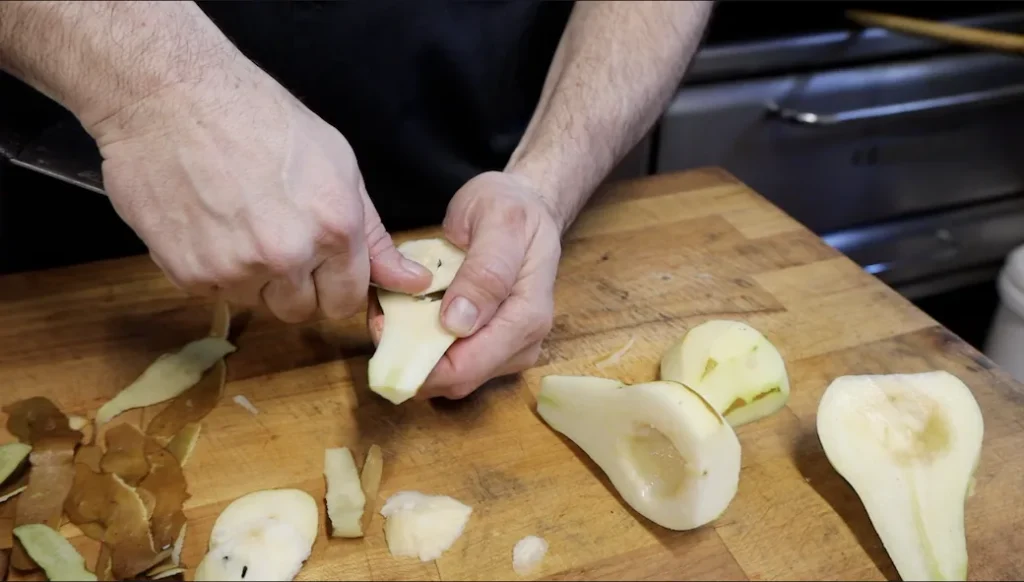 Put your water, sugar, and honey into a large saucepan and heat until sugar dissolves, stirring occasionally in a circular motion. It's important to heat this on low to medium heat, as we aren't boiling the water.
Once the sugar dissolves, place pear halves and cinnamon sticks into the water. Make sure the surface of the liquid is low enough so that a tiny bit of the pears remain uncovered. Simmer on medium-low heat for 20-25 minutes.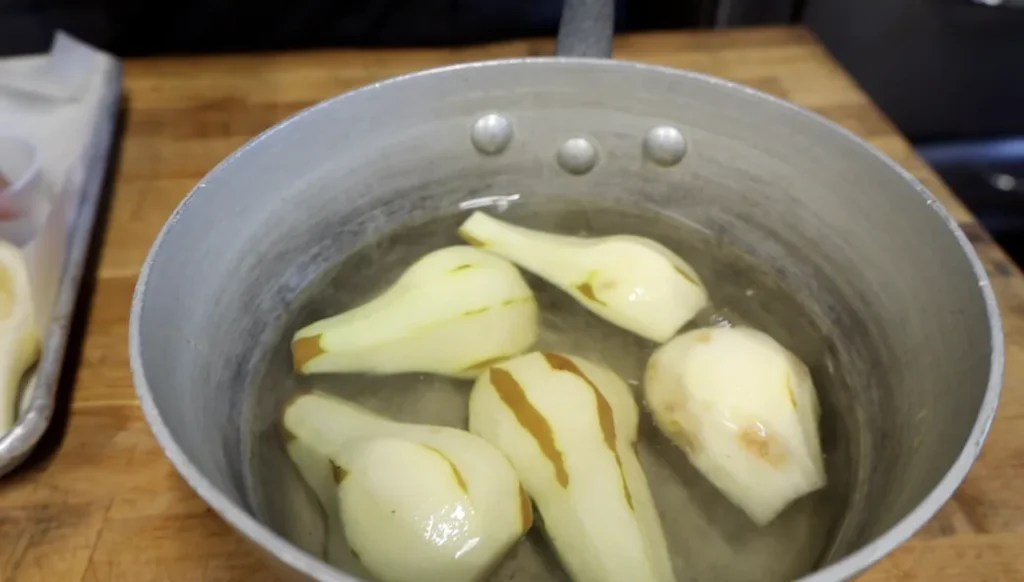 When 25 minutes have passed, test out your pears. Try sticking a knife into them. You'll know they're done when the knife easily slides in and out of them. Take them out with a slotted spoon and place on a paper towel for a few minutes to cool off.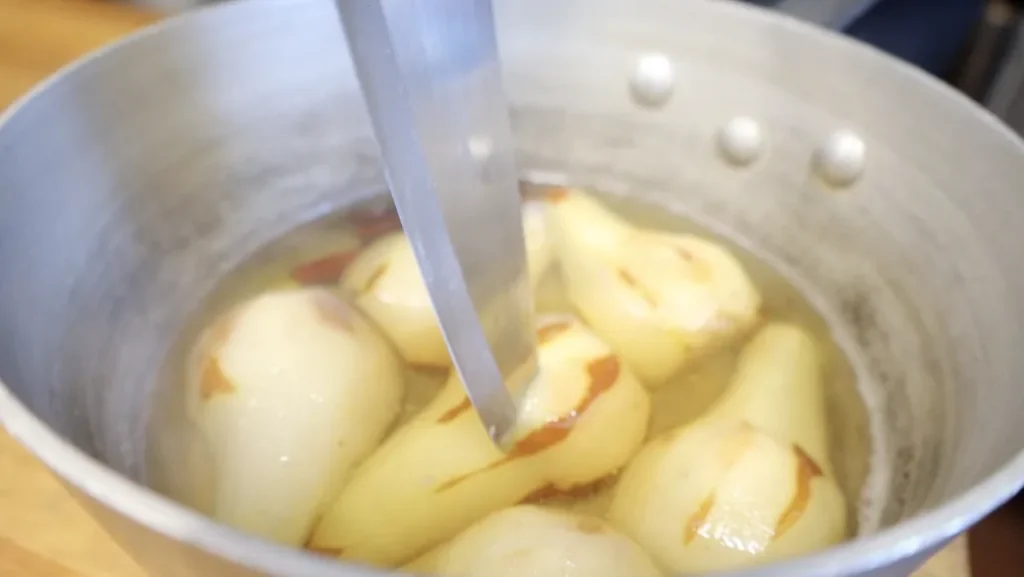 Cut the pears into little strips, toss them into a recipe, or eat them by the handful. Whatever it is, we won't judge. Enjoy!
Q: Should I serve these hot or cold?
A: You can serve these warm, cold, or at room temperature, depending on how you're serving them. They taste delicious however you serve them, but if you're serving them with a dessert, make sure they're warm.
Q: How do I reheat poached pears?
A: If you know you're going to want to save and reheat some, here's the best way to do it. Save the "fruit juice" from the hot poaching liquid. Heat all of the ingredients together in a saucepan when ready to eat. They'll be delicious!
Q: Can I freeze these?
A: They can become a bit soggy when defrosted, so we don't recommend doing this.
What to make with poached pears
Prosciutto and pear pizza: Make a roman pizza bianca and top it with garlic cream sauce, mozzarella cheese, figs, prosciutto, arugula, balsamic glaze, and your poached pears. The sweetness of the pears goes nicely with the saltiness of the cheese and prosciutto. It'll be delicious!
Pig and fig sub: Try your hand at our classic recipe by putting poached pears, prosciutto, gorgonzola, fig jam, mixed greens and balsamic vinaigrette on a sub roll. Nice and fancy!
Poached pears à la mode: Impress your family and take dessert up a notch with this simple dessert. Serve warm on top of vanilla ice cream, sprinkling with brown sugar and whipped cream at the end if you'd like.
Print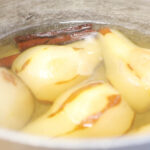 easy poached pears recipe without white wine
---
Author:

Total Time:

30 minutes

Yield:

2

1

x
3 pears
1 cup sugar
1/4 cup honey
2 or 3 cinnamon sticks
1 quart of water
1 vanilla bean (optional)
---
Peel & slice your pears in half, getting rid of the seeds as you slice them.

Heat up sugar, water and honey in a pan until the sugar dissolves, stirring occasionally.

Place pears, cinnamon sticks and vanilla bean in the pan, leaving some breathing room at the top, and let simmer on low heat for 25 minutes.

Pears are ready when they're soft and a knife can easily go in and out.

Enjoy!
Prep Time:

5

Cook Time:

25