Let's talk about mozzarella sticks.  And I don't mean those little frozen pinky-finger-size things that most restaurants serve.
I'm talking about big, thick, homemade mozzarella sticks.  The ones that give you a cheese pull long enough to walk across the street and it still doesn't break.
Those are the ones people want, and those are the ones that we like to make.
And today is the day that we're going to teach YOU how to make them at home. Here's my personal mozzarella sticks recipe, and a video tutorial to guide you through every step!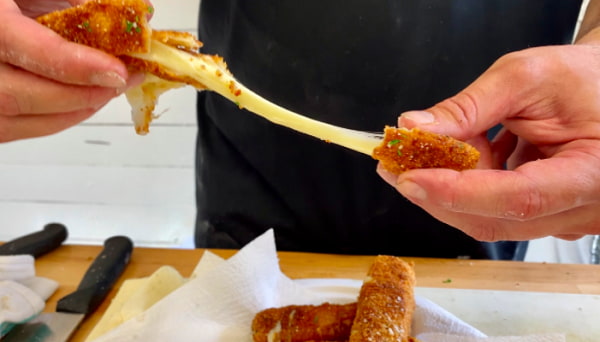 At Mortadella Head people go absolutely nuts for our BIG HOMEMADE MOZZARELLA STICKS.  They are one of our best sellers and you're about to find out why.
I know other guys in the business and they thought I was crazy when I told them I was going to make my own mozzarella sticks.
"Why waste your time?" , "Nobody cares.",  "People will eat anything." – that's what they said. I told them I wasn't about to embarrass myself with the same mozzarella sticks they were selling.
I'll buy the cheese and I'll do it right.
It's a restaurant.  We're going to cook.  That's why we're here.
Let's GET CHEESY!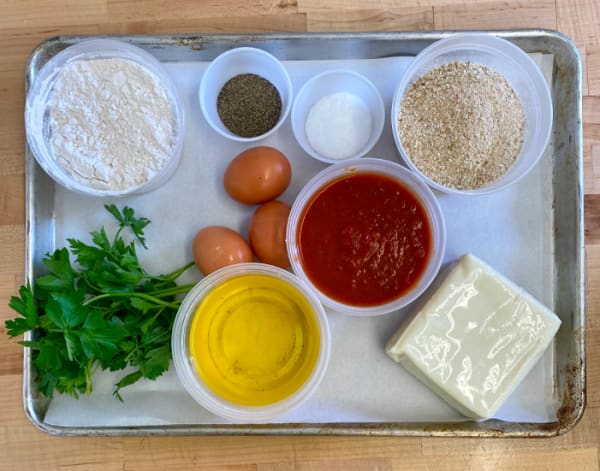 Here are the ingredients!
Here are all the ingredients you need to make mozzarella sticks at home.
They are not many, and they don't require much time to be prepared. The important thing is to choose top-quality products to make your sticks as tasty as possible.
Cheese:  Use a good low moisture whole milk mozzarella that comes in a block.  Don't use a fresh mozzarella: it's too wet and you won't get that nice cheese pull you're looking for.
Eggs:  I'm sure you have some eggs in your fridge.  If not, buy some.
Flour: All-purpose flour is fine.  If you have something fancy like 00, that's fine too.
Bread crumbs:  I like using regular old breadcrumbs and seasoning them myself.
Olive Oil for frying:  Get a decent olive oil to fry with.  You don't need the most expensive olive oil on the shelf.  But I do think frying in olive oil adds better flavor to the mozzarella sticks.
Marinara Sauce:  Use a good tomato sauce.  When you start dunking you'll be glad you did. Here at Mortadella Head, we use our own marinara sauce made with ripe tomatoes, fresh onions, fresh garlic, basil, olive oil, salt, and pepper. If you want to try it, you can order it from our shop and have it delivered to your house.
NOW LET'S SEE HOW TO MAKE YOUR MOZZARELLA STICKS
This is going to be easy.  Follow this mozzarella sticks recipe once, and you'll probably never order the little frozen ones again. Watch our video tutorial, or follow the guide below. It'll be fun!
Step 1
First, take your block of mozzarella and cut it into logs about 5 inches long and one inch thick.
This part is important because you want them thick enough to give you a nice cheese pull for the Instagram pictures but not too thick so they don't cook all the way through.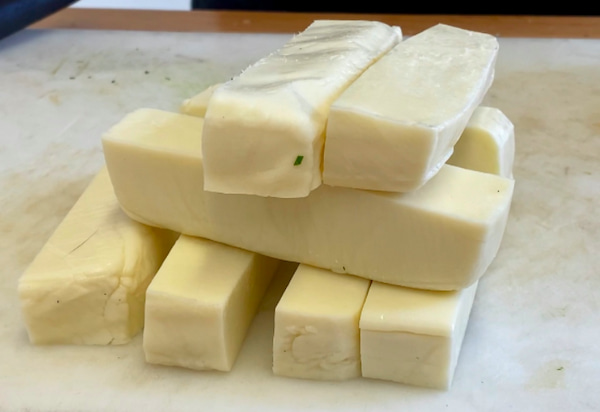 After that, set up a simple breading station with flour, eggs, and breadcrumbs.  Make sure you season everything well.  We want lots of flavors!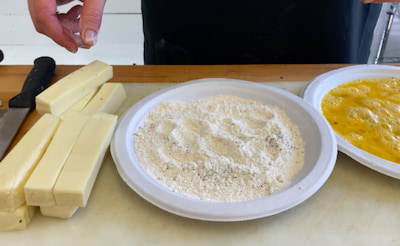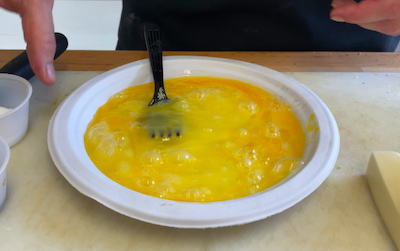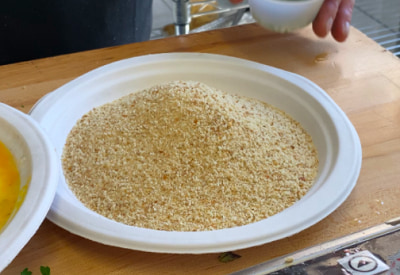 Step 2
And now, the breading process. This is the fun part.  
Dredge the naked cheese sticks in flour making sure they get completely coated, then give them a dip in the egg. Finally, roll them around in the breadcrumbs making sure you cover them well.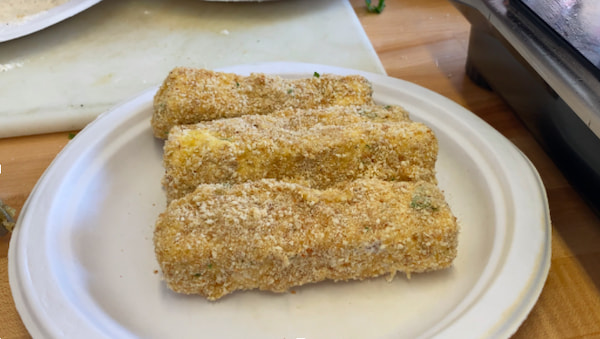 After that, repeat. Doing this twice will give your sticks a crust strong enough to hold in all of the lava-like cheese when you fry them.
Step 3
Set the breaded sticks aside and heat up some olive oil. If you have a thermometer, the ideal temperature is between 350°F and 375 °F. The higher, the better – if you ask me.
When the oil is ready, deep-fry your mozzarella sticks, making sure they get crispy on every side.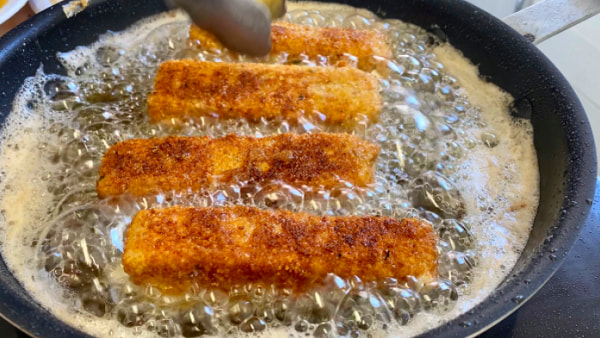 Don't crowd the frying pan.  You want enough room so that each mozzarella stick has a chance to get the love it deserves.
When they are cooked, place them on a plate lined with a paper towel and let them rest for a few minutes. After that, you can serve them.
Enjoy!
See? That wasn't hard. There's really no reason to settle for the little mozzarella sticks that you usually find in restaurants. And now you can make them at home any time you want.
Now, if you were just looking for a quick and easy mozzarella sticks recipe, that's all you need to know. You can jump right to the bottom of the article, where you'll find a recipe card that you can print and keep in your place.
However, if you still have some doubts, or would like to know what foods to pair these sticks with, keep reading. I still have something interesting to say!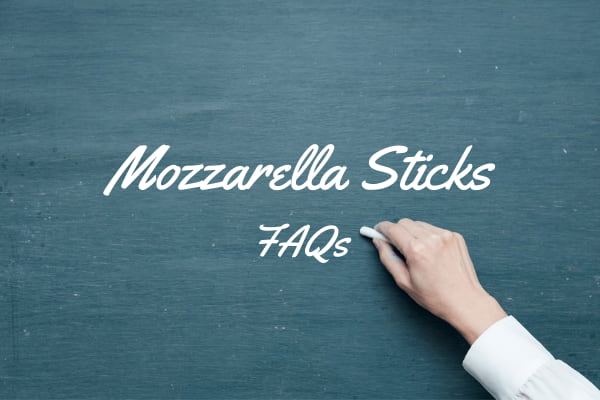 HOMEMADE MOZZARELLA STICKS: FAQs
When you learn how to make something new, it's normal to have doubts and questions. But experienced cooks can sometimes forget how it felt like when they were beginners. As a result, even the best recipe can miss some details that someone else might find important.
I don't like to take things for granted, so I made a list of FAQs about mozzarella sticks for you.
You can check the list below for any doubt. And if you don't find what you need, just let me know in the comments. I'll tell you everything you want to know.
Yes.  Feel free to use any bread crumbs you like.  I just like to have more control over the seasoning in my bread crumbs.
2. Can these mozzarella sticks be reheated?
Yes.  These can be made in advance and warmed up in the oven before serving.
3. How can I check the oil temperature without a thermometer?
If you don't have a thermometer, here's a trick you can use to check your oil's temperature. Basically, you have to take a breadcrumb and put it in the oil.
If it sinks, the oil isn't ready yet. On the other hand, if it darkens right away it means that the oil is too hot and that you need to lower the heat. But if the oil has reached the right temperature (at least 350°), the breadcrumb will start to gently brown and sizzle. That's when you know it's time to deep-fry your mozzarella sticks.
Alternatively, you can use the wooden spoon method. This method consists of putting the lower end of a wooden object (a spoon, a stick, a toothpick) into the oil. When it starts making little bubbles that float to the surface, you're good to go.
4. Are there other ways to make mozzarella sticks aside from frying?
Here at Mortadella Head, we like our mozzarella sticks fried. However, if you are looking for a different cooking method, you can bake them or air-fry them. Just keep in mind that they'll take a little longer to be ready and that their taste might change.
If you want to use an oven, you'll have to bake them at 356 °F / 180 °C for 15 minutes. Alternatively, you can place them in an air-fryer at 392 °F / 200 °C for 8 minutes. If you want to know something more about these methods, let me know in the comments.
5. What other sauces are good for dipping my homemade mozzarella sticks?
Great question!  These are awesome with a pink vodka sauce, a spicy arrabbiata sauce, and pesto aioli. 
6. What else can I do with my homemade mozzarella sticks?
These are great on a sandwich! Make the ultimate chicken parm sub with a nice chicken cutlet and great tomato sauce.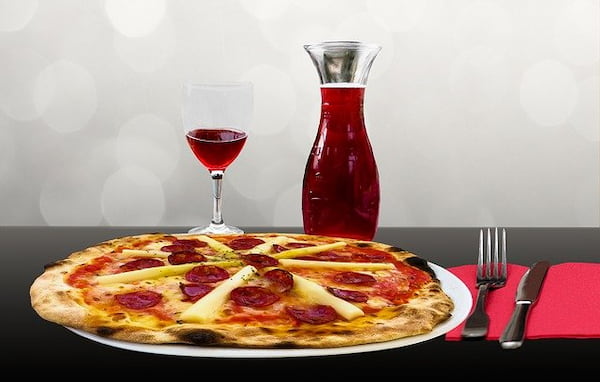 What to serve with your Big Fat Homemade Mozzarella Sticks
Finally, here are some food-pairing tips.
Wine:  Try a Prosecco. It always works well with fried foods. Alternatively, if you would rather have red wine, go with something lighter like a Pinot Noir.
Pizza:  I like a simple Tomato Pie (like our O.G.) with my homemade mozzarella sticks.  
Wings: If you're in our restaurant, get the Garlic Buffalo Wings.  The vinegar from the hot sauce is a nice compliment to the richness of the fried cheese.
Don't be a stranger!
Now you're good to go. But if you are in Somerville, MA, and don't feel like cooking today, come taste these mozzarella sticks at our place, or have them delivered to your home. We are just one call away!
It would be nice to know your opinion. If you can't be here in person, let us know what you think about this recipe in the comments. And enjoy your big, fat, homemade mozzarella sticks!
Print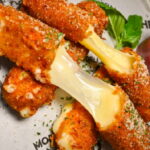 Homemade Mozzarella Sticks
---
Author:

Total Time:

14 minutes

Yield:

4

1

x
Description
These are the same mozzarella sticks that we serve to our customers at Mortadella Head. They're big, they're thick, and they taste awesome. Here's how you can make them at home in about 14 minutes!
---
1

lb. block of whole milk low moisture mozzarella;

2 cups

all-purpose flour;

2 cups

plain bread crumbs;

4

eggs;

2 cups

olive oil;

3 teaspoons

garlic powder;

3 teaspoons

dried parsley;

3 teaspoons

salt;

3 teaspoons

black pepper;
---
Cut your cheese into sticks that are about 1 inch square and 5 inches long

Beat your eggs.

Set up a breading station putting flour, eggs, and bread crumbs in separate plates.

Distribute garlic powder, salt, pepper, and parsley evenly among flour, eggs, and bread crumbs and mix well.

Perform the breading process on each cheese stick. Dredge in flour, then egg, and finally breadcrumbs.

Do this twice for a crunchier crust.

Heat olive oil in a large skillet on medium-high heat.

When oil reaches 350 degrees carefully place breaded mozzarella sticks in oil.

As each side begins to turn golden brown, flip to completely cook the entire mozzarella stick.  The total cooking time for each mozzarella stick is about 3 minutes.

Transfer cooked mozzarella sticks to a paper towel-lined plate.

Warm-up your favorite tomato sauce and serve on the side for dipping.

Enjoy!
Notes
Remember to roll each stick in the breadcrumbs twice. This will give them enough crust to keep the cheese in during the frying process.

Don't rush things. When you're frying your sticks, give each of them enough space in the pan. the frying pan.  You want enough room so that each mozzarella stick has a chance to get the love it deserves.
Prep Time:

10

Cook Time:

4

Category:

Appetizers

Method:

Deep-fry
Nutrition
Serving Size:

A bucket's worth

Calories:

1507

Sugar:

3.8 g

Sodium:

2264.3 mg

Fat:

122.1 g

Carbohydrates:

90 g

Protein:

22.1 g

Cholesterol:

192.3 mg
Keywords: homemade mozzarella sticks, mozzarella sticks recipe