I know a good sandwich when I see one. And in recent years I started seeing a certain sub loaded with melted cheese, chopped meat and sauteed onions pop up in my social media feed all the time.
Come to find out it's a New York City staple known as a Chopped Cheese or a Chop Cheese. I've seen it called both. You probably thought New York was only known for the famous dirty water hot dog sold in street carts and big greasy slices of pizza.
Well, New Yorkers have a little secret they've been keeping from the rest of us. I didn't think that was fair to everyone here in the Boston area, so I decided to make the famous chopped cheese sandwich myself to see if it lives up to the hype.
I've made it a couple of times so far. I did it once at home in a big frying pan and again in the restaurant on the flat top grill.
Both times my chopped cheese sandwiches came out AWESOME!
I'm about to teach you how these smashed hamburger patties and melted cheese are going to become your favorite sandwich.
What You Need to Make a Chopped Cheese
The chopped cheese recipe doesn't require any fancy ingredients. It's probably the most humble sandwich out there that is going to blow your mind.
Here's what you are going to need for your chopped cheese sandwich recipe.
Ground Beef: You want to get some hamburger meat that has enough fat to give it lots of flavor. I suggest using beef burger patties with 20 percent fat. It's usually called 80/20 at the grocery store because it is 80 percent lean and 20 percent fat.
If you can find beef patties just get some ground beef.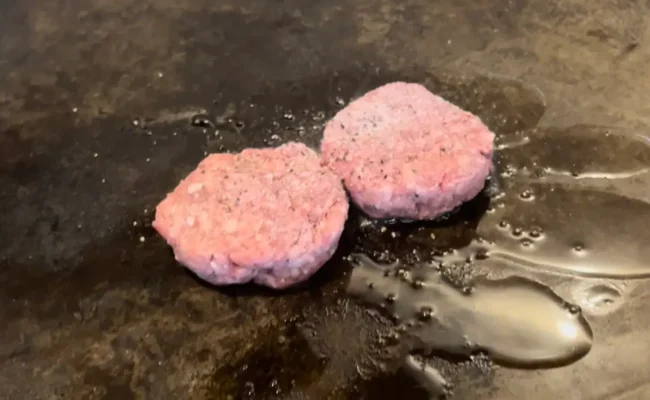 Cheese: I am going to suggest using American cheese slices. That's the cheese that is made for a sandwich like this. Nothing melts better on the grill than a few slices of American cheese.
The Roll: I would suggest a roll that is crusty on the outside and soft on the inside. The roll you buy will probably be called something different depending on where you're from. You should be looking for a sub roll, a hoagie roll or a long roll. Some parts of the country might call them hero rolls.
The Veggies: The Chopped Cheese sandwich that I made had iceberg lettuce, tomato slices, onions and pickles.
Make sure you use shredded lettuce. Cut it up nice and thin.
For the onions, I like using regular old yellow onion. You can slice it and put iron the sandwich raw or take some diced onion and grill it. If you like grilled onions, a small dice is best. The small pieces become really sweet as they caramelize.
Olive Oil and Butter: I like putting a little olive oil in the pan before I cook the meat. You can use vegetable oil if that's all you have.
I also butter both sides of the roll and toast it before making the sandwich.
Seasoning: I suggest keeping it simple when you cook your chopped cheese sandwich. A little sea salt, cracked black pepper and some garlic powder.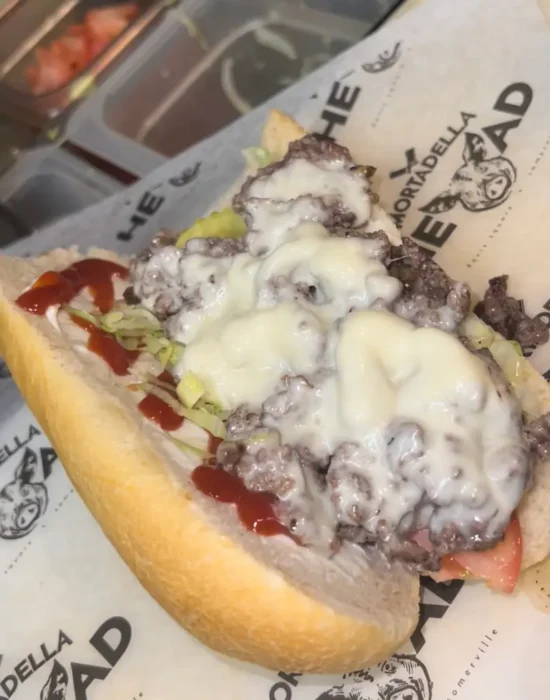 How To Make Your Chopped Cheese Sandwich
It's time to start cooking. This is going to be really easy. The total cooking time is probably less than 15 minutes.
Take a large skillet or large cast iron frying pan and put it on medium-high heat.
Add some olive oil to the pan and when it heats up, put in your ground beef.
Season the meat with the salt, pepper and garlic powder.
The meat will start to sear to a golden brown after about 3-4 minutes. At that point, take a wooden spoon and start to break up the meat into small pieces. You want the meat to be broken up as much as possible.
At this point you can move the meat over to the side of the pan and add the onions. When the onions start to cook, which will take 2-3 minutes, mix them in with the chopped meat. As the meat cooks with the onions the flavors are going to really create a delicious sandwich.
Now divide the meat and onions into equal portions in the pan. Turn the heat down from medium high heat to medium low heat.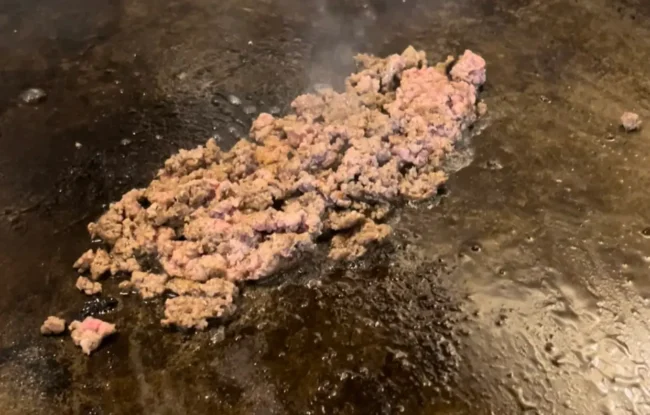 Take your slices of cheese and carefully place them on top of the beef. This is why you divide the meat mixture. You want to be able to have nice little even piles of chopped meat in the pan to receive the cheese.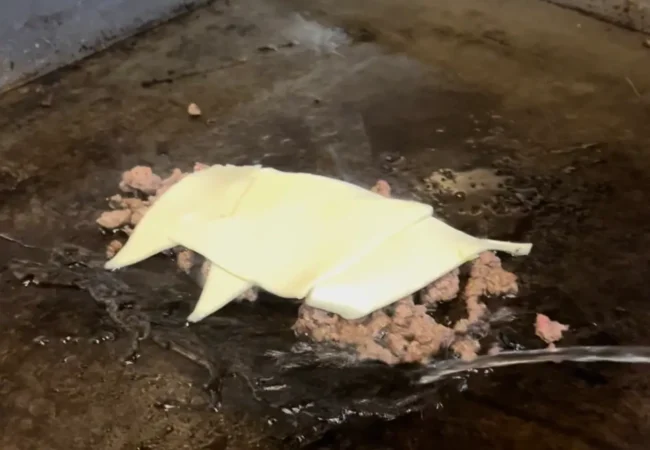 Here's a pro tip. After you top the meat with the slices of American cheese, put a few drops of water in the pan and cover it. The steam will let the cheese melt beautifully. As the cheese melts it will start to make its way through all of the cooked ground beef and onions.
You're going to have a meat and cheese mixture that will make one of the best sandwiches you've ever had.
Preheat your oven to 375 degrees. Before you build the sandwich, split your rolls open and slather them with some butter. Toss them on a baking sheet and put it in the oven for about 3-4 minutes. Get the bread nice and toasty.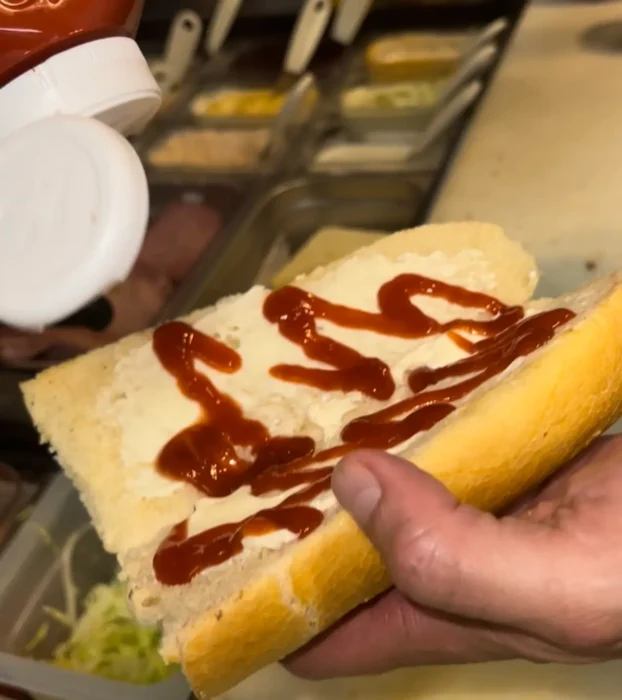 Take your rolls out of the oven and add some mayonnaise and ketchup. This is the perfect combination. The hot buttery toasted bun, mayo and ketchup create a sauce that is on another level!
Put in your shredded lettuce, sliced tomatoes and pickles. Stuff the rolls with the meat and melted cheese mixture.
Now take a huge bite. Wow!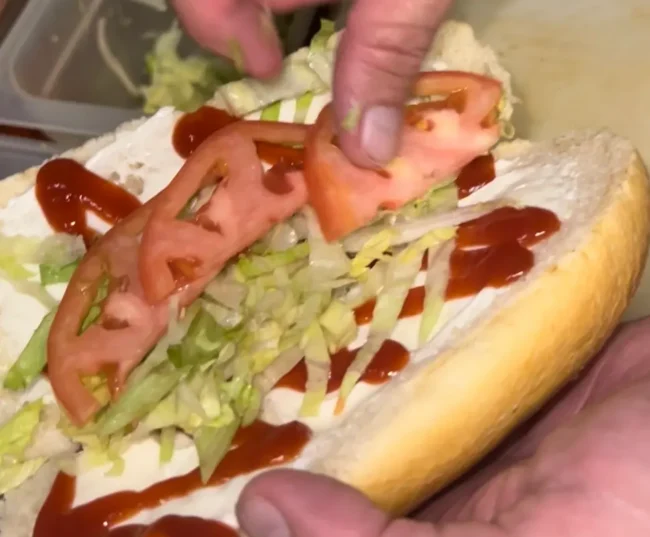 Chopped Cheese Sandwich Recipe FAQs
Q: What other toppings can go on a chopped cheese sandwich?
Fried onions are great, but you can also take the extra step and make some slow cooked caramelized onions. Add some fried bell pepper to the pan with the onions.
Q: What other meat can I use to make a chopped cheese?
A: If you want to make a low fat version try using ground turkey or ground chicken. It will still be a delicious sandwich without the ground beef.
Q: What other types of cheese can I use with my chopped cheese?
A: American cheese is great, but there are lots of other types of cheese that will be great. Try melting some provolone cheese, mozzarella or cheddar. You can even do it Philadelphia style and use the Cheez Whiz for a delicious twist.
Q: What is the difference between a cheesesteak and a chopped cheese sandwich?
A: A Philly cheesesteak and a chopped cheese are pretty similar. The only real difference is that a cheesesteak uses shaved steak and a chopped cheese uses ground beef.
So…I would say that after making my first chopped cheese sandwich, I'm hooked. I think it might be one of my favorite meals of all time now.
If you like a little heat, I'd suggest adding a little bit of hot sauce to the sandwich before you take a bite. The heat and vinegar compliment the rich meat and cheese perfectly.
If you want to watch how I make my chopped cheese sandwich, check out the video on our Youtube Channel!
Recipe Card
Print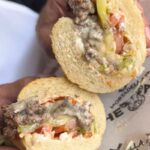 Chopped Cheese Sandwich
---
Author:

Total Time:

15 minutes

Yield:

2

1

x
1 lb of ground beef
4 slices of American cheese
1/2 Spanish onion, diced
1/4 head of Iceberg lettuce, shredded
6 slices of tomato
6–8 dill pickle chips
2 sub rolls
1 teaspoons butter
1 tablespoons of olive oil
2 tablespoons Ketchup
2 tablespoons Mayonnaise
Salt, pepper and garlic powder to taste
---
Heat a large frying pan over medium-high heat
Add ground beef to the pan and season with salt, pepper and garlic powder
When the meat begins to brown, after approximately 3 minutes, break it up with a wooden spoon or spatula.
Move the meat over to the side of the pan and add the chopped onions. Let the onions cook until golden brown.
Mix all of the beef and onions together and divide the meat mixture into 2 equal portions.
Top each pile with 2 slices of American cheese and let it melt.
Preheat the oven to 375 degrees. Butter your roll and toast it in the oven on a sheet pan for about 3 minutes or until warm and golden brown.
Remove the roll from the oven and add mayonnaise and ketchup to both sides of the roll.
Layer on the shredded lettuce, sliced tomatoes and pickles.
Stuff each roll with the cheesy meat mixture.
Close up your sandwich and take a bite.
Enjoy!
Prep Time:

12

Cook Time:

3

Category:

Subs