In my opinion, there is no better Italian appetizer than Bruschetta.
Bruschetta is the traditional Italian appetizer made of tomatoes, basil, balsamic vinegar glaze, olive oil, and cheese, served over large slices of Italian or sourdough bread.
It's light, sweet, tangy, and when prepared right, will feel like it's melting in your mouth.
Growing up, I always loved Bruschetta. I would eat it in the morning for breakfast, using the freshest tomatoes my mom would be growing in her garden.
To be honest, Bruschetta is still my favorite breakfast in the summertime.
But as I got older, I was happily surprised to find out that many Italian restaurants serve Bruschetta as a starter, and it is the perfect appetizer to enjoy with friends. I now almost always take advantage of it.
In Italy, especially, I think I would order one serving of Bruschetta a day. Zero shame.
Sadly, all good things must come to an end. I had to come home from Italy, but as soon as I landed, I took it upon myself to learn how to make the best Bruschetta imaginable with good quality ingredients.
And today, I'm going to show you how to make it. Here are the step-by-step instructions on how to perfect this easy appetizer.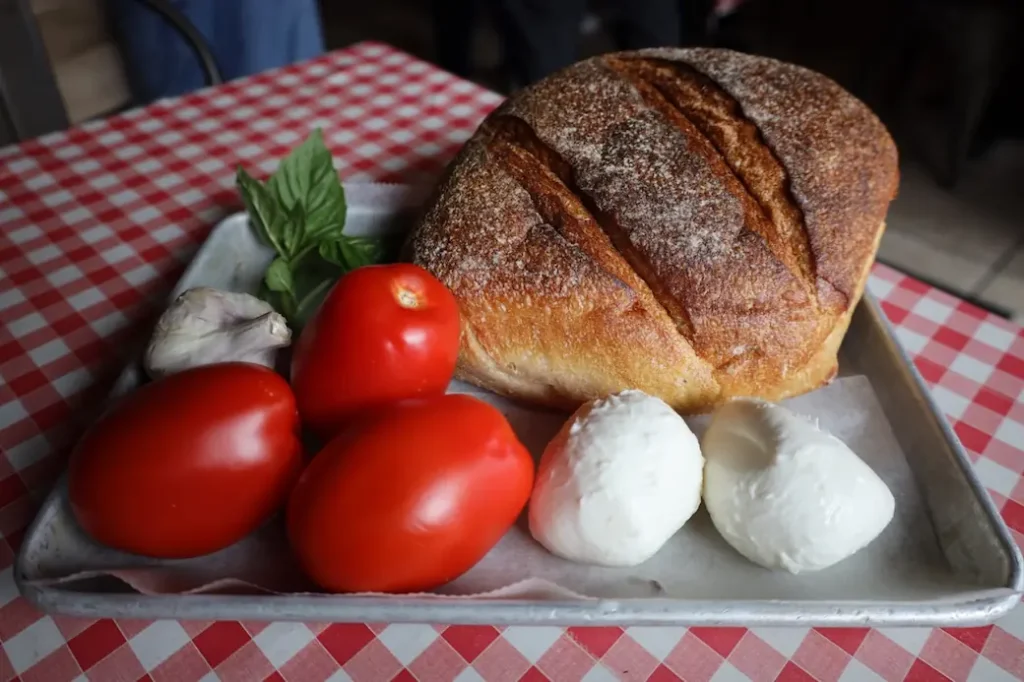 Ingredients for Bruschetta
Mozzarella cheese: The key here is to use fresh mozzarella cheese. You can use fresh mozzarella pearls (mini mozzarella balls) or dice your mozzarella into small pieces. Whatever you do, just make sure it's fresh.
Fresh tomatoes: Using fresh tomatoes rather than store bought tomatoes is such a game changer. Many people love to grow these themselves. If that's not your speed, you can buy these from your local farmer's market! I like to make my bruschetta with regular or Roma tomatoes rather than cherry tomatoes or grape tomatoes.
Fresh basil: Same deal as the tomatoes, it's all just so much better fresh.
Garlic: Jarred garlic is NOT an option here! Don't mince the cloves, rather rub the cloves directly over the toasted bread after the fact.
Balsamic vinegar glaze: In my opinion, this is the star of the show. You can get a bottle of this from your local grocery store, just get a quality one.
Extra virgin olive oil: Use a quality EVOO, one that you won't mind tasting!
Italian bread: We recommend a sourdough over French bread, but this is entirely up to your personal preference.
Grated Romano cheese: Is it really an Italian dish if it isn't being served with grated Romano?
How to make Bruschetta
Preheat your oven to 400° and brush extra virgin olive oil all over the bread slices. Toast the bread until golden brown, flipping halfway through.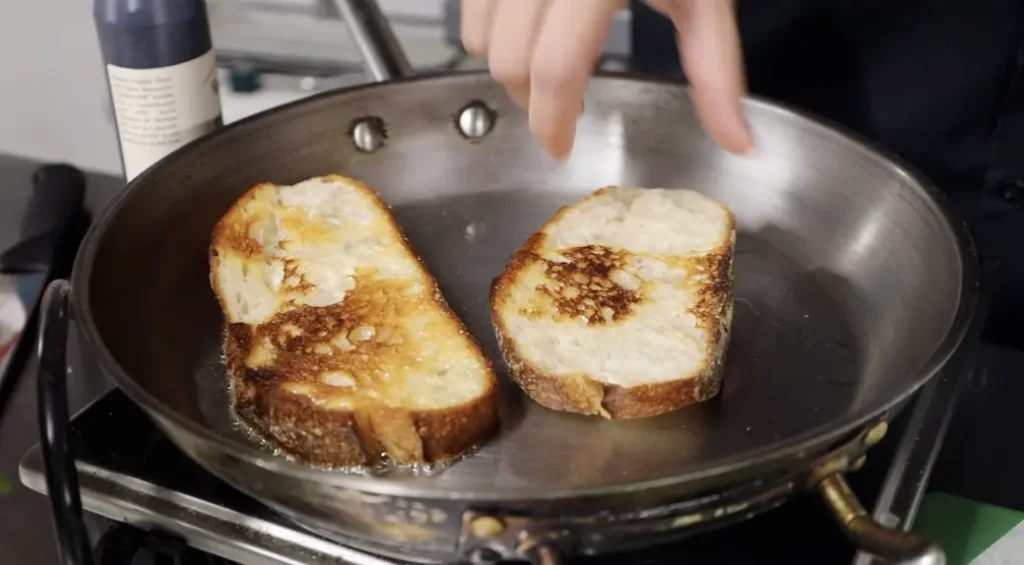 While the bread is toasting in the oven, begin to prepare your tomato by dicing it.
Roll up your basil leaves tightly and slice them into little thin ribbons.
Toss your basil and tomato into a large bowl with extra virgin olive oil, salt, and pepper. Mix thoroughly.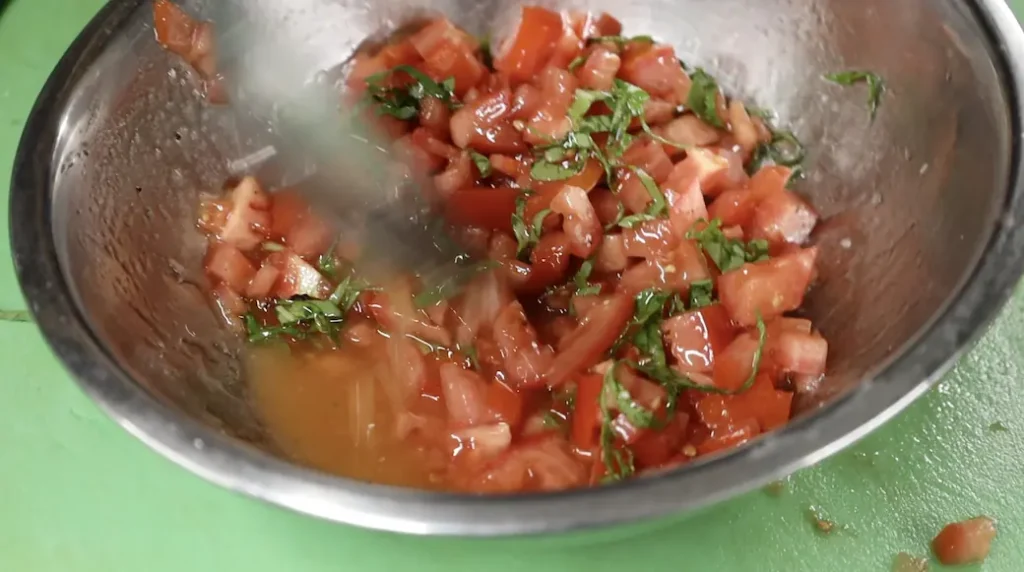 Take your toasted slices of bread and rub the garlic clove directly over the surface of each slice, covering each slice of bread with the flavor of the garlic.
Next, begin to prepare your mozzarella. If you have a fresh mozzarella ball rather than mozzarella pearls, use your hands to break up the cheese into small pieces.
Once mixed, spoon your bruschetta mixture onto the slices of bread. Top with mozzarella.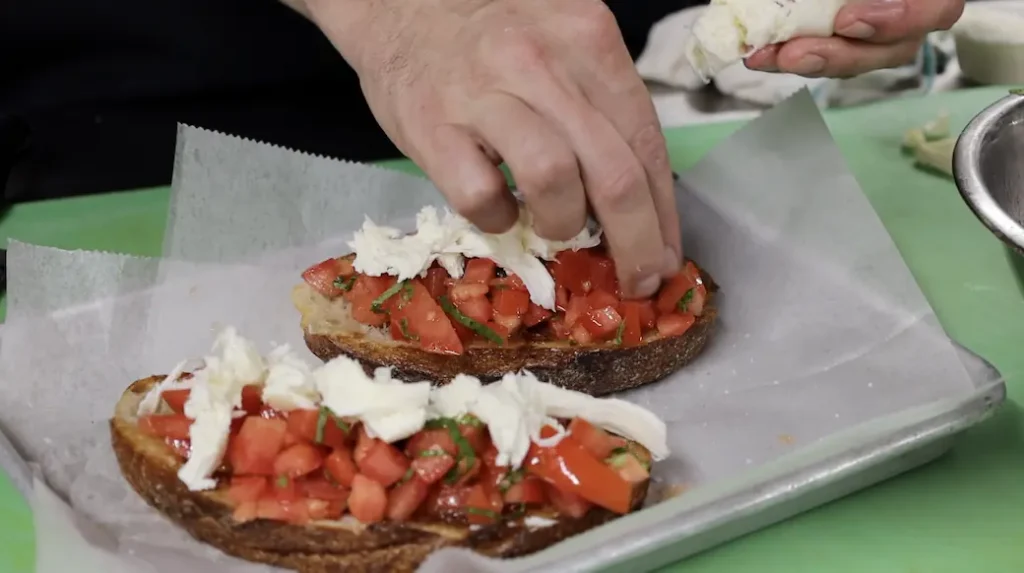 Serve with balsamic, grated Romano, and some fresh basil on top. Serve for all of your friends or eat the entire appetizer yourself — whatever you do, we will not judge you.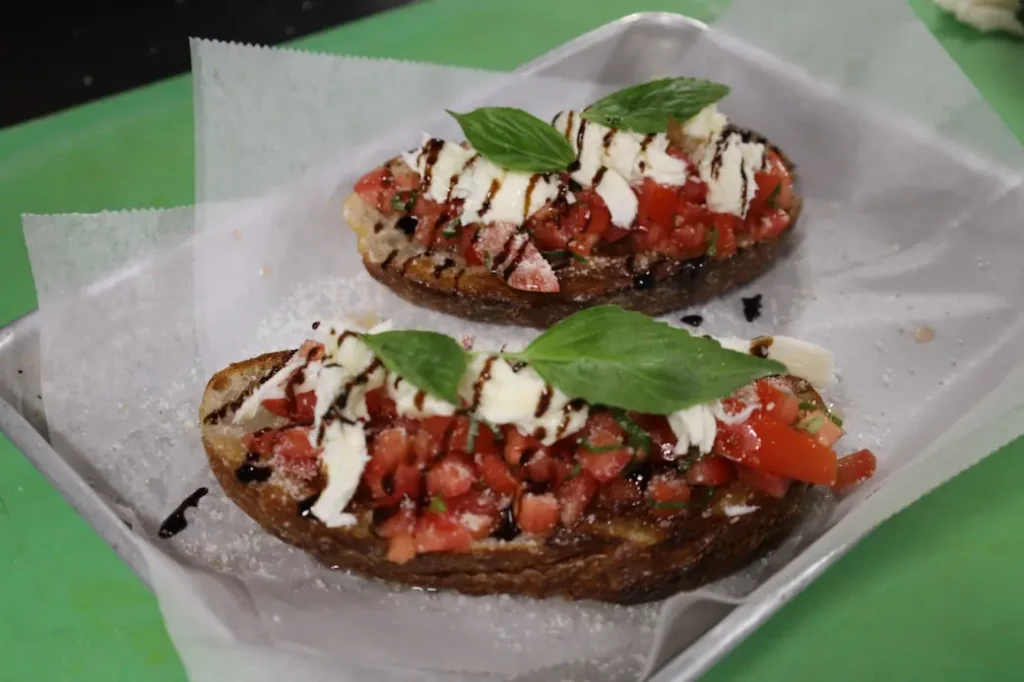 Creative Twists on your Bruschetta
One of the best things about bruschetta is its versatility. While the classic tomato, basil, and mozzarella combination is undeniably delicious, there are numerous ways to put your own spin on this Italian staple. Here are some variations you might enjoy:

Herb Variations
Oregano: If you're looking for a more robust, earthy flavor, replace basil with fresh oregano leaves. You can also use dried oregano, but use it sparingly as its flavor is more concentrated.
Thyme: For a subtle, lemony twist, try using fresh thyme leaves. This pairs exceptionally well with tomatoes and mozzarella.
Mint: If you're in the mood for something fresh and unique, mint leaves can provide a surprising but delightful flavor contrast.
Additional Toppings
Olives: For a Mediterranean touch, add some finely chopped Kalamata or green olives to the tomato mixture.
Capers: These tiny pickled flower buds can add a burst of tangy and salty flavors. Just a tablespoon should do the trick!
Red Onion: Some thinly sliced red onion can add both color and a sharp, zesty flavor.
Meaty Add-Ons
Prosciutto: Thin slices of this Italian cured ham can add a rich, savory note to your bruschetta. Simply lay a slice on top of the mozzarella before you place the assembled bruschetta under the broiler.
Salami: If you're a fan of spicier meats, some thinly sliced salami can add a peppery kick.
Smoked Salmon: For a luxurious twist, top your bruschetta with a piece of smoked salmon along with a sprinkle of dill.
Cheese Alternatives
Parmesan: While mozzarella is the star of this recipe, grating some Parmesan over the top before broiling can add an extra layer of nutty and salty flavors.
Feta: If you're looking for something tangy and crumbly, try sprinkling some feta cheese over the tomato mixture.
Gluten-Free and Vegan Options
Gluten-Free Bread: Those with gluten sensitivities can easily swap out traditional baguette for a gluten-free variety.
Vegan Mozzarella: There are several plant-based mozzarella options available that melt and taste almost like the real thing.
By playing around with these variations, you can make a bruschetta that appeals to your own taste preferences or caters to dietary needs. Don't be afraid to mix and match to create your own signature bruschetta!
Bruschetta Hacks : Pro Tips
Bruschetta is a deceptively simple dish, but there are some nuances that can take it from good to great. Whether you're a first-timer or a seasoned bruschetta maker, these tips and tricks might help you avoid common pitfalls and make the most of your ingredients.
Common Mistakes to Avoid
Using Stale or Low-Quality Bread: The bread serves as the base for all the other flavors. Make sure it's fresh and preferably artisanal for the best texture and taste.
Overloading the Bread: It's tempting to pile on the toppings, but doing so can make the bruschetta soggy and hard to eat. Keep it balanced.
Skipping the Toasting: Toasting the bread not only adds crunch but also helps it hold up against the juicy tomato mixture. Don't skip this step.
Using Out-of-Season Tomatoes: The quality of the tomatoes will make or break your bruschetta. Aim for ripe, in-season tomatoes for the best flavor.
Ignoring Seasoning: Salt and pepper can go a long way in bringing out the flavors of your tomatoes and cheese. Don't forget to season every layer, including the bread if you're oiling it.
Storing Leftovers
Tomato Mixture: Store any leftover tomato mixture in an airtight container in the fridge. It should keep for about 2–3 days but may become a bit watery.
Toasted Bread: Keep toasted bread separate from the tomato and cheese to avoid sogginess. Store it in an airtight container at room temperature for up to 2 days.
Mozzarella: If you've already melted the mozzarella on the bread, it's best to consume the bruschetta quickly as it doesn't store well. Unmelted mozzarella can be stored in an airtight container in the fridge for up to 5 days.
Reassembling: To enjoy leftover bruschetta, you might want to toast the bread again to regain some of its crunch and then add the stored tomato mixture and cheese.
By paying attention to these tips and tricks, you can maximize the flavor and texture of your bruschetta, turning a simple dish into a gourmet experience.
Bruschetta FAQs
Q: How long is Bruschetta good for?
A: Unfortunately, this really doesn't keep well at all, so try to serve it immediately.
Q: What's the difference between Bruschetta, Caprese, and Crostini?
A: Crostinis are pretty much the same thing, only the bread is typically a smaller, rounder, toasted french style baguette slice rather than the large Italian bread bruschetta is known for.
Caprese, on the other hand, is the name of an Italian tomato salad containing most of the ingredients of bruschetta. A caprese salad is served as (you guessed it) salad, on a plate or in a bowl and not over bread. The mozzarella and tomatoes are also prepared differently, as they are sliced rather than diced into smaller pieces.
Bruschetta, crostins, and caprese are obviously all in the same family. But in my opinion, bruschetta is more popular and more widely enjoyed around the world.
Q: What kind of cheese do I use with Bruschetta?
A: A lot of people prefer to make their bruschetta with burrata, but I personally like it better with fresh mozzarella cheese.
In my opinion, it's creamier, firmer, and has a better flavor and texture to it.
People will sometimes choose to forgo the mozzarella altogether and opt for just light parmesan, bringing out the flavor of the tomatoes and balsamic. While delicious in and of itself, and more of a traditional bruschetta, I find this to be tart and lacking in creaminess.
What do I serve with Bruschetta?
Bruschetta is incredibly versatile, making it an excellent choice for a variety of meal settings. Whether you're hosting a dinner party, planning a romantic dinner, or simply enjoying a relaxed weekend meal, here are some ideas for what to serve with your bruschetta:
Light Meal Companions
Wine: Sitting in Rome, I enjoyed my Bruschetta with a bottle of Rosso di Classe Merlot. It was perfect!
Fresh Fruits: A fruit platter or a simple fruit salad can serve as a light, sweet counterpoint to the savory bruschetta.
Chilled Beverages: Iced teas, lemonades, or a cold beer can be refreshing accompaniments.
As a Main Course
Main course: Sometimes, I like to cook chicken breasts and broil some of the leftover mozzarella on top of them at the end. Once they're finished, I spoon some of the Bruschetta mixture on top of the breasts, and eat this as my meal, adding in some red onion if I have any. It comes out perfect every time!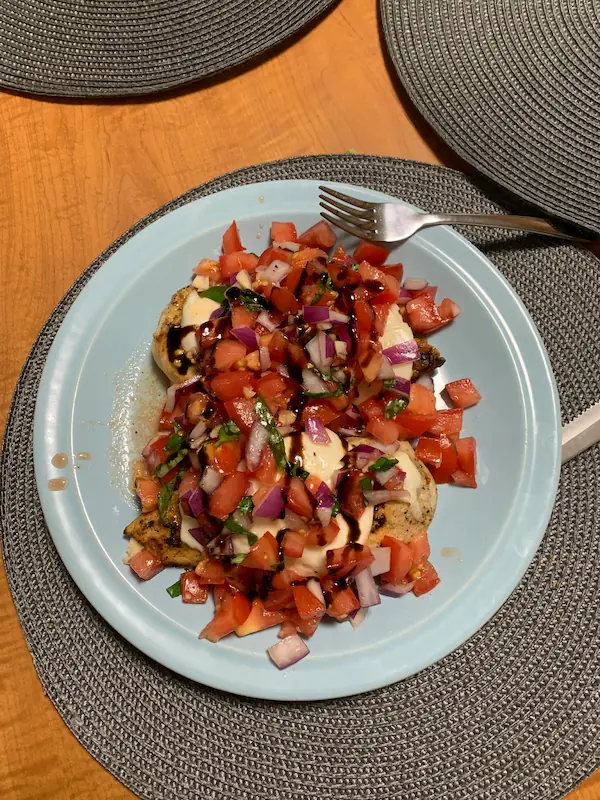 Larger Toppings: Consider adding more substantial toppings like grilled chicken strips or sautéed mushrooms to make the bruschetta more filling.
Additional Dips: Hummus or a yogurt-based dip can add variety and substance, turning bruschetta into a more substantial main course.
As an Appetizer
Salads: A light, leafy green salad with a simple vinaigrette pairs well with bruschetta. It helps cleanse the palate and complements the fresh flavors.
Soup: A creamy soup like tomato basil or a clear broth-based soup can serve as a wonderful precursor to a heavier main course.
Other appetizers: If you're choosing to serve this with a bunch of other Italian appetizers, I recommend making an antipasti platter. The flavors of your bruschetta will contrast really well with the other Italian meats and cheeses.
As a Side Dish
Pasta: A simple spaghetti aglio e olio or fettuccine Alfredo can make for a hearty meal alongside bruschetta.
Grilled or Roasted Meats: Whether it's chicken, beef, or fish, a protein cooked with minimal seasoning can pair well with the bold flavors of bruschetta.
Vegetable Medley: Roasted or sautéed vegetables are an easy and healthy option to round out the meal.
Print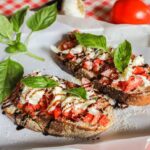 Bruschetta With Mozzarella Recipe
---
Author:

Total Time:

20 minutes

Yield:

1

1

x
Description
Bruschetta is the traditional Italian appetizer of tomatoes, basil, balsamic vinegar glaze, olive oil, and cheese, served over large slices of Italian or sourdough bread. Here's how to make it perfectly.
---
2 cups fresh mozzarella cheese
2 whole Roma tomatoes (plum tomatoes)
1 garlic clove
3 tbsp Extra Virgin Olive Oil
4 fresh basil leaves
1/4 cup grated Romano cheese
1 loaf of Italian bread/sourdough bread
2 tbsp balsamic vinegar glaze
1 tsp salt
1 tsp black pepper
---
Preheat oven to 400°

Drizzle EVOO over each side of the bread, and toast them in the oven on a large baking sheet until golden brown, up to ten minutes, flipping halfway through.

Prepare your mozzarella cheese, cutting into small pieces if whole.

Dice your tomatoes into pieces similar in size to mozzarella cheese.

Slice the garlic cloves in half.

Roll up basil leaves tightly and slice into little ribbons.

Throw tomatoes and basil into a bowl with EVOO, salt, and pepper. Mix thoroughly.

Rub garlic cloves all over toasted bread.

Break up mozzarella with your hands if necessary.

Spoon Bruschetta mixture and mozzarella on top of warm bread slices, drizzling with the balsamic vinegar glaze and more olive oil, and sprinkling on grated Romano cheese.

Enjoy!
Prep Time:

10

Cook Time:

10

Category:

Appetizer

Method:

Baking

Cuisine:

Italian