I was so surprised to find out that the internet doesn't have very many chicken bacon ranch pasta salad recipe.
I mean, what's not to love?
It's basically your favorite sandwich, but instead of bread, you have tender pasta.
Don't get me wrong, I love a great Italian pasta salad recipe every now and then.
But this chicken bacon pasta salad recipe, tossed with creamy ranch sauce, is seriously the best.
This easy pasta salad recipe (or I guess you could also call it a macaroni salad recipe) is perfect as a main course, and is the perfect side dish for any summer barbecue or potluck dinner.

What Makes This a Great Recipe?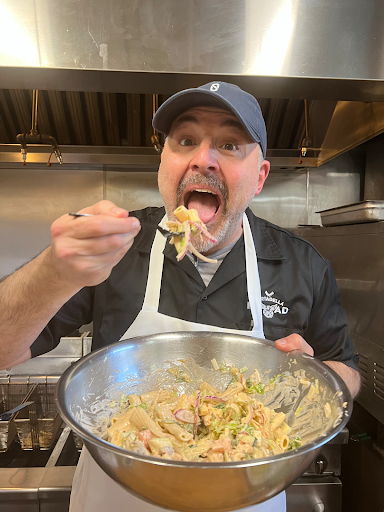 There is just so much flavor in this delicious pasta salad recipe. All of the simple ingredients, from the combination of chicken, chopped bacon, and creamy ranch dressing, to the addition of all of the vegetables, pack a flavorful punch in this tasty pasta salad.
Ease of Preparation
It's super easy to make, which makes it ideal for weeknight dinners, picnics, or last-minute gatherings. The assembly is straightforward: cook the pasta, chop your ingredients, and toss everything together. No culinary degree required!
Versatility
This pasta salad is not just a one-trick pony; it can be used as a delicious side dish, main dish, or even as a unique offering at a potluck. The flavors are well-balanced, making it appealing to both children and adults.
Ingredient Flexibility
The ingredients are also incredibly versatile. For example:
Don't feel like cooking up some chicken? Toss in the leftover chicken pieces from that rotisserie chicken you bought last week.
Vegetarian? Substitute the chicken and bacon with plant-based alternatives or simply ramp up the veggies.
Ranch isn't your jam? Don't worry. You can switch out the ranch dressing for a mixture of sour cream or Greek yogurt combined with lemon juice, herbs, or your favorite vinaigrette.
Allergic to gluten? Use gluten-free pasta and ensure your dressings and other ingredients are gluten-free as well.
Creativity Encouraged
The base recipe is just the starting point. Feel free to add your favorite vegetables, switch up the protein, or try different dressings to make this pasta salad your own. Love spice? Add some chopped jalapeños or a dash of hot sauce. Craving sweetness? Toss in some raisins or dried cranberries.
What to Serve with Chicken Bacon Ranch Pasta Salad?
This versatile pasta salad is a standalone star, but it can also be an ensemble player in a broader menu. If you're wondering what to pair with this delightful dish, here are some suggestions:
Barbecue Mains
Given its hearty flavors, this pasta salad complements barbecue dishes exceptionally well. Whether it's grilled chicken, ribs, or even a simple BBQ pulled pork sandwich, the pasta salad's creamy ranch and crunchy vegetables make for a great contrast.
Seafood
The zesty flavors in the salad can freshen up a seafood dish, be it grilled salmon, shrimp skewers, or even a classic fish fry.
Vegetarian Options
For a plant-based meal, consider serving this pasta salad alongside a vegetable skewer or grilled portobello mushrooms. If you've opted for a vegetarian version of the pasta salad itself, these pairings will complete your meat-free feast.
Breads and Rolls
Garlic bread, cheesy pull-apart bread, or simple dinner rolls can also accompany this pasta salad, offering a softer texture against its crunch and creaminess.
Light Salads
If you're looking to lighten the meal, a simple leafy green salad or a fruit salad can add both color and a different texture to your spread. A citrus-based salad dressing can particularly highlight the meal's flavors.
Beverages
The dish pairs well with a variety of drinks. For a casual, family-friendly meal, iced tea, lemonade, or fruit punches are excellent options. If you're leaning towards adult beverages, light wines like Sauvignon Blanc or even a chilled beer can work well.
Desserts
To round off your meal, you might opt for something light and refreshing like a sorbet, or a fruit tart to echo the tangy, savory flavors in the pasta salad.
Chicken Bacon Ranch Pasta Salad: Tips and Tricks
Creating the perfect Chicken Bacon Ranch Pasta Salad is easy, but a few tips and tricks can elevate this already scrumptious dish to new heights. Here's how to get the most out of your culinary adventure:
Prepping Ahead
Marinate the Chicken: If you have time, marinate your chicken for at least 30 minutes before cooking. This will infuse additional flavors that complement the ranch dressing.
Cook Pasta in Advance: To save time on the day of your event or dinner, cook the pasta a day ahead. Store it in an airtight container with a little olive oil to prevent sticking.
Ingredient Substitutions
Dressing Alternatives: Not a fan of ranch? Try using Caesar, Blue Cheese, or even an Italian dressing for a different twist.
Protein Variations: Besides chicken, you can also use turkey, shrimp, or even tofu for a vegetarian option.
Boosting Flavor
Season Generously: Don't forget to season your pasta water with salt. It's the first step in layering flavors.
Fresh Herbs: Adding fresh herbs like basil, parsley, or chives can bring additional depth and color to your pasta salad.
Presentation Tips
Layering: For aesthetic appeal, consider layering your salad ingredients before tossing them. This creates a visually pleasing effect and allows for a balanced flavor profile in each bite.
Garnish: A little garnish goes a long way. Consider adding a sprinkle of grated cheese, some finely chopped herbs, or even a dash of paprika for color and flavor.
Storage Tips
Refrigerate: Pasta salad usually tastes better when the flavors have had time to mingle. Consider making the salad a few hours ahead, or even the day before, and refrigerate it.
Airtight Containers: Leftovers? Store in an airtight container in the fridge for up to 3-4 days. If the salad appears dry when revisiting, a splash of dressing or a drizzle of olive oil can refresh the dish.
Serving Ideas
Individual Portions: For picnics or outdoor events, consider serving the salad in individual mason jars. It's convenient and adds a rustic charm to your presentation.
Buffet Style: If you're serving a large group, consider setting up a 'Make Your Own Pasta Salad' station with a variety of toppings and dressings to choose from. It's a fun way to get everyone involved and caters to different tastes.
​Chicken Bacon Ranch Pasta Salad FAQs: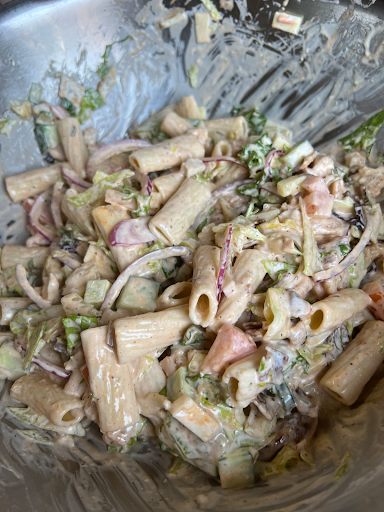 Q: What if I don't like ranch dressing?
A: As stated before, you can always use blue cheese dressing, sour cream, or even Greek yogurt with this pasta salad recipe.
Q: If I don't have provolone, what other kinds of cheese would be good with this?
A: Try making this pasta salad recipe with feta cheese or sharp cheddar cheese. Those kinds of cheeses typically go with these kinds of ingredients, and will probably taste delicious with this.
Q: What's the best pasta shape to use with this pasta salad recipe?
A: I always like to stick to a shorter pasta, such as a rotini or orzo. They're small enough so you can get a bite of pasta in every single forkful, without it being too overbearing.
Q: How long will this last in the fridge?
A: Typically, this chicken bacon ranch pasta salad will last up to five days in the fridge. Of course, if you omit the chicken and the bacon, you might be able to get a week out of this, too. This is the perfect dish for meal prep!
Print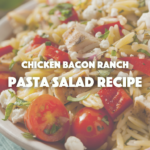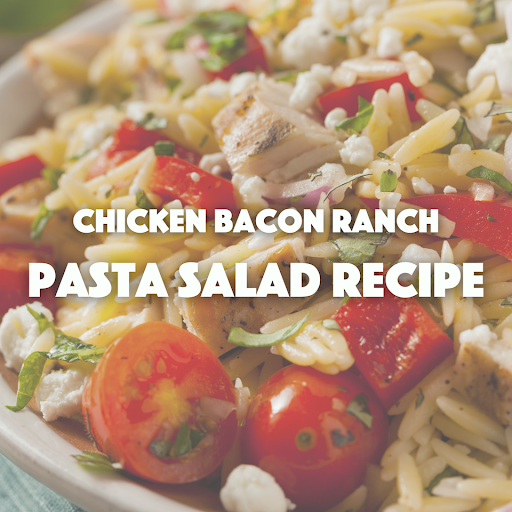 Chicken Bacon Ranch Pasta Salad Recipe
---
1

pound short pasta

1 cup

homemade ranch dressing

1/4 cup

barbecue sauce

2 cups

cooked chicken breast, chopped into bite-sized pieces (can also use chicken cutlets or crispy chicken strips)

1/2

pound crispy bacon, crumbled

1/2 cup

provolone cheese, cut into cubes

1 pint

cherry tomatoes, halved

1

head iceberg lettuce, chopped

1

large cucumber, diced

1

small red onion, diced

Salt, pepper, and fresh herbs to taste
---
Cook pasta according to package directions. Drain and rinse under cold water until cool.

In a small bowl, whisk together ranch dressing and barbecue sauce until well combined.

In a large bowl, add cooked pasta, chicken, bacon, tomatoes, lettuce, cucumber, and red onion.

Pour the ranch dressing mixture over the salad and toss until everything is well coated.

Season with salt and pepper to taste.

Cover and refrigerate for at least 30 minutes to allow flavors to meld.

Serve this cold pasta salad recipe immediately, and store in an airtight container for up to five days.