When summer comes around, one thing I look forward to the most is the pasta salad.
With all of the summer cookouts and parties, I get to try so many pasta salads throughout the season! Pasta salad is a classic side dish and for good reason. 
There's just something about it that makes pasta salad the perfect side dish.  The cold, crunchy veggies and flavorful sauce bring so much to the cold pasta and the flavors blend beautifully. It shouldn't be so good, but it is.
I'm a big fan of the classic pasta salad with Italian dressing, but sometimes you want to mix it up a little. This pesto pasta salad brings a new, unique flavor that is even better than the old classic. 
With only four ingredients, this pasta salad is as simple as it gets. If you need a quick side dish for a weeknight meal or a summer potluck, this easy pasta salad recipe will become your new go-to. 

Why You'll Love This Recipe
It's easy: It doesn't get much easier than four simple ingredients! This pasta salad comes together in just a few minutes and makes a delicious side dish for any summer meal.
It's flexible: You can add just about anything to this pasta salad and it will probably taste great! If the four-ingredient recipes aren't your style, feel free to be creative with this dish.
It's flavorful: It's amazing what only a few ingredients can do if they are the right ingredients! Basil pesto is a classic Italian sauce that is loaded with flavor and it compliments the other ingredients for a tasty caprese-style pasta salad.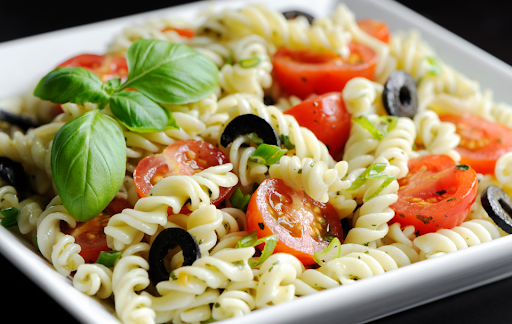 Optional Add-Ins
This is a 4-ingredient pasta salad, but it can only be made better if you want to add more ingredients! There are many ingredients that add extra flavor, texture, and color to make a delicious pasta salad. Here are a few of my favorite add-ins:
Meat: Chopped salami, ham, pepperoni, or crispy bacon are all popular choices.
Cheese: You can add more cheese in addition to the mozzarella or substitute a different cheese altogether! Try shredded parmesan cheese or feta cheese crumbles. 
Fresh Veggies: Any of your favorite fresh veggies will do! Cucumbers, red onion, green onions, red pepper, and green pepper are my top choices.
Fresh Herbs: Bring the flavor of your pasta salad to the next level with fresh basil, parsley, cilantro, or mint.
Canned and Pickled Veggies: Add black olives, artichoke hearts, roasted red peppers, or pepperoncini for an extra great flavor.
Tips for Making Great Pasta Salads
Cut your toppings into small pieces. I like to make my veggies about ¼ inch wide in most cases. This allows every bite to have all of the ingredients for maximum flavor.

Use fresh ingredients. The veggies really shine in pasta salad, so this is not the recipe to use up your ingredients that are about to go bad. 

Let it marinate in the fridge. Whenever possible, I recommend making your pasta salad a day ahead of time. As it sits in the fridge, the flavors are able to marinate and get soaked up in the pasta. When it is time to eat it, add a bit more pesto as needed.

Don't overcook your pasta. The last thing you want is soggy, mushy noodles in your pasta salad. Make sure to cook the pasta al dente so it maintains a good texture as it soaks up the liquid.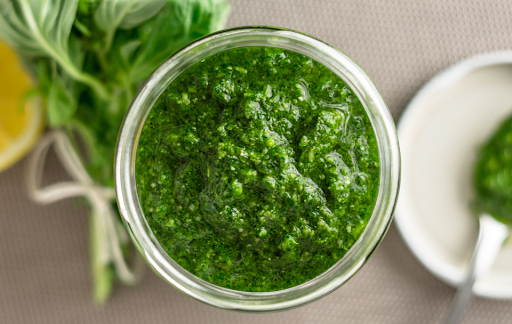 Frequently Asked Questions
What is the best pasta shape for pasta salad?
You can use just about any pasta shape you prefer for pasta salad, but some hold up better than others.
The best pasta shapes have a good surface area to absorb the dressing and maintain their shape while sitting in the fridge over time. The best noodles for pasta salad are:
Farfalle (bowtie) pasta

Rotini pasta 

Cavatapi pasta

Penne pasta
How long does pasta salad last?
Pasta salad is best eaten within 3-4 days. Store your pasta salad in an airtight container in the fridge and add more sauce as needed before serving.
More Easy Pasta Dishes
We love to make super simple pasta dishes that you can whip up in under 30 minutes! Don't miss these other amazing recipes:
Print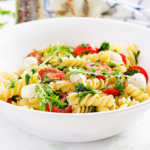 4-Ingredient Pesto Pasta Salad: Simple Italian Recipe
---
Author:

Total Time:

20 Minutes
12 ounces of pasta of choice

1 pint cherry tomatoes or grape tomatoes

8 ounces mozzarella pearls

1 – 1 ½  cups basil pesto

Salt and black pepper to taste
---
Bring a large pot of salted water to a boil and add the pasta. Cook pasta until it is al dente according to the package directions.

While the pasta cooks, prepare your other ingredients. Cut the cherry tomatoes into halves, or quarters if they are large. 

When the pasta is finished cooking, cool it rapidly by running it under cold water. 

Toss your cooked pasta, tomatoes, cheese, and pesto in a large bowl and stir until the pesto has coated everything. 

Chill in the fridge for at least two hours for best results, or serve immediately if needed.