From what I see on the other side of the pond, there's something going on in the U.S. about California Pizza Kitchen. I didn't quite catch if they're closing or changing their menu, but everyone is online googling "cpk pesto cream penne recipe".
I had never heard of that food chain before writing this post, but there must be a reason why so many people are trying to learn this recipe. So I did my due research and tried to make something similar at home.
The result? It was delicious!
I believe that if you like something, you should learn to make it yourself. That way, you never risk losing it. So, here's how to make delicious CPK-style pesto cream penne whenever you want.
What is CPK pesto cream penne?
Not having CPK in Italy, I had to rely on Google to figure out what this recipe was. The results were mixed, so I may have been completely wrong, but from what I understand it is penne dressed with a basic pesto cream sauce, chicken breast chunks and sun-dried tomatoes. Because of this, it is often called "chicken pesto pasta" or "penne with tomato pesto."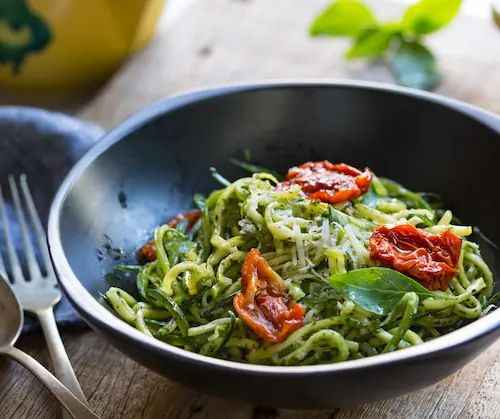 At least, that's how I found it. If I'm wrong, let me know in the comments and I'll be happy to fix this post. However, the recipe I tried was good, so give it a chance anyway 😉
Here's what I did.
What you'll need
You can replicate California Pizza Kitchen's creamy pesto penne with just a few simple ingredients.
The first one is penne pasta, ça va sans dire. After that, you will need a good pesto cream sauce. To make it, you will need the following ingredients.
Basil pesto. Store-bought pesto is fine, but you can also make it in minutes at home if you like. CPK's pesto cream recipe is made with basil and pine nuts. However, if you prefer other herbs or are allergic to nuts, here are some alternative homemade pesto recipes: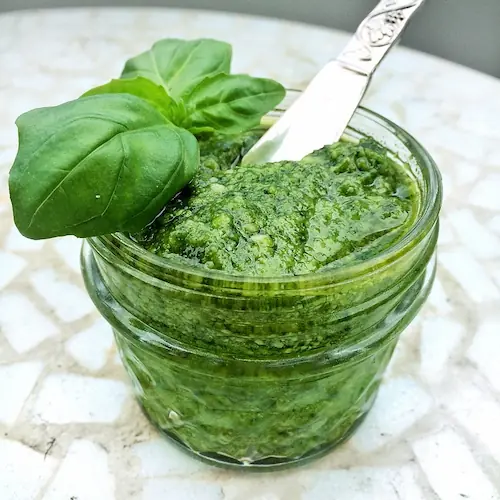 Heavy cream, butter, and parmesan cheese. Technically, the parmesan is already in the pesto. But let's be honest, is parmesan ever enough? The answer is, obviously, no.
Chicken broth. This one is not usually found in pesto cream sauce, but trust me: it will add a good flavor.
Fine salt and black pepper. If you like spicy, you can also add some ground chili seeds.
Finally, you'll need the two ingredients that make this recipe special.
Sun-dried tomatoes. As with pesto, you can use store-bought tomatoes. Trader Joe's tomatoes are fine. The important thing is to separate them from the oil.
Chunks of chicken breasts. These need to be cooked in advance, or at least separately from the rest of the sauce.
You will also need coarse salt to cook the pasta, and a few fresh basil leaves to garnish the finished dish. As per usual, the precise amounts of each ingredient are listed in the recipe card at the end of the post. Now let's see how to use them.

Instructions: how to make CPK's pesto cream penne pasta
Many pasta recipes that I've seen online start with cooking the pasta and then setting it aside. I'll never understand that. Pasta tends to become sticky when it's not dressed immediately. You should always make it right before the end of the process.
The right starting point should be heating the pasta water, and doing all the rest in the meantime. This way, by the time the sauce is ready, the water will be already boiling and you will be able to cook the pasta without waiting.
While the water heats, melt the butter over medium heat in a large skillet or saucepan.
Add the heavy cream, Parmesan cheese, pesto, and chicken broth. This recipe is good with just the first three ingredients but trust me – the chicken broth adds a whole new dimension of flavor. Stir until the cheese is melted and the sauce is smooth. Season with salt and pepper to taste. Then, let the sauce simmer for 3 to 4 minutes, until it starts to thicken.
In the meantime, if you haven't cooked the chicken breast chunks yet, do it now in a separate pan, with just a drizzle of olive oil. If you want, you can add a little lemon juice as well. Then, add them to the sauce, along with the sun-dried tomatoes. Mix well, then turn the heat off and set the saucepan aside.
Now, and only now, salt the boiling water and cook the pasta following the package instructions until it's al dente. When it's almost ready, take a ladleful of the cooking water and add it to the pesto cream sauce, mixing well. I do it with a lot of recipes, as it can make any sauce with cheese creamier.
After that, drain the pasta, and add it to the sauce as well. Put the saucepan back on the stove, and heat for about a minute, stirring well.
Now you're ready for the best part: let it cool for a couple of minutes, then enjoy your creamy pesto pasta.
This is one of those wonderful recipes that can taste well with nearly any side dish or drink. I would personally pair it with a blanche beer or a rose wine, and serve an easy chicken salad aside. Oh, and remember to put some extra grated parmesan cheese on the table. This way your guests can decide to add some more to their plate!
This recipe was new for me, but I'm definitely going to make it again in the future. If you want to save all the ingredients and the instructions in a single place, here's a recipe card that you can print or use from your smartphone as a shopping list. Let me know what you think of it!
Print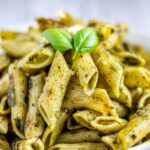 My Take On CPK's pesto cream penne recipe
---
Author:

Total Time:

20 minutes

Yield:

4

1

x
Description
This CPK pesto cream penne recipe is a delicious twist on traditional pasta dishes, and it's sure to become a new favorite in your household. It's creamy, flavorful, and easy to make, making it the perfect choice for a busy weeknight dinner. So why wait? Give this recipe a try and enjoy a taste of the California Pizza Kitchen at home!
---
16 oz penne pasta

1 cup heavy cream

1 cup chicken broth

1/2 cup grated Parmesan cheese

4 tbsp basil pesto

2 tbsp butter

1/2 cup sun-dried tomatoes

1/2 cup chicken breast chunks

fresh basil leaves to taste

1 tbsp coarse salt

1 tsp salt

1 tsp pepper
---
Bring a large pot of water to a boil.
In the meantime, in a large saucepan, melt the butter over medium heat.
Add the heavy cream, parmesan cheese, pesto, and chicken broth. Stir well to combine.
Let the sauce simmer for about 4 minutes, until it starts to thicken. In the meantime, cook the chicken chunks in a separate skillet with just a drizzle of olive oil.
Add the chicken chunks and the sun-dried tomatoes to the pasta sauce. Stir well, and set aside.
At this point, the water should be boiling. Add the coarse salt and let it dissolve for a minute, then cook the pasta according to the package instructions until al dente.
Take a ladleful of pasta water, and add it to the saucepan with the creamy pesto sauce.
Drain the pasta, and add it to the saucepan as well.
Put the saucepan back on the stove and cook at high-heat for 1 minute, stirring continuously until the sauce starts to thicken again.
Take the saucepan away from the heat, let it cool for a couple minutes, and garnish the pasta with the basil leaves.
Serve with some extra parmesan and enjoy.
Prep Time:

10

Cook Time:

10

Category:

Pasta

Method:

Cooked

Cuisine:

Italian-American