Hot take: Pesto pasta sauce just might be the most superior sauce.
I know, I know; I'm Italian. How could I think that pesto is better than red sauce?
Honestly, in my opinion, it's because it's just so different from your traditional sauce. Plus, it has every delicious bit of authentic Italian flavors that you could think of.
A delicious combination of basil and olive oil. Grated Romano cheese. Garlic. What's not to love?
I'll have to be honest: I only recently started eating pesto.
I'm allergic to pine nuts, which are almost always included in most common pesto recipes. But luckily for me, we make a completely nut free pesto at Mortadella Head – and it's a great recipe.
The pesto recipe we use is very similar to the Classico pesto recipe, but we also add a little twist to the original.
Instead of just leaving the pesto as is, with the garlic, cheese, basil, and olive oil, we also add some of our homemade garlic cream sauce to it; making the most perfect pesto cream sauce. It always turns out to be a deliciously creamy pesto pasta.
And today, we are going to show you how to make it.
View this post on Instagram
What You'll Need
Basil leaves: A whole bunch of fresh basil leaves is the absolute best way to make this delicious sauce. Get some from the supermarket or from your local farmers market if they're open.
Olive oil: If there ever was a time to use a nice, high quality extra virgin olive oil, it's now. Get a really good EVOO, one that you won't mind tasting.
Grated Romano cheese: Parmesan cheese could work too, but personally I prefer Romano with this. It's spicier and has more of a unique flavor than parmesan cheese, and compliments the flavors of the basil, garlic, and olive oil nicely.
Fresh minced garlic: Mince up some cloves yourself or with a garlic press. Whatever you do, don't use jarred garlic.
Heavy cream: You won't need a lot of this, but just enough to know it's there.
View this post on Instagram
How You Make It
Pulse the basil in a food processor until it's chopped up.
Once the basil is pulsated, add the garlic and grated Romano. Pulsate the food processor several more times, until the ingredients are perfectly combined, using a spoon or spatula to get them off of the sides of the processor if necessary.
While the food processor is running, slowly add your olive oil in. By putting it in slowly rather than all at once, the oil is much less likely to separate. If you need to stop to scrape the pesto off of the sides of the processor, do so occasionally as necessary.
Heat a large skillet on the stove over medium heat, and add some olive oil.
When the olive oil is heated, toss in some minced garlic, and let simmer until fragrant.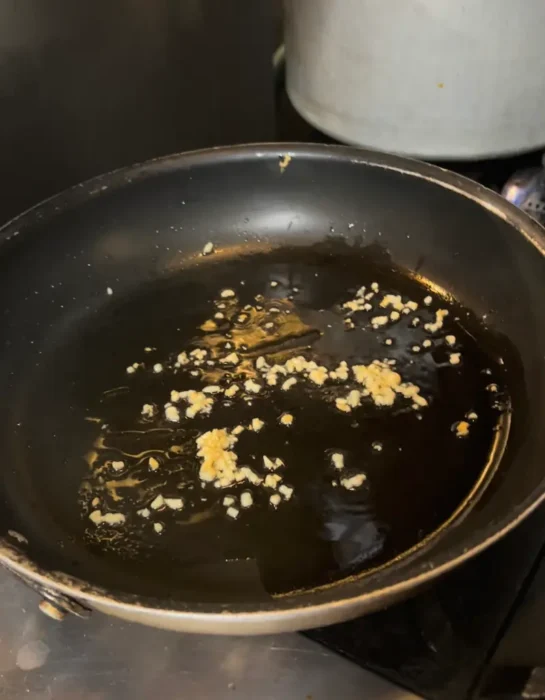 Once the garlic is ready, add some cream to your pan, and let heat. Season with salt, pepper, and crushed red pepper.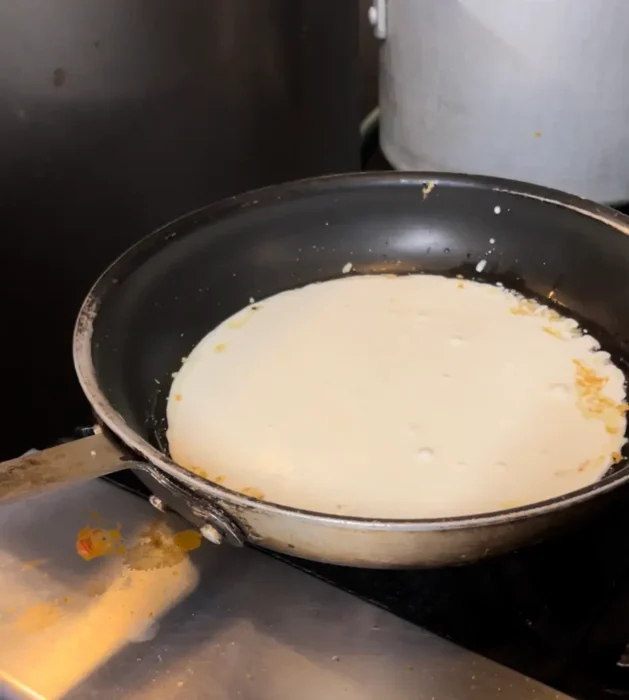 When everything is heated, add all of the pesto into the pan, and stir to combine the ingredients.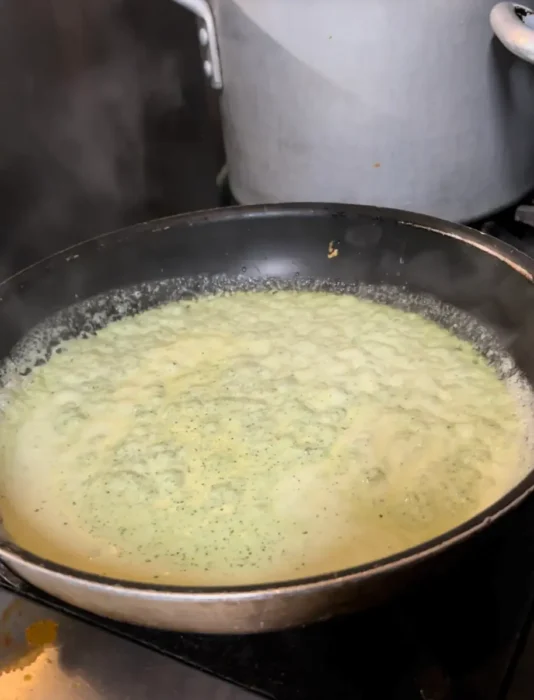 You'll know your pesto is ready when everything is thoroughly mixed together and the sauce starts to thicken and bubble. Add the pesto cream sauce to your favorite hot pasta, top with more grated cheese and basil, and enjoy!
View this post on Instagram
Health Benefits of Pesto Cream Sauce
Pesto cream sauce, a delicious blend of basil, pine nuts, parmesan cheese, garlic, olive oil, and cream, can indeed provide several health benefits when consumed in moderation. It's crucial to remember, though, that these benefits will largely depend on the quality of the ingredients used and portion size, as pesto cream sauce can be high in fats and calories. Here are some potential health benefits:
Heart Health: Olive oil is a main ingredient in pesto cream sauce. It's rich in monounsaturated fats, which are known to reduce levels of harmful cholesterol and increase levels of beneficial cholesterol. This may contribute to a healthier heart and lower risk of heart disease.
Bone Health: Parmesan cheese provides a good source of calcium, which is essential for strong, healthy bones and teeth. In addition, pine nuts are a source of magnesium, which also supports bone health.
Antioxidant Properties: Basil and garlic, two key ingredients in pesto, are loaded with antioxidants. These substances help to combat oxidative stress in the body, which can reduce inflammation and the risk of many chronic diseases.
Fiber: Depending on the amount of basil and garlic used, pesto cream sauce can provide a decent amount of dietary fiber. Fiber is vital for digestive health and may help reduce the risk of developing chronic conditions such as heart disease, diabetes, and certain types of cancer.
Healthy Fats: Pine nuts are a great source of healthy fats and contain pinolenic acid, which can help to suppress appetite by triggering the release of the hormone cholecystokinin, which signals the brain to feel full.
Immune Support: Garlic is well-known for its immune-boosting properties, largely due to its high content of the compound allicin. This could potentially help bolster your immune system and ward off illness.
Remember, while pesto cream sauce does have these potential health benefits, it is also high in fats and calories due to the olive oil, cheese, pine nuts, and cream. Therefore, it should be used sparingly and as part of a balanced diet. It's always a good idea to make your own pesto cream sauce at home to control the ingredients and portion sizes.
Fun Facts about Pesto
Origins: Traditional pesto, known as "Pesto alla Genovese," hails from Genoa, the capital city of Liguria, Italy. Adding cream to pesto is not traditional in Italy but has become popular in other cuisines for its rich, creamy flavor.
The Name: The word "pesto" comes from the Italian verb "pestare," which means "to crush" or "to pound." This refers to the original method of preparing pesto using a mortar and pestle to crush the ingredients.
Variations: While the most famous pesto is the green basil pesto, it can actually be made with a variety of other ingredients. There are red pestos (usually made with sundried tomatoes), black olive pestos, and even pestos made with herbs like parsley or mint.
Pasta Pairing: Pesto is traditionally served with a type of pasta called "trofie," which is a twisted, spiral-shaped pasta perfect for holding onto the pesto sauce.
Longevity: Traditionally, to keep pesto from oxidizing (which would turn it a brown color), a thin layer of olive oil would be poured on top of the pesto in its jar. Kept this way and properly refrigerated, pesto could be stored for a long time.
Variation in Recipes: Traditional pesto does not include cream, but many modern adaptations (especially in American Italian-style cooking) incorporate cream to give the sauce a richer, smoother texture and milder flavor.
Nutty Variations: While pine nuts are traditional in classic pesto, many variations use other nuts like walnuts or almonds. Each type of nut gives a unique flavor profile to the pesto.
Remember, the beauty of pesto cream sauce is in its flexibility – you can experiment with different ingredients to suit your taste buds!
Pesto Cream Sauce FAQs
Q: I want to put nuts in my pesto. What should I add, and when would I add them?
A: Pesto is typically made with pine nuts, although I've seen some recipes that use walnuts, like oregano pesto. You would add the nuts at the beginning of the recipe, right when you're adding the basil leaves, and pulsate together.
Q: What is the best way to store pesto?
A: It's important to know that pesto doesn't stay good for very long, probably only three days maximum. Store it in the fridge in an airtight container, topped with olive oil to make sure it doesn't brown.
Q: I don't eat cheese. Is there anything I can substitute it with?
A: Yes! You can nix the cheese and replace it with a few tablespoons of nutritional yeast. You'll hardly be able to tell the difference.
View this post on Instagram
Other Recipes To Try With This
Main Dishes
Tuscan Chicken: Take some chicken breasts and roast them in the oven with fresh mozzarella cheese. When about halfway done, top the chicken with some sliced tomatoes and roast in the oven. Top with pesto sauce, serve with bowtie pasta, and enjoy.
La Cosa Nostra: A true Mortadella Head staple! Throw some chicken cutlets onto a sub roll with roasted red peppers and prosciutto. Top with spring mix, tomatoes, balsamic vinaigrette, and a pesto drizzle. It'll be delicious!
Side Dishes
Orzo Pesto Salad: One of my favorite pasta dishes! Toss this pesto with some orzo, feta, and chopped veggies. I like to use red peppers, cucumbers, tomatoes, and carrots. Let sit in the fridge for a few hours before serving. This is the ultimate summertime pasta salad dish.
Pesto as a dip: Serve this pesto on the side with some french bread or fresh veggies. It's a great way to spice up your traditional appetizers.
Basil pesto cracker spread: Put this basil pesto out with some multigrain crackers. This combination is so unbelievably addictive.
More Pairings
Pasta: This is perhaps the most classic pairing. Toss your pesto cream sauce with fettuccine, penne, or another pasta of your choice. Add grilled chicken, shrimp, or vegetables for a complete meal.
Fish: The sauce works well with white fish such as cod, haddock, or tilapia. It can also complement salmon or tuna steaks.
Vegetables: Drizzle the sauce over roasted or grilled vegetables such as asparagus, zucchini, bell peppers, or eggplant. It's also delicious with roasted or steamed potatoes.
Pizza: Instead of the usual tomato sauce, use pesto cream sauce on your pizza for a delicious twist. Top with mozzarella, fresh tomatoes, and basil.
Risotto: Add a spoonful of pesto cream sauce to a bowl of risotto to enhance the flavors. This pairs particularly well with a simple mushroom or vegetable risotto.
Stuffed Mushrooms: You can use pesto cream sauce as a filling or topping for stuffed mushrooms.
Gnocchi: Pesto cream sauce is delicious with gnocchi. You could add some roasted cherry tomatoes or grilled chicken for a fuller meal.
View this post on Instagram
Recipe Card
Print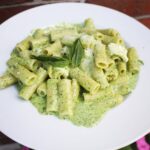 Pesto Cream Sauce
---
Author:

Total Time:

20 minutes

Yield:

1

1

x
3 cups tightly packed basil leaves

1 cup grated Romano cheese

3.5 cloves of garlic, minced

½ cup EVOO

¼–½ cup heavy cream

1 tsp salt

1 tsp black pepper

1 tsp crushed red pepper
---
In a food processor, pulsate the basil leaves until finely chopped.
Add in grated Romano cheese and ¾ of the garlic, pulsate until thoroughly incorporated.
Slowly add in the olive oil, stopping and scraping the sides of the food processor with a spatula as necessary.
Heat a skillet over medium high heat, drizzling in olive oil once the pan is warm.
Once the olive oil is heated, toss the rest of the garlic in, and let simmer until fragrant.
Add the heavy cream into your pan, and let heat, seasoning with salt, pepper, and crushed red pepper.
Add in the pesto mixture once it's warm, tossing in some grated Romano cheese along with it.
You'll know the sauce is ready when it starts to thicken and bubble at the top.
Add the sauce to your favorite kind of pasta, sprinkling with some grated cheese and basil at the end.
Enjoy!
Prep Time:

5

Cook Time:

15

Category:

Sauces

Cuisine:

Italian-American