Pesto has a special place in my heart. It's one of my favorite pasta dressings, and I could eat it by the spoonful. 
And it's so easy to make!
You can make it in less than 20 minutes, and it will taste better than any store-bought pesto you'll ever find. 
There's really no reason not to learn how to make it at home, so today we'll see how to do it all by yourself. And to stay clear of any allergy risk, it will be a pesto recipe without pine nuts.
I would normally conclude the introduction with something like "let's get cooking!", but this time you won't actually have to cook anything. So let's just start!
Why make a nut free pesto?
There are many reasons to make pesto without pine nuts. 
The most obvious is nut allergy. 
Pine nuts can cause severe allergic reactions, so they should be used with caution. 
And even if you don't have nut allergies, there's another thing to consider. Pine nuts cost A LOT. Not everyone can afford them regularly. 
Sure, you don't need many of them, but you have to consider that a classic pesto alla genovese has 2 different kinds of cheese in it. It's not exactly the cheapest of sauces. If you're on a budget and don't want to give up on its cheesy flavor, cutting out the pine nuts may be one way to make it less expensive.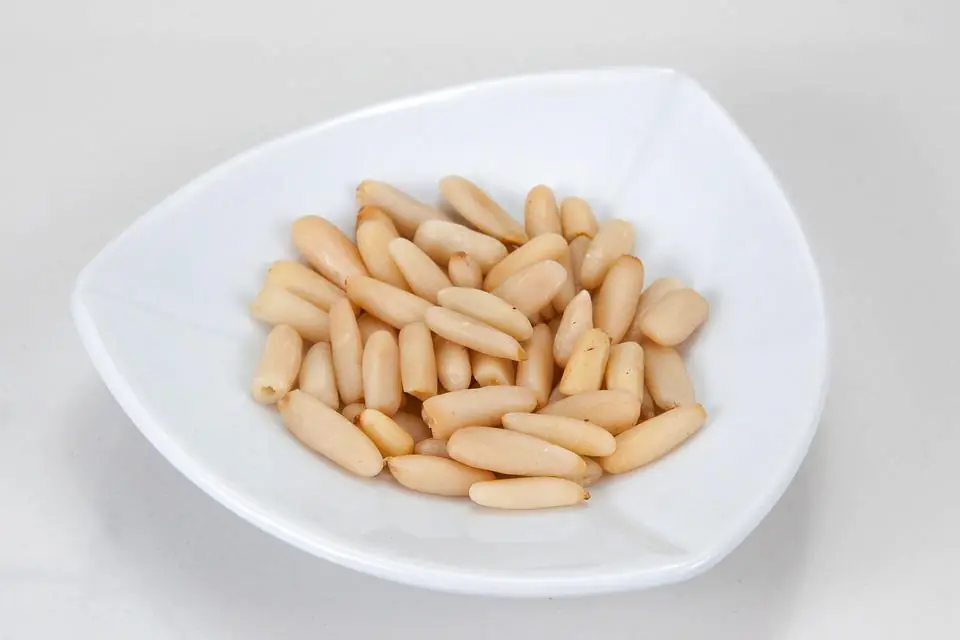 For me, it's both the price thing and a matter of habit.
I live in a small town full of pine trees and until 2012, in the summer, everyone could get free pine nuts from the cones that would fall down on the streets. It was common for grandmas to send their grandkids out to fetch pine cones, and I have many good memories of it.
Then, for a mix of climate issues and other factors, most of the pines in the region became unable to produce nuts. And after that, I simply stopped having them in my house. 
It's not a boycott or something like that, it's just that here medium quality pine nuts cost at least $3/oz, so I rarely buy them. And not having them around, I got used to choosing alternatives when I make foods that would include them. Besides, I know where to find a good homemade pesto alla genovese for a cheaper price 😉
I still occasionally check the pine cones I find when I walk, but I don't think things will go back to how they were. It makes me a little nostalgic to think about it – but now I am going off topic. And luckily, I don't need pine nuts to make a delicious pesto.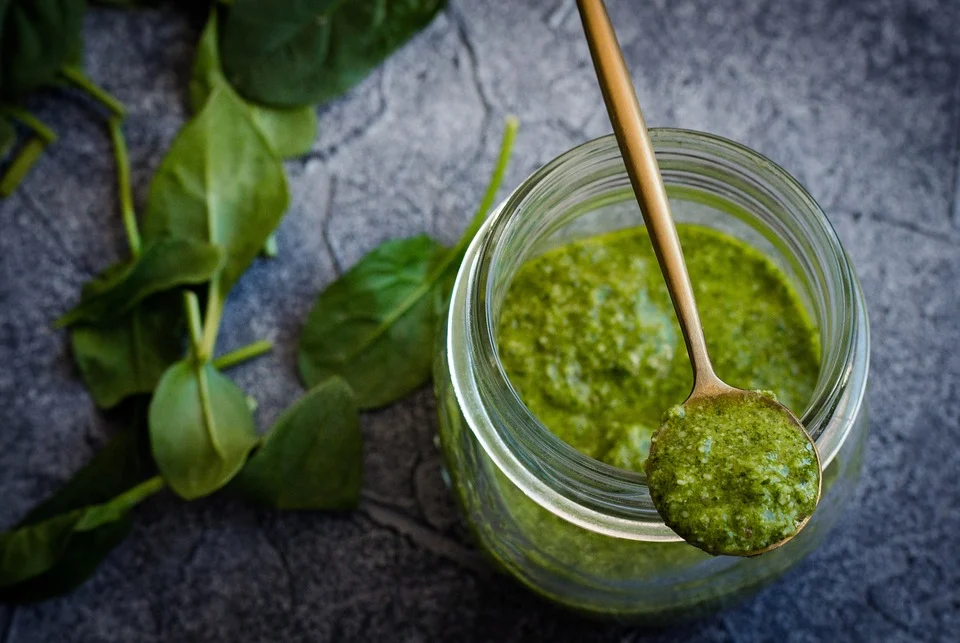 How many types of pesto can I make with this recipe?
This homemade pesto recipe can be followed using many types of herbs and vegetables. I used basil leaves because I love pesto alla Genovese, which is traditionally made with them, but you have many other options that you can try.
First of all, Northern Italy has many variants of pesto that replace nuts with walnuts, almonds, pistachios, and cashews. However, this post is called "pesto recipe without pine nuts", so let's focus on the other alternatives.
For instance, you could go with other plants like arugula or spinach, but also mint, turnip greens, marjoram, chives, or zucchini. And even if you stick to basil, you can add other ingredients like pumpkin seeds or cured hams. Here in Italy, for one, most grocery stores sell pesto made with radish and speck in grocery stores.
In short, there are many different pesto recipes, but the method is almost always the same one that we'll see below. Such a versatile sauce!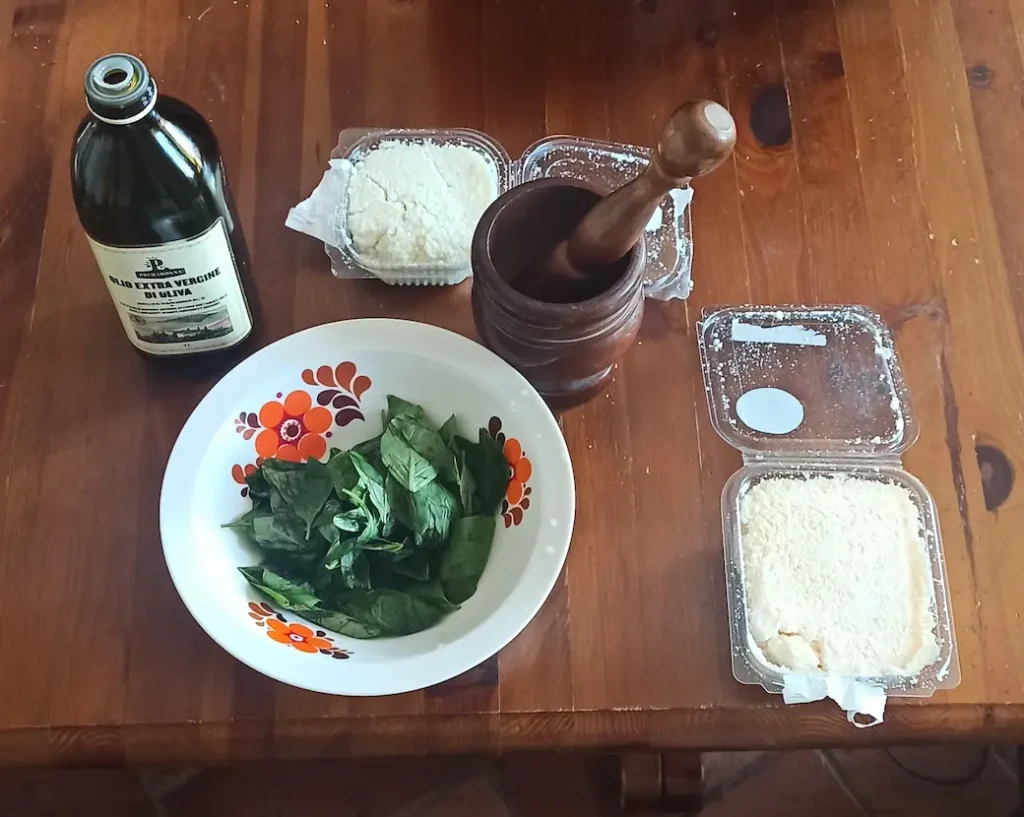 Here's what you need for this nut-free pesto recipe. As you can see, it's just a handful of ingredients. You can easily find them in every grocery store, discount or local farmer's market.
Fresh garlic: get a couple of garlic cloves and crush them into little pieces. Don't use garlic powder or other alternatives. We want it to be FRESH.
Basil leaves: as we were saying, if you want to resemble the taste of a traditional pesto alla Genovese, you have to use the freshest basil leaves you can find, but you can also switch to other plants. Try using arugula, or make a spinach pesto.
Parmesan cheese and Pecorino Romano: You won't need to know the difference this time. We'll use them both. This, however, could make this recipe a little expensive. If you're on a budget, give priority to parmesan. Alternatively, you can switch to nutritional yeast and make some vegan pesto, if you prefer.
Extra-virgin Olive Oil: get some quality olive oil. If you don't have it, there are some good alternatives made with sunflower seeds that you can use as well, but this is one of those recipes in which using a specific oil really makes a difference.
A pinch of coarse salt: to add some more flavor.
To see the right amount of each ingredient, go to the recipe card at the bottom of this post. Now, let's get down to business and see how to master this easy pesto recipe.
In Italy, traditional basil pesto is made by crushing all the ingredients in a pestle – possibly one made of marble.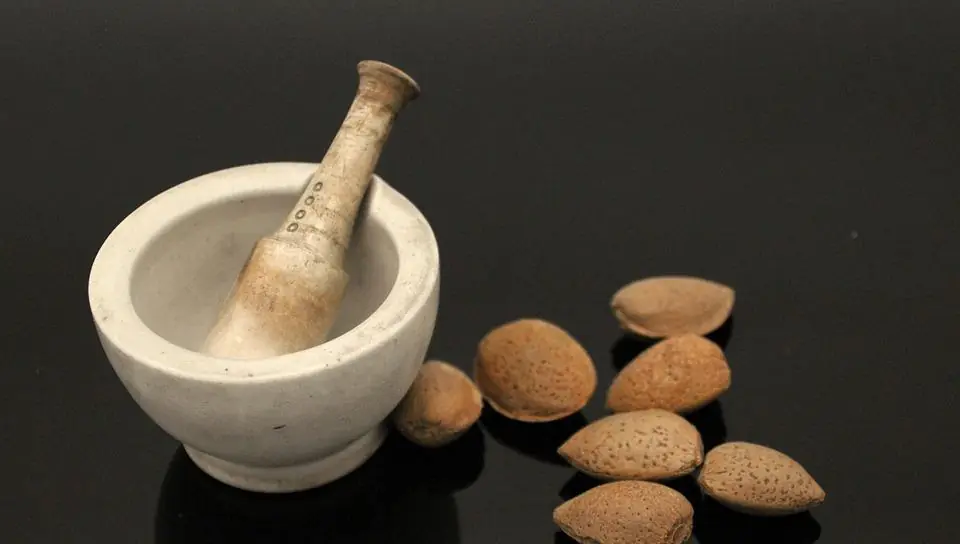 However, this is not something that everyone has at home. In that case, don't worry, you can also use a blender or a mini food processor. The process is exactly the same – so feel free to use any of these tools.
I have a wooden pestle, but it's not very indicated to make pesto, as it would be very difficult to clean well afterward. You shouldn't use any soap on it, and if you are not careful the smell of the ingredients will be absorbed forever.
Therefore, for this pesto recipe, I switched to an immersion blender. It's faster to use, and the result is delicious anyway. 
First, wash your basil leaves and immediately place them to dry over some paper towels. It's important to use only green, fresh leaves and remove their stems well. This way, your pesto will have a bright green color and a better flavor.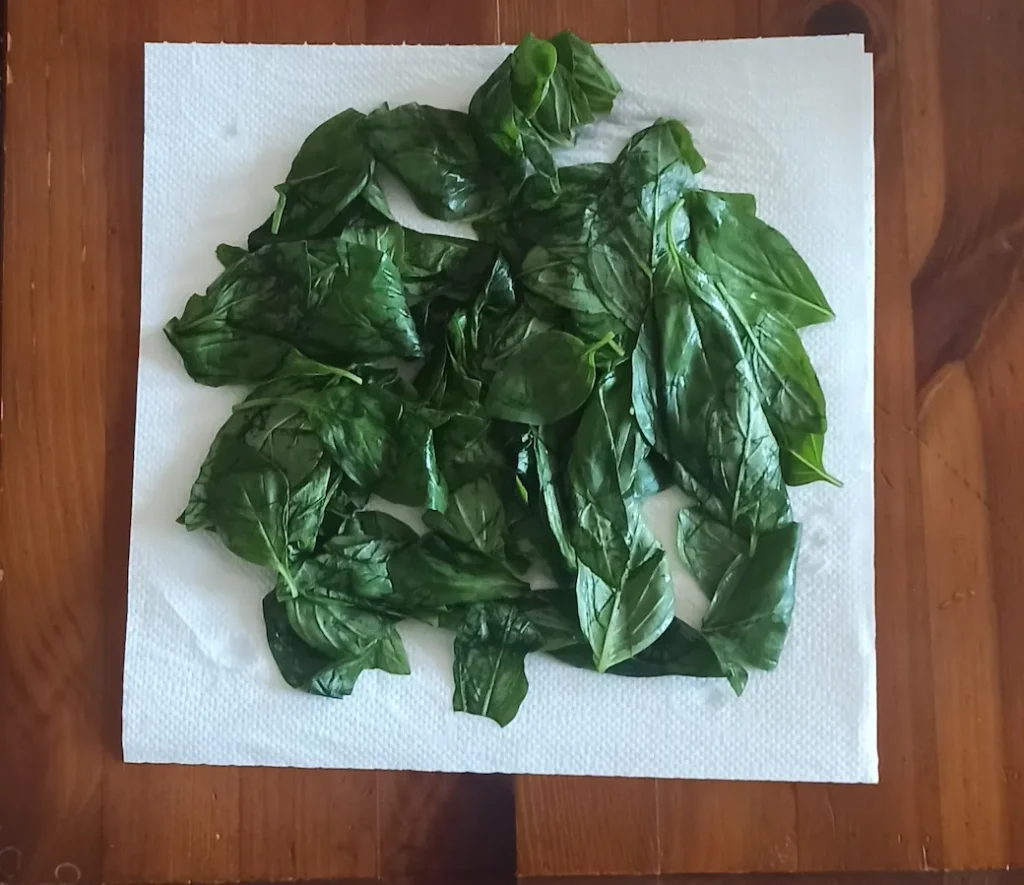 After that, put the garlic chunks in the bottom of your immersion blender or pestle, along with a pinch of coarse salt, add 1/3 of the basil leaves, and start blending (or crushing, if you went for the pestle) until they get the consistency of a sauce.
After that, keep adding the basil leaves until they have all been properly blended. You can also add some other fresh herbs and a few drops of lemon juice if you want to, but I think the basil already adds enough flavor.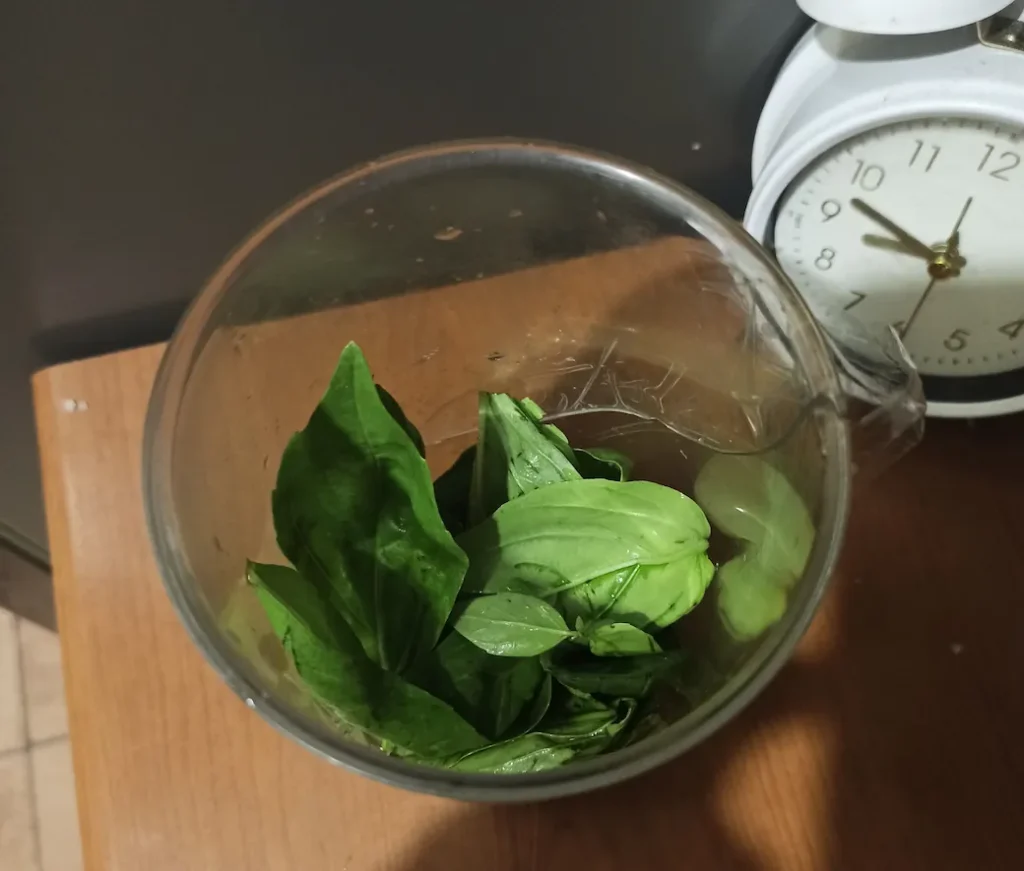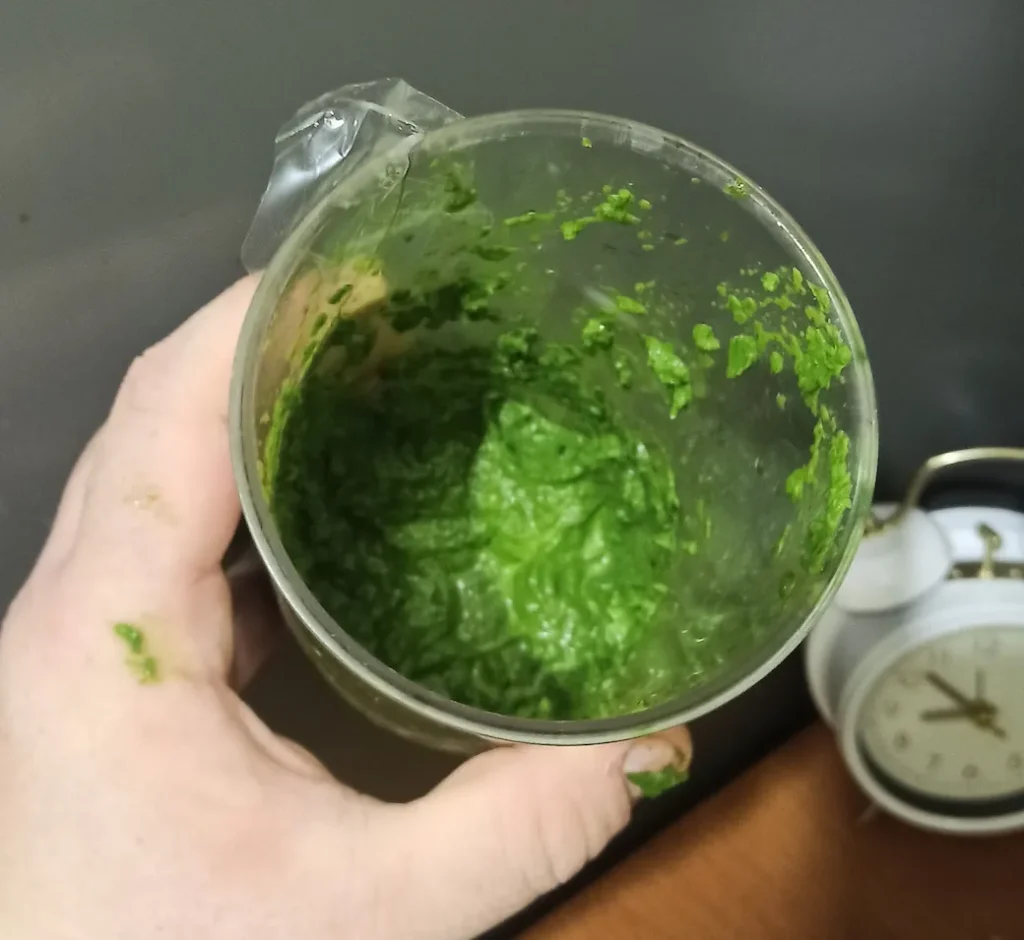 Now, it is time to add the grated cheeses. Start with 8 tablespoons of parmesan, then add another 6 tablespoons of pecorino romano. Blend/crush again.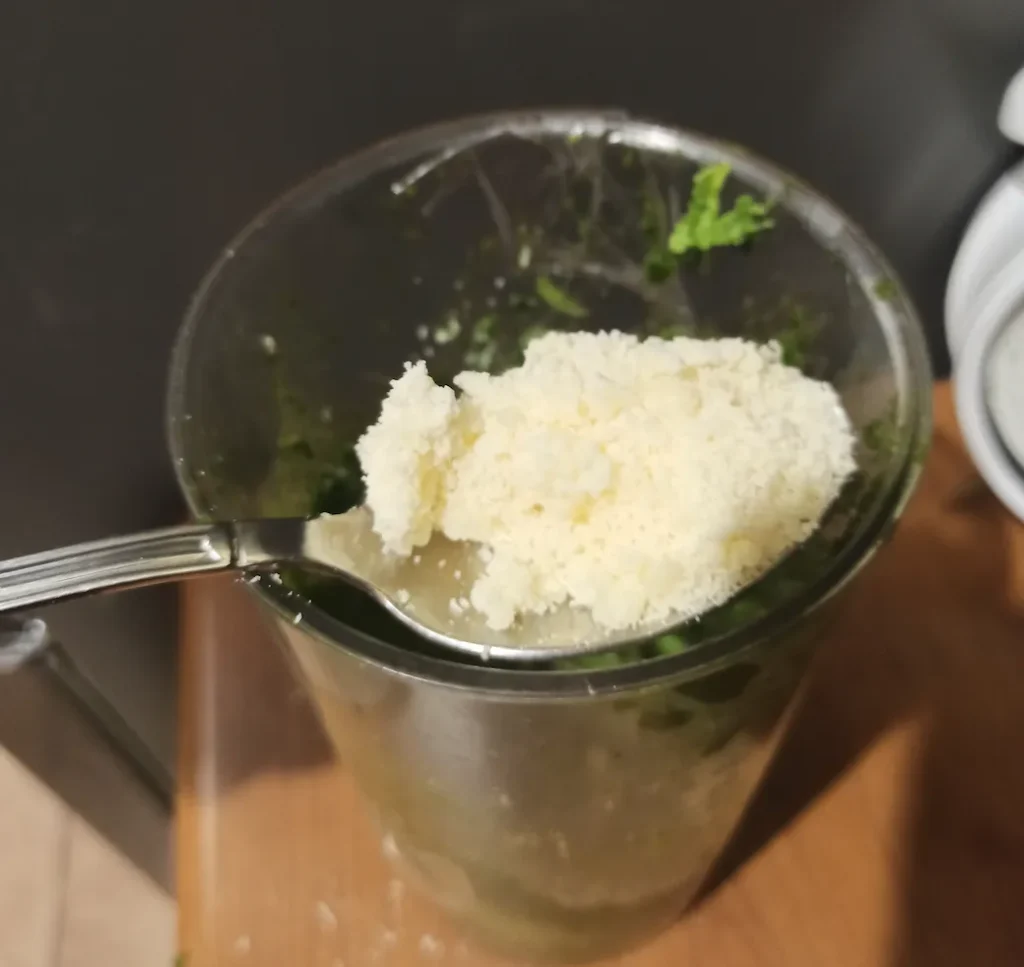 Your pesto without pine nuts is almost ready. Now you just need to add 5 tablespoons of extra virgin olive oil and (guess what) blend everything again. At this point, your pesto should have a creamy consistency, with some lumps formed by the grated cheeses and crushed cloves of garlic.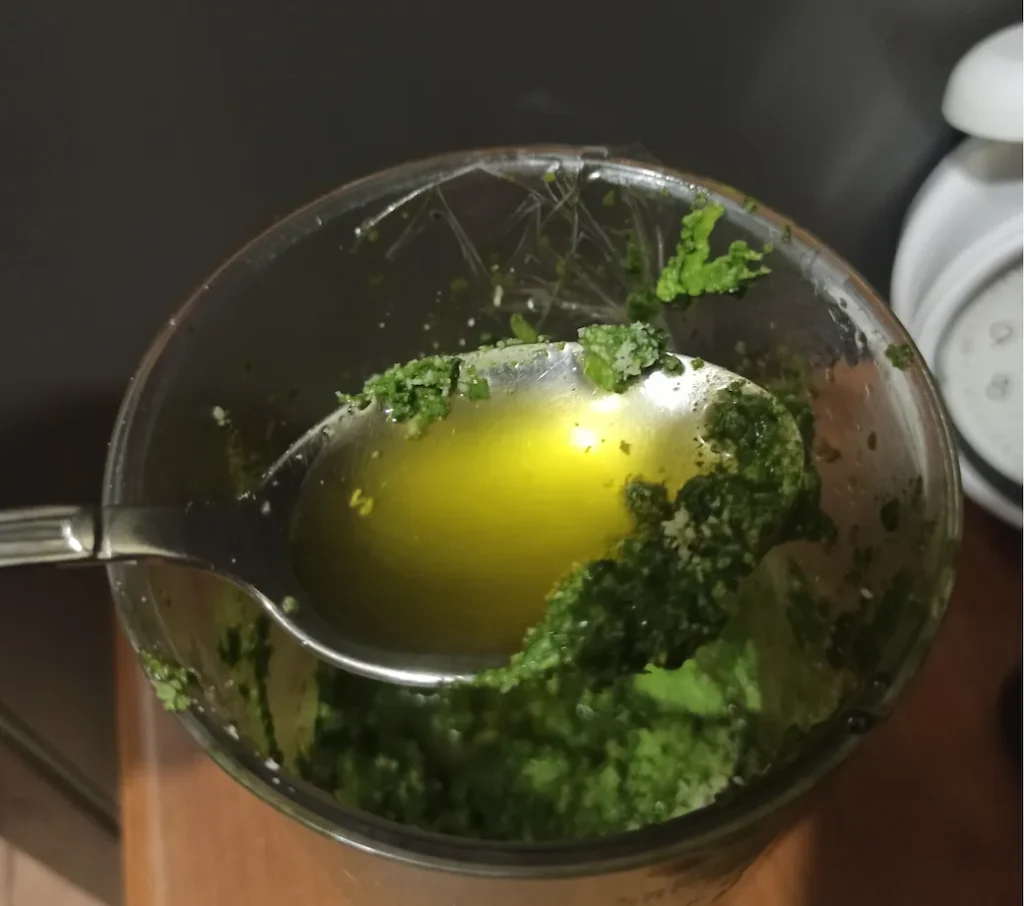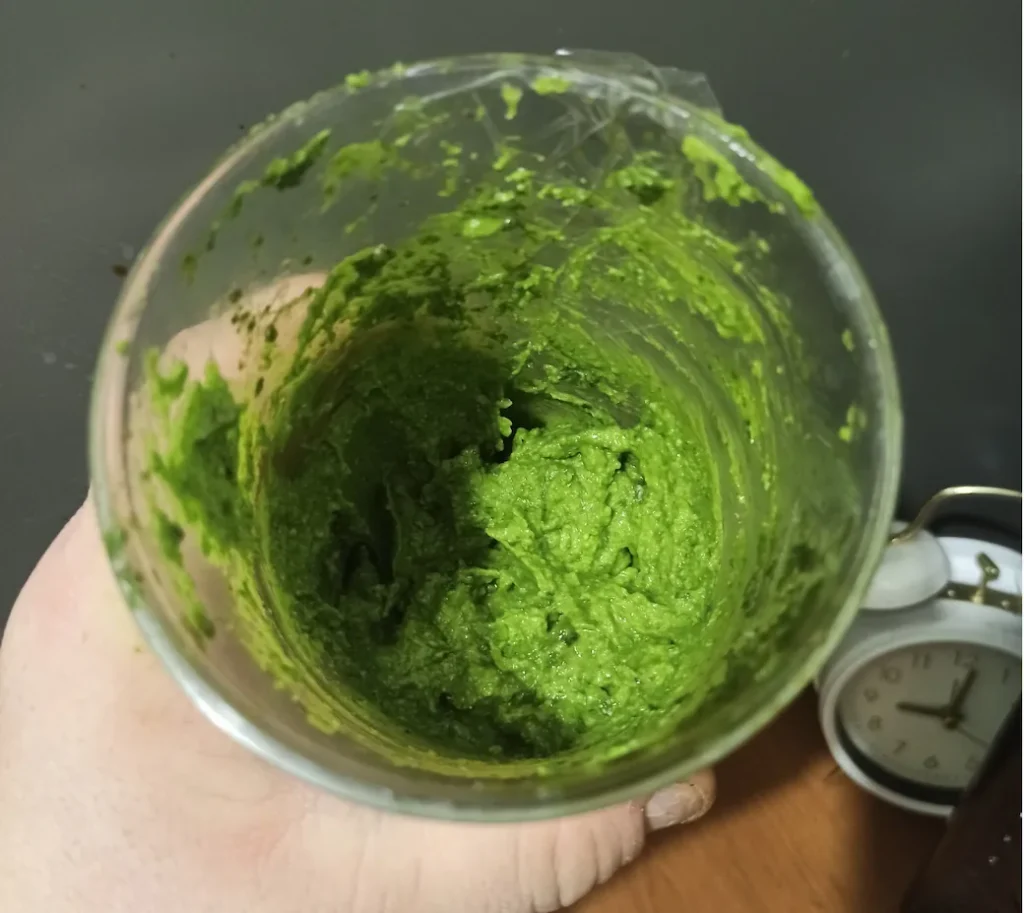 Now all you have to do is use it right away to dress your favorite pasta dish or set it aside for your next meal. I mixed it with 2 cups of spelt and cherry tomatoes, and the result was delicious.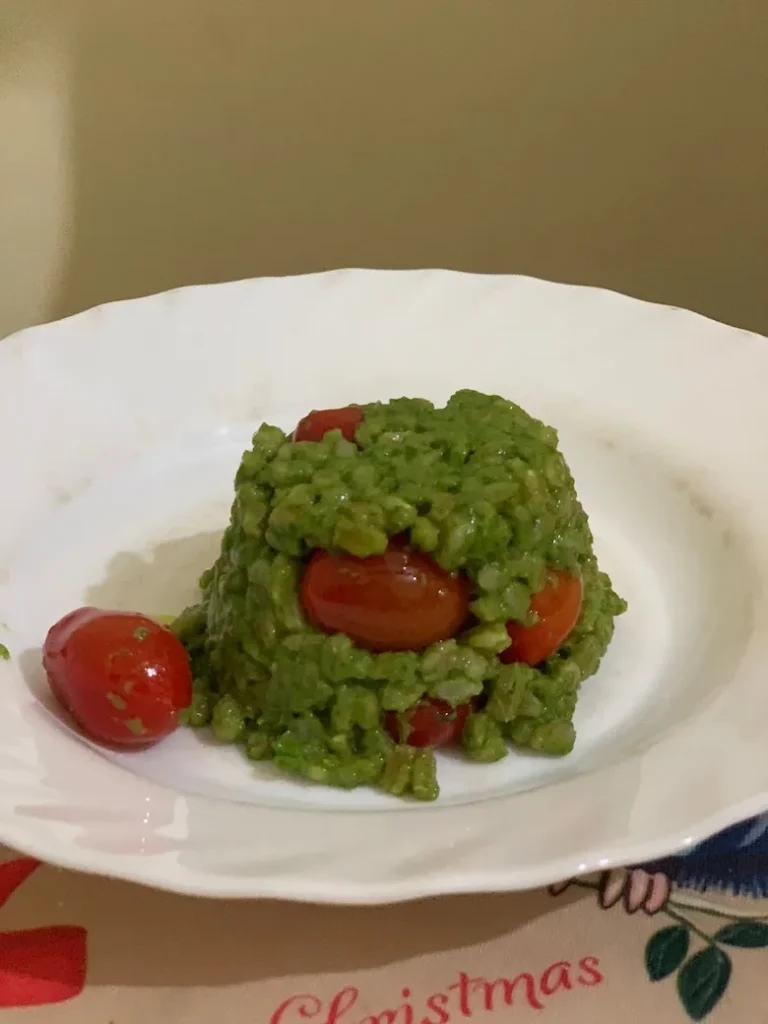 How to store your nut-free pesto
Once your pesto sauce is ready, you can serve it right away or set it aside for a second moment. If you go for the latter, let's spend a few words on how to do it well.
To be honest, I usually prefer to make fresh pesto in small portions and eat it right away. After all, you've seen how little it takes to make it perfect. Then, I use any leftovers as a topping for bruschetta… Ok, who am I kidding? There's rarely any leftover pesto when I eat 😀
However, maybe you prefer to make it in big batches and keep it for future occasions. In that case, here's what you can do.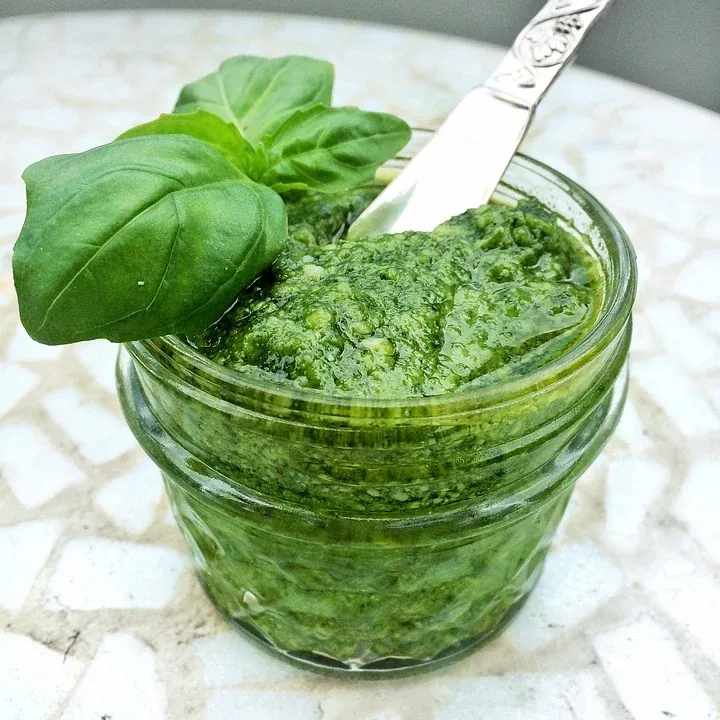 First of all, if you like preserving your food in cans, you should know that canning pesto is NOT recommended. This is because it has low acidity and a fair amount of oil, which can create a perfect environment for botulism. There's really no need to take such a risk – there are other ways to store your pesto safely.
The most intuitive one is to put it in an airtight container and to keep it in the refrigerator. If you're planning on using it in 3 or 4 days, that's more than enough.
Alternatively, freezing is the best option. Here's a method to do it efficiently. Spoon into some ice cube trays and let it freeze for about 5 hours. Then, take the little pesto cubes that will form, place them in a plastic bag, and keep them in the freezer. This way, you'll be able to store them for up to 3 or 4 months and thaw only the amount you need every time.
So this was how to make a delicious pesto without the traditional pine nuts.
If you want to save all the info, I have written down all the ingredients and the step-by-step instructions in the recipe card above. You can find the exact ratio of the ingredients, adjust it based on how many people you're serving, and even use the card as a digital shopping list.
However, feel free to improvise. Everyone has their favorite way of making pesto, and now I'm curious to know yours. Do you use basil or prefer other vegetables? Do you like to add any extra ingredients? Let me know in the comments, I will try out any variation!
Print
easy pesto without pine nuts
---
Author:

Total Time:

20 minutes

Yield:

4

1

x

Diet:

Vegetarian
Description
Making pesto has never been easier. And after you try this pesto recipe without pine nuts, you'll never go back to store-bought products.
---
4 ounces of fresh basil leaves (about 120 grams)

8 tablespoons of grated parmesan cheese

6 tablespoons of grated pecorino cheese

5 tablespoons of extra-virgin olive oil

2 cloves of garlic

a pinch of coarse salt
---
Wash the basil leaves and let them dry on a paper towel for a couple of minutes.
Chop the garlic cloves and put them at the bottom of an immersion blender with a pinch of coarse salt.
Add 1/3 of the basil leaves and blend. Then add the rest of the leaves and repeat until you get a creamy consistency.
Add the grated cheeses and blend again.
Now, add the olive oil and blend everything together one last time.
Enjoy.
Notes
If you decide to use a traditional pestle, this recipe could take a few more minutes to make.
Prep Time:

20

Category:

Dressing

Method:

Blending

Cuisine:

Italian
Keywords: pesto recipe, pesto without pine nuts, nut free pesto