I have to be honest: when I moved into my very first apartment, I was overwhelmed by the thought of having to cook for myself.
Growing up in a close knit Italian family, my mother always did that for us.
She has created some of the most delicious recipes I have ever eaten.
Cooking's just what she does. Even when I used to try to cook for the family, it would end up with her over my shoulder, giving me notes, and inevitably just taking over and finishing the dinner herself.
Oops.
Needless to say, I hadn't a clue how to cook anything besides what I'd learned from watching dinner being made over her shoulder.
What I DID know, however, was that one of my favorite dishes since I was a kid had always been chicken, ziti and broccoli.
Standing in front of the fridge shared by eight people, I thought to myself, "this'll be easy!"
It's only boiled ziti, broccoli, chicken, garlic, and olive oil. Right?
Well, I made just that. And it was so bland that I had to give the rest of it to my roommates, who insisted it was "delicious" (to this day, I don't believe them).
I called my mom the next day, in a panic, feeling as though my cooking skills were forever doomed.
And like it was the most simple solution in the book, she told me the few key ingredients I had been missing that whole time.
Without letting myself feel like too much of an idiot, I made the dish immediately that night.
And her solution worked.
This time, my roommates were telling everyone around us how good of a cook I was and that I was "the room's chef."
Even though all I did was just season the dish better, I'll take it.
What I love about making this one is that it's so incredibly easy. It takes no more than fifteen minutes to make, and I will ALWAYS go up for seconds.
And to tell you the truth, I've never met anyone who has made this for dinner.
Maybe similar variations of this doused in creamy sauce or alfredo sauce, but never this exact way.
It's extremely light, and the seasoning packs a punch in every bite you take.
So, in hopes that my mom doesn't kill me for airing out her secret way of cooking the easiest dinner imaginable, here's my go-to recipe for chicken, broccoli, and ziti.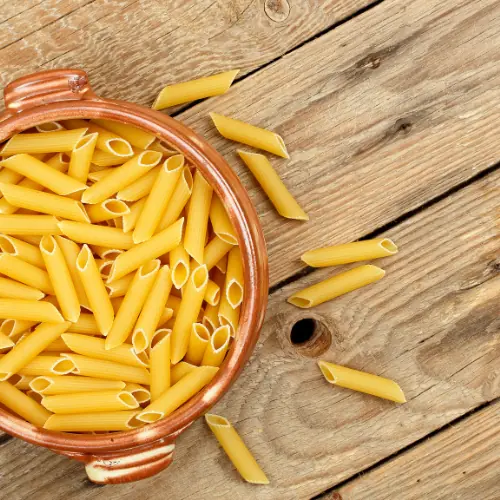 What is the best part of this easy recipe?
Without a doubt it's the seasoning! Sure, for Pasta and Broccoli recipe, you can't go wrong with fresh broccoli, cooked pasta, and chicken, but it's the side characters that make this dish stand out.
Notably: chicken bouillon (chicken stock).
This was what it was missing the first time. And once you include it, you'll never be able to go without it.
If you don't have chicken bouillon, chicken broth will work just fine. For vegetarians, veggie broth will do the trick.
Some other honorable mentions that assist the chicken bouillon are red pepper flakes, parmesan cheese, black pepper, and salt.
A lot of people might opt to toss in some lemon zest, but I strongly advise against it. It takes away from the natural flavors of everything and completely cancels out the chicken bouillon.
What types of pasta should I use?
Most of the time when I make this, you'll catch me using penne. In my opinion it's small and thin enough to fit on your fork with the broccoli florets, and the pasta taste doesn't overpower the rest of the dish.
However, if you don't have penne, you can make this wonderful recipe with rigatoni, small shells, orecchiette pasta or even spaghetti.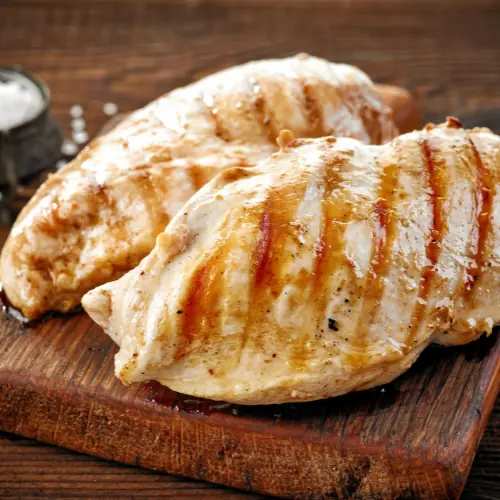 How should I cook the chicken?
There's actually no right or wrong way to do this!
My favorite way to prepare my chicken for this dish is to thinly slice some breasts into small pieces, and to coat each piece in cornstarch, salt and pepper. Then, I heat them up in a large skillet on medium-high heat with a dash of extra virgin olive oil.
You can omit the cornstarch if you'd like, and opt to add a dash of garlic powder, salt and pepper to the breasts.
If you prefer, you can also cook the chicken breasts in the air fryer for 15-20 minutes.
If you don't have chicken on hand, this would be great with sweet Italian sausage or hot Italian sausage. Just replace the chicken with your favorite sausage recipe, and add it in at the end.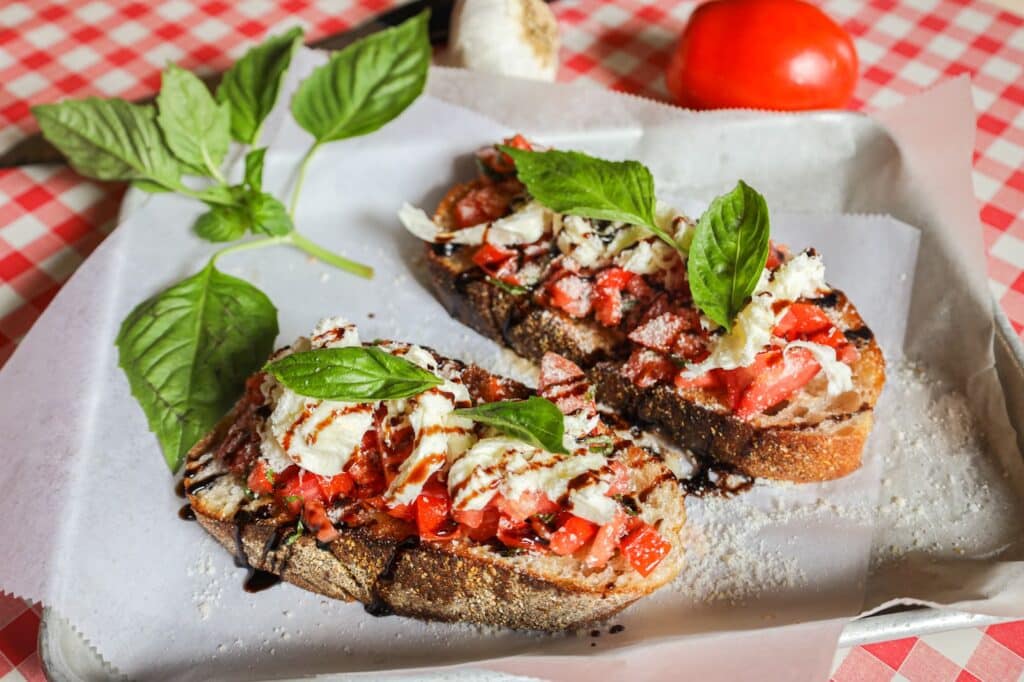 What should I serve with my Pasta and Broccoli Recipe?
I always enjoy this dish with a nice glass of Merlot.
In terms of your appetizer, try to keep it light. I love cooking up some garlic bread or bruschetta to serve with this.
For dessert, you can't go wrong with limoncello tiramisu!
Here are other good pairings!
Garlic Bread or Cheesy Breadsticks: This classic combination never fails. The bread acts as a great tool to mop up any leftover sauce from your pasta dish.
Grilled Chicken or Salmon: For a non-vegetarian boost of protein, you could serve your Pasta and Broccoli with some grilled chicken or salmon. The smoky flavor of the grill would provide a nice contrast to the pasta dish.
Caesar Salad: A fresh, crisp Caesar salad can provide a refreshing counterpoint to your pasta and broccoli dish. It adds a different texture and a tangy note that would complement the pasta.
Roasted Vegetables: For an even more substantial veggie boost, you could serve a medley of roasted vegetables. Think bell peppers, zucchini, eggplant, and tomatoes, all roasted until caramelized and tender.
Italian Sausages: Italian sausages can bring a spicy and savory note to your meal, making it even more satisfying.
Caprese Salad: This simple salad of fresh mozzarella, tomatoes, basil, and a drizzle of balsamic reduction is a fantastic side that would complement the flavors in your pasta dish.
Antipasto Platter: This could include a selection of Italian cured meats, cheeses, olives, and marinated vegetables.
What's good about the Pasta and Broccoli recipe
Nutritional Value: Pasta and broccoli are both significant sources of essential nutrients. Broccoli is rich in vitamins C and K, folate, potassium, and fiber, whereas pasta, particularly whole grain varieties, is a good source of complex carbohydrates, dietary fiber, and certain B vitamins. This combination makes for a well-balanced meal.
Versatility: Pasta and broccoli is a versatile dish. It can be enjoyed as is, or it can serve as a base for a variety of other ingredients like chicken, seafood, or other vegetables. You can also switch up the flavors by experimenting with different sauces or seasonings.
Easy to Prepare: This dish is quick and easy to prepare, which is great for busy weeknights. You can have a nutritious and delicious meal on the table in less than 30 minutes.
Budget-Friendly: Pasta and broccoli are both relatively inexpensive ingredients. This dish is a great option for those who want to eat healthily without breaking the bank.
It's a Crowd Pleaser: Because of its simple, comforting flavors, pasta and broccoli is a dish that is generally loved by both adults and kids alike.
Customizable to Dietary Needs: Pasta and broccoli can be made to suit various dietary restrictions. You can use gluten-free pasta for those with celiac disease or a gluten intolerance, or you could use vegan cheese and skip any meat add-ons for a vegan version.
Storage and Reheating: Leftover pasta and broccoli reheats well, so it's a great option for meal prep. You can make a large batch and then enjoy it throughout the week.
Balanced Meal: When prepared with a protein source like chicken or beans, this dish becomes a complete meal that includes carbohydrates, protein, and vegetables.
Filling: Thanks to the fiber in both the pasta and the broccoli, this meal is satisfying and filling, which can help to keep you from overeating.
Delicious: Last but certainly not least, pasta and broccoli is delicious! The tender pasta combined with the slightly crunchy, mildly bitter broccoli, all coated in a savory sauce, makes for a delightful culinary experience.
Pasta and Broccoli Recipe FAQs:
Can I use any type of pasta for this recipe?
Yes, you can use any type of pasta you like. However, shapes like penne, fusilli, or farfalle work well because they have nooks and crannies for the sauce and small broccoli pieces to adhere to.
Can I use frozen broccoli instead of fresh?
Yes, you can use frozen broccoli. However, it's important to remember that frozen broccoli is usually blanched before freezing, so it may require less cooking time than fresh broccoli.
How can I add protein to this dish?
There are several ways to add protein to this dish. You could add cooked chicken, shrimp, or Italian sausage. For a vegetarian option, consider adding cooked chickpeas, cannellini beans, or cubes of baked tofu.
Can I make this dish ahead of time?
Yes, this dish can be made ahead of time. Simply reheat it on the stove with a little bit of extra water or broth to prevent it from drying out.
What other vegetables can I add to this pasta dish?
You can add any vegetables you like to this dish. Some good options include bell peppers, zucchini, mushrooms, spinach, or peas.
Can I use a different sauce other than olive oil and garlic?
Absolutely. This dish can be adapted to use a variety of sauces. Consider a creamy Alfredo, a tangy tomato sauce, or a rich pesto. You could also spice it up with some crushed red pepper flakes or a sprinkle of Parmesan.
Is this recipe suitable for vegans?
Yes, this recipe can easily be made vegan. Simply use a vegan pasta and skip any non-vegan add-ins like cheese or meat. You can add nutritional yeast for a cheesy flavor.
Can I use gluten-free pasta?
Yes, you can certainly use gluten-free pasta. Follow the same steps, just ensure the pasta you select is certified gluten-free.
How should I store leftovers?
Store leftover pasta and broccoli in an airtight container in the refrigerator. It should keep for about 3-4 days.
How can I reheat leftovers?
The best way to reheat this dish is on the stove over medium heat. You might need to add a bit of water or vegetable broth to help loosen up the pasta and prevent it from sticking. If you're in a rush, you can also reheat it in the microwave.
Chicken Broccoli And Ziti Recipe
Print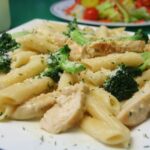 Italian Chicken Broccoli & Ziti Recipe
---
Author:

Total Time:

30 minutes

Yield:

6

1

x
4–6 cups fresh broccoli florets, washed
1 lb penne
2–3 chicken breasts, cut into smaller pieces
3 tbsp chicken base, or 2 chicken bouillon cubes, or ¾ cup chicken broth
3 cloves garlic, minced
½ cup olive oil
1 tbsp salt
1 tbsp pepper
1 tsp chili flakes
1 cup cornstarch
½ cup parmesan or pecorino Romano cheese
---
Chicken Recipe:
Cut up each chicken breast into little pieces

Prepare cornstarch, adding it to a mixing bowl with some salt and pepper

Dredge each piece in cornstarch mix

Heat up olive oil in a large sauté pan over medium heat

Sear each side of chicken in olive oil until fully cooked

Add chicken pieces to pasta and broccoli
Broccoli Recipe:
Gather and wash 4-6 cups of broccoli florets

Mince 3 cloves of fresh garlic

Heat up olive oil in a large skillet over medium-high heat

Let garlic simmer until fragrant

Add broccoli and chicken base into the skillet, seasoning with chili flakes, salt and pepper to taste. Let saute for five minutes, stirring occasionally

Cook until tender, add to pasta once finished
Pasta Recipe:
Put a large pot of water on the stove to boil

Cook a box of penne pasta until al dente, according to package instructions

Once finished, drizzle some extra olive oil into the pot to keep pasta from sticking

Add all of the rest of the ingredients together into the pot (broccoli, garlic, olive oil, chicken), adding the cheese in at the end and mixing with a wooden spoon

Enjoy!
Prep Time:

15

Cook Time:

15

Category:

Pasta

Cuisine:

Italian
Keywords: pasta and broccoli recipe italian, chicken broccoli,