I have to be honest: when I moved into my very first apartment, I was overwhelmed by the thought of having to cook for myself.
Growing up in a close knit Italian family, my mother always did that for us.
She has created some of the most delicious recipes I have ever eaten.
Cooking's just what she does. Even when I used to try to cook for the family, it would end up with her over my shoulder, giving me notes, and inevitably just taking over and finishing the dinner herself.
Oops.
Needless to say, I hadn't a clue how to cook anything besides what I'd learned from watching dinner being made over her shoulder.
What I DID know, however, was that one of my favorite dishes since I was a kid had always been chicken, ziti and broccoli.
Standing in front of the fridge shared by eight people, I thought to myself, "this'll be easy!"
It's only boiled ziti, broccoli, chicken, garlic, and olive oil. Right?
Well, I made just that. And it was so bland that I had to give the rest of it to my roommates, who insisted it was "delicious" (to this day, I don't believe them).
I called my mom the next day, in a panic, feeling as though my cooking skills were forever doomed.
And like it was the most simple solution in the book, she told me the few key ingredients I had been missing that whole time.
Without letting myself feel like too much of an idiot, I made the dish immediately that night.
And her solution worked.
This time, my roommates were telling everyone around us how good of a cook I was and that I was "the room's chef."
Even though all I did was just season the dish better, I'll take it.
What I love about making this one is that it's so incredibly easy. It takes no more than fifteen minutes to make, and I will ALWAYS go up for seconds.
And to tell you the truth, I've never met anyone who has made this for dinner.
Maybe similar variations of this doused in creamy sauce or alfredo sauce, but never this exact way.
It's extremely light, and the seasoning packs a punch in every bite you take.
So, in hopes that my mom doesn't kill me for airing out her secret way of cooking the easiest dinner imaginable, here's my go-to recipe for chicken, broccoli, and ziti.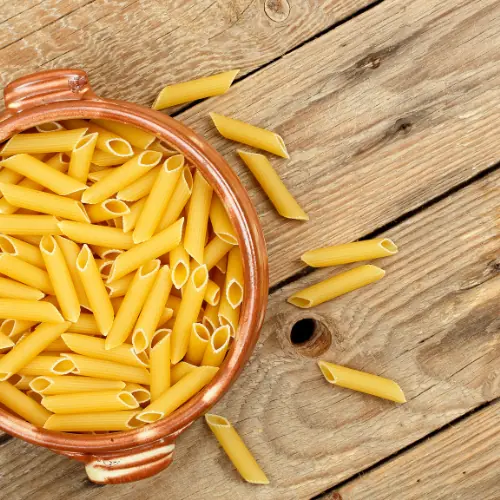 What is the best part of this easy recipe?
Without a doubt it's the seasoning! Sure, you can't go wrong with fresh broccoli, cooked pasta, and chicken, but it's the side characters that make this dish stand out.
Notably: chicken bouillon (chicken stock).
This was what it was missing the first time. And once you include it, you'll never be able to go without it.
If you don't have chicken bouillon, chicken broth will work just fine. For vegetarians, veggie broth will do the trick.
Some other honorable mentions that assist the chicken bouillon are red pepper flakes, parmesan cheese, black pepper, and salt.
A lot of people might opt to toss in some lemon zest, but I strongly advise against it. It takes away from the natural flavors of everything and completely cancels out the chicken bouillon.
What types of pasta should I use?
Most of the time when I make this, you'll catch me using penne. In my opinion it's small and thin enough to fit on your fork with the broccoli florets, and the pasta taste doesn't overpower the rest of the dish.
However, if you don't have penne, you can make this wonderful recipe with rigatoni, small shells, orecchiette pasta or even spaghetti.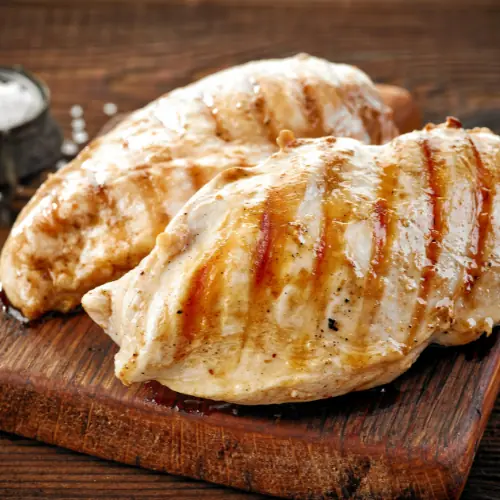 How should I cook the chicken?
There's actually no right or wrong way to do this!
My favorite way to prepare my chicken for this dish is to thinly slice some breasts into small pieces, and to coat each piece in cornstarch, salt and pepper. Then, I heat them up in a large skillet on medium-high heat with a dash of extra virgin olive oil.
You can omit the cornstarch if you'd like, and opt to add a dash of garlic powder, salt and pepper to the breasts.
If you prefer, you can also cook the chicken breasts in the air fryer for 15-20 minutes.
If you don't have chicken on hand, this would be great with sweet Italian sausage or hot Italian sausage. Just replace the chicken with your favorite sausage recipe, and add it in at the end.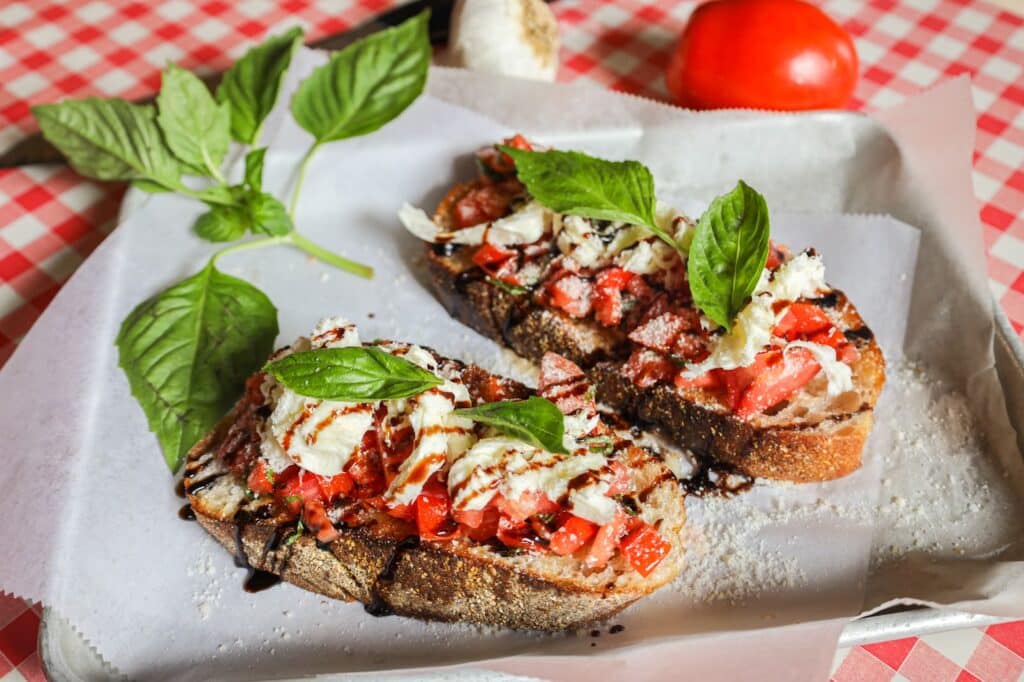 What should I serve this with?
I always enjoy this dish with a nice glass of Merlot.
In terms of your appetizer, try to keep it light. I love cooking up some garlic bread or bruschetta to serve with this.
For dessert, you can't go wrong with limoncello tiramisu!
Chicken Broccoli And Ziti Recipe
Print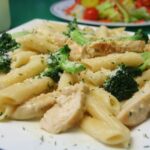 Italian Chicken Broccoli & Ziti Recipe
---
Author:

Total Time:

30 minutes

Yield:

6

1

x
4–6 cups fresh broccoli florets, washed
1 lb penne
2–3 chicken breasts, cut into smaller pieces
3 tbsp chicken base, or 2 chicken bouillon cubes, or 3/4 cup chicken broth
3 cloves garlic, minced
1/2 cup olive oil
1 tbsp salt
1 tbsp pepper
1 tsp chili flakes
1 cup cornstarch
1/2 cup parmesan or pecorino Romano cheese
---
Chicken Recipe:
Cut up each chicken breast into little pieces

Prepare cornstarch, adding it to a mixing bowl with some salt and pepper

Dredge each piece in cornstarch mix

Heat up olive oil in a large sauté pan over medium heat

Sear each side of chicken in olive oil until fully cooked

Add chicken pieces to pasta and broccoli
Broccoli Recipe:
Gather and wash 4-6 cups of broccoli florets

Mince 3 cloves of fresh garlic

Heat up olive oil in a large skillet over medium-high heat

Let garlic simmer until fragrant

Add broccoli and chicken base into the skillet, seasoning with chili flakes, salt and pepper to taste. Let saute for five minutes, stirring occasionally

Cook until tender, add to pasta once finished
Pasta Recipe:
Put a large pot of water on the stove to boil

Cook a box of penne pasta until al dente, according to package instructions

Once finished, drizzle some extra olive oil into the pot to keep pasta from sticking

Add all of the rest of the ingredients together into the pot (broccoli, garlic, olive oil, chicken), adding the cheese in at the end and mixing with a wooden spoon

Enjoy!
Prep Time:

15

Cook Time:

15

Category:

Pasta

Cuisine:

Italian
Keywords: pasta and broccoli recipe italian, chicken broccoli,