This easy one-pot lemon pasta is sure to satisfy any pasta lovers! With the bright lemon flavors and creamy sauce, this simple-yet-elegant dish is ideal for both busy weeknights and special occasions. 
I first had lemon pasta when I was visiting Amalfi, Italy. They are known for all things lemon, but I was apprehensive about a citrus-flavored pasta dish. 
It didn't take long to realize I was wrong about lemon pasta, because this dish was one of my favorite things that I ate in Italy (and that's saying something!).
While I'm lacking the gorgeous coastal views when I have it at home, this simple lemon pasta recipe is a delicious taste of Amalfi.
Made with simple ingredients and just one pot or dutch oven, it's also a great way to have a nice meal fast! 
Why You'll Love This Recipe
It's Fast: This is one of the quickest pasta dishes you could make! If you need a fast option for a busy weeknight dinner, this is the perfect recipe.
It's Tasty: The lemon, garlic, and creamy sauce come together beautifully in this pasta, making for a refreshing, flavorful, and satiating meal.
It's Flexible: This lemon pasta is amazing as it's written, but if you lack an ingredient or want to get creative, this is a great pasta. Read on for variations and add-ins to spice it up.
One Pot: I don't know about you, but I love a meal with easy clean-up. This is as easy as it gets! This one-pot pasta uses only – you guessed it – one pot, so you can spend more time enjoying yourself and less time washing up.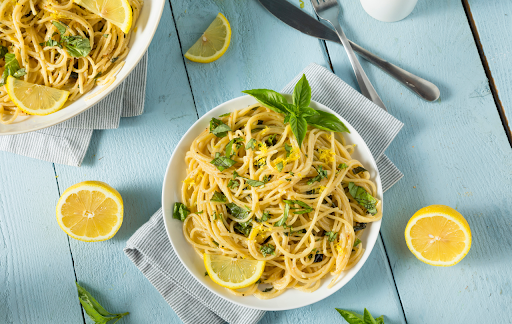 Lemon Pasta Ingredients
Pasta: This recipe uses spaghetti, but you can substitute other great noodles, such as angel hair pasta, linguine, or cavatappi.
Lemon: I strongly recommend freshly squeezed lemon juice. It tastes the best and you can zest the lemon for a richer flavor.
Butter: You can never go wrong with butter!
Heavy Cream: For the richest, creamiest sauce, heavy cream is the way to go. It doesn't take much to make this perfectly creamy sauce!
Parmesan Cheese: Freshly grated is the best for this recipe because it melts far better than pre-shredded cheese.
Garlic: The star in any good meal, we of course must have garlic in this pasta dish. If you want to get adventurous, try substituting fresh cloves for some easy roasted garlic.
Basil: The fresh basil brings the whole dish together with its vibrant flavor and pop of color!
Red Pepper Flakes: A small amount gives the pasta a gentle kick and added flavor. If you don't like any spice in your food, you can add less or omit it altogether.

Lemon Pasta FAQs
Can I freeze this pasta?
I don't recommend freezing this pasta dish because the sauce is cream-based. Don't worry, you won't have a problem eating the leftovers!
How long are leftovers good for?
Keep the leftovers in the fridge in an airtight container for 5-7 days. 
How do I reheat the leftovers?
If you're in a rush, a minute or two in the microwave will do! The best method, however, is on the stove. Add a splash of cream or milk to the pan to refresh the sauce and warm the pasta up over medium-high heat, stirring occasionally. 
Why does this recipe use pasta water?
When pasta is cooked, it releases starches into the water. Adding the starchy pasta water thickens the sauce and gives it structure. The salt also adds some flavor.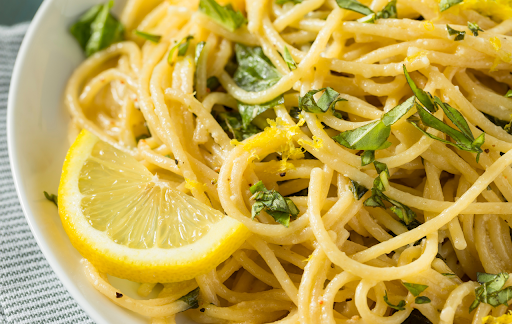 Tasty Add-Ins for Lemon Pasta
This delicious, simple pasta is perfect on its own, but it also makes a great base for a variety of add-ins! You can add these to the pasta when you toss the noodles with the sauce. Here are a few I recommend:
Greens: I like fresh arugula or fresh baby spinach.
Meat: Grilled chicken, shrimp, or salmon.
Veggies like sautéed mushrooms, caramelized onions, sweet peas, or roasted broccoli.
More fresh herbs: This pasta would taste great with fresh parsley, thyme, or oregano.
What to Serve with Lemon Pasta
There are so many fantastic sides that will elevate this dish and make it a meal! Here are our favorites:
Vegetables: A hot vegetable side is always nice with a pasta dish. Try brussels sprouts, broccoli, or sauteed spinach.
Salad: You can't go wrong with a Caprese salad, or try a green salad with some red wine vinaigrette.
Bread: Bread truly makes every meal better.  Don't miss out on our parmesan bread bites or ciabatta garlic bread! 
Meat: It's almost like this chicken rollatini was made for lemon pasta! The pasta would also go well with fried meatballs or baked parmesan cod. 
Print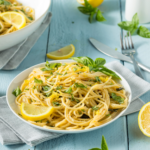 Easy Creamy One-Pot Lemon Pasta
---
16 ounces of spaghetti

2 tablespoons extra virgin olive oil

½ cup salted butter

4 garlic cloves, minced

Juice and zest of one large lemon

1 cup parmesan cheese, shredded

½ cup heavy cream

½ cup fresh basil, chopped 

1 teaspoon red pepper flakes, or to taste

Salt and black pepper to taste
---
Bring a large pot of salted water to a boil. Once it is boiling, add your spaghetti and cook al dente according to the package instructions.

While your pasta cooks, prepare the ingredients for your cream sauce.

When your noodles are cooked al dente, reserve a cup of pasta water and strain the noodles. Chill the noodles under cool water and toss in a bit of olive oil. Set aside.

In the same pot, melt your butter over medium heat. Add the garlic and saute for 1-2 minutes until golden and fragrant.

Add the heavy cream and bring it to a light simmer. Cook it down for 4-5 minutes. Avoid burning or boiling the cream.

Add ¼ cup of reserved pasta water, parmesan cheese, red chili flakes, fresh lemon juice, and lemon zest and stir to combine. 

Toss your noodles in the sauce and leave on the heat for 1-2 minutes, until the noodles are warm again. Use more reserved pasta water as needed to get your desired consistency.

Remove from heat and add the basil. Sprinkle with salt and black pepper to taste.

Garnish with more parmesan and fresh basil. For best results, serve immediately.