A few months ago, we were in the Mortadella Head test kitchen when our manager came up with a wonderful idea using some leftover pizza dough we had on hand.
We wanted to make a great appetizer, we were craving some delicious finger food.
By using simple ingredients like olive oil, fresh chopped garlic, parmesan cheese, marinara sauce, and fresh herbs, the Mortadella Head Parmesan Bread Bite was created.
These simple parmesan bread bites are awesome, fresh, delicious, and super easy to make.
This is the perfect appetizer for literally any occasion, they're just that good.
I promise, they'll put Domino's parmesan bread bites to shame.
Anything like those may be good, but this easy recipe is so delicious, and by using the most basic ingredients that you definitely already have in your refrigerator, you'll be hand making these wonderful parmesan cheese bread bites whenever you get the chance.
All you need is a few simple ingredients, a large baking sheet, and you'll be good to go.
What You'll Need:
Pizza dough: You can make your own homemade pizza dough, or buy some fresh from your local supermarket.
Garlic: Repeat after me: I will not use jarred garlic! Take the time to mince a whole bunch of garlic cloves yourself. Trust me, it'll be worth it.
Olive oil: For this, since it'll be going in the oven, I recommend using regular olive oil rather than an extra virgin olive oil. You could also use unsalted butter for this too. Just make sure that it's at room temperature before proceeding with this recipe.
Parsley: Trust me, this will be better with fresh chopped parsley.
Salt, pepper, oregano: As far as we are concerned, this is the holy trinity of garlic bites.
Grated cheese: Parmesan is what's typically used in these, but if all you had is grated Romano cheese, that would be fine too. You could also use a tiny bit of mozzarella cheese or asiago cheese on top of the parmesan bites, they would be great with those, too.
Marinara sauce: Marinara sauce is strictly for dipping purposes.
Directions:
Using a sharp knife or a pizza cutter, cut your pizza dough into small 1-inch pieces, and roll them into little balls. They don't have to be perfect.

Make your sauce! Stir together olive oil (or melted butter if you prefer), minced garlic, half of the parmesan cheese, fresh herbs and spices. By this time, it should be fragrant and smell delicious.

Take a pastry brush and brush the top of each dough ball with the oil mixture, sprinkling with more Parmesan cheese after the fact.

Bake them on a greased baking sheet or over parchment paper for up to 15 minutes or until golden brown and fragrant.

Douse them in marinara sauce (or your favorite dipping sauce), store leftovers in the freezer and enjoy this easy appetizer!
Parmesan Bread Bites FAQs:
Q: How long can I store these for?
These can be good for a loooong time. Think up to six months in the freezer. I would honestly freeze these from the get go in an airtight container or plastic wrap, and take them out and heat them up when you're ready to eat them.
Q: Could I make these in the air fryer?
A: Absolutely! Set your air fryer to high heat and watch them for about twelve minutes or so. They'll taste delicious!
Q: How could I make these into garlic knots?
A: Actually, it's very simple. Take the one inch dough balls and roll them flat into 1-inch strips. Tie them into loose knots, give them a shower of Parmesan cheese, and complete the rest of the process as you would. Let me know if you try it this way!
What To Serve With Parmesan Bread Bites:
Drink: A nice white wine would be wonderful with this. Try them with your favorite pinot grigio!
Meal: Since this is more of an appetizer rather than a main course, they are great before a nice pizza. Try this chicken parm pizza recipe!
Side dish: You can never go wrong with some roasted brussels sprouts.
Print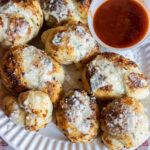 Parmesan Bread Bites
---
Author:

Total Time:

20 minutes
1

pound of pizza dough

6

cloves of garlic, finely chopped

1/4 cup

of olive oil

2 tablespoons

of fresh parsley, chopped

1 tablespoon

of dried oregano

1/2 teaspoon

of salt

1/4 teaspoon

of red pepper flakes

1/4 cup

of grated Parmesan cheese
---
Preheat your oven to 400°F.

Cut your pizza dough into small pieces (~1 inch).

Roll each piece into a ball.

In a small bowl, whisk together the garlic, some Parmesan cheese, olive oil, parsley, oregano, salt, and red pepper flakes.

Brush the garlic mixture generously over each ball.

Sprinkle the balls with the rest of the Parmesan cheese.

Bake for 10-12 minutes or until golden brown.

Serve hot and enjoy!
Prep Time:

5 minutes

Cook Time:

15 minutes