In my opinion, one of the world's greatest treasures and contributions to the cuisine in the United States is chicken parmigiana.
I know, I know. Chicken parm isn't Italian, it was made by Italian American immigrants.
Even though there's nothing like an Italian home-cooked meal or a quality Italian restaurant, when did something have to be authentically Italian to be good?
There are plenty of cultures that make amazing delicious food, with exquisite flavors, that don't even touch classic Italian ingredients.
The idea of Italian American cuisine is so overlooked by Italians and Italian Americans all over the country, and I fully believe it's some of the best food to exist.
That's why I will die on the hill that Italian American cuisine did something right when they created the classic dish of chicken parmesan.
What is chicken parm made out of?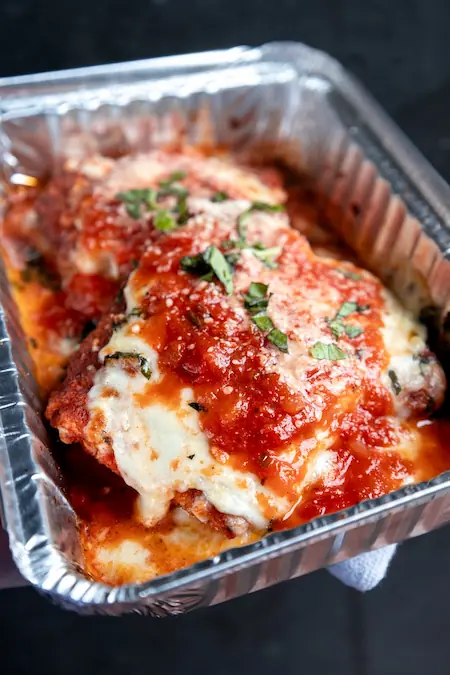 Chicken parm is most classically made by using chicken breasts, pounded and fried into chicken cutlets, parmesan cheese (copious amounts of cheese, at that), rich tomato sauce, and mozzarella cheese.
The chicken cutlets are made beforehand by rolling them in flour, egg wash, and breadcrumbs, and are then fried in olive oil over medium heat.
After that, the breaded chicken (or fried chicken, whichever you prefer) gets coated with tomato sauce, mozzarella cheese, parmesan or grated Romano, and baked in the oven.
After it's baked, it's then served with spaghetti, or in between a roll as a sandwich.
Or in our case, right on top of a pizza.
What is a chicken parm pizza?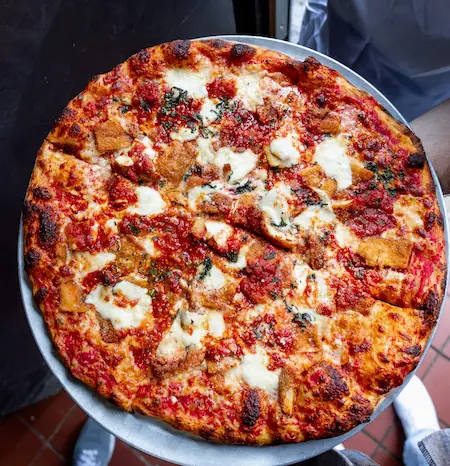 Delicious, that's what it is.
On the surface, chicken parm pizza might seem no different than just a regular chicken pizza, except with chicken patties and a breadcrumb mixture.
But once you have it, it's a certain game changer.
For one, most chicken parm pizzas typically have more sauce than your standard pizza. Which I don't know about you, but for me, is always a good idea. Every pizza tastes better with extra sauce.
And in light of the gluttonous aspect of the pizza, this pie is also loaded to the max with cheese. Lots and lots of cheese.
It then gets baked in the oven, topped with even more sauce and cheese, and then served.
So while a typical pizza usually does already contain most of the same ingredients as chicken parm does, a chicken parm pizza is on a whole new level.
What's the difference between chicken parm and eggplant parm?
Eggplant parmigiana, unlike chicken parmesan, is a classic Italian dish that originated in Italy.
Good eggplant parm is typically sliced thin, covered with flour and egg wash, and then fried in a pan with some olive oil, salt, and black pepper.
So it's honestly the same idea, except eggplant parm is authentic to Italy, and vegetarian.
How do I make a chicken parm pizza?
The moment you've all been waiting for, here's our chicken parm pizza recipe!
This is the exact same quality farm-pizza recipe that we use in our Italian-American eatery right in Boston, MA.
It's one of our most distinctive recipes on our menu, and you will be sure to love it.
You will need: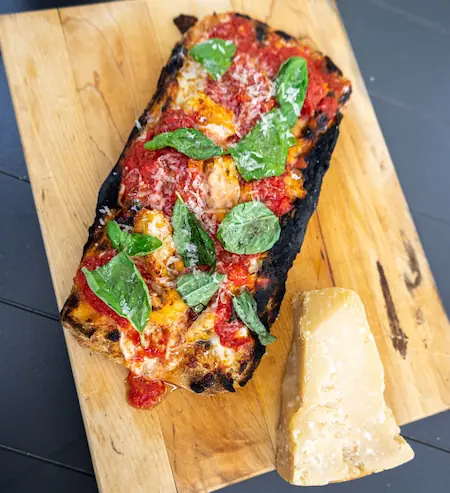 Pizza dough: Make your own or use your favorite store-bought dough. If you want to try something different, check out our Roman pizza dough recipe!
Tomato sauce: Use your favorite store-bought red sauce, or make your own using our recipe!
Mozzarella cheese: Be sure to grate it yourself instead of using shredded cheese, it'll have a nutty flavor and taste way more fresh and delicious.
Chicken cutlets: Set up a breading station, coat these in egg wash and then garlicky breadcrumbs, and then fry them over medium high heat in some olive oil (not extra virgin olive oil) or vegetable oil, soaking off the excess oil with some paper towels. Check out our recipe for these below!
Fresh basil: Every pizza is better with fresh basil at the end!
Grated Romano cheese: This will add a whole new flavor and dimension to the tomato sauce that you never knew you needed.
Olive oil: We mentioned this earlier, but don't use EVOO. Instead, opt for a regular bottle of plain olive oil.
How to make it

Start by spreading a light layer of sauce all over the pizza dough. Top with a generous amount of mozzarella pizza cheese.
Then, break up your chicken into little pieces, and sprinkle all over the top of the pizza, so that the entire surface is covered with chicken.
After the pizza is topped with the chicken, drizzle with a little olive oil and sprinkle some grated cheese on top. Put it on a baking sheet, and then put it in a 400° oven for about 15 minutes, or until the cheese is melted and golden brown.
Once the pizza is done and out of the oven, stripe some more tomato sauce on top of the pizza. Sprinkle a final layer of grated cheese and fresh basil all over. Let sit for about five minutes on a wire rack before serving.
FAQS
Q: Can I use ground chicken instead of breaded chicken?
A: You could, but what's the fun in that? The whole breaded chicken breasts aren't as healthy, they make this pizza much heartier, and much more delicious! It's truly the best way to make this pizza.
Q: I'm vegetarian. What could I replace the chicken with?
A: Easy! Fry up some eggplant in a large skillet, and make this pizza the exact same way written in this recipe. If you really wanted to be bold, you could try a cabbage rendition of this, and make cabbage parm instead. Shred a dry wedge of cabbage and brown it in a frying pan with a very significant amount of butter and a breadcrumb mixture. Toss it in tomato sauce at the end, and it'll taste delicious.
Q: How could I elevate this chicken parmesan pizza?
A: Try soaking the chicken in tomato sauce and rolling it in some grated cheese before putting it on top of the pizza. It'll add a whole new dimension of flavor that you weren't expecting to everything.
What to serve with chicken parm pizza:
Wine: A nice glass of Montepulciano is the perfect wine pairing for this chicken parm pizza.
Appetizer: Make a big yummy cheese board to indulge in before eating this!
Side dish: You can never go wrong with this chopped salad recipe!
Print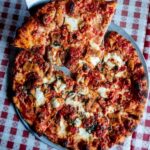 Quality Italian Chicken Parm Pizza
---
Author:

Total Time:

35 minutes

Yield:

1

round pizza

1

x
---
Preheat oven to 400°

Top pizza dough with a light layer of tomato sauce

Top tomato sauce with a generous amount of mozzarella cheese

Break up pieces of the chicken cutlets and spread all around the pizza crust

Top with a sprinkle of grated Romano cheese and a drizzle olive oil

Bake for 15 minutes on a sheet pan until the cheese is melted and golden brown

Stripe with more tomato sauce, sprinkle one final fistful of grated cheese on top, and sprinkle chopped basil all over the top

Send a thank you to Italian immigrants for the invention of chicken parm, and enjoy!
Prep Time:

20

Cook Time:

15

Category:

Pizza

Method:

Baked

Cuisine:

Italian American