I don't feel like getting into an argument, so I'm going to write this recipe as neutral as possible.  You'll see me use the terms sauce and gravy interchangeably so I don't offend anyone.
I know that people who grew up on the East Coast in Italian families, have an opinion on what to call the red sauce you serve at Sunday dinners. If you are from Boston, New York, Philadelphia or New Jersey, you know what I'm talking about.
You don't even really have to be from an Italian family to get in on this fight. This debate has become part of American culture.
I've heard lots of Irish-Americans get passionate about what to call their pasta sauce. It usually depends on what their Italian friends called it when they were growing up.
Whether you call it an Italian Sunday gravy or Sunday sauce, I'm about to teach you how to make something that's been a family tradition passed down from Italian-American immigrants for generations.
Like Bolognese sauce, this is one of those hearty sauces with a long cooking time that can simmer on the stove all day. You usually start cooking it early in the morning and by the afternoon, the whole family is sitting around the table ready to eat.
It's a tomato based sauce loaded with all types of meat that cook until they fall apart.
History says that when Italian immigrants came to the United States they utilized the meats they had available to them like short ribs, pork chops and hot Italian sausage. It's typically made on a Sunday because there's plenty of time to let it cook.
The longer it cooks the richer and thicker it becomes. It's something that can be put together in the morning and doesn't require much work after it starts simmering on the stove. Also, it's relatively inexpensive to make and it will feed the entire family. It can be made for a special occasion or just a regular Sunday afternoon while you watch football.
I can't really say that there is a correct way to make a Sunday gravy recipe. There's no original recipe in a book somewhere and every family has their own sauce recipe. Here's what I like to do.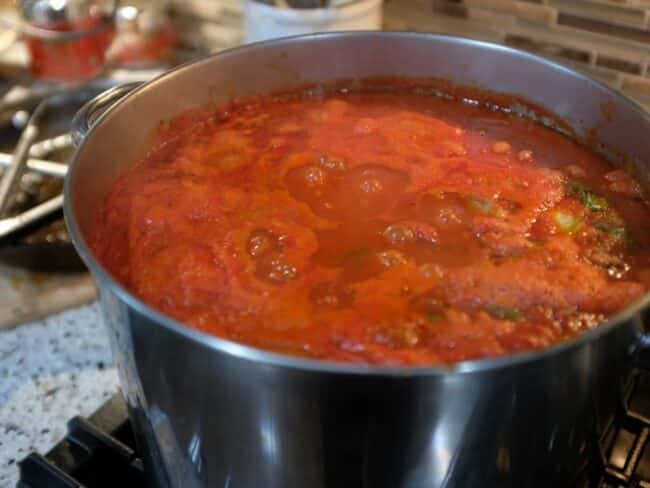 Here Are the Ingredients
A really good Italian gravy recipe doesn't have a lot of ingredients. You can find everything you need at regular old grocery stores. If you want to venture out to some specialty Italian importer, you can…but you don't have to.
Here are some simple quality ingredients you should have to make the best tomato sauce of all time!
Olive Oil
Just as if you were going to make a quick and easy Marinara you should start out with a good extra-virgin olive oil. A good olive oil makes all the difference.
Tomatoes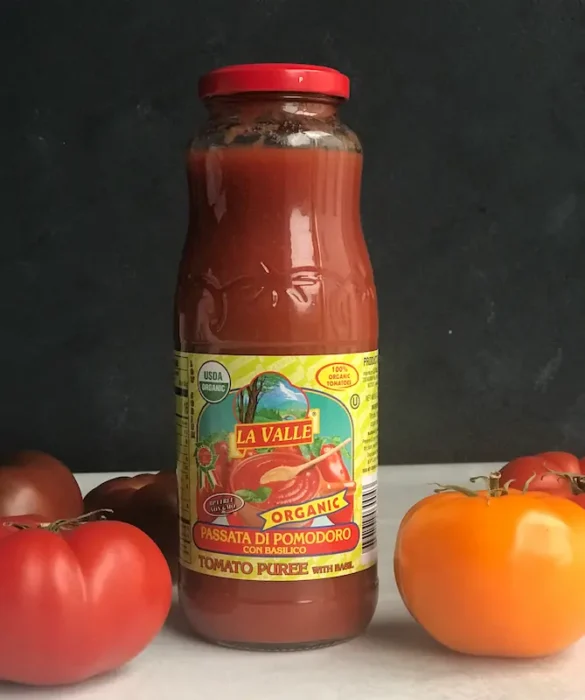 You want to use really good tomatoes. If it's the end of the summer and you have nice fresh tomatoes, you can grind them up in a food mill like an old Italian grandmother, but that's not necessary.
Get some good canned tomatoes. You can use San Marzano tomatoes or California tomatoes. You'll probably hear people say that San Marzano are the best tomatoes.  I think they are both really good.
You can also choose crushed tomatoes, tomato puree or whole tomatoes in the can. If you decide to go with whole plum tomatoes, you can crush them up with your hands or grind them up with a food processor or immersion blender if you like a smooth sauce.
Aromatics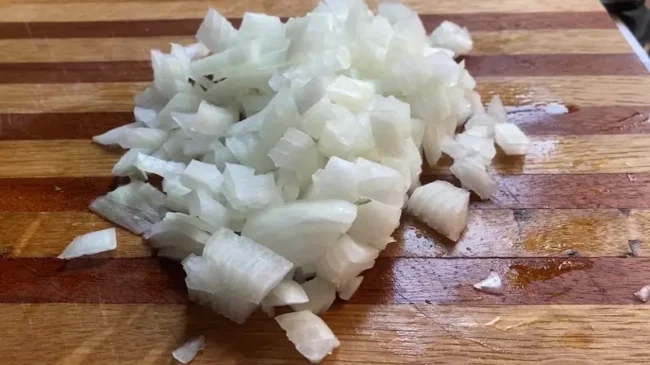 When you make a tomato sauce, you need garlic or onions. There are people who say you should only use one or the other. I like to use both.
I just dice up a yellow onion nice and small and crush a couple of garlic cloves.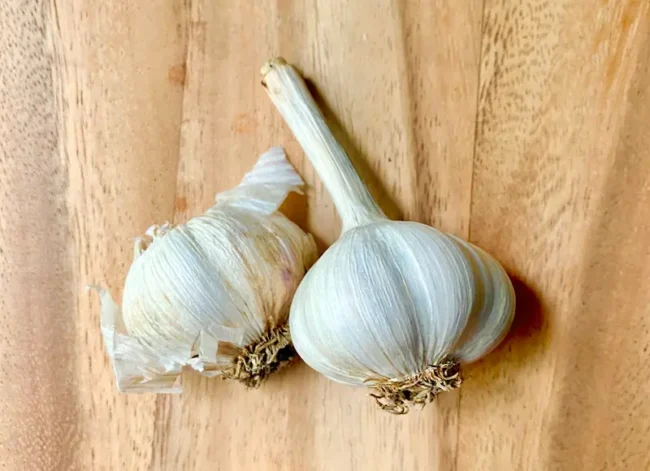 Meat
The sort of meat you decide to use in your Sunday sauce can vary. Some people use pork rib or pork necks. There's usually some Italian sausage links involved. You might even like some beef braciole.
When I make an Italian gravy I use pork butt, some mild Italian sausages and meatballs.
My meatballs are made with a mixture of ground beef, ground pork and breadcrumbs made with Mortadella Head's 72 hours pizza dough. If you're curious to see how I make them, go check our Meatball Parm Sub recipe!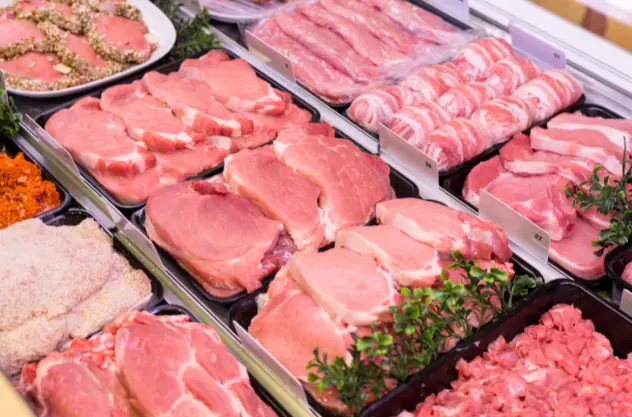 Herbs
You should use fresh herbs if you can get them. I suggest a few fresh basil leaves. It's all about simple and fresh ingredients.
Wine
I like to add a little wine to my sauce. It doesn't have to be expensive wine. Either red wine or wine wine will do.
For this recipe let's go with a cup of red wine.
Spices
You don't need a lot of spices for this tomato sauce. The meat and tomatoes will add plenty of flavor as it cooks slowly on the stove.
All you need is some Kosher salt, black pepper and a little bit of red pepper flakes.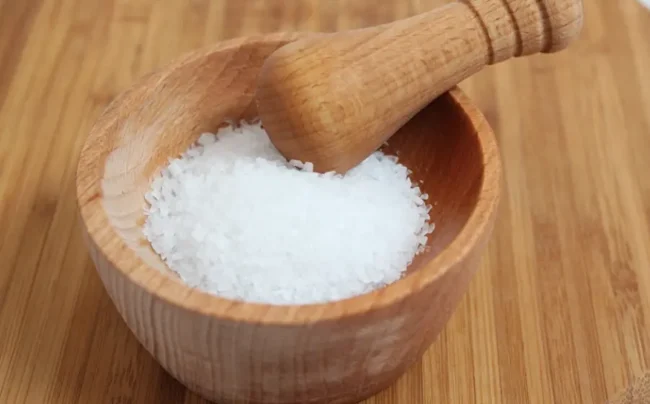 How To Make the Best Italian Gravy Recipe
Let's get started. This is easy.
Take a large stock pot and put it on the stove. Add some olive oil and put it on medium heat. It's better to use a stainless steel pot if you can.
When the oil heats up add your diced onion and crushed garlic cloves to the hot oil.  Season them with the salt, black pepper and red pepper flakes.
When the onions begin to turn translucent, push them to one side of the pot and add whatever meat you are using to the bottom of the pan. Let the meat sear on all sides. The reason you want to use a large pot is so you have enough room to sear the meat without overcrowding the pan.
It's also important to let the meat come to room temperature before you cook it. You should also season it with a little bit of salt before you sear it. It will add a nice crust.
After the meat sears, add a splash of red wine and let the alcohol cook off. Now's the time to get a wooden spoon and scrape the bottom of the pot to loosen up all of the brown bits. This adds lots of flavor.
Now it's time to add your tomatoes. As the sauce cooks the tomatoes are going to reduce so you also want to add a little water.
My rule of thumb is to add about 25 percent water to tomatoes. What I mean is that if you are using 32 ounces of crushed tomatoes, add 8 ounces of water.
After you add the tomatoes and water turn the stove up to high heat and let it come to a boil.
After the sauce starts to boil, turn the stove down to low heat and let it simmer. Cover the pot, but not all the way. Leave it a crack open so some steam can get out. This part of the cooking process will let the sauce reduce and thicken up so the flavors start to concentrate.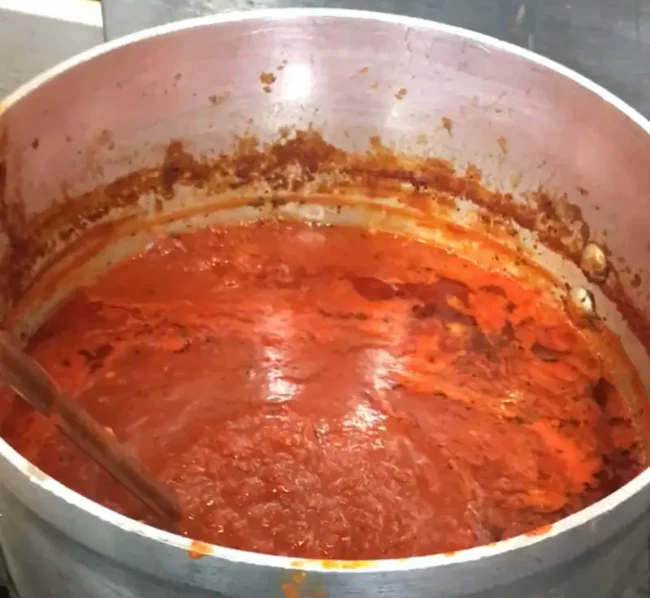 Make sure you stir the sauce continuously during the cooking process. Use a wooden spoon and make sure it touches the bottom of the pot when you stir. This will prevent the sauce from burning.
The sauce can cook on a low simmer for anywhere from 2 hours to 6 hours in my opinion. The longer the sauce cooks the more the flavors will develop and the softer the meat will get.
Keep tasting the sauce while it cooks. It's ready when you like the way it tastes and the meat can be easily broken apart with a fork.

Italian Gravy Recipe FAQs
Q: Can I freeze my left-over Sunday Sauce?
A: Yes. Make a big batch and put any extra in an airtight container. Store it in the freezer and use it when you need it.
Q: What can I make with my leftover Italian Sunday Gravy?
A: If you have some Sunday Gravy stored in the freezer, you can easily make another Italian Sunday Dinner with the leftovers. Turn it into a baked ziti or a Sunday Sauce lasagna.
Q: Can I make my Italian Gravy Recipe in a slow cooker?
A: You can make it in a slow cooker if you want. I know that people do. But, I will stress that the best Sunday gravy needs to have the onions and garlic fried and the meat seared. A slow cooker won't help you do that.
Q: What is the best type of grated cheese to use with the Sunday gravy?
A: You can use parmesan cheese or pecorino Romano cheese. They are both good choices as long as you buy them from a reputable store. I suggest that whatever cheese you use, buy it by the block and grate it yourself.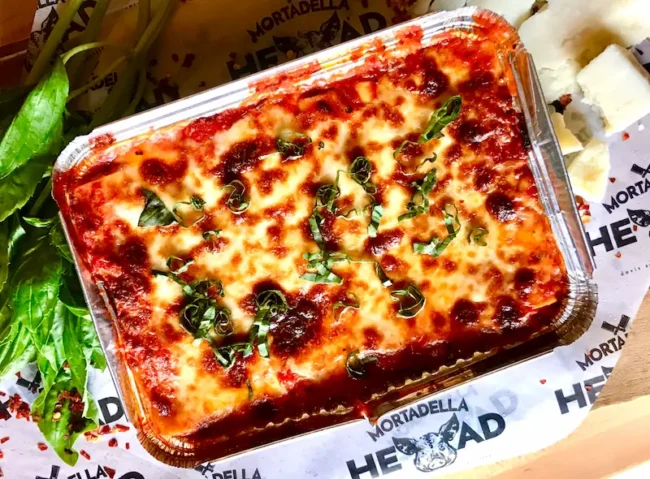 What To Serve With Your Italian Gravy/Sunday Sauce

Appetizer: For an appetizer there's nothing better than a big, beautiful antipasto platter at a big Sunday dinner. Load it up with a variety of salami, cheese and marinated vegetables.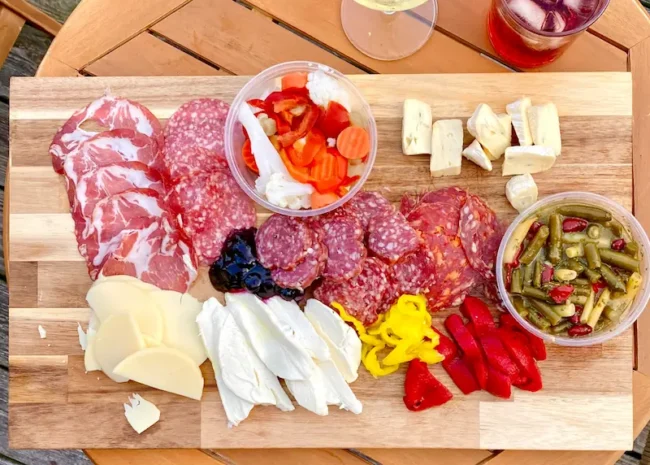 Pasta: You need a good al dente pasta to serve with your Sunday gravy. Choose your favorite pasta shape. I like rigatoni or ziti with lines. The lines make the sauce stick to every piece!
Just add your pasta to a large bowl, add your sauce and some grated cheese. Mix everything together before you serve it.
Side Dishes: A couple of my favorite side dishes to serve with a nice Sunday sauce are crispy chicken cutlets and broccoli rabe. I can't really explain why they go together so well. When you try it you'll understand.
Recipe Card
Print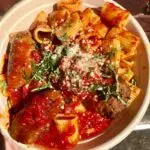 The Best Italian Gravy Recipe
---
Author:

Total Time:

6 hours 10 minutes

Yield:

6

1

x
¼ cup extra-virgin olive oil

½ large onion finely diced

4 garlic cloves minced

½ teaspoon Kosher salt

½ teaspoon black pepper

3 28 oz. cans of crushed tomatoes

1 lb Italian sausage

1 lb pork butt

8–10 meatballs

¼ cup wine

½ cup fresh basil
---
Heat olive oil in a large pot on medium heat
When oil is hot add onions and garlic.  Season them with salt and pepper.
When onions become soft and translucent add meat and sear on all sides.  Do this in batches if there isn't enough room in the pot.
Add wine and deglaze the bottom of the pan.
Add crushed tomatoes and water.
Turn heat to high and bring it to a boil.
When it starts to boil, turn the heat down to low and add the basil.
Let it simmer for 2-6 hours.  Make sure the pot is partially covered.  Stir often with a wooden spoon and make sure it touches the bottom of the pot.
When sauce is reduced by about ½ and meat is fork tender it is done.
Enjoy!
Prep Time:

10

Cook Time:

360

Category:

Sauce

Method:

Cooking

Cuisine:

Italian-American
Keywords: italian gravy recipe, sunday sauce recipe