A comfort food, made with comfort food. Could you possibly ask for more? This meatball parm sub is the ultimate choice for when you want to relax.
I mean, seriously… what's not to love about it?
It takes an already perfect meatball parmigiana and it sorrounds it with an Italian sub roll, making it even more awesome.
Whether you're alone or with your friends and family, this recipe is perfect for what I like to call a comfort dinner. You know, one where you have your favorite meals on the couch with some beers or wine, watching your favorite shows.
Sure, it takes some time to make the meatballs from scratch. But if use the ones you left over from a previous meal you can have this sub ready in less than 20 minutes. You just need to plan your weekly rotation in advance.
Whatever choice you make, I'm sure this will become your next favorite sub.
A cultural bridge between Boston and the Marches
In my part of Italy, people are not really into subs. I mean… we have porchetta sandwiches, stuffed focaccias, and many food trucks sell subs with sausage and vegetables, but that's it.
That annoys me a lot, because one of the things I share with the folks at Mortadella Head (and apparently the entire Boston area) is a deep love for subs of all kinds.
Luckily, Chuck and Sebby are sharing some of their best subs on YouTube. I always try their recipes at home with pleasure, and today I'm here to write about the latest one they've posted.
This time, they took their signature meatball parmigiana and turned it into a sub that you can easily make at home.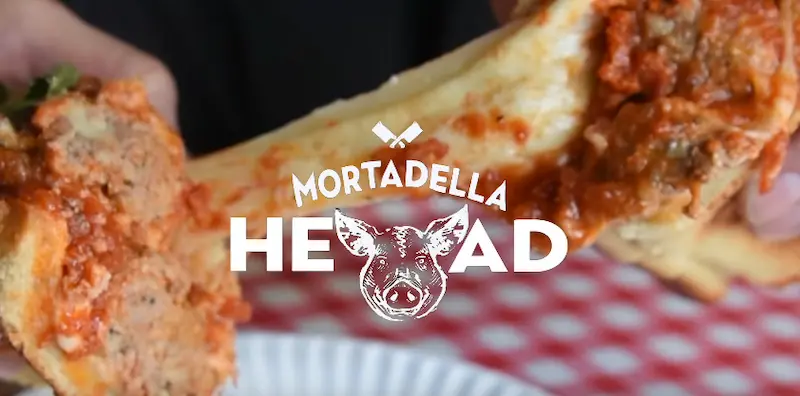 In order to make this sub, you basically have to make a meatball parmigiana using bread instead of a baking dish. Let's see the ingredients.
As redundant as it may sound, the first ingredient for a meatball parm sub is, well… meatballs. Surprise!
You can make them from scratch, or you can use leftover ones. Chuck and Sebby use their signature meatballs made with Roman pizza bread. In order to do the same, you're gonna need the following ingredients.
Ground beef & pork: the best meatballs are made with 2 types of meat.
Eggs: you'll use them to mix all the other ingredients together.
Freshly chopped garlic, parsley, ground black pepper, and grated onions: to spice up your meatballs.
Grated pecorino romano cheese: this recipe calls for a lot of cheese. You'll see that in a minute. Depending on your taste, you can also use parmesan cheese or a mixture of both.
Bread cubes mixed with water: Mortadella Head's meatballs are made using Roman Pizza bread, but you can use any type you like.
Here's a video tutorial to make meatballs at home. But let's see what else you need to turn them into a meatball parm sub, first.
For the meatball parm sub
Once you'll meatballs are ready, here's what you need to make our wonderful meatball parm sub.
Marinara sauce: this is an essential ingredient in any type of parmigiana. The sub you'll see below was made with Mortadella Head's marinara sauce, but you can use your favorite brand or even make it at home.
Provolone cheese, mozzarella cubes, and (again) freshly grated Pecorino Romano cheese: told you this recipe was going to take a lot of dairy products. They will balance the acidity of the marinara sauce, giving your meatball parm a smooth, full-bodied taste and a creamy consistency.
Freshly baked sub roll: this meatball parm sub is made with an Italian Sub Roll, but you can use any type of bread. Just go with your favorite one.
Now, let's see how to turn all these ingredients into the best meatball parm sub ever made.
*And if you prefer a video tutorial, don't worry: we've got you covered!*
Let's start by pre-heating your oven at 356° F while making the meatballs. If you're using leftover ones, you can skip the next 3 steps.
Step 1: in a large bowl, use your hands to mix the meat with the bread mixture and the eggs. You might want to use some gloves for that. 😉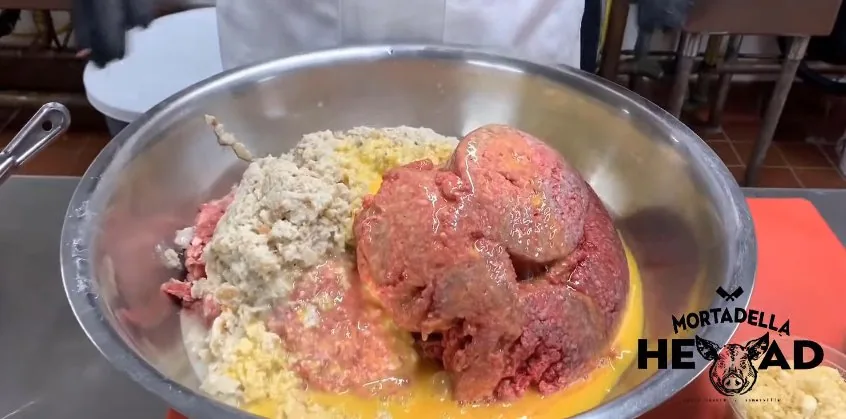 Step 2: Add the black pepper, parsley, garlic, onions and pecorino cheese. Then mix again.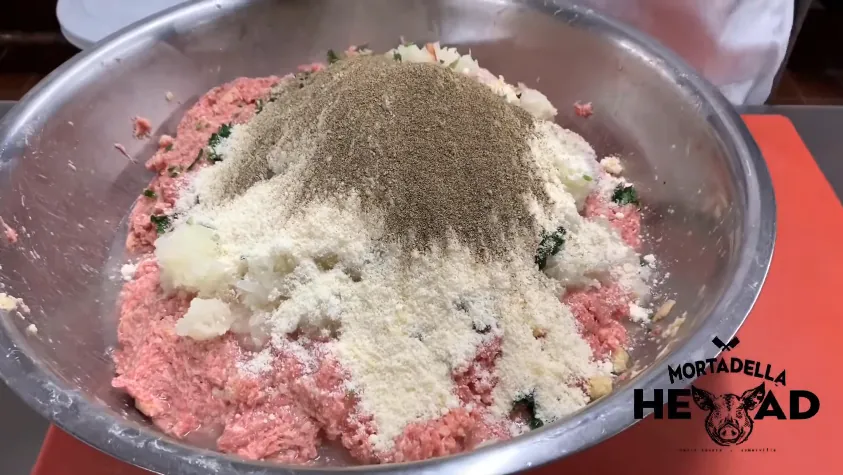 Step 3: Use your hands to make little balls out of you mix and place them on an oiled baking pan. Then bake for 45 minutes.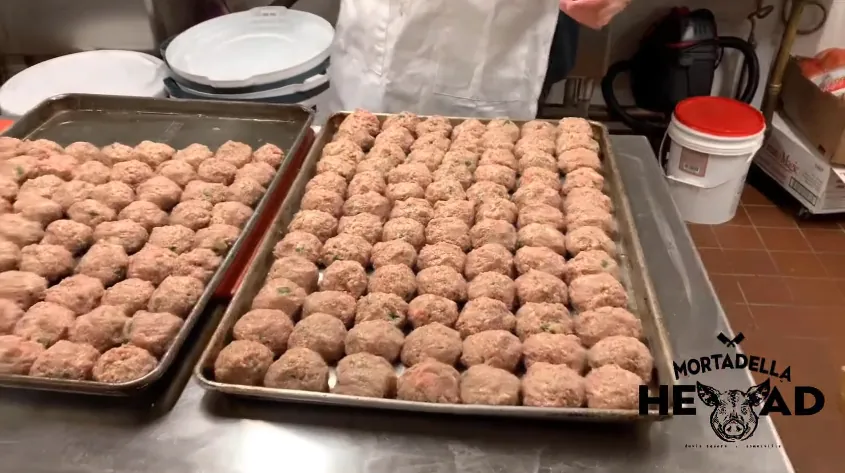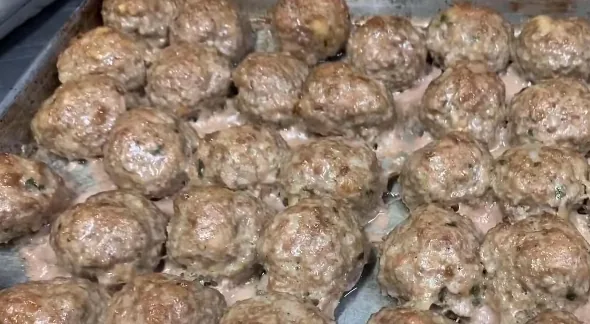 Turning them in a meatball parm sub
Step 4: Now that the meatballs are ready, cut them in half. This way, they'll soak perfectly in the marinara sauce.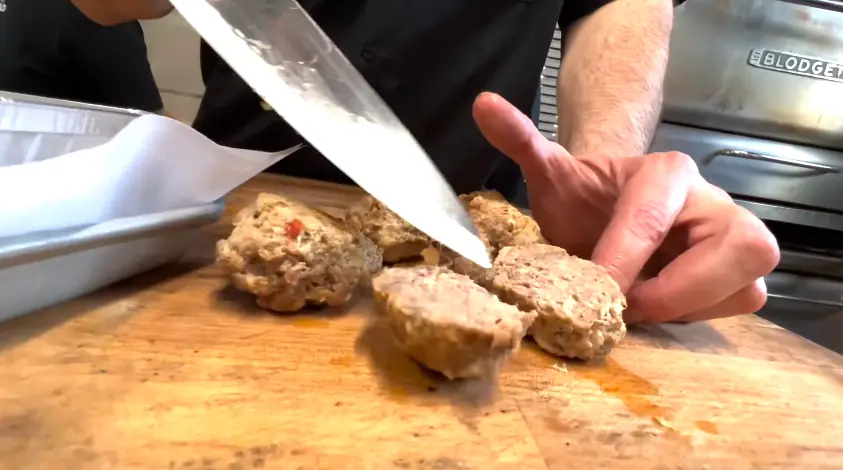 Step 5: Next, let's sauce 'em up. Put them in a pan with the marinara sauce and let them simmer for a couple minutes on low heat. In the meantime, add ¾ of the grated pecorino romano cheese and some basil leaves.
Step 6: While the grated cheese melts into the sauce, open up an Italian bread roll and cover one side of it with slices of provolone cheese. Then, add the meatballs and top them with a ladleful of marinara sauce.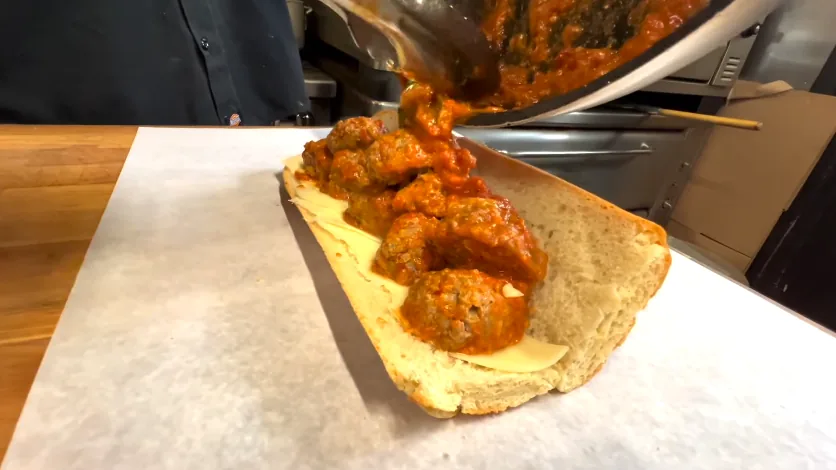 Step 7: now, hit your sub with as many mozzarella cubes as you can. After that,  bake at 356° F for a couple minutes or until the cheese has melted and the bread has toasted.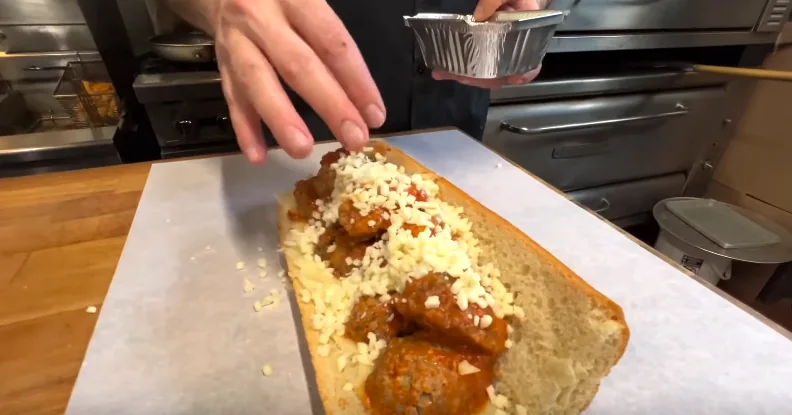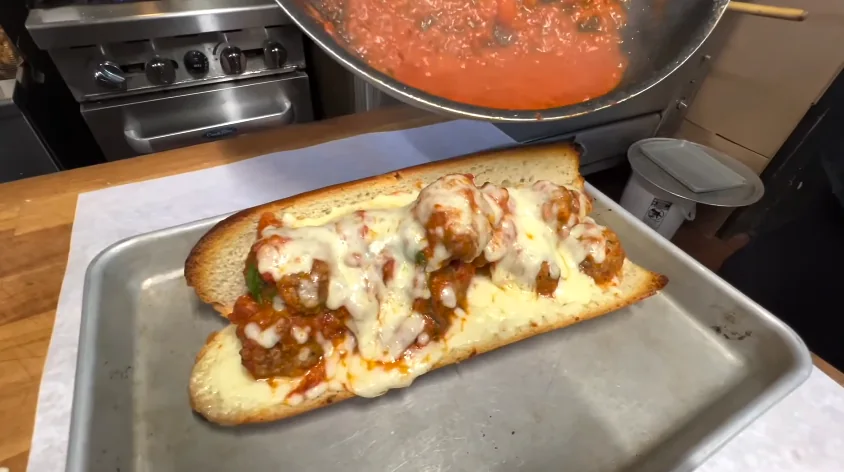 Step 8: finally, add the remaining pecorino cheese and marinara sauce to taste. Then put on your favorite Netflix show and enjoy your meatball parm sub on your couch or favorite seat.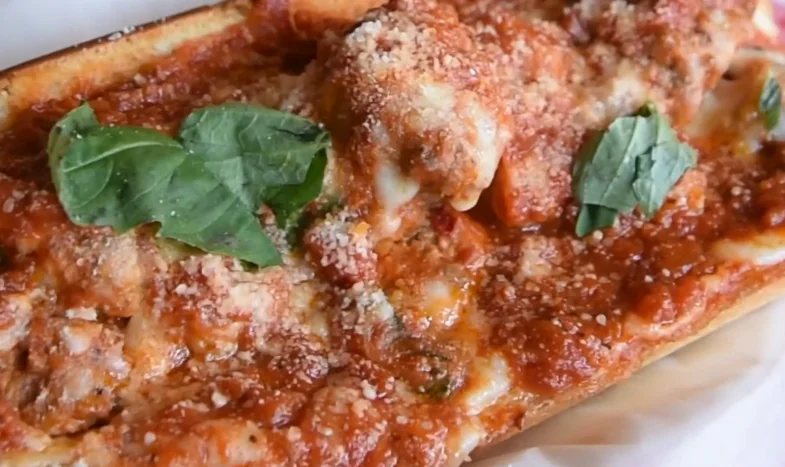 Food pairings: what to eat with your meatball parm sub?
Want to make your comfort dinner even more perfect? Here's what you can have along with your meatball parm sub.
Personally, after such a wonderful sub, I would rather eat something light with no dairy or bread. So, my choice would probably be a simple salad with cherry tomatoes, onions, and vinegar or lemon zest, paired with a glass of Rosso Piceno superiore DOC or a Belgian Strong Golden Ale.
However, here's a series of side dishes, soups, salads and drinks for anyone.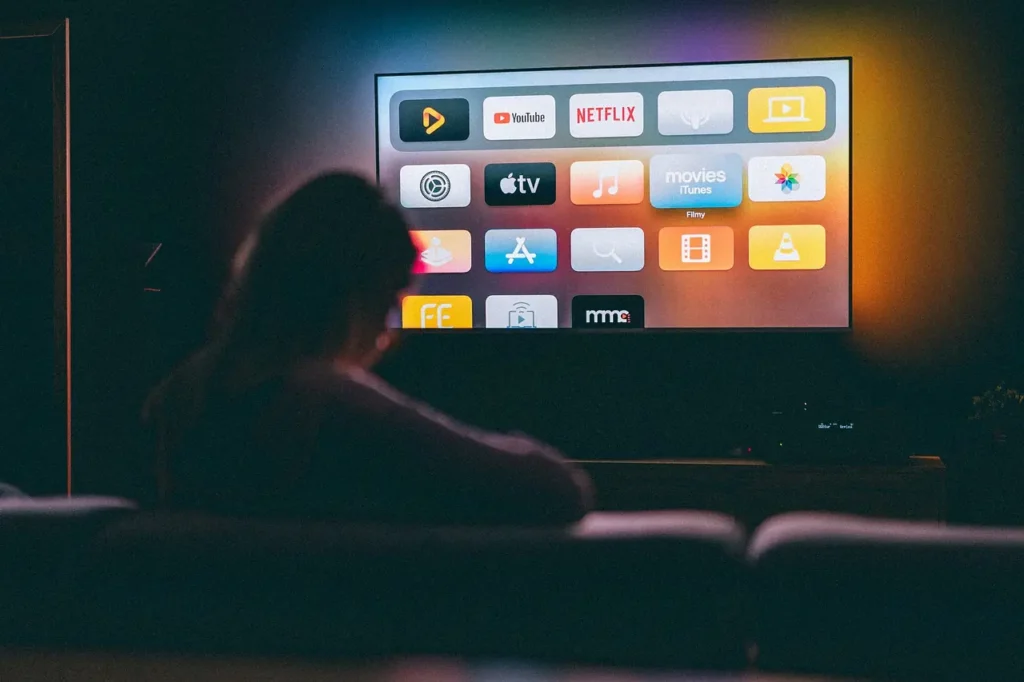 If the cheese you already used wasn't enough, you can side this sub with some tasty jalapeño poppers. Other great alternatives are: eggplant involtini, deep-fried green beans, fried onion rings, or baked potato wedges.
If you have some leftover mozzarella cubes after making your sangwich, you can pair them with black olives, cherry tomatoes, onion slices and basil leaves to make a wonderful Mediterranean salad. Alternatively, you can use them to make a caprese salad.
On the other hand, if you prefer a crunchy side dish, you can also pair your meatball parm sub with a Caesar salad or a broccoli salad.


Maybe you'd like to enjoy a soup before gnawing your sub.
In that case, if you have any leftover marinara sauce, you can use it to make a simple tomato soup. Alternatively, you can have a velvety cauliflower and broccoli soup.
No comfort dinner is complete without a good drink.
If you like amber ales, golden ales, and Lambic or Saison beers, these are all great pairings for your meatball parm sub.
On the other hand, if you prefer wine, you should choose a red one that is easy to drink and a little dry, not overly full-bodied. Try a Dolcetto D'Alba, a Rosso Piceno DOC or a Chianti.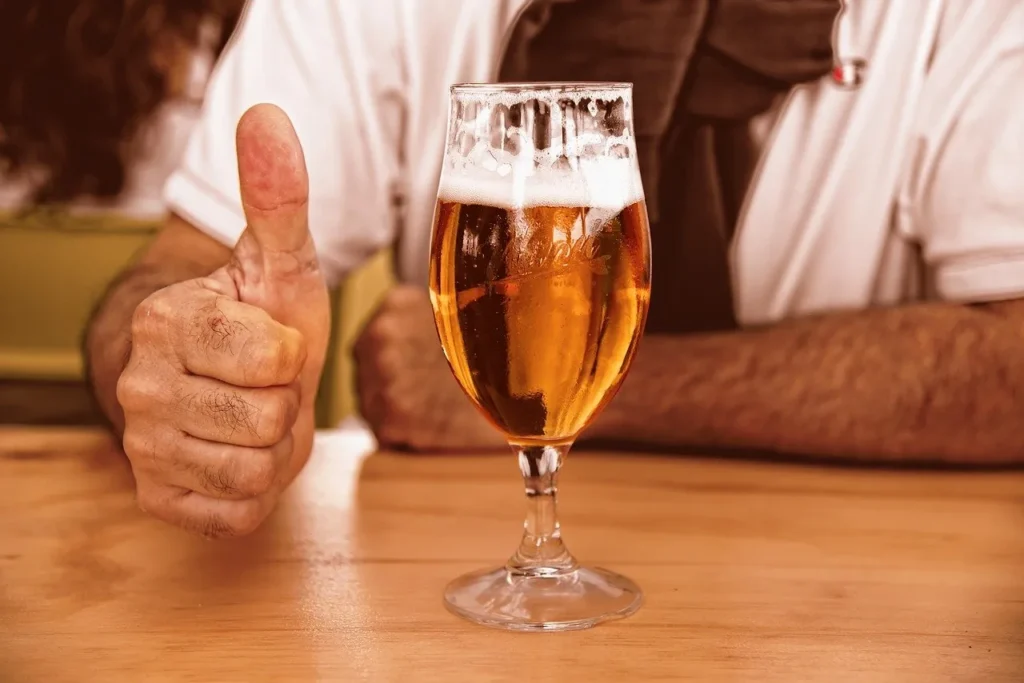 That's all for today. Now you can have the perfect evening at home, with the perfect comfort food.
I'll leave you to the usual recipe card. You can use it to adjust the amount of ingredients based on the number of people you're going to serve, or you can print it to keep it in your kitchen.
Let us know what you think of it!
Print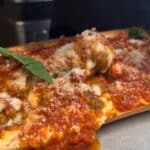 the world's best meatball parm sub
---
Author:

Total Time:

1 hour 10 minutes

Yield:

1

wicked big sub

1

x
Description
This amazing sub was made by taking Mortadella Head's meatball parm and baking it inside an Italian sub roll.
---
6 oz ground beef meat
4 oz ground pork meat
1 cup of freshly grated pecorino romano cheese
1 oz of bread cubes mixed with water
1 medium-size eggs
1 cup of marinara sauce
5 slices of provolone cheese
4 oz of mozzarella cubes
1 Italian Sub Roll
finely chopped garlic to taste
chopped parsley to taste
grated onion to taste
ground black pepper to taste
fresh basil leaves to taste
---
Let's start by making the meatballs. If you're using leftover ones, you can skip the first 3 steps:
In a large bowl, use your hands to mix the ground beef and pork with the eggs and the bread & water mixture.
Add 1/2 of the grated pecorino cheese along with the chopped garlic, parsley, onions and black pepper. Mix again.
Use your hands to make meatballs, place them in an oiled baking tray, and bake in a preheated oven at 356° F for 45 minutes.
Cut the meatballs in half.
Place them in a pan with the marinara sauce and saute them at medium heat for about 5 minutes. Halfway through the process, add some basil leaves and 3/4 of the remaining pecorino cheese, then let it melt with the sauce.
While the cheese melts, open up the Italian bread roll and make a layer of provolone cheese on the lower half. Then add the meatballs and the marinara+cheese sauce, and top with as many mozzarella cubes as you can.
Bake at 356° F for a couple minutes, just enough to make the cheese melt.
Take your meatball parm sub out of the oven, add some more fresh basil leaves and the remaining pecorino cheese.
Enjoy!
Notes
The total time was estimated on the assumption that you'll make your meatballs from scratch. However, this recipe is also a perfect way to finish leftover meatballs. If you already have them, you can make this sub in just about 20 minutes.
Best served with: Caesar's salad, caprese salad, jalapeño poppers, onion rings, tomato soup, or broccoli velvety soup. Best drinks to pair it with: a strong ale beer or a dry red wine.
Prep Time:

20

Cook Time:

50

Category:

Subs

Method:

Baking
Keywords: meatball parm sub, meatball parm, meatball parmigiana