Seriously, though…what's not to love about this eggplant involtini?
Fried eggplant, fluffy ricotta cheese, mortadella and tomato sauce! What more could you ask for?
I've loved this dish since I was a kid. I was a busboy at an Italian restaurant and they sold a ton of these things. I added my own spin with the mortadella.
Now it's one of my favorite things to make because it's so good and it's so easy.  If you have some leftover tomato sauce in the fridge it's even easier. You can even use a good tomato sauce from a jar if you have a favorite!
I like it so much, that today I want to share my own eggplant involtini recipe with you.
This recipe is the best way to turn eggplant haters into eggplant lovers.  With all of the sauce, cheese, and mortadella, people forget about the eggplant.
You'll learn how to make a dish that is perfect as an appetizer, a side dish, or a main course with a little side of pasta. Here's what you have to do.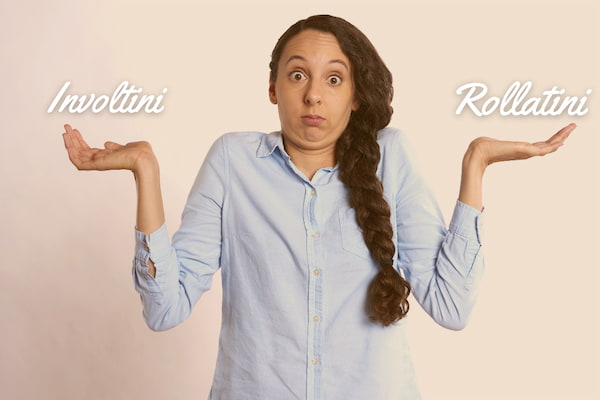 What's the Difference Between Eggplant Involtini and Rollatini?
Maybe you want to call them eggplant rollatini instead of eggplant involtini?  If you do, that's fine with me.
There's no real difference between the two: rollatini is just an Italian-American name for eggplant involtini. In Italy, they are known as involtini di melanzane.
So why don't we just call them as we like and focus on the recipe? Let's learn how to make them!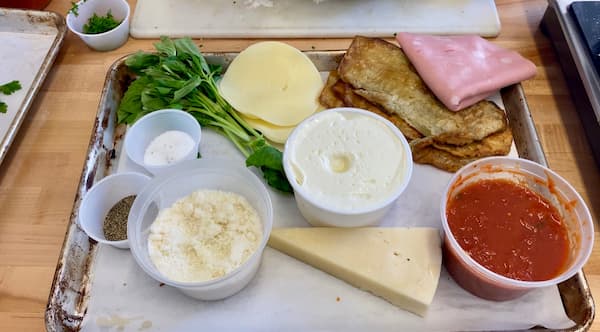 Ingredients – Here's What You Need
As usual, let's start with the list of ingredients for our eggplant involtini.
Eggplant.  Grab yourself a couple of nice firm eggplants from the supermarket.
Seasoned Flour and Eggs. You will use it to bread your eggplants before frying them – just like I taught you in my eggplant parmigiana recipe.
Extra Virgin Olive Oil. You'll need it to fry the eggplants. 2 cups heated up to 375°F will do.
Mortadella.  Get the kind with pistachios. That's the good stuff. And make sure it's sliced thin.
Ricotta.  Look for an N.Y. style ricotta cheese.  If you can find it you'll be glad you did.
Provolone.  Get some sliced provolone cheese from the deli counter.  If you have some leftovers after following this recipe you can use them to make a mortadella and cheese sandwich.
Grated Romano cheese. You'll need this to make the ricotta filling. Just 1 tablespoon will do – it'll make all the difference in the world.
Marinara Sauce.  Make your own. It's easy.
Salt, ground black pepper, and chopped parsley. These will spice up your ricotta filling. You can use them to taste.
And now it's time to start cooking.
Here's a video to show you how to follow this eggplant involtini recipe at home. And below that, you'll find all my tips and a useful recipe card that you can print. Have fun!
How To Make Baked Eggplant Involtini
So, let's make your first eggplant involtini.
The first thing you want to do is to peel your eggplant and cut it into ¼ inch slices.  Make sure you slice it the long way for this recipe so that it's easier to stuff and roll.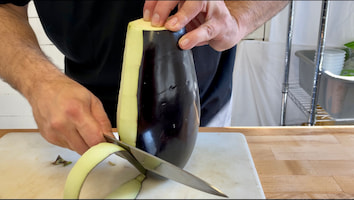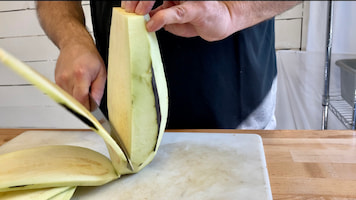 Now make your ricotta filling.  You'll need ricotta cheese, grated Romano, parsley, salt, and black pepper.  Mix it up well.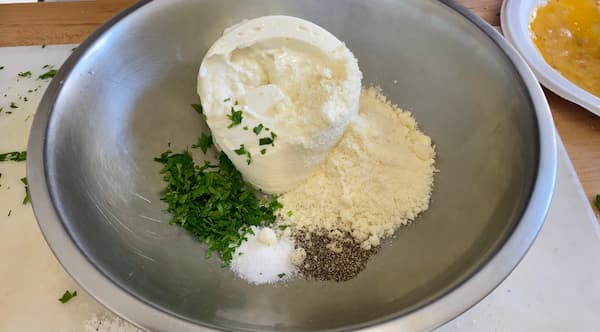 After that, add some warm tomato sauce to the ricotta mixture while you're mixing it up.  It makes it easier to stir, adds a lot of flavors, and turns it into a beautiful pink color.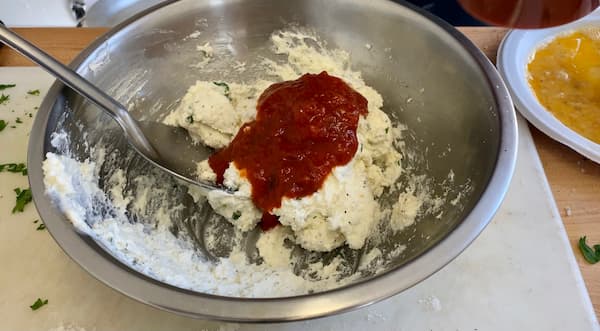 Now you need to fry the eggplants. But before you do that, set up a breading station, season your flour and eggs well, and heat up some olive oil in the meantime.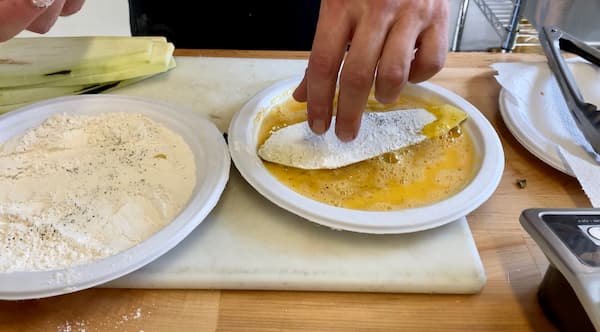 The process is simple. Take an eggplant slice. Then flour. Egg. Fry. Repeat.
It's easy.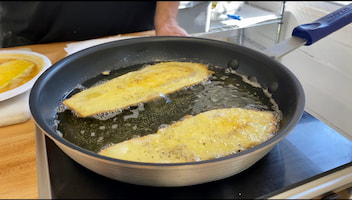 When your eggplant slices are well browned and fried, put them on a towel-lined plate and set them aside to dry while you work on the other ones.
When all of them are on the plate, you're READY TO ROLL!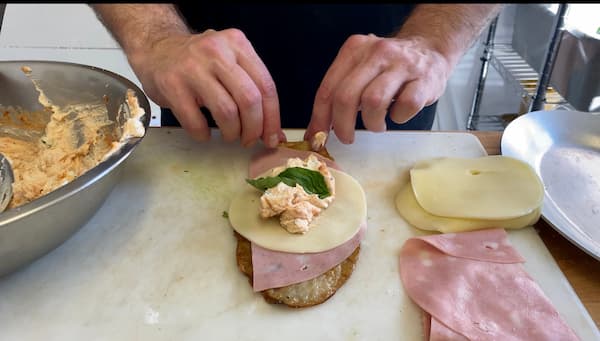 Move to a cutting board and lay there your fried eggplant slices. For every piece, put in a slice of mortadella, a slice of provolone, and a scoop of the ricotta mixture you just made. After that, roll it up nice and tight.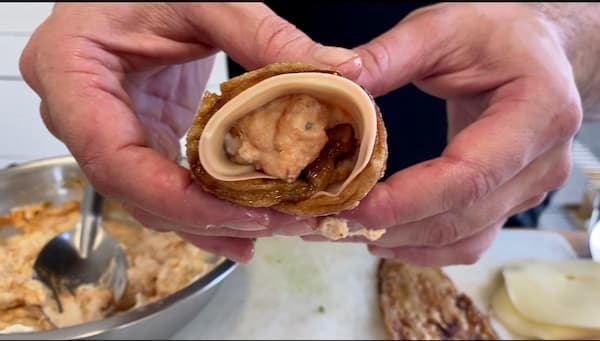 Finally, put your eggplant rolls in a baking pan with some more tomato sauce and pop them in a pre-heated oven. Bake them at 350°F for about 15 minutes, then you can serve them.
That's it.  Easy, right?
Eggplant Involtini: FAQs
Do I have to peel the eggplant?
Not necessarily.  Some people like to leave the skin on the eggplant. If you like the skin, don't peel it.
Can I use mozzarella cheese instead of provolone?
Yes. If you want to use mozzarella I recommend choosing good low moisture, whole milk mozzarella.
Can I freeze my eggplant involtini?
Yes.  You can absolutely freeze them.  Just pop them in the oven when you're ready, add a little more tomato sauce and they will be awesome!
Can I use grated parmesan cheese instead of grated Romano?
Yes. If you like grated parmesan better, feel free to use it.  There are lots of similarities between them, but it's good to know the differences between pecorino Romano vs. Parmesan.
Print
Eggplant Involtini
---
Author:

Total Time:

45 minutes

Yield:

6

1

x
Description
These delicious Eggplant Involtini are a perfect appetizer for every occasion. Make them easily with our recipe!
---
Here are all the ingredients you need to make these awesome Eggplant Involtini:
1

eggplant – peeled and sliced ¼ inch thick

2 cups

of flour

3

eggs, beaten

2 teaspoon

salt

½ teaspoon

pepper

2 cups

of olive oil

2 tablespoons

chopped parsley

1 cup

ricotta cheese

1 tablespoon

grated Romano cheese

¼

lb. sliced provolone

¼

lb. sliced mortadella

1 quart

tomato sauce
---
Peel all the skin from the eggplant and cut off the stem.

Slice the eggplant 1/4 inch thick, the long way.

Place the eggplant in a colander, then salt it liberally, cover it with paper towels and place something heavy on the top.  This will help drain any excess liquid from the eggplant.

In the meantime, make the ricotta mixture. Mix ricotta cheese, grated parmesan, parsley, salt and black pepper in a bowl, and then add some tomato sauce. Ideally, the mixture should have a nice pink color.

Season flour liberally with salt and pepper.

Dredge the eggplant slices in flour.

Once floured, dip the eggplant slices in the beaten eggs and set them aside until they're ready to fry.

When all the eggplant slices have been floured and dipped in the eggs, heat 2 cups of olive oil in a frying pan.

Fry the slices until they are golden brown, approximately 1 minute per side.

Place the fried eggplant slices onto a paper towel lined plate, and let them dry.

When they are cool, lay half a slice of mozzarella and half a slice of provolone onto each fried eggplant slice

Add a tablespoon of ricotta mixture  onto the mortadella and provolone.

Roll eggplant around the mortadella and cheese.

Spread tomato sauce onto the bottom of a baking dish.

Arrange eggplant involtini in the baking dish.

Add more tomato sauce on top of your eggplant involtini.

Bake in pre-heated oven at 350 °F for 15 minutes or until the cheese inside is melted.

Enjoy!
Prep Time:

30

Cook Time:

15

Category:

Appetizers

Method:

Baking

Cuisine:

Italian American
Nutrition
Serving Size:

1

Calories:

1075

Sugar:

6.7g

Sodium:

1290.5mg

Fat:

96.3g

Carbohydrates:

44g

Protein:

22.7g

Cholesterol:

139.5mg
Keywords: eggplant involtini, eggplant rollatini,
What To Serve With Eggplant Involtini?
What to serve with Eggplant Involtini
This eggplant involtini recipe will allow you to make a fantastic appetizer in no time at all. But if you want to go big and impress your guests, serve your involtini/rollatini with these foods and drinks.
Wine pairing: try a nice Sicilian Nero D'Avola wine along with your eggplant involtini.
Pasta: if you're looking for an easy pasta main course to serve after your eggplant involtini, a nice simple spaghetti al pomodoro will do.
Side dish: I recommend some broccoli rabe cooked with olive oil, garlic and pepperoncini.
Don't Feel Like Cooking Today? Have it shipped!
I hope you enjoy making this eggplant involtini recipe at home as much as I do. It's easy, it's fun – and if you have children, you can turn the flouring step into a family game!
But what if you can't cook today?
Well, that doesn't mean you can't have something tasty. Did you know that we can ship this eggplant involtini to your house or cater it to your office for lunch? Just call us at 617-996-6680 or order it from our pick-up/delivery order page.
In each case… enjoy!