Eggplant parmigiana…the one and only authentic "parm".
Not chicken.  Not veal. The dish they call "Parmigiana" in Italy is exclusively eggplant parmesan.
It's unlikely you'll find other variants there. Legend has it those were invented by Italians here in America. But you'll find eggplant parm everywhere in Italy.
It's so easy to make, but so easy to mess up at the same time. So, today I'm going to show you an eggplant parmigiana recipe that is foolproof. I think it is a real winner.
What's a real Eggplant Parmigiana?
As I was saying, the original Parmigiana is a baked dish made of eggplants layered with tomato/marinara sauce and grated cheese. It is also known as parmigiana di melanzane ("eggplant parmesan").
It's most common in the Southern part of Italy.
Let's dive into some interesting facts about this renowned dish:
Ancient Origins: While Eggplant Parmigiana is considered an Italian dish, eggplants originated in India. They were cultivated in China by the 5th century and then made their way to the Mediterranean region by the Middle Ages.
Name Debate: Despite the name "Parmigiana," the dish doesn't hail from Parma, the city known for Parmesan cheese. "Parmigiana" in this context refers to the layering method used in the dish, similar to slats in a wooden shutter, which in Italian is called a "parma."
Southern Roots: The dish is primarily associated with the southern regions of Italy, especially Campania and Sicily. Each region claims to have the original and best version of Eggplant Parmigiana.
Variations Abound: While eggplant is the star in this dish, some regions in Italy use other main ingredients. For instance, in the Abruzzo region, it's not uncommon to find "Zucchini Parmigiana."
Tomatoes Came Later: Eggplants were introduced to the Mediterranean long before tomatoes. The original dishes likely lacked the tomato sauce that is now quintessential. Tomatoes were incorporated into the recipe only after they were brought from the New World and became popular in European cuisines.
Frying Traditions: The classic method involves frying the eggplant slices before layering them. However, over time, some have adopted baking or grilling the eggplant as a healthier alternative.
Cheese Choices: While "Parmigiana" suggests the use of Parmesan cheese, many traditional recipes primarily use mozzarella and then sprinkle Parmesan for added flavor.
A Linguistic Twist: Some food historians believe the name "Parmigiana" might be derived from the Sicilian word "parmiciana," which refers to the wooden slats of window shutters, mimicking the layered appearance of the dish.
Worldwide Love: Eggplant Parmigiana has been embraced globally. It's common to find versions of it in countries outside of Italy, with each adding its local touch. For instance, in America, it's sometimes served as a sandwich filling!
Not Always Vegetarian: While today's Eggplant Parmigiana is considered a vegetarian dish, older recipes from some regions occasionally incorporated meat, turning it into a more lasagna-like dish.
I've had some awesome eggplant parms in Sicily and the Naples area. They were so good that I took some notes to see if I could replicate them and serve them to our clients at Mortadella Head.
Now, I busted out the notebook for this post. So let's see what we can do.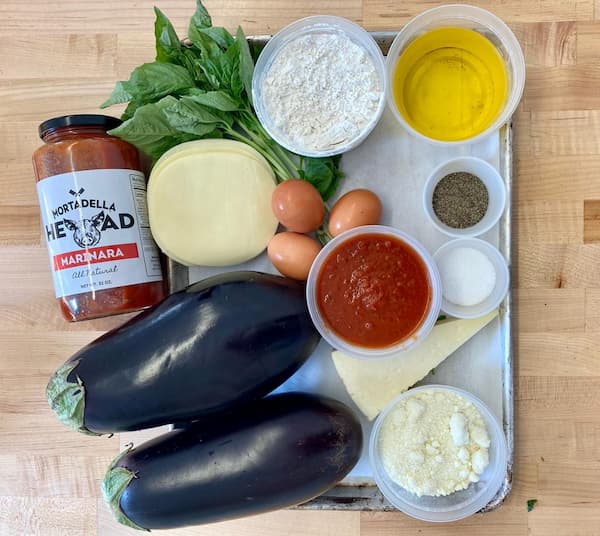 The eggplant parmigiana recipe ingredients are really simple!
You don't need many ingredients to make a delicious eggplant parmigiana. Here they are.
Eggplants: Get nice firm Italian or Japanese eggplants.
Provolone cheese: Many people use mozzarella cheese. However, I think a nice mild provolone sliced at the deli counter is just perfect.
Romano cheese:  Get a chunk of pecorino Romano and grate it yourself for the best results. Other people use parmesan cheese, but I think pecorino gives the best results. If you're curious about the difference, check our article about pecorino romano vs. parmesan cheese.
Basil:  Use fresh basil.  It makes all the difference in the world.
Tomato Sauce:  A good sauce is really important.  Make a simple sauce yourself or use a really good store-bought tomato sauce. And if you want to make your parm as we serve it at our restaurant, you can use our Mortadella Head Marinara Sauce.
Frying oil: you will need this to fry your eggplant before baking them with the rest of the ingredients.
(Optional) Extra-Virgin Olive Oil: as you'll see later, you'll need to layer the ingredients in a baking dish. Many people like to add some extra-virgin olive oil before the first layer of tomato sauce. This is to prevent the eggplant parm from sticking to the dish.
You can find the ratio of the ingredients in the recipe card at the end of this post. I've put it there so that you can scale the ratio according to the number of servings with just one click. Try it out!
But first, let's look at the baking process.
How to make baked eggplant parmigiana
Now, let's see how to make your eggplant parmigiana step by step.
This is a very easy dish. It takes about 30 minutes to prepare the ingredients, and 40 minutes to bake everything. We'll get to that in a moment.
Step 1: Let's start by cutting off the ends of the eggplant and peeling off the skin. After that, you want to cut your eggplant the long way into ¼ thick slices.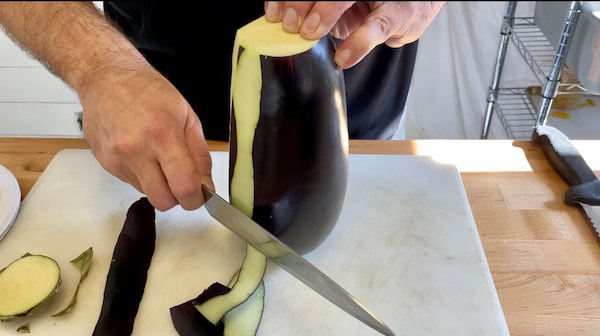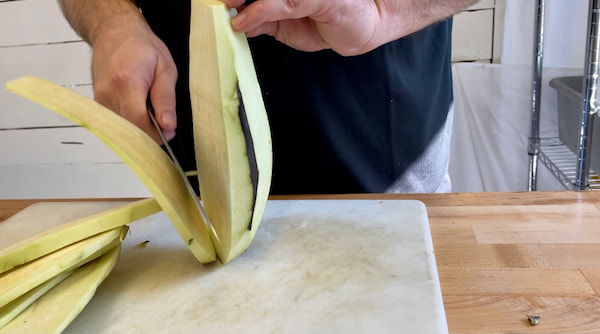 Step 2: Heat some olive oil in a frying pan on medium to high heat.
In the meantime, flour and egg your eggplant slices. Arrange a station, put the ingredients on one plate each, and season them well with some pinch of salt and black pepper.
Now, let's start with the flour, then with the egg.
Dredge each eggplant slice in the flour.  Get both sides good. Press down a little to make it stick if you have to.
After that, shake off the excess flour and give your eggplant slice a good dunk in the eggs. Coat it completely and let any excess egg drip off.
Now repeat with the other slices, and remember to check the oil. You don't want it to be too hot.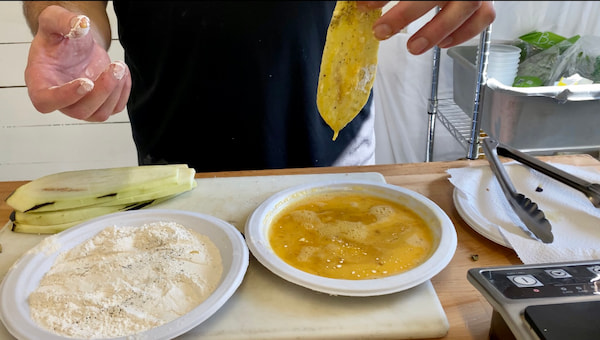 Step 3: Once the oil is ready, fry your eggplant slices for about a minute on each side.  We're looking for a gold brown color, like in the second picture below.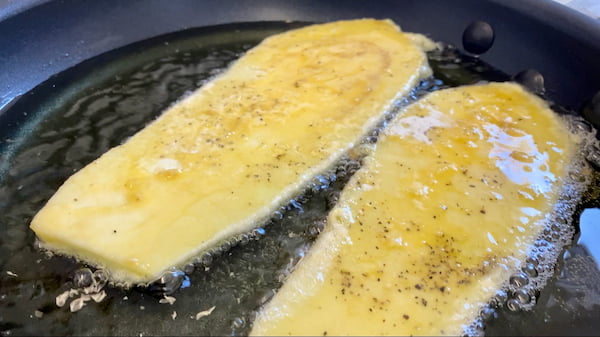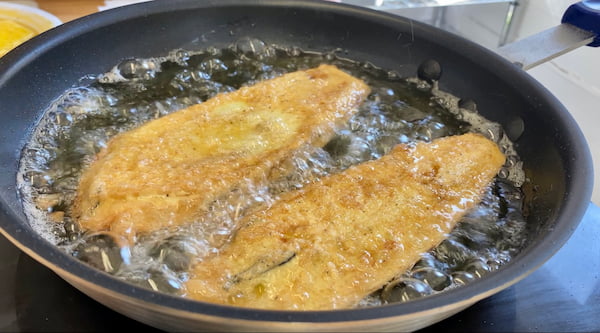 Step 4: When the eggplant is fried, it's time to start layering.
First, let your eggplant slices dry a little on a plate covered with paper towels. Then take a baking dish, and start working your magic.
Avoid small baking sheets, and go for deeper bakeware. The more layers the better in my opinion.
Here's the order of layering I suggest:  start with tomato sauce, then add a single layer of eggplant slices, and then another layer of provolone cheese, trimmed fresh basil leaves, and grated pecorino Romano… and repeat.
In the meantime, preheat your oven to 400 degrees.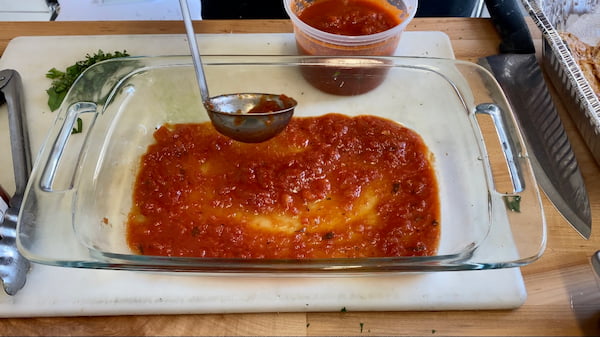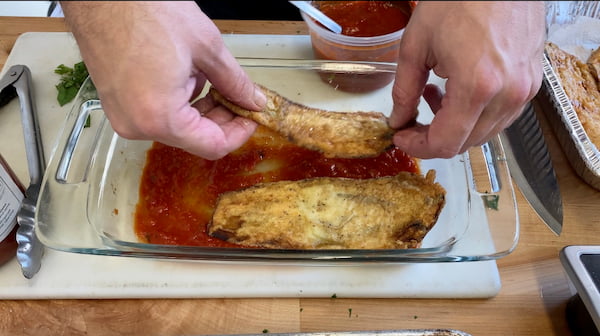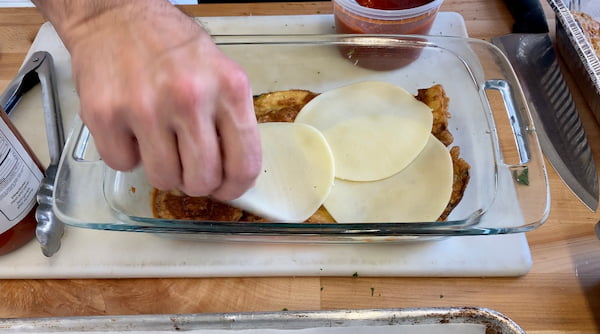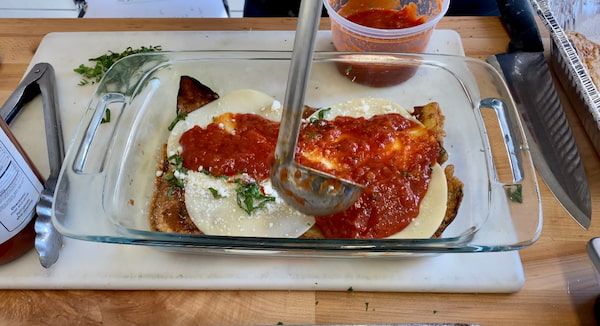 Keep going as high as you want.  I like to finish off my last layer with some extra sauce and grated Romano cheese.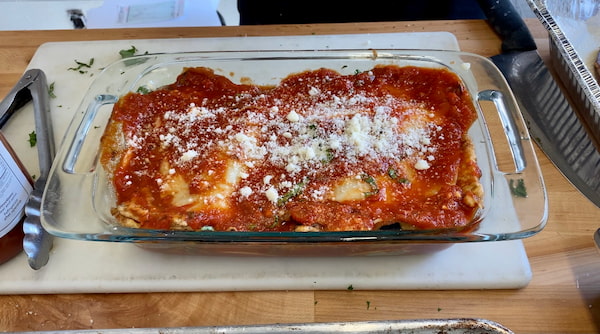 Step 5: Now pop your baking dish in the preheated oven and… BOOM! After 40 minutes at 400° F oven temperature, you're ready to eat!
You can serve your eggplant parmigiana on a dish (like you would with a lasagna), or toss it on some bread and make an awesome parmigiana sandwich like we did for this tutorial.
What to serve with eggplant parmigiana
An awesome dish needs excellent food pairings. Here's what you should have alongside your eggplant parm.
Wine Pairings
Nebbiolo: This Italian red wine, with its rich flavors and tannic nature, complements the richness of the Eggplant Parmigiana. Its fruity notes can balance out the tanginess of the tomato sauce, making it an ideal choice.
Sangiovese: Another Italian classic, this wine offers cherry and earthy flavors that beautifully resonate with the deep flavors of the eggplant.
Chianti: If you prefer something a bit lighter but still in the red spectrum, Chianti works wonders with the cheese and tomato combination.
Pasta Companions
Baked Ziti: With its cheesy goodness and pasta tubes that capture sauce, baked ziti pairs beautifully, offering another layer of Italian comfort food.
Spaghetti Aglio e Olio: The simplicity of garlic, olive oil, and chili flakes doesn't overshadow the Eggplant Parmigiana but provides a delightful textural contrast.
Fettuccine Alfredo: For those who adore creamy pastas, this can be a rich and indulgent side to the already sumptuous Eggplant Parmigiana.
Appetizers to Elevate the Meal
Room Temperature Eggplant Parmigiana: Serving it slightly cooled can change the flavor profile subtly, offering a different tasting experience.
Imported Salami: The saltiness and spice from the salami can cut through the richness of the parmigiana, making every bite a taste sensation.
Assorted Cheese Platter: Include cheeses like Provolone, Mozzarella, and Parmesan, which not only resonate with the dish but also offer varied textures and flavors.
Marinated Vegetables: Artichokes, roasted bell peppers, and olives soaked in herbed olive oil can refresh the palate, making each bite of Eggplant Parmigiana taste as good as the first.
Breads and More
Garlic Bread: Crunchy, buttery with a hint of garlic, it's perfect for scooping up any leftover sauce on your plate.
Bruschetta: Toasted slices of baguette topped with a mix of tomatoes, basil, garlic, and olive oil provide a lighter, fresher contrast.
Focaccia: This Italian olive oil-rich bread with its fluffy inside and crispy crust can be a soft companion to your dish.
Salads for a Fresh Touch
Caprese Salad: Slices of fresh mozzarella, tomatoes, and basil drizzled with olive oil and balsamic reduction. It's simple yet flavorful.
Arugula and Parmesan Salad: The peppery taste of arugula combined with shavings of Parmesan and a lemon vinaigrette can offer a fresh bite in between the hearty Eggplant Parmigiana.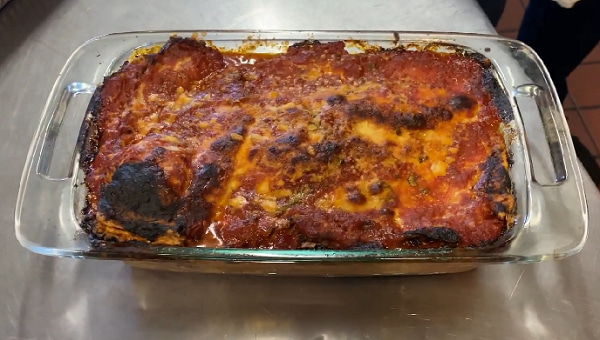 Print this recipe!
Print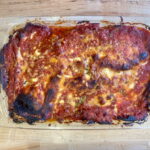 eggplant parmigiana
---
Author:

Total Time:

1 hour 10 minutes

Yield:

6

1

x
Description
Our eggplant parmigiana recipe, just like we serve it at Mortadella Head.
---
1

eggplant – peeled and sliced ¼ inch thick

1 cup

of flour

3

eggs, beaten

½ tsp

. of salt

½ tsp

. of pepper

2 cups

of olive oil

1 tbsp

. of fresh basil chopped

1/2 cup

of grated Romano cheese

¼

lb. sliced provolone

1 quart

tomato sauce
---
Here's what you have to do:
Peel all skin from eggplant and cut off stem

Slice eggplant 1/4 inch thick, the long way

Season flour liberally with salt, and pepper

Dredge eggplant slices in flour

Once floured, dip in egg and set aside until ready to fry

When all eggplant has been floured and dipped in egg, heat olive oil in frying pan to 375 degrees

Fry until golden brown, approximately 1 minute per side

Place fried eggplant slices onto a paper towel lined plate

Spread tomato sauce evenly in the bottom of a baking dish

Add one layer of eggplant slices on top of tomato sauce

Add slices of provolone on top of eggplant

Evenly sprinkle grated Romano cheese and basil on top of provolone

Repeat this process until you get to the top of the baking dish.

The final layer should be tomato sauce with some grated Romano cheese on top

Cover with foil and bake in 400 degree oven for 40 minutes
Enjoy!
Prep Time:

30

Cook Time:

40

Method:

Baking

Cuisine:

Italian
Nutrition
Serving Size:

1

Calories:

752

Sugar:

6.6g

Sodium:

612.8mg

Fat:

67.7g

Carbohydrates:

26.6g

Protein:

16.4g

Cholesterol:

109.6mg
Keywords: eggplant parmigiana recipe, baked eggplant parmigiana, eggplant parmesan
FAQs
Can I fry the eggplant without the flour and eggs?
Yes.  If you prefer to leave out the flour and/or eggs you'll have a delicious gluten-free eggplant parmigiana.
Can I bake the eggplant instead of frying it?
You can brush the eggplant slices with olive oil and bake on a sheet pan at 400°F until they are browned.
Can I freeze my eggplant parmigiana?
Absolutely! Freezing is actually the best way to store eggplant parmigiana.
I usually make a bunch of ready-to-bake eggplant parm dishes at a time. I freeze them after I'm done layering the eggplant, sauce, and cheese. Then I just pop them in the oven when I'm ready to eat.
Are there any other recipes with a good substitute for eggplant?
Yes.  Try using zucchini.  Zucchini Parmigiana is delicious!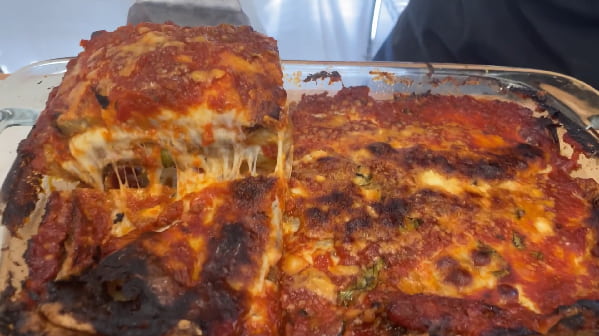 And if you don't feel like cooking today…
Now you have everything you need to make your own eggplant parmigiana at home. I hope you like it as much as I do.
If that's the case, why don't you let me know? Rate this recipe, or tell me what you think in the comments. I'll be glad to exchange tips and ideas.
And if you are in Somerville, MA… did you know that you can have this and many other wonderful dishes catered to your home or office?
Order your eggplant parmigiana now, or grab your coat and come visit us! We're waiting for you.