This wonderful new spin on such a good lasagna recipe is the real deal. It combines the finest Italian cuisine with your Nonni's homemade meat sauce, giving you the ultimate lasagna recipe.
You know that feeling you get when you walk into a room and someone's cooking sauce, and in that moment you're instantly taken right back to your grandparents house when you were a kid?
Whenever I smell sauce, that's the first thing I think of. My grandfather and grandmother would team up every Sunday, in the name of Italian tradition, and just cook.
The sauce would be sitting on the stove for hours.
My grandfather would be hand rolling meatballs with fresh breadcrumbs.
My grandmother would be making her famous broccoli rabe recipe as a side dish.
The entire family would come over and by 2pm, we would all be crowded around the — rather long — table and eating Sunday dinner. Because if you're Italian, dinner time is at 2pm on Sundays for some reason.
This was one of those things that just was. It was as natural as breathing, or reaching for my tenth plate of macaroni (I was a fat little kid in my day).
Now, about 15 years later, my grandparents have hung up their aprons, except for on special occasions, and have started to let their own kids cook for them with their original recipe for a change (Good for them. They deserve it).
Of course, this leaves my poor mother watching over the 4 hour long sauce nowadays.
She's started coming up with helpful shortcuts for herself. Like making a pot of sauce 3x larger than she needs, and freezing the rest to heat back up the next few weekends so she can actually enjoy her Sundays.
Genius.
But sometimes, weeknight dinners sneak up on you. And something you might have had intended on saving for Sunday just might be your best bet for Tuesday night.
But wait, macaroni is for Sundays. Not Tuesdays. What could you possibly make with a Sunday sauce — that isn't macaroni — on a Tuesday?
And this, right here, is how our famous Sunday Sauce Lasagna was born.
Our signature Sunday Sauce Lasagna blows regular meat lovers lasagna recipes out of the water.
This is not your regular lasagna.
This is the best lasagna. It has everything.
The slow cooked Sunday sauce you grew up loving.
Italian sausage.
Delicious, homemade meatballs (Which by the way, we taught you how to make with this YouTube video).
Lucky for you, you don't need to homemake all of this, or make your own sauce. We're going to teach you how to make this with a jar of marinara sauce, with the highest quality ingredients. It's really such an easy recipe. Once your Italian grandmother sees how easy this is, she'll want to retire from home cooking forever.
Let's show you how it's done.
Marinara sauce: You're going to want to make this lasagna with marinara sauce instead of a bolognese sauce, since we will be adding so much meat into this. Use a nice, high quality sauce.
Fresh meatballs: To make these the Mortadella Head way, you'll need ground beef and pork, eggs, bread cubes mixed with water, grated pecorino Romano, freshly chopped garlic, parsley, black pepper, and grated onions, and a large skillet to fry them in. For the full tutorial, check out our YouTube video here!
Fresh Italian sausage: You can buy a pack of these fresh from your local grocery store or butcher. I like to buy mine without fennel seeds, but this is entirely up to you.
Ricotta cheese: Midwesterners are going to become irate, but we use ricotta cheese in our lasagnas, not cottage cheese. Trust us with this one.
Lasagna sheets: It doesn't matter whether you use fresh lasagna sheets or not. Just make sure you look at the package instructions to figure out the best way to prepare these.
Provolone cheese: I know, I know, "provolone doesn't belong on lasagna." It belongs on this lasagna, though. Don't knock it 'til you try it!
Grated pecorino Romano: Or parmesan cheese, whichever you prefer. If you want a helpful guide on the difference between these two cheeses, check out our article on this!
Mozzarella pizza cheese: Top your lasagna with this for the most delicious, cheesy finish you'll ever taste.
First things first, check the packaging instructions on your lasagna sheets and prepare them accordingly.
While the lasagna sheets are boiling, begin to make your ricotta cheese mixture. For this, take your ricotta and put it in a small bowl with some parsley, pecorino Romano, salt, pepper, and a scoop of warm marinara sauce. Begin to mix this with a wooden spoon until ingredients are thoroughly incorporated, and the ricotta has taken on a slightly orange color.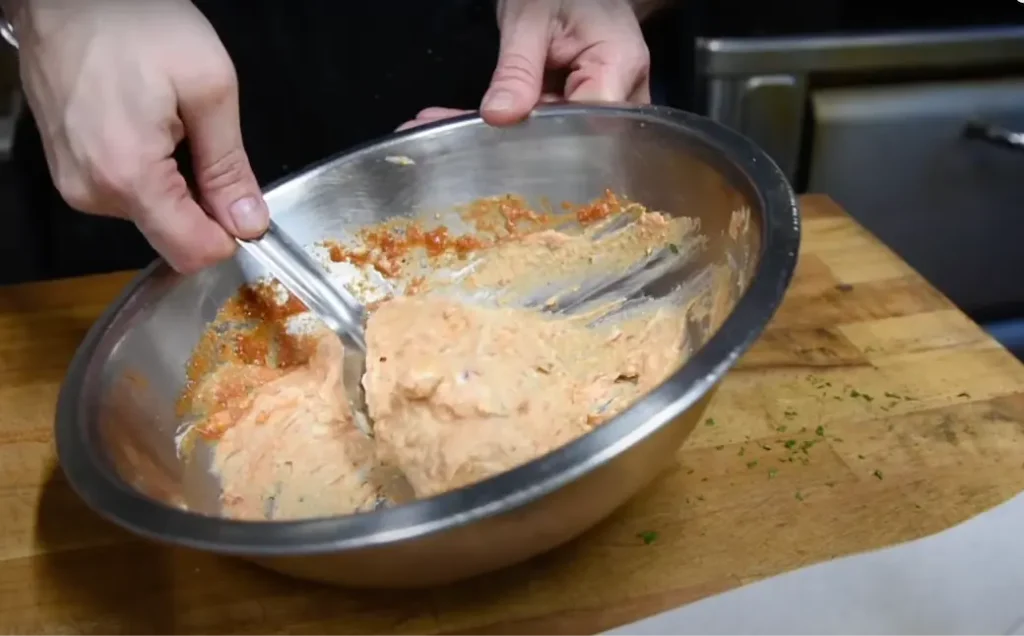 After the ricotta cheese is prepped, take two minutes and cut up your sausages and meatballs into little pieces. Make sure they're small enough to fit over an entire lasagna layer, but big enough to keep their consistency.
Once the ricotta is made, take a pan and begin to start your lasagna. Start by spreading a thin layer of sauce over the bottom of the baking dish. When the dish is adequately covered by sauce, take your first lasagna sheet and place it on top. This will be the start of your first layer.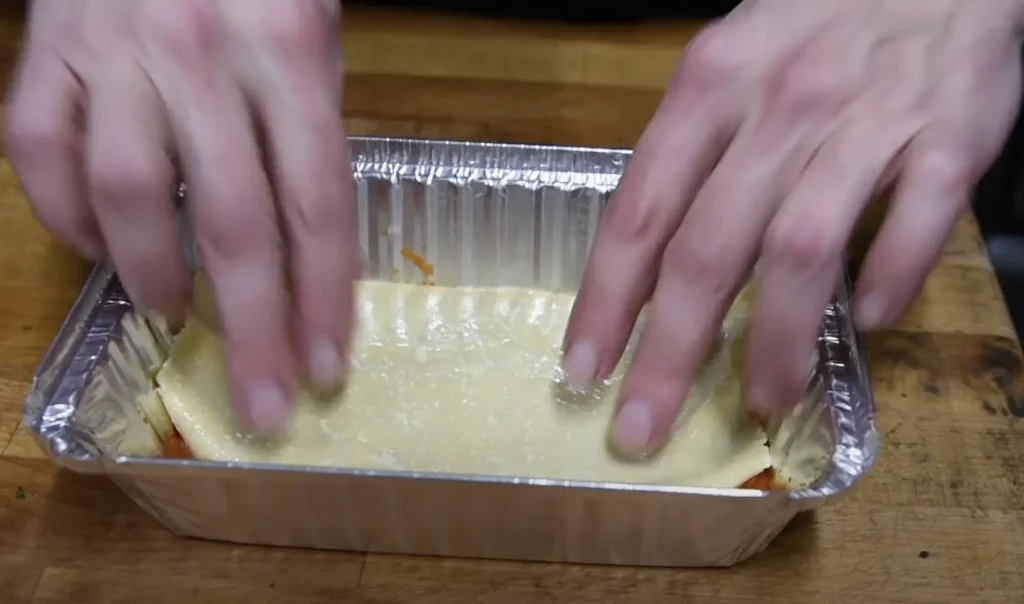 On top of your lasagna sheet, spread your ricotta across the surface. Place two pieces of provolone cheese on top of the ricotta, and then hit this layer with some more marinara sauce. Sprinkle on some grated Romano cheese, and place down a lasagna sheet, starting your second layer.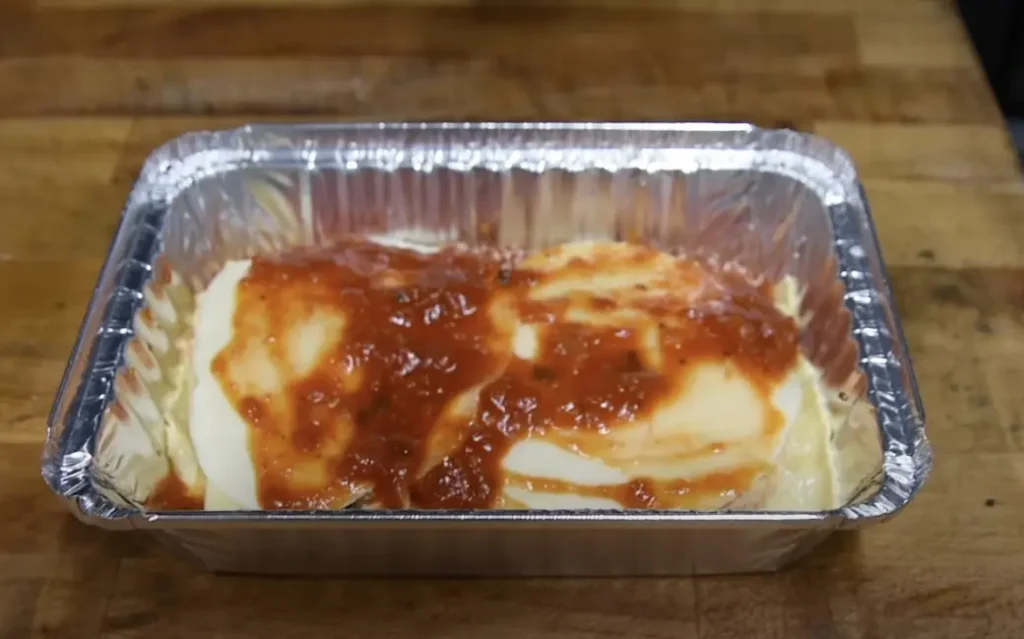 Repeat this process again for the entire second layer.
Here's where the fun begins!
Start your third layer as you normally would, but instead of adding a lasagna sheet over the marinara sauce and grated Romano, begin to spread your meatballs and sausages over the entire layer.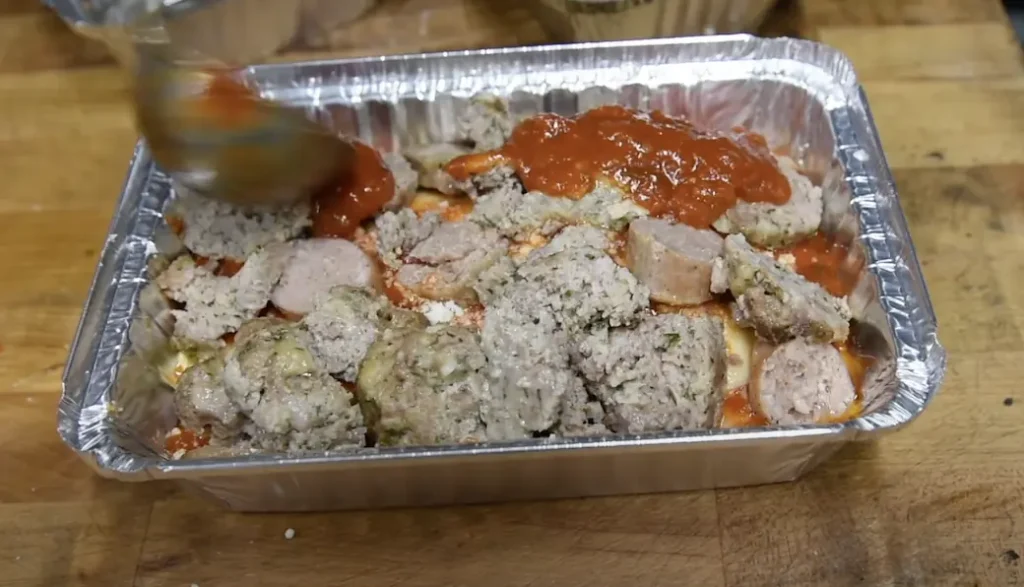 Make sure that they cover the surface, that there's some meatballs and sausages in every bite. You really don't want to skimp out here!
You could either end your lasagna here, or keep going. In our YouTube video, we used three layers, but feel free to make this lasagna as big as you want.
Once you feel like you've added enough layers to the lasagna, though, cover it with one final lasagna sheet. Spread some marinara sauce over the top layer, making sure that it's evenly covered (you never want to have a dry bite!). Sprinkle some mozzarella pizza cheese on top, and finally, some pecorino Romano.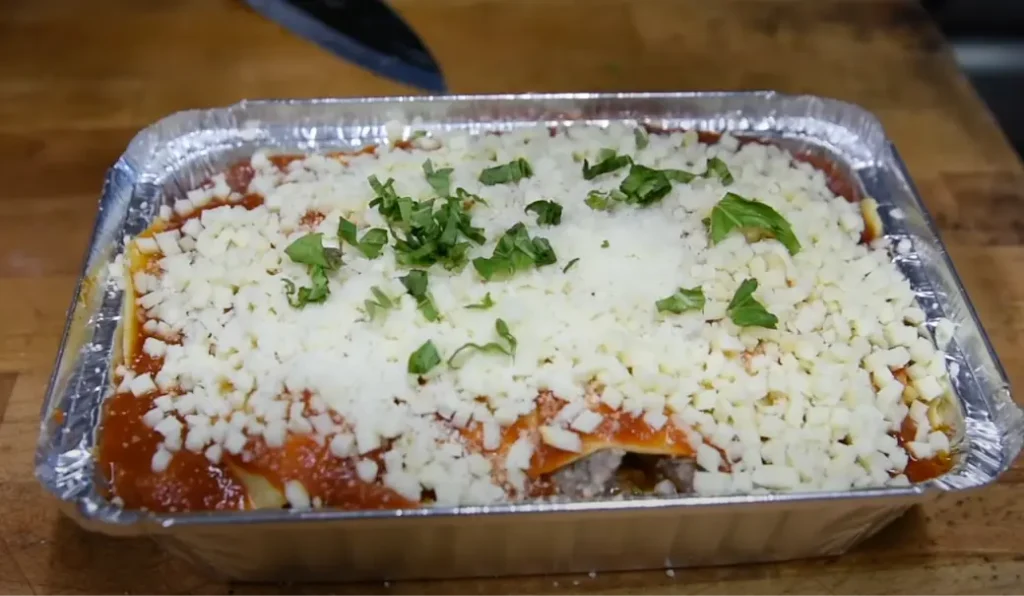 Put this in the oven at 400° from 35-40 minutes, adding more time if necessary. You'll know it is done when the top of the lasagna is bubbly and golden brown, and the cheese has melted down nicely. Let it sit from 10-15 minutes before serving.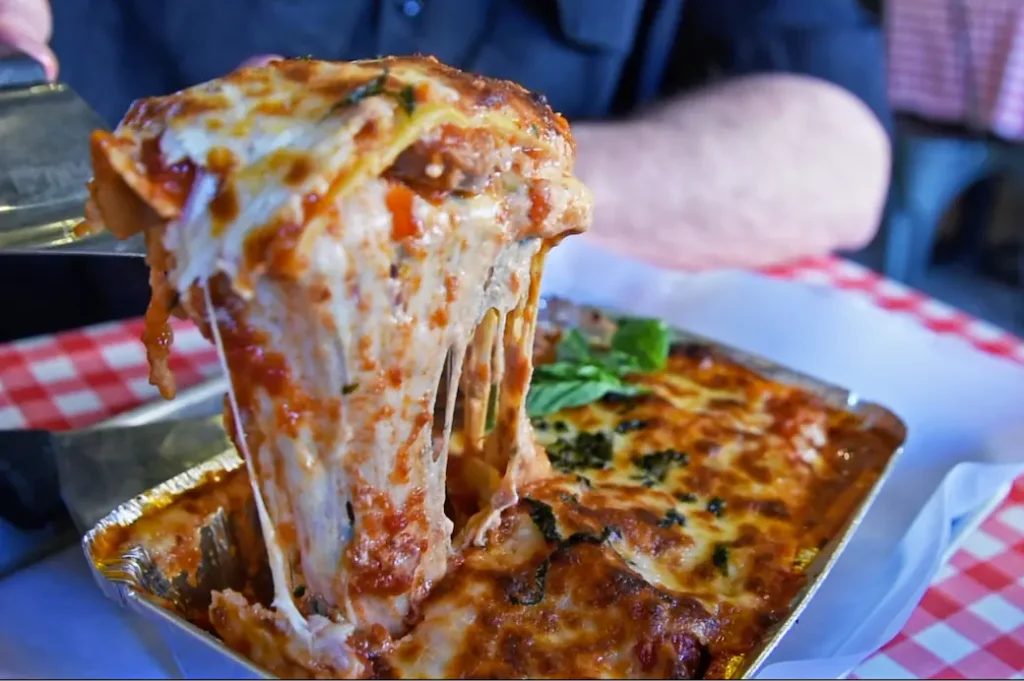 Sunday Sauce Lasagna FAQs
Q: Could I add any other kinds of meat to this?
A: Sure. A general rule of thumb to go by is that any kind of meat that you'd find in a Sunday sauce is fair game. Try adding some pork or veal to this, if you can find some. It'll taste delicious!
Q: What kind of pan should I use with this?
A: Normally I'd tell you to use a glass casserole dish, but since this lasagna will be tall and heavy, a metal baking pan would be your better bet. If all you have are glass baking dishes, that's fine, but I find that a heavy duty pan is a lot better for this.
Q: Can I freeze this lasagna?
A: Yup! In fact, you can freeze this entire lasagna before you even bake it. Whether you're freezing the whole thing before baking to save for some quick dinners, or freezing the last quarter that you just couldn't stomach for next time, make sure that you let the lasagna cool to room temperature first.
What to serve with your lasagna
Wine: I love to enjoy my lasagna with a nice glass of Nero d'Avola.
Appetizer: Try starting this out with a beautiful caprese salad! Get some nice, ripe tomatoes fresh from your local farmers market, and slice them up with some mozzarella and fresh basil leaves. At the end, drizzle them with a high quality olive oil and balsamic glaze.
Side dish: Sauté some green beans until tender in olive oil with salt, pepper, fresh minced garlic, and crushed red pepper flakes.
Dessert: Anything is better if you have dessert afterward! Try your hand at making these delicious tiramisu cups.
Print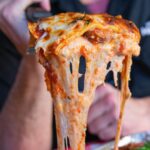 Sunday Sauce Lasagna
---
Author:

Total Time:

55 minutes

Yield:

2

-4

1

x
1 package lasagna sheets
2 cups marinara sauce
1 lb fresh meatballs
1 lb sausage
3 cups ricotta cheese
1/4 lb provolone cheese
1 cup mozzarella cheese (shredded, low moisture)
2 tbsp grated Romano cheese
Salt & pepper to taste
Basil to taste
1 tbsp parsley
---
Heat oven to 400.

Boil lasagna sheets until al dente, drizzling olive oil between each cooked lasagna noodle.

Combine ricotta cheese, pecorino Romano, warm marinara sauce, salt, pepper, and parsley in a small or medium bowl with a wooden spoon, until ingredients are thoroughly incorporated and ricotta has taken on an orange tone.

Cut up meatballs and sausages into small, bite sized pieces.

Build first two layers of lasagna in this order:

Sauce

Lasagna sheet

2 tablespoons ricotta mixture

2 slices provolone

Sauce

Grated Romano

At the beginning of the third layer, begin to add the meatballs and sausages. Make sure the top of the lasagna is evenly coated with the meat.

Top with lasagna sheet, marinara sauce, mozzarella pizza cheese, pecorino Romano, and basil.

Bake for 35-40 minutes, or until the cheese on top is melted, bubbling, and golden brown.

Let cool for about 15-30 minutes.

Enjoy!
Prep Time:

15

Cook Time:

40

Category:

Lasagna

Method:

Baking

Cuisine:

Italian American