Tiramisu is a classic Italian dessert that everybody loves. It usually comes in large trays after a family lunch or dinner at a restaurant. But as summer is approaching, I'm growing more and more greedy for sweet, fancy food and drinks. You know, the ones that you could enjoy at sunset while watching a beautiful panorama or partying in the open air. So recently I tried this tiramisu cup recipe.
I think this is the perfect dessert for everything you're going to do in the next months. It's simple, it's nice-looking, and it's wicked delicious. 
It's also relatively cheap. I made 4 big cups like the ones you see in the photos for less than €8. Some ingredients probably cost more in the US, but I'm being told that this is still a very affordable recipe. So, what could you possibly want more?
Besides, we don't have many dessert recipes on this blog, so I thought it might be a good time to change that. And what better way than start with tiramisu?
I mean, its name literally translates to "pick me up"… people didn't call it like that for no reason!
These tiramisu cups are really a mood changer, and now I'm going to show you how to make them!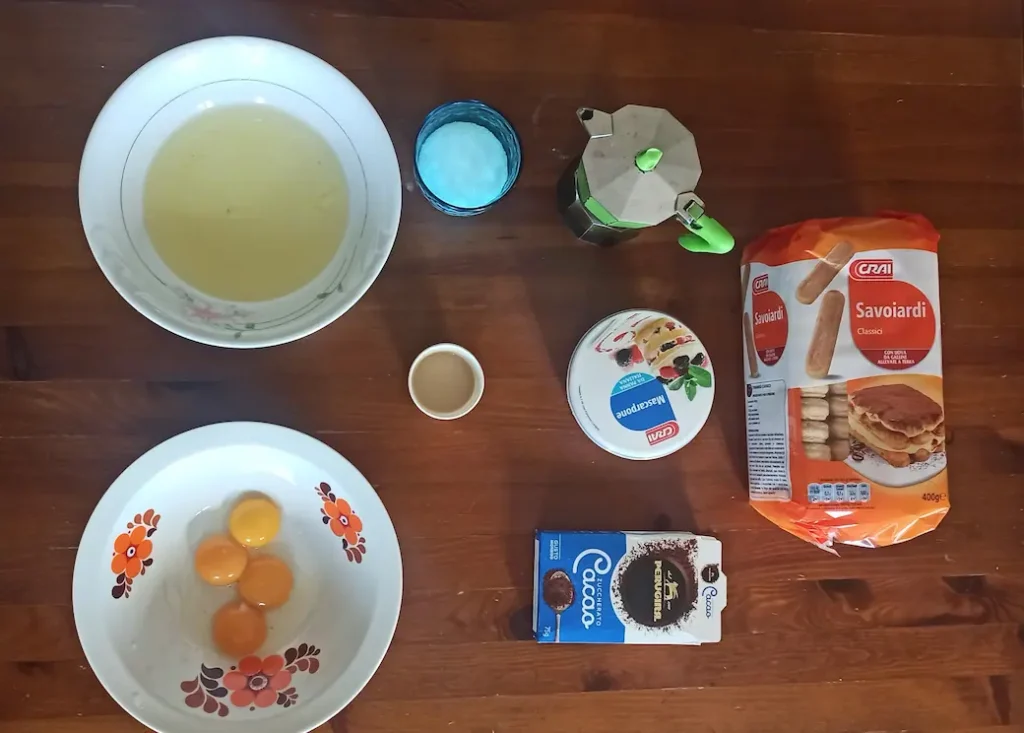 What you need to make some delicious tiramisu cups
As usual, let's start with the ingredients. They are not different from those you would see in a traditional tiramisu recipe, I just added some whiskey cream to the coffee mixture, and adjusted the ratios so to make 4 cups.
Here's what you need.
Ladyfinger biscuits: or, as we call them in Italy, savoiardi. They are long, thick biscuits typically used to make tiramisu, charlotte cake, or zuppa inglese.
Mascarpone: classic tiramisu is typically made with this Italian cream cheese. To be fair, I took that so much for granted, that when I was making research for this post and read that people use "heavy cream" outside of Italy, I thought that was the English name for "mascarpone". Turns out it's not. Sometimes I still need to use a dictionary when writing in English 😀 Anyway, if you don't have mascarpone and decide to use heavy whipping cream, I won't judge you. 😉
Eggs: get some big, fresh eggs. You'll mix them with the mascarpone to make the typical cream used for tiramisu. The fresher they are, the better. If you don't know how long they've been around, make sure they're pasteurized.
Sugar: this one doesn't need many explanations. Any type of sugar will do.
Strong coffee: predictably, I used espresso coffee. That's how tiramisu is meant to be made here in Italy. But if you don't have an espresso machine or a mocha, you can use regular black coffee as well. And of course, you can use decaffeinated coffee too.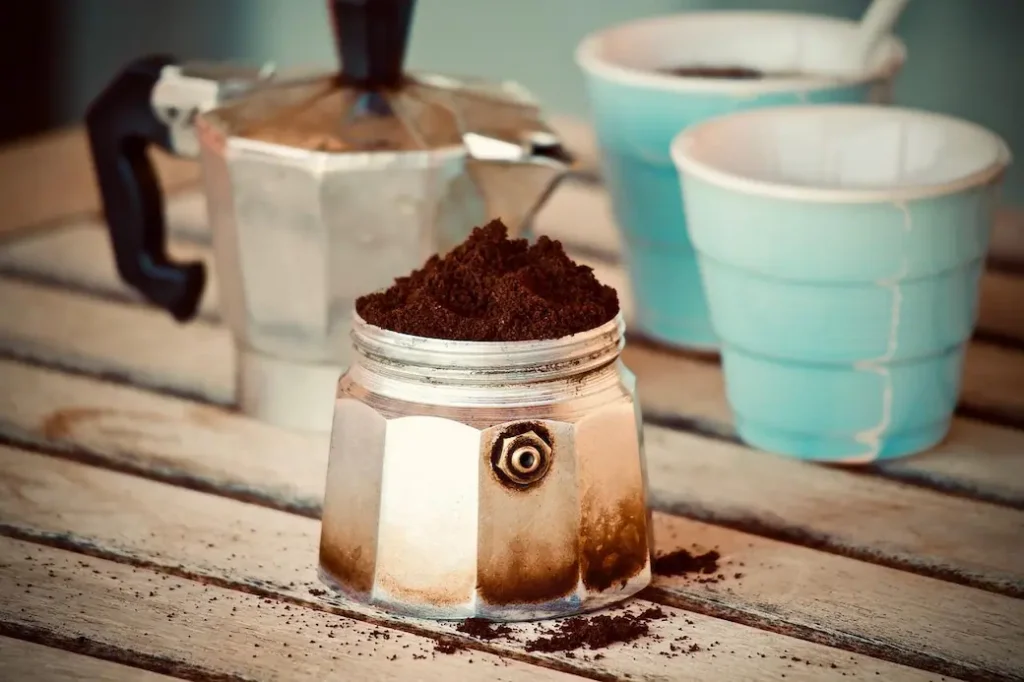 Whiskey cream: traditionally, tiramisu is made without alcohol. However, when using biscuits for our desserts, we Italians like to add spirits or liqueurs. I used Bailey's whiskey cream, but you can also use coffee liqueur or dark rum. I see that many people also like to use limoncello.
Unsweetened cocoa powder: no tiramisu is complete without it.
Coffee Beans (optional): you can use them to decorate your mini tiramisu cups.
Vanilla extract (optional): You can add it to the mascarpone mixture if you want.
Now, let's turn all these ingredients into 4 cups of classic Italian tiramisu.
How to make individual tiramisu cups
As you can see from the photo of the ingredients, the first thing to do in this tiramisu cup recipe is to separate the egg yolks from the whites. You need to be very careful as you do it. Even the smallest amount of egg yolk can prevent your whites from whipping completely.
Put them into two separate bowls, and start working on the raw egg yolks. Make sure you choose a large bowl for them, as there will be a lot of mixing. Add the sugar, and whip with an electric mixer at medium speed until you get a light yellow, foamy mixture. It shouldn't take more than 5 minutes.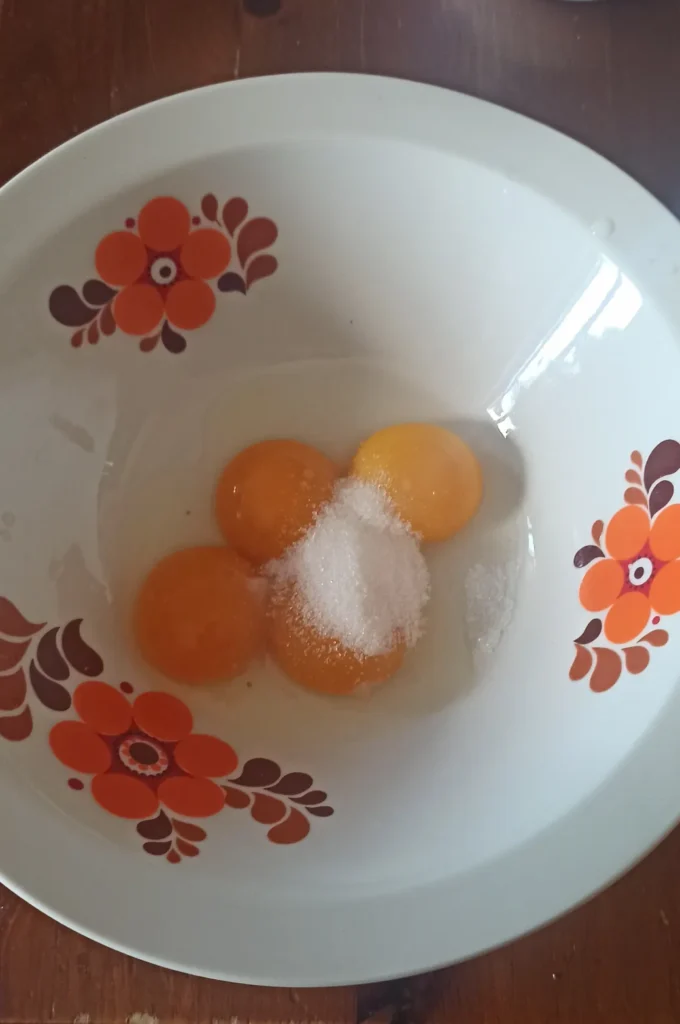 Now, add the mascarpone cream and mix well until it is fully amalgamated into the yolks. If you decided to use vanilla extract, add it now.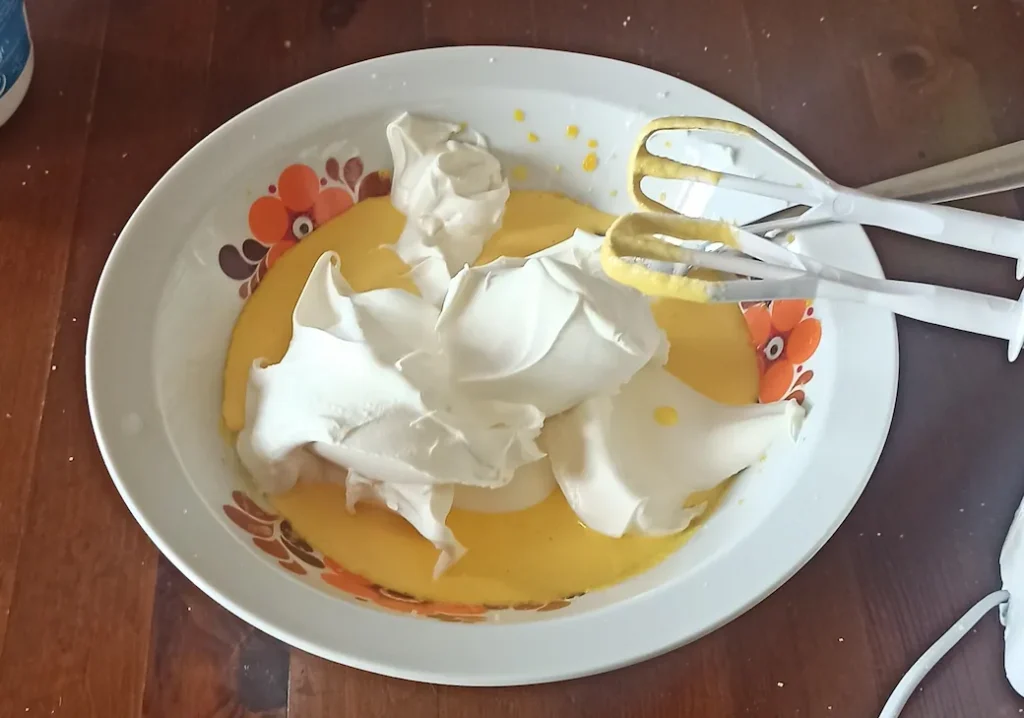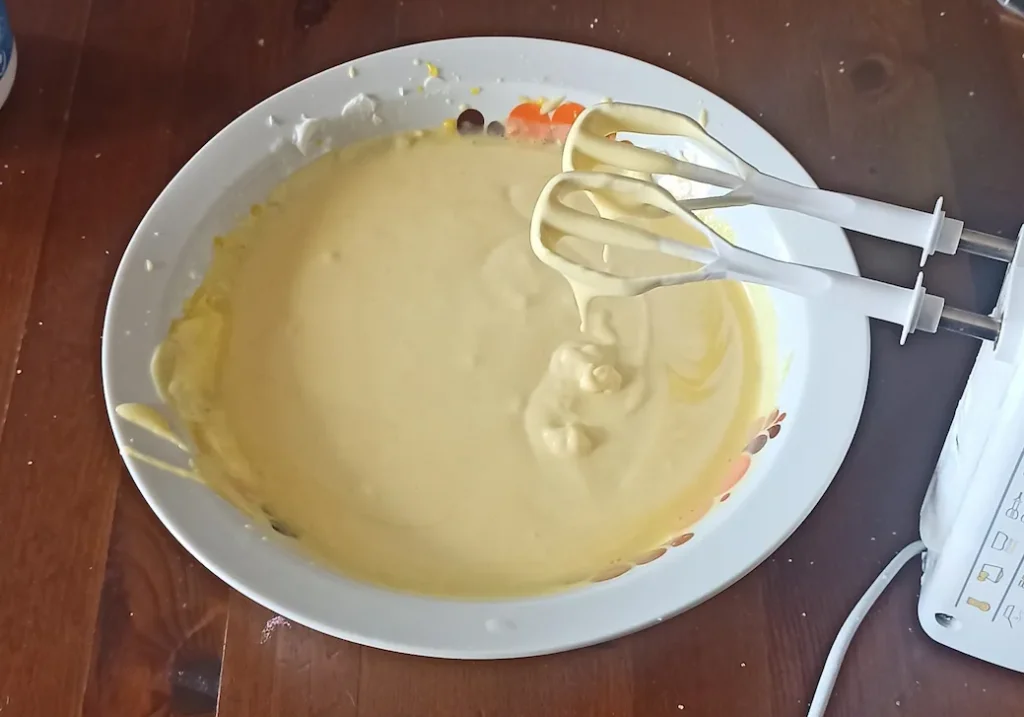 After that, clean your mixer well and move to the egg whites. It's important that there's no trace of egg yolks in the beaters.
Whip the egg whites firm. Start with a low speed, then progressively switch to high speed as they become firmer. Many people think that adding a pinch of salt will help the process, but it can actually make things worse, as it will make the whites more liquid. Try using some drops of lemon juice instead, they should do better.
At the end of the process, your egg whites should be so firm that they don't move if you tilt the bowl.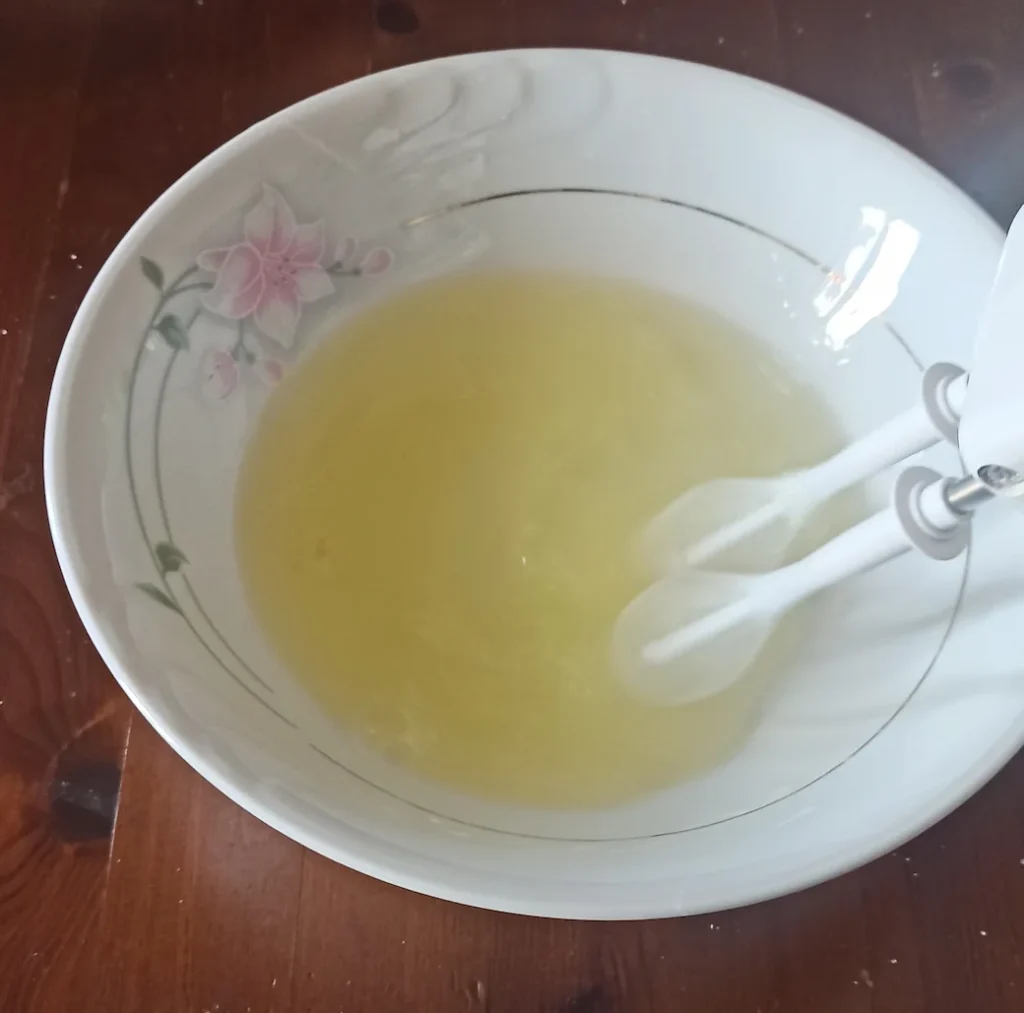 This could take some minutes. Be patient and don't make a mess on the table as I did. 😅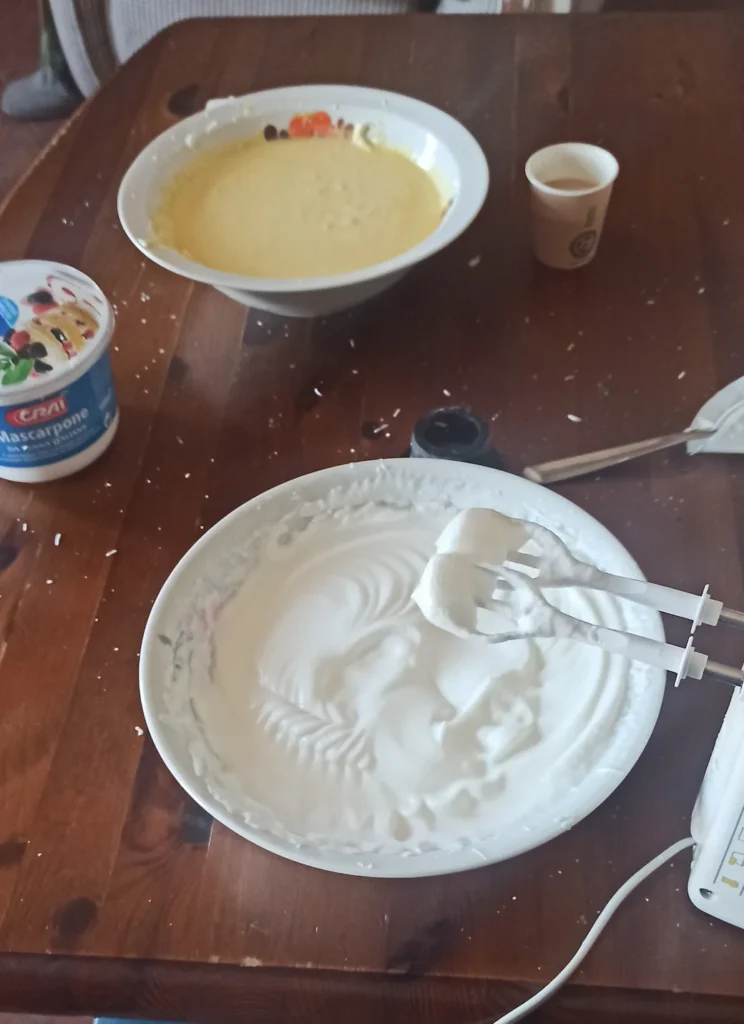 After that, mix the egg whites with the mascarpone cheese mixture you made before, and set everything aside in the fridge.
Make sure you mix everything slowly, going from bottom to top to incorporate more air and to make sure that the whites remain as firm as possible. Then, set everything aside in the fridge.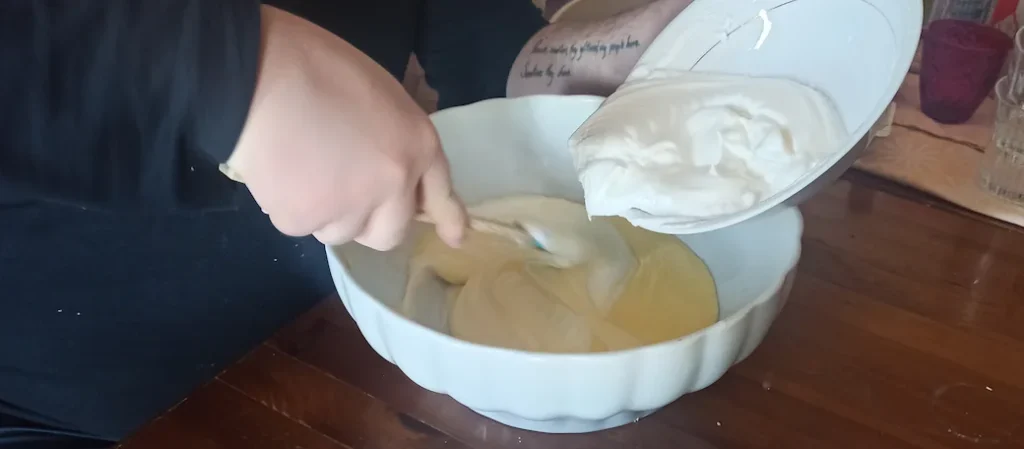 Now, it's coffee time.
I used a mocha big enough for 4 people, then I served myself a small coffee cup and set the rest aside to cool down at room temperature, and mixed it with the whiskey cream. If you don't have a mocha, make about 1 cup of coffee with any device you like.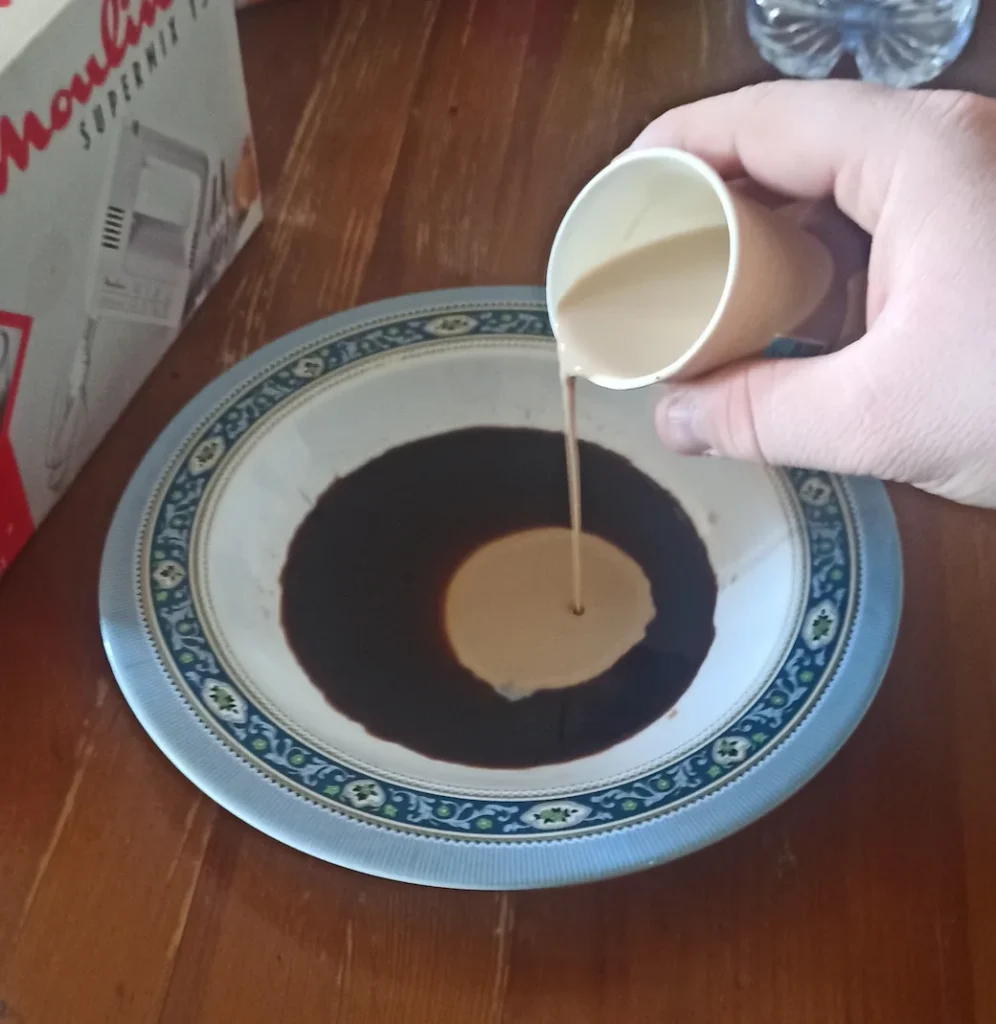 (Almost) finally, it's time to assemble your tiramisu cups.
Take the mascarpone mousse out of the fridge, and place it near 4 glass cups and the cooled coffee mixture. Then sit down and start layering everything.
Normally, you would use a whole pack of savoiardi biscuits to make a tray of tiramisu. But this time we're making tiramisu cups, so you'll just need 8. You'll also need to break them in half, as they wouldn't fit the cups otherwise.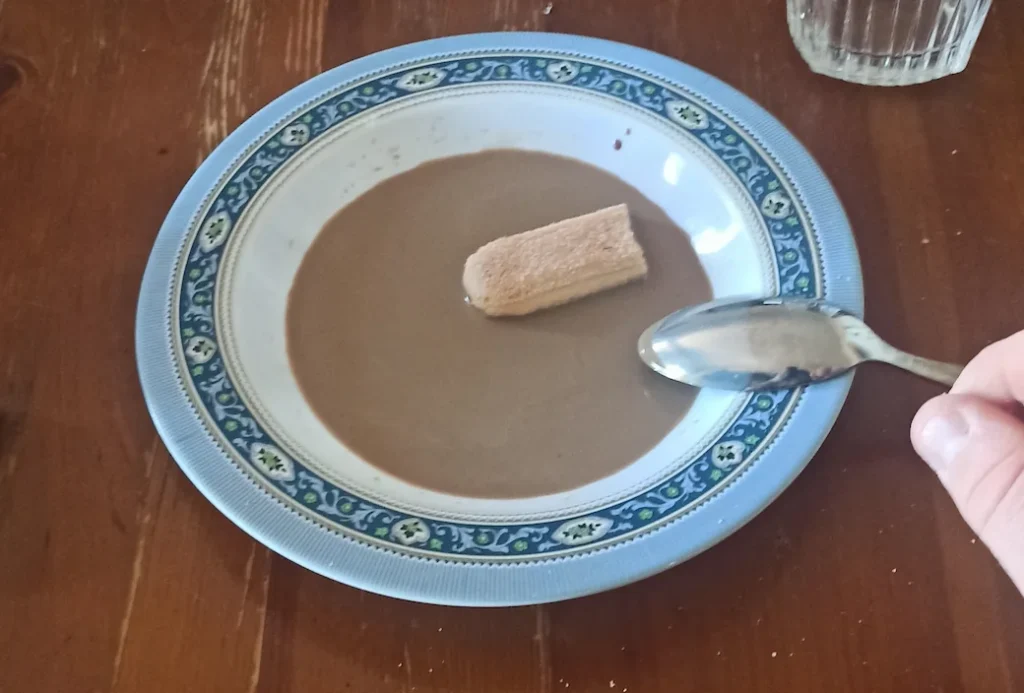 Soak two pieces of lady fingers in the espresso mixture and place them on the bottom of the cup.
Do the same with the other cups, then set them aside in the fridge for at least half an hour – or until your next meal.
Congratulations, now you have 4 individual cups of delicious tiramisu. Enjoy them with your favorite people for merenda, or serve them as dessert at your next party or after Sunday lunch!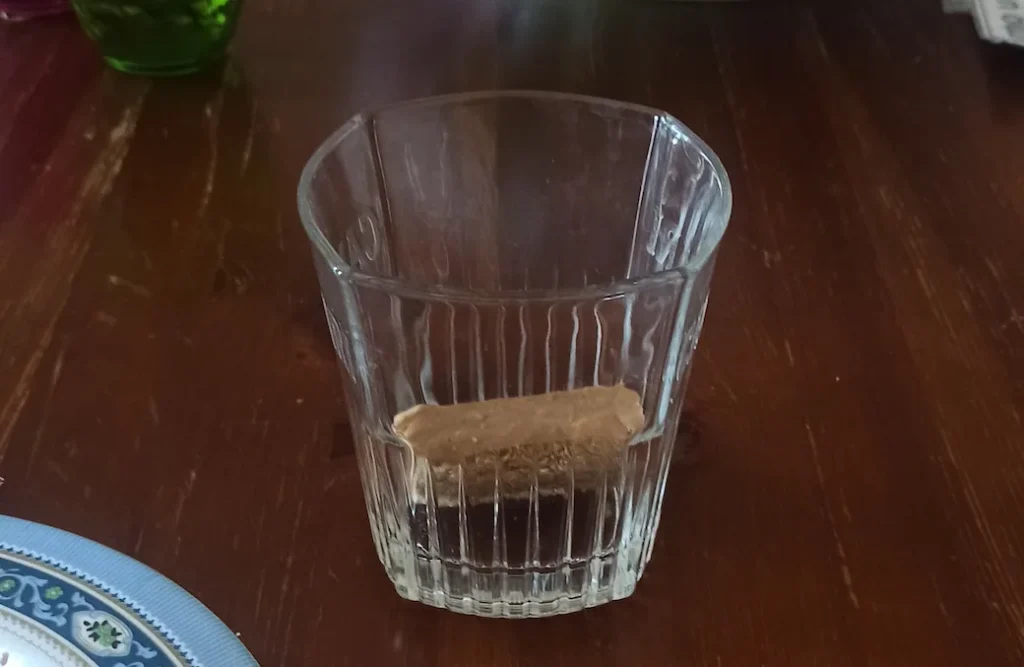 Then, add a layer of cream.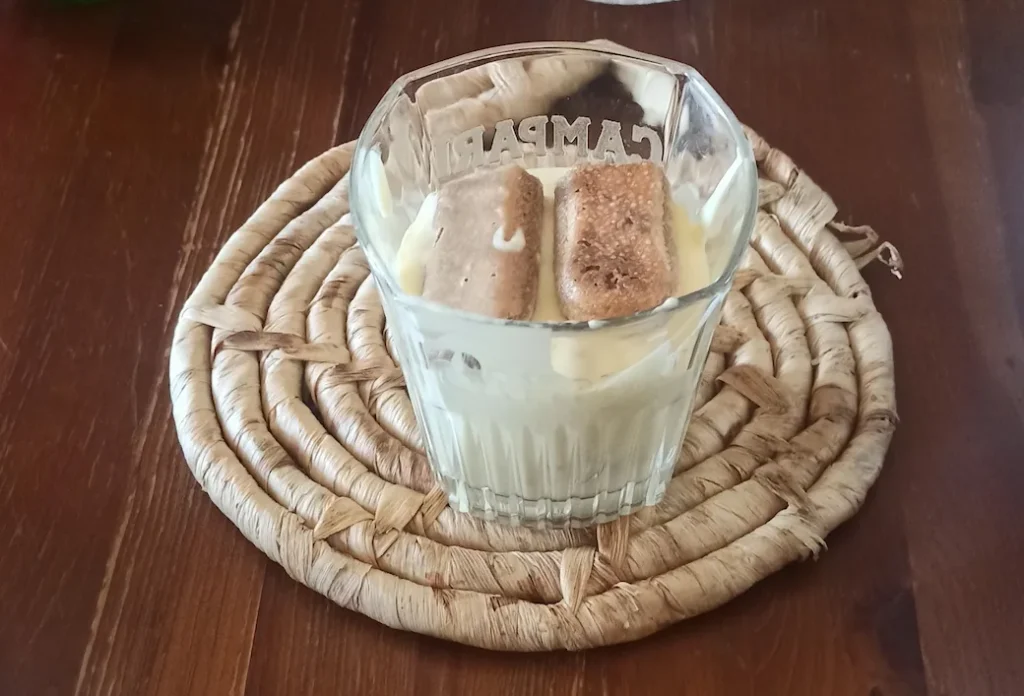 Repeat until you reach the top of the cup, then add a dusting of cocoa powder. If you want, you can decorate with a couple of coffee beans.
Do the same with the other cups, then set them aside in the fridge for at least half an hour – or until your next meal.
Congratulations, now you have 4 individual cups of delicious tiramisu. Enjoy them with your favorite people for merenda, or serve them as dessert at your next party or after Sunday lunch!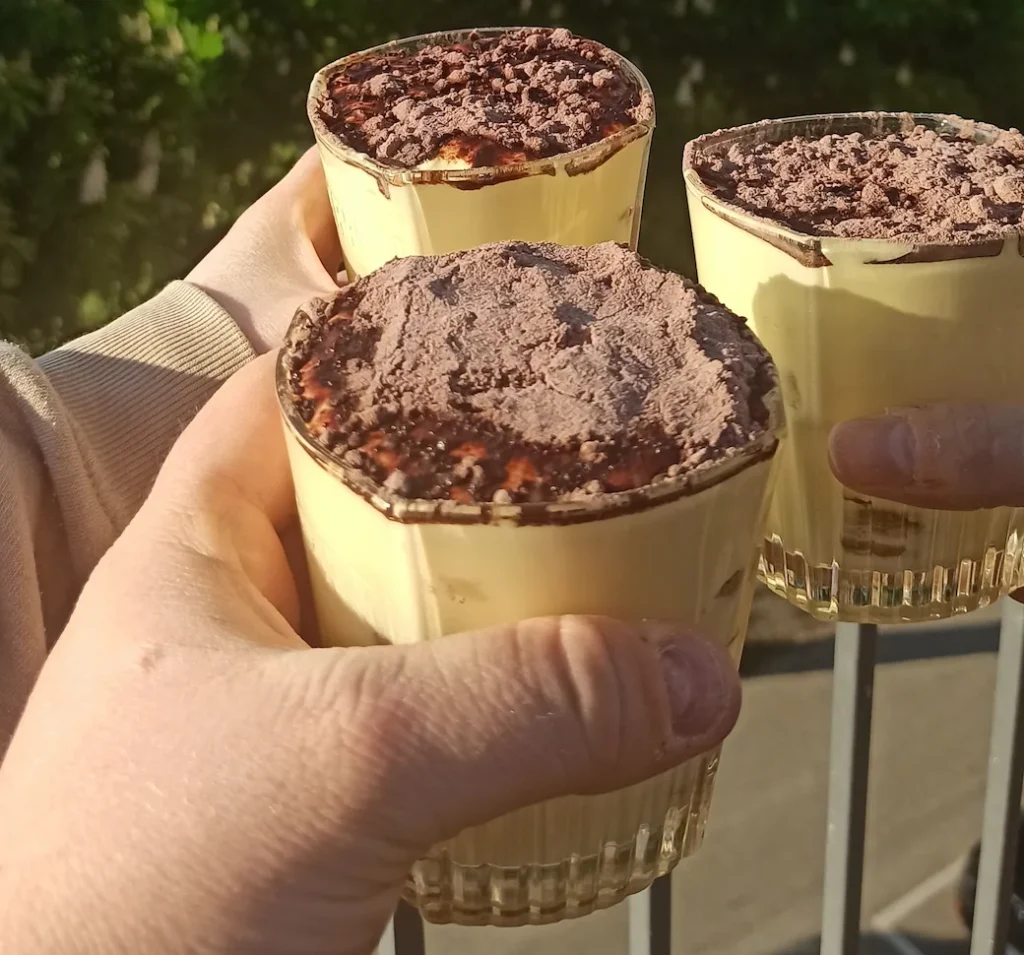 Q: These glasses are too big. How can I make little tiramisu cups?
A: If you prefer mini desserts, you can reduce the ingredients by half and use just a single layer of cream. They will be awesome anyway. However, I don't recommend using anything smaller than a wine glass.
Q: How long can I store this dessert?
A: This tiramisu cup recipe is made with raw eggs and has no preservatives. So, you can store your cups in the fridge for 1 or 2 days, but I actually recommend consuming them within the first 24 hours. After all, they're so good – why wait to enjoy them?
Q: Can I use a hand mixer?
A: You can use it to work on the egg yolks, but whipping the whites firm will be difficult and more time-consuming.
These easy tiramisu cups are a delicious dessert. They're also budget-friendly, and you can make them in a short time with zero effort.
There are actually many versions of tiramisu that you can make with a similar method. I'll cover them in the next weeks.
For now, I'll leave you with the recipe card as usual. You can print it from your PC, or use it directly from your smartphone as a shopping list. You can also adjust the ratio of the ingredients according to how many people you want to serve.
I hope you find it useful. And most of all, I wish that you enjoy this tiramisu cup recipe as much as I did. A presto!
Print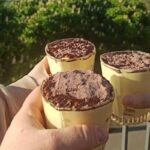 Easy Tiramisu Cup Recipe
---
Author:

Total Time:

55

Yield:

4 cups

1

x
8

ladyfinger biscuits

4

fresh eggs

2 cups

mascarpone cheese, or alternatively heavy cream

1/2 cup

+

1 tbsp

of granulated white sugar

1 cup

of coffee

1/4 cup

of whiskey cream
unsweetened cocoa powder to taste
---
Separate the egg yolks from the whites.
Whip the egg yolks until they become a light yellow, foamy mixture.
Add the mascarpone cheese and mix well until it is fully amalgamated.
Clean the beaters, then whip the egg whites firm.
Slowly mix the result with the mascarpone cream, stirring from bottom to top.
Set aside in the fridge.
Make coffee, pour it into a plate, and let it cool at room temperature.
Break 1 ladyfinger biscuit in half, soak it in the coffee, and put it on the bottom of a glass cup.
Add a layer of the cream you made before.
Repeat.
Add a dusting of cocoa powder to the top.
Let in the fridge for at least 30 minutes.
Enjoy!
Prep Time:

25

Cooling time:

30

Category:

Dessert

Cuisine:

Italian
Keywords: tiramisu, tiramisu cup recipe, individual tiramisu cups