Let's talk about baked ziti.
It's easy. It's delicious – and it can be both a main course or a side dish! Plus, it's also a great freezer meal.
With this baked ziti recipe and a few good ingredients, you can make people think you've been slaving away in the kitchen for hours – while all it takes is 20 minutes of preparation and 45 minutes of baking.
I love it because it's the type of meal that is worthy of making it to your regular Sunday
dinner table but also easy and quick enough to throw together on a weeknight after you pick kids up from practice.
So crack open a nice bottle of red wine and let's make a dish that is definitely going to make it to your regular rotation!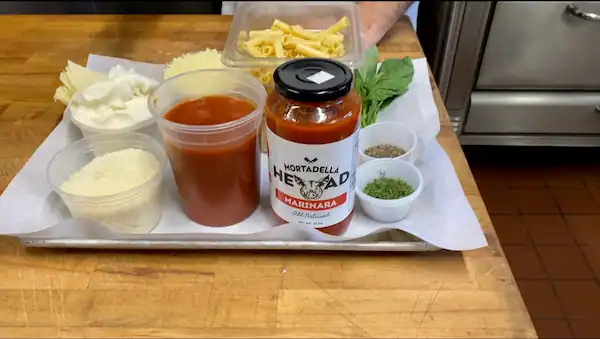 Here's what you need
When I was a kid, a big tray of baked ziti was always on the menu when there was a team dinner the night before a game.
It was a perfect choice.
It looked and tasted like a lasagna, but with half the time and effort. It always put us in the right mood.
Here are all the ingredients you need to make it perfect.
1. Pasta. You don't need to get fancy. A box of dry ziti is all you need.
2. Tomato sauce. You can make a simple tomato sauce or use your favorite store sauce.
3. Ricotta cheese. I like a good new york style ricotta cheese, but any ricotta that you can get at the supermarket will do.
4. Mozzarella cheese & Provolone Cheese. You will need them to layer your baked ziti into the baking dish, just like you would do with béchamel sauce for lasagna.
Only, this time you will use shredded mozzarella cheese and some slices of provolone.
You want a good old-fashioned whole-milk, low-moisture mozzarella. You can buy it shredded or shred it yourself if you are feeling energetic.
5. Grained cheese. Use a good quality pecorino romano or parmigiano.
6. Seasonings. For my baked ziti recipe, I usually add a sprinkle of black pepper, parsley, and fresh basil leaves.
That is pretty much everything you need.
You'll find the exact measures in the recipe card at the end of this post. There you'll be able to click on a button to copy them to your smartphone notes, or to scale them according to how many people you're serving.
My baked ziti recipe has no meat, so it's a perfect main course for vegetarians.
However, you can use a meat sauce instead of the tomato sauce, or pair it with meatballs or sausages. I'll tell you more about it later.
Now, let's make a dish you could feed a football team with!
Let's start cooking
So, to put it simply, this baked ziti recipe consists of:
cooking the ziti like a normal pasta dish;
making a ricotta mixture with all the cheeses and the seasonings in the meantime;
and then baking everything in a dish with the tomato sauce.
Step 1. The first thing you want to do is boil your ziti according to the instruction on the box. Make sure the water is salty!
I like my ziti al dente, and so will you. Nobody wants mushy macaroni!
Step 2. Now, let's make your ricotta mixture.
Get a mixing bowl and put in all your ingredients except the ziti and 1 half of the mozzarella cheese.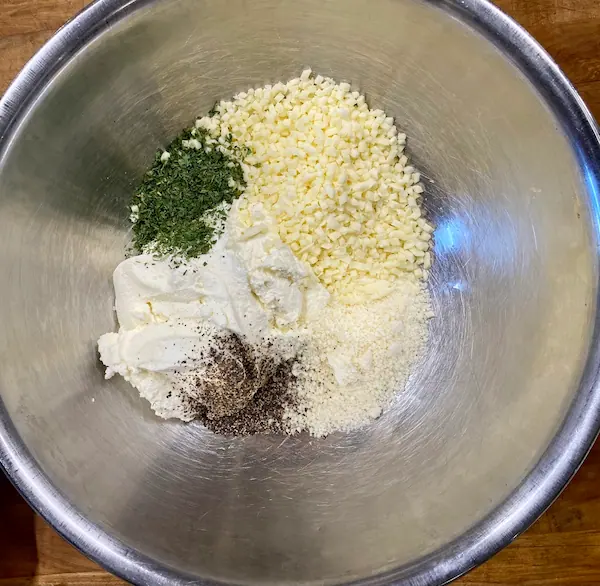 I personally like to add half of my hot tomato sauce directly to the ricotta mixture. It makes it much more easy to mix.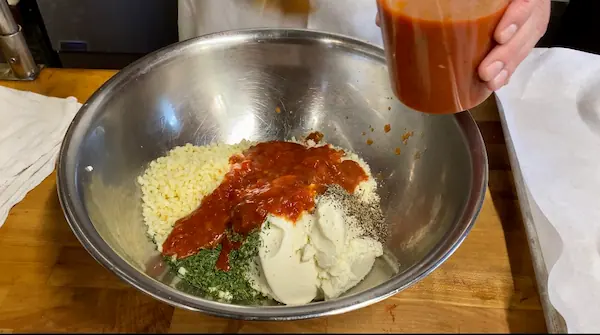 Step 3. When that is mixed well, toss in your cooked ziti and get everything combined.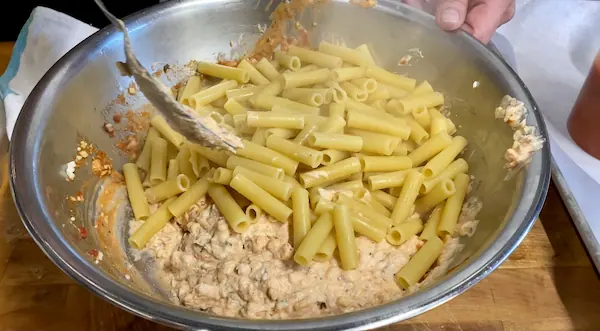 Step 4. After that, grab a baking dish or a casserole and cover the bottom with the rest of tomato sauce.
Dump in half the ziti and cheese mixture then spread everything evenly in the baking dish.
Layer with some slices of provolone cheese, then add the rest of the ziti mix.
Top it off with a layer of tomato sauce, shredded slices of mozzarella, and a good sprinkle of grained cheese. Maybe even some fresh basil leaves.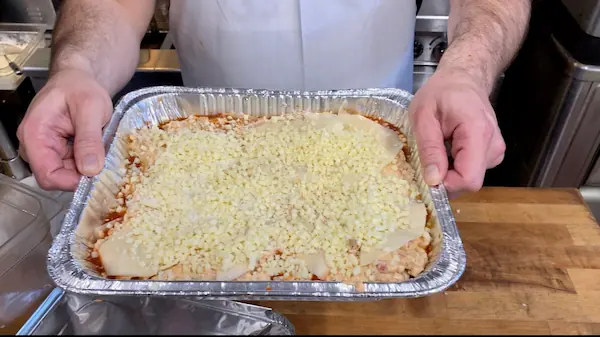 Step 5. Pop it in a pre-heated oven at 400 °F for about 45 minutes and you're ready to eat.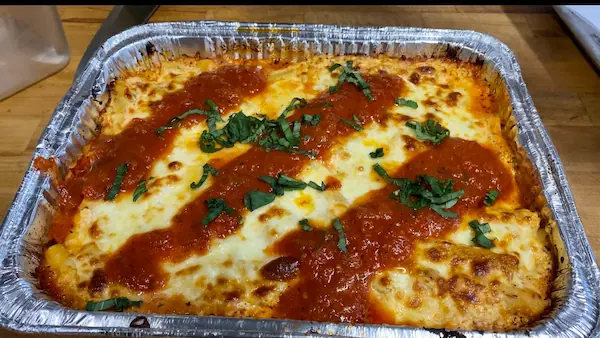 Frequently Asked Questions
So now you know how to make some awesome baked ziti at home. But before you go, here are a few extra tips.
1. What other pasta shapes can I use?
This baked ziti recipe is also fine with penne pasta, rigatoni, or small shells. To make it short, any shape of round-ish dry pasta will do.
2. Can I add meat to baked ziti?
Sure! This baked ziti recipe can also include meatballs or sausages, or both!
The easiest way to include meat is to replace the tomato sauce with some nice ragu bolognese – the same people use on lasagna.
If you don't have it, you can make your own meat sauce with anything you like.
3. Can you freeze baked ziti?
Yes! Bake it ahead and put it in the freezer for when you need it. More on that later.
4. What other cheese can I use?
I think provolone and fontina are also perfect for this baked ziti recipe.
5. What to serve with this baked ziti?
And to finish our list of FAQs, here are some food pairings to match your baked ziti with the other courses.
Salad: I like a simple old-school salad with mixed greens and red wine vinegar.
Side dish: a side of meatballs is almost a necessity.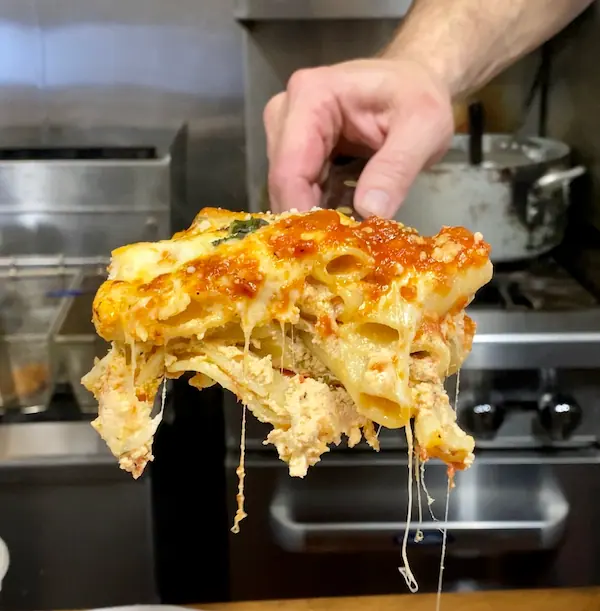 How to Store, Reheat, and Freeze Baked Ziti
One of the things I love about this recipe is that you can make lots of baked ziti in just about an hour, and then freeze them for when you need them most.
This is also one of the things that make it perfect for when you have to cook for a crowd on special occasions, like Thanksgiving or other Holidays.
So, if you're wondering how to store and reheat your baked ziti, here's everything you need to know.
How to refrigerate
Let's say you've assembled your ziti and ricotta mix in a casserole dish, but you want to wait a couple of hours before using the oven. Or maybe you have assembled them in advance for tomorrow.
In this case, the best thing to do is to cover your ziti with a foil and then leave it in the refrigerator for up to 24 hours. 
When it's time to bake, just remove the foil and place the casserole in a pre-heated oven at 400 °F for about 1 hour. When the top is lightly browned and the cheese has melted, you'll know your baked ziti is ready.
How to freeze
Maybe you need to store your ziti for more than 24 hours.
In this case, all you have to do is assemble it in a casserole, wrap it up in plastic foil, and then leave it in the fridge.
When it's time to bake, take the ziti out of the fridge, remove the plastic and let it rest for about 30 minutes.
After that, bake it at 400 °F for one hour.
Ideally, when the top becomes slightly brown and bubbly, it means that your baked ziti is ready. If you see that the top starts browning too early, cover it with a foil to avoid burning it.
What to do with leftovers
Finally, here's what to do if you have some leftover baked ziti and don't want it to go to waste.
If you're planning on eating it on your next meal or tomorrow, you can leave it in the refrigerator. Otherwise, you can store it in your freezer for up to 5 days. 
In both cases, the next step is to reheat your baked ziti for about 45 minutes. If you have a food thermometer, check that the temperature at the center hits 165 degrees.
If you're eating alone and you're cooking something else with water, another way is to take a portion of your baked ziti and then reheat it in a bain-marie.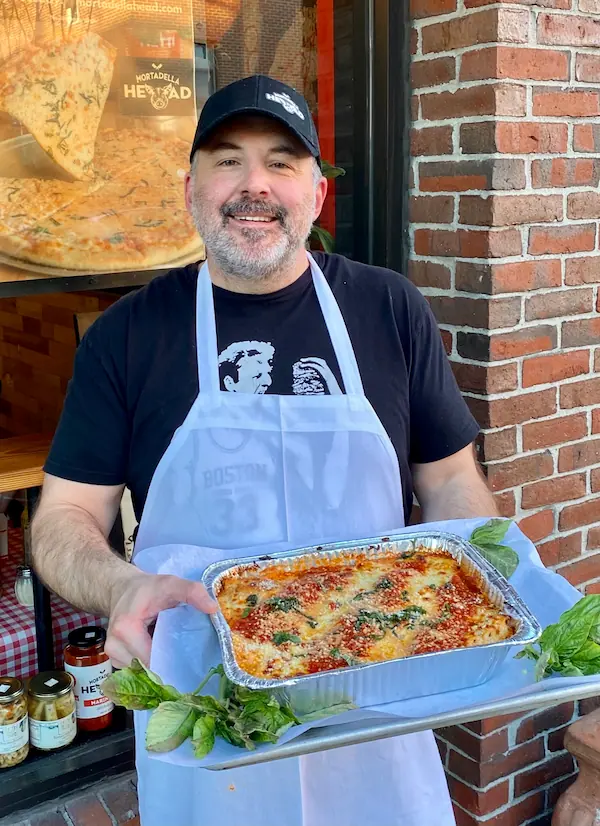 Baked Citi Recipe Expert Tips
So you've got the lowdown on my awesome baked ziti recipe, but before you dash to your kitchen, let's take a minute to talk about some expert tips that'll elevate your baked ziti game to a Michelin star level—or at least get you an "Oh my God, this is amazing" from your dinner guests.
Pick the Right Pasta
We mentioned ziti, penne, and rigatoni, but did you know the surface of your pasta can make a difference too? Opt for pasta with ridges—they'll grip that sauce like a pro climber on a mountain, making every bite saucier and more flavorful.
Don't Skimp on Fresh Ingredients
We talked a lot about cheese and tomato sauce, but let's get one thing straight: using fresh basil, parsley, and perhaps even freshly picked oregano can make all the difference. Fresh herbs impart a fragrance and taste that dried herbs just can't match.
Oven-Ready? Think Again!
Preheat your oven a good 15-20 minutes before the recipe calls for. Trust me, "preheated" ovens can still have cold spots if you rush it. A properly preheated oven ensures that your ziti bakes evenly.
Sauce it Up
If you're someone who loves a good saucy pasta, consider adding a few tablespoons of the pasta cooking water to your sauce. Starchy pasta water thickens the sauce and helps it adhere to the ziti. You know what they say: the saucier, the better!
Spice is Nice
A sprinkle of crushed red pepper flakes can add just the right amount of heat without overpowering the dish. If you've got kids or spice-averse guests, serve the red pepper flakes on the side so everyone can customize their own plate.
Custom Cheese Blend
Sure, ricotta, mozzarella, and provolone are the trinity here, but ever tried adding a bit of smoked gouda or a sprinkle of asiago for an extra layer of flavor? Cheese is more than just a topping; it's a flavor amplifier. Get creative!
The Layering Technique
When assembling your dish, try a double layering technique—ziti, ricotta mix, sauce, then cheeses, and repeat. This ensures that every bite is a little piece of heaven, balanced with pasta, creamy cheese, and tangy tomato sauce.
The Final Touch
After you've pulled your baked ziti from the oven, let it rest for about 10 minutes. This allows the cheese and sauce to settle, and trust me, it will still be piping hot. A sprinkle of freshly chopped parsley or basil can add a burst of color and flavor, making your dish not just palate-pleasing but also visually stunning.
Wine Pairing
We talked about cracking open a bottle of red, but for the wine aficionados out there, a nice Chianti Classico or a Montepulciano can bring out the flavors even more. These wines are just acidic enough to cut through the richness of the cheese and just fruity enough to complement the tomato sauce.
Make it a Meal
A loaf of garlic bread and a simple Caesar salad can complete this feast. Hey, if you're going all out, you might as well go the full mile, right?
What to Serve with Baked Ziti
Now, let's talk about taking your meal to the next level by pairing it with some killer sides and appetizers. Don't worry; we're keeping it easy yet elegant—just like our beloved ziti.
Garlic Bread: The Classic Companion
Toast some slices of a rustic Italian loaf, rub them with a garlic clove, drizzle some olive oil, and sprinkle a pinch of sea salt. It's a flavorful upgrade to the bagged, frozen stuff and takes mere minutes to make.
Antipasti: The Italian Starter
An antipasto platter can be an excellent way to start the meal. Think marinated olives, slices of prosciutto, salami, and maybe some marinated artichoke hearts. Oh, and don't forget a couple of cheese options; I'd recommend some fresh mozzarella and maybe a sharp Asiago. It's light, flavorful, and keeps the Italian theme going.
Seasonal Roasted Vegetables: Add Some Color
You've got your carbs and dairy covered with the baked ziti, so let's bring some veggies to the party. Roasting seasonal vegetables like zucchini, bell peppers, or even Brussels sprouts in some olive oil, salt, and a dash of balsamic vinegar can create a delicious and healthy balance.
A White Wine Alternative: For the Non-Red Drinkers
We've already covered that a nice bottle of red wine like a Chianti or Montepulciano is almost a given. But what if red just isn't your thing, or you have guests who prefer white? A Pinot Grigio or a light Chardonnay can also work marvelously.
Italian Wedding Soup: For an All-Out Feast
If you're going all-in for a full-course Italian-American dinner, consider starting with a bowl of Italian Wedding Soup. It's hearty but not overly filling, featuring tiny meatballs, delicate pasta, and vibrant greens in a clear broth.
Dessert: Keep it Simple
After such a rich and satisfying meal, a lighter dessert can be a refreshing end. How about some homemade lemon sorbet or a couple of scoops of gelato? Alternatively, you can go the espresso route and serve it with a side of biscotti for dipping.
Salad
I like a simple old-school salad with mixed greens and red wine vinegar.
The perfect Italian-American comfort food
Whether you're cooking for your kids, your friends, relatives, or just for yourself, there's nothing like a hot plate of baked ziti to warm you in these cold late-autumn nights.
Just place it in the oven and turn on the tv while you wait – maybe with that Chianti we were talking about…
Let me know if this recipe was helpful or if you need inspiration for other situations. I'll be cooking in the meantime.
Ciao.
Print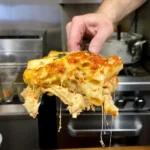 Baked ziti recipe
---
Author:

Total Time:

1 hour 5 minutes

Yield:

6

1

x

Diet:

Vegetarian
1 quart of good tomato sauce
1–pint ricotta cheese
1 pint grated Romano cheese
1 pint of grated mozzarella cheese
1/2 pound of sliced provolone cheese
2 tablespoons of chopped parsley
4–5 leaves of fresh basil
2 teaspoons black pepper
1 pound dried ziti
---
Boil pasta according to instructions on the box
Place ricotta, ¾ of the grated Romano, ½ of the mozzarella, black peppers and parsley in a large mixing bowl and combine well.
Add 8 ounces of warm tomato sauce into the same bowl and mix with the cheese until it is pink.
When ziti is fully cooked, strain and add it to the cheese mixture. Make sure it is fully combined into cheese.
Put a thin layer of tomato sauce on the bottom of a baking pan.
Add half of the ziti and cheese mixture to the baking pan and spread evenly.
Place a layer of sliced provolone on top of ziti.
Add a thick layer of tomato sauce on top of provolone.
Make a second layer of ziti and cheese mixture.
Cover top evenly with shredded mozzarella and some grated Romano cheese.
Bake in a 400 degree oven for about 35-40 minutes.
Remove it from the oven, add a light layer of tomato sauce, some chopped basil and a little more grated Romano cheese.
Allow it to rest for about 15 minutes before cutting into the baked ziti.
Enjoy!
Prep Time:

20

Cook Time:

45

Category:

Main courses

Method:

Baking

Cuisine:

Italian American
Nutrition
Serving Size:

1

Calories:

570

Sugar:

10.1g

Sodium:

1328mg

Fat:

19.3g

Saturated Fat:

11.2g

Carbohydrates:

70.5g

Fiber:

5.3g

Protein:

32.2g

Cholesterol:

55mg
Keywords: baked ziti, baked ziti recipe, Italian-American comfort food, Italian-American vegetarian recipes