It is no secret that tomato sauce is a big deal in Italian cuisine. Half of Italy's pasta and pizza recipes are made with it. We actually add the words "in bianco" (white) when they don't.
But what are the best Italian tomato sauce recipes? I've made a list of my favorite ones.
Some are ready in a few minutes and use only a few ingredients. They will turn out useful during weeknight dinners, or whenever you need a quick sauce recipe. Others may take up to three hours and are better suited for Sunday dinners and big gatherings. And one, in particular, requires regional, best quality ingredients – and is best fit for when you want to impress your guests.
We'll make sure to find something right for you.
My 10 favorite Italian tomato sauce recipes
Classic Italian Marinara sauce
Let's start with the simplest. Marinara sauce is a great dressing for many fish and pasta dishes. It's also a delicious dipping sauce for fried appetizers like mozzarella sticks. And of course, it's often used as a pizza sauce.
Chuck and Sebby make a lot of it every day for their best dishes, and they also sell it through our online store.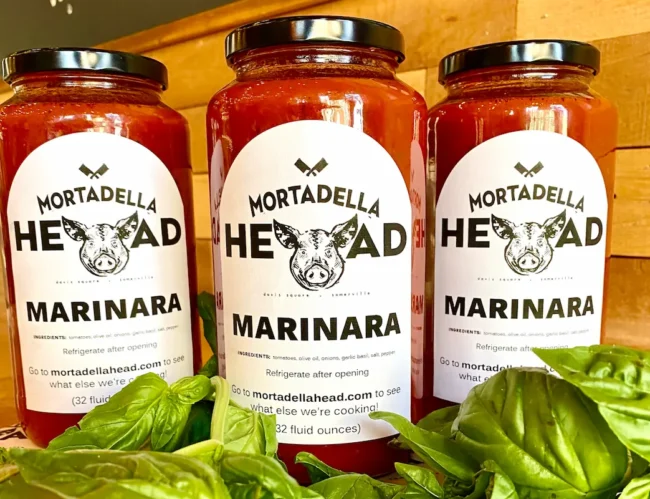 Its recipe revolves around just three key ingredients: tomato puree, oregano, and fresh garlic cloves. They are what gives it its distinctive flavor. Anyway, everyone has their own personal variation, and it is common to add other spices and flavors to your liking. For example, some people add red pepper flakes. Others combine garlic with onion or add tomato paste to thicken it a little. And when used for marinara pizza, it is also very common to add black olives and anchovies.
In my opinion, there's not really a best marinara sauce recipe. The important thing is not to overdo it. An authentic marinara sauce has a minimalist soul, aiming for good flavor with a few quality ingredients.
If you want something more elaborate, there are other tomato sauce recipes that are right for you.
Spaghetti sauce
It is common to think that marinara and spaghetti sauce are the same. But actually, while marinara sauce has a distinctive flavor and ingredients, the latter is more of a generic term.
Everyone makes it their own way. My favorite homemade spaghetti sauce recipe is as follows.
Ingredients x4:
2 + 1/2 cups tomato puree
1 medium onion, diced
7 oz ground beef
a drizzle of olive oil (just enough to grease the bottom of a saucepan)
3 fl oz cooking wine or blond beer
fresh basil leaves to taste
Method: sauté the onion in the oiled saucepan, then add the meat and let it brown for a couple of minutes. When it starts to brown, add the beer or wine and cook over medium heat until it evaporates, stirring occasionally. After that, add the tomato sauce and let it simmer for about ten minutes.
Meanwhile, boil some spaghetti (or your favorite pasta shape) in salted water. Finally, drain the pasta and combine it with your homemade sauce. If you like, you can add some parmesan cheese.
For several years, when my friends and I would have dinner together, this was our go-to recipe. If I think back, it is linked to many good memories.
Arrabbiata sauce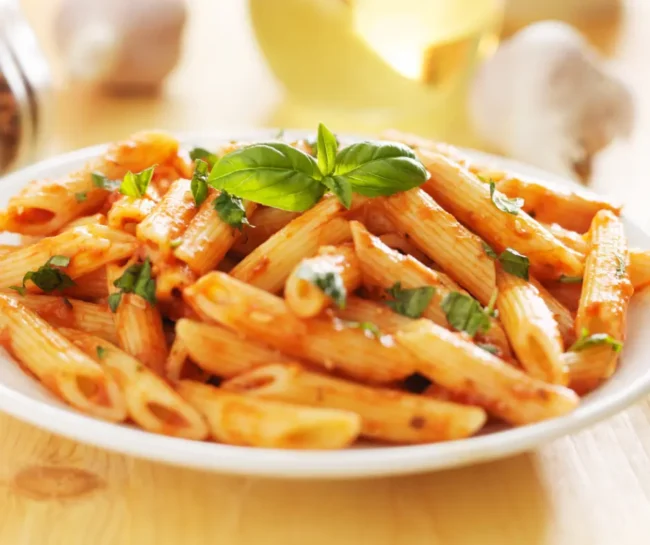 If you're looking for an easy and spicy red sauce, this one is for you. It's a vegetarian sauce made with garlic, chili peppers, and tomato puree or paste.
Simple, but with a strong kick. This recipe is perfect for when you just want to put something in a saucepan and think about something else.
→ Check my penne all'arrabbiata recipe.
I recently saw a Tiktok video by personal chef Francesca Gambacorta where she showed how to mix arrabbiata sauce with egg yolks and pecorino cheese, and how to make a super creamy pasta dish with it. Needless to say, I immediately tried her recipe. It would be reductive to say it was good. I loved every bite.
You basically have to cook the pasta IN the arrabbiata sauce (kinda like I showed you in my lemon pasta recipe) while making a mixture of egg yolks and pecorino in a small bowl and mix everything in the end. If you grasp some Italian, check the chef's video below.
Fumè sauce
This sauce was invented just about 40 miles away from my hometown by Chef Maciste, and it rapidly became a popular recipe in many households. It's made by sauteeing tomato sauce with black pepper, herbs, and cooking cream – and it's typically used to dress maccheroncini or sedanini pasta.
Since part of the seasoning is a family secret, everyone has their own variations of this sauce. But if you're curious, I've translated the semi-official maccheroncini al fumè recipe shared by the creator himself.
If you want an easy tomato sauce recipe for a comfort dinner, this is the right one.
Vodka sauce
Here's another red sauce recipe with both tomato puree and cooking cream. And since we don't want to miss anything, it also has chili peppers and vodka. It will give your pasta a unique taste, but you can also use it on salmon steaks and other second courses.
Chuck has his own simple vodka sauce recipe, but you should also check how he used it along with Gianna and Sebby to make their own interpretation of Carbone's Spicy Rigatoni. It's amazing. As I'm writing this article, my relatives are watching the tv in the next room and I just overheard Chef Antonino Cannavacciuolo talking about how it's nice to see someone cooking and instinctively feel hungry. That's exactly what happened to me while reading that recipe.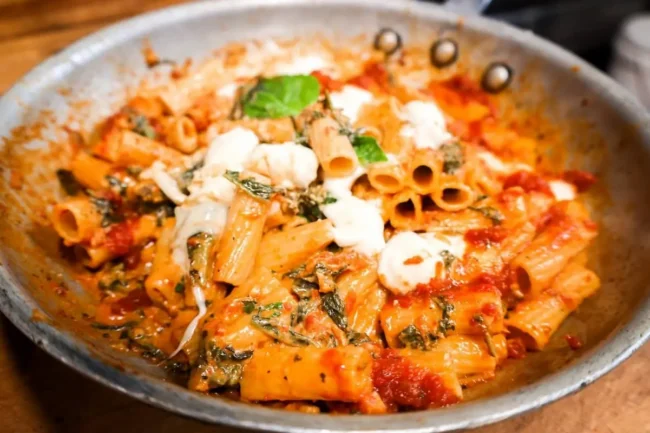 Pop culture trivia: in 2014, Italian rapper Caparezza released a video for his song "Avrai ragione tu". In that video, his fictional character was arrested for creating a revolutionary movement called "Vodka Penne & Freedom". I don't know about you, but I would join any group with that name.
Amatriciana sauce
Unlike the other recipes you've seen so far, this is usually made with whole tomatoes. More precisely, peeled San Marzano tomatoes, but the official recipe allows for canned tomatoes as well.
The other ingredients are pecorino romano cheese (no alternatives, this time) and guanciale, a type of meat similar to bacon. The method involves sweating the guanciale and putting it to rest on paper towels, then cooking the peeled fresh tomatoes in the same saucepan with a wooden spoon and then mixing all the ingredients in the end.
This is probably the most authentic Italian tomato sauce around, and it is commonly used to dress bucatini or spaghetti pasta. It might not be as famous as the other sauces in this post, but it has been made and preserved for centuries by the people of Amatrice, and on the link above you can find my translation of the recipe shared by the town's Council Hall. Go check it out!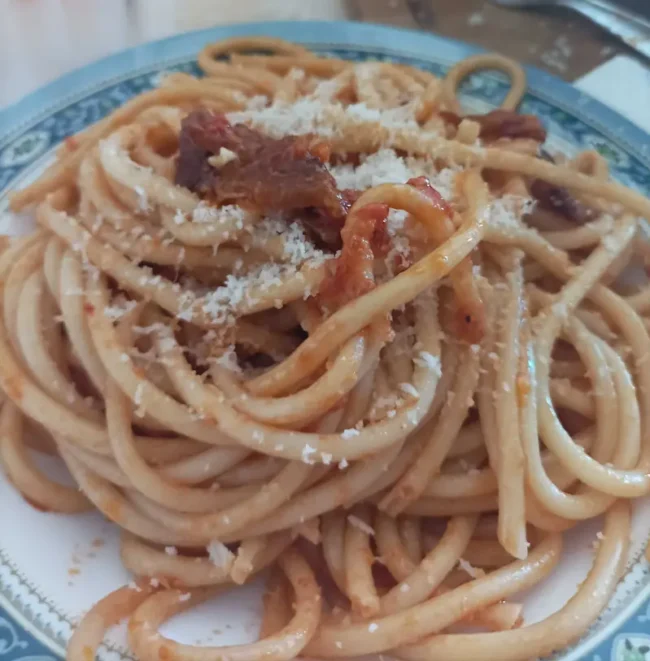 Zozzona sauce
One of the many things I love about Lazio and Roman cuisine is how they name their recipes. They're all straightforward and evocative at the same time. La zozzona means "the dirty one", and by reading that you already know that this dish is going to be hearty, flavorful, and something your doctor may scold you for.
It's basically like the creamy arrabbiata variation I told you about before, except that it has guanciale meat as well. So, it's kinda like mixing amatriciana with carbonara. I'm going to write a recipe for it soon.
Bolognese sauce
Now, let's move to Emilia Romagna. If you're looking for a rich homemade tomato sauce recipe, this is probably the most famous one around.
Locally known as ragù alla bolognese, Bolognese sauce is made with soffritto, lots of meat, red wine, tomato puree, and milk. Like Sunday gravy, it requires a long cooking time (at least 3 hours, if you ask me) in order to tenderize the meat.
Check out Chuck and Sebby's own version of this famous recipe.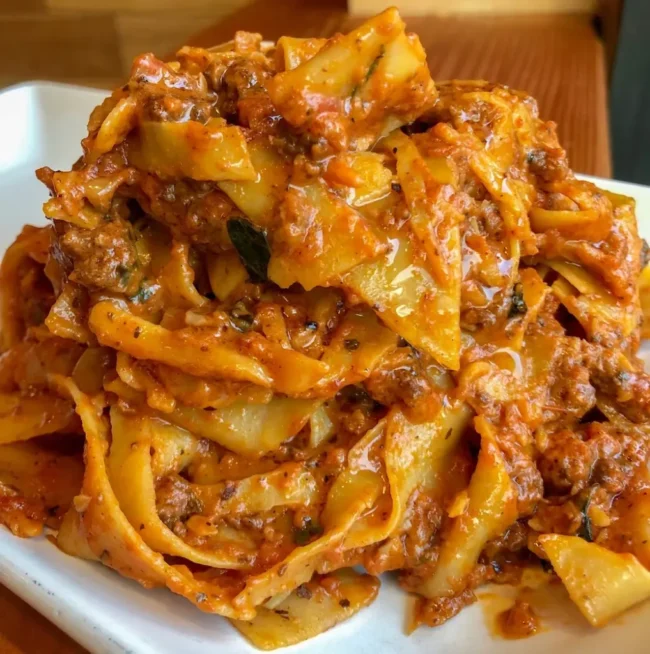 Sunday Sauce
And since I've already mentioned it, let's spend a few words about Sunday gravy/sauce.
This Italian-American tomato sauce serves the same purpose of ragù alla bolognese. Even the cooking method is similar. The only difference is in the type of meat used. While Bolognese sauce is made with minced beef and pancetta, Sunday gravy is typically made with short ribs, pork butt and Italian sausage. Legend has it that this is because they were the type of meat available for Italian immigrants.
Chuck has shared his own Sunday gravy recipe a few weeks ago. Go check it out!
Paccheri with Nduja & Caciocavallo
Finally, one of my favorite dressings. Not only it has everything I look for in a tomato sauce recipe: each of its ingredients has a special flavor that makes it unique.
Nduja is a spicy sausage from Calabria made with the fattiest parts of pork and chili peppers. Caciocavallo is a salty hard cheese from the same region, aged by a special process that involves hanging it from a rope. They might now be easy to find outside of Italy, but if you can put your hands on them, you should definitely try this out.
This recipe is made by melting both of them in tomato sauce with ricotta, Tropea onions, and herbs. The result is a creamy, smooth sauce that will fill your mouth with all kinds of flavors.
→ Go see the full recipe!

When to use each one of these recipes
So, these were my favorite Italian tomato sauce recipes. Now here's how I would use them on different occasions.
When you're in a rush
If you don't have much time and need a recipe that allows for multitasking, go with marinara and arrabbiata.
Comfort dinner or dinner party
If you want to make a hearty dish for you and your family, or are inviting guests over, I would recommend choosing between:
spaghetti sauce
fumè sauce
vodka sauce
amatriciana sauce
zozzona sauce
They're all relatively quick and delicious. And if you happen to have 'nduja and caciocavallo and don't mind spending a few more minutes on the stove, that's a great alternative as well. I would appreciate it for sure, if I were your guest.
Office lunch
You want something tasty that gives you energy for the rest of the day, but doesn't give you garlic breath afterward. My first choice among these recipes would probably be the spaghetti sauce. It tastes awesome even when it's cold, so you could just make the pasta the night before, put everything in an airtight container and then enjoy it from your desk. The same applies to fumè sauce.
On the other hand, if you work in a place where employers can cook, you could also make a zozzona or an amatriciana sauce and share it with your coworkers.
Sunday gatherings or big events
Sunday gravy, Bolognese Sauce, and Paccheri with 'Nduja and Caciocavallo are the more elaborate recipes on this list.
However, if you prefer to focus on other entrees, almost all of the other recipes are good options. My nonna, for instance, often makes maccheroncini al fumè, and I'm sure everybody would love a good amatriciana. On the other hand, I would keep marinara and arrabbiata for other occasions, like the one below.
Pizza party
Marinara is perfect for any red-sauce pizza. Its taste and simplicity allow for so many combinations! And arrabbiata can be a very good topping when paired with pepperoni and herbs.
Finally, if you want to try something special, a Bonci apprentice near my town makes a delicious Amatriciana Roman Pizza. I don't think it needs any further description. I don't know their recipe, but if you want to make experiments, I'll just leave a link to Chuck & Sebby's 72-hour pizza dough recipe here. 😉
Conclusion
By now, I hope I made you want to try each of these Italian tomato sauce recipes. You know all you need to make the best out of them whenever you want.
If you need some more inspiration for when you're cooking, check my article on ricotta pasta recipes too. There are many easy & creamy dressings that I'm sure you'll love.
Let me know if you have any other favorite recipes in the comments. We can talk about it and edit this post to include them!