This is the only sausage pepper and onion sub that's better than Fenway Park. Anyone can make a normal one, but this one will blow your mind.
We Know What We're Talking About!
We Bostonians LOVE our sausage pepper & onion subs. People go nuts for them, especially at Fenway Park—you can wait in line for up to a half hour for one of them (That's some true dedication).
Lucky for you, you won't have to do that with our recipe. All you have to do is cook the sausage peppers and onions yourself; it'll be cheaper and a lot better too.
Our secret? Simmer the ingredients in your favorite marinara sauce and douse it with mozzarella.
The sauce really brings out the flavors and causes them all to blend together very nicely. This sub quite literally will melt in your mouth.
Let the pros show you how it's done!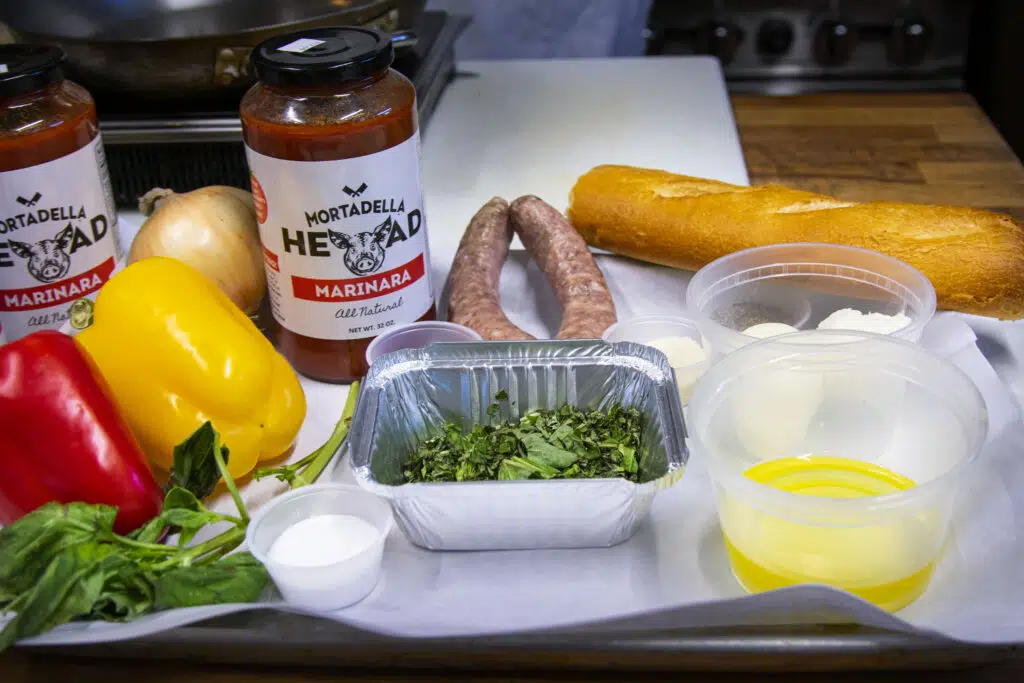 Sausages: Two of these should work just fine for this. The trick is to slice them. This will allow the flavors to really coat everything you're eating and incorporate throughout the whole dish.
Peppers: We love using red and yellow peppers. They're so much prettier and vibrant than green peppers (but just as delicious).
Onion: A big yellow onion will work just fine with this recipe.
Olive Oil: A staple to cook the ingredients with!
Marinara Sauce: This is the key ingredient to this sub. Trust us, you'll never go back after making your sub the way we do it here.
Salt & Pepper: To taste, you know the drill by now.
Cracked Red Pepper: For a tiny little kick.
Mozzarella Cheese: Low moisture whole milk mozzarella is our favorite. It'll melt really nicely over the sub.
Grated Romano Cheese: A staple if you're cooking with marinara sauce.
Fresh Basil: To taste, this is the perfect finishing touch on your sub.
*Don't feel like reading? We got you! Watch our YouTube video on how to make this sub below!*
Heat oil in a pan. While oil is heating, use half of each pepper and slice into ½ inch long strips.
Cut half of your onion into long pieces, just as you did with the pepper. You want them long instead of diced to really let the flavors stand out. Put the veggies in the olive oil, and season with salt and pepper. They should look something like this:
While the peppers and onions are cooking, slice up your sausages. This is going to look a little different than most sausage pepper & onion subs, but we do this to really incorporate the flavor into everything.
Add your sausages in with the peppers and onions, and let sizzle until cooked.
Once they're nice and cooked, add two scoops of marinara sauce into this. Sprinkle with grated cheese and add basil. Let the whole sauce simmer until heated through.
Once cooked through, slice sub roll and load with sausage, peppers, onions, and sauce. Top sub with fresh mozzarella, broken up and placed on top. Dot with more grated cheese.
Put in the oven at 400 degrees for five minutes or until the cheese is melted. Once the sub is out of the oven, serve with more grated cheese on top. A sausage pepper and onion sub like no other, enjoy!
Q: What if I don't like peppers?
A: Just substitute with more onions, it'll still taste great.
Q: Could I keep the sausages whole?
A: You can, but slicing them and cooking them that way will really allow the flavors to blend in nicely with the sauce. Trust us, it's way better this way.
What To Serve With This Big Papi:
Beer: Just like at Fenway, you should have this with an ice cold beer. Wormtown "Be Hoppy" is a wonderful local IPA, and would be great with this.
Side: Since this is a very heavy sandwich, something lighter on the appetizer end would work just fine. A traditional bag of potato chips would be great!
Print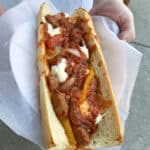 The Perfect Sausage Pepper And Onion Sub
---
Author:

Total Time:

15 minutes

Yield:

1

-2

1

x
Description
This big papi is about to blow your mind! Make this once and you'll be opening your own sausage cart at Fenway. All you need is a few simple ingredients and 15 minutes.
---
2

sliced sausages

1/2 yellow pepper

1/2 red pepper

1/2 yellow onion

2 tbsp olive oil

Jarred marinara sauce

Salt & pepper to taste

1 tsp cracked red pepper

1/4 pound Low Moisture Whole Milk Mozzarella

1/2 cup grated romano cheese

2 tbsp fresh basil
---
Heat oil in a pan. While oil is heating, slice peppers into ½ inch thick slices

Slice up half of an onion. Once sliced, saute your veggies into olive oil. Season with salt, pepper, and cracked red pepper to taste.

When veggies are sauteing, slice up your sausage. Put the sausage in with the veggies and cook.

Once veggies and sausages are finished cooking, put two scoops of marinara into the pan. Top with grated cheese and basil. Simmer until the sauce is heated through.

Slice a sub roll in half.

When sauce is done cooking, put sausage, peppers, onions, and sauce in the sub roll. Top with mozzarella and grated cheese. Put it in the oven at 400 degrees for five minutes or until the cheese is melted.

Serve with more grated cheese on top.

Enjoy!
Prep Time:

5 minutes

Cook Time:

10 minutes