Some of my favorite moments have involved making homemade pizza.
When I was a kid and at a birthday party.
On a date with my fiancé.
With my friends at my house.
Watching my mother make pizzas with the whole family.
One of my favorite things to do is make pizza from scratch—it's a great way to try out some amazing recipes without spending a fortune on takeout.
To be honest with you, I think that it tastes better than a lot of the pizza you can order (with the exception of Mortadella Head's pizza, of course), and you have total freedom to mix up the flavors and try out all of your favorite pizza toppings.
And it's a really easy meal to make.
In fact, I've made pizza so many times that I think I've mastered many different kinds of pizzas.
I've learned how to make traditional pizza crust while making a pizza in my own kitchen.
I've learned how to make a South Shore Bar Style Pizza, with its different techniques and quirks and special pizza pan.
I've watched Chuck and Sebby make traditional Roman style homemade pizza dough using their methods from the Michelangelo of pizza, Gabriele Bonci.
And I've learned how to make a pretty delicious healthy homemade pizza.
This might surprise a lot of people given how much I like to cook, but generally speaking, I eat pretty healthy.
I like cooking with all natural ingredients, but I also hate skipping out on my favorite meals and dishes.
That's why when I came up with a foolproof way to make a delicious and healthy chicken pizza recipe, I couldn't resist sharing it with you all.
Here's how to make a healthy chicken parm pizza.
Tips To Make Your Pizza Healthier:
Something that I've learned over the years is that there's no right or wrong way to make a healthy pizza recipe.
Sometimes healthy means using grilled chicken instead of fried.
Other times, it could look like using a cauliflower pizza crust to make a low carb pizza, or making your dough entirely from scratch using the best simple ingredients.
Another way you can make your pizza healthier by using a low sodium sauce, one with fresh tomatoes that aren't filled with preservatives.
No matter what method you use when making this pizza, whether it's just one of these or all of the above, a little goes a long way when it comes to making your chicken pizza into a healthier dinner option.
Healthy Chicken Parm Pizza FAQs: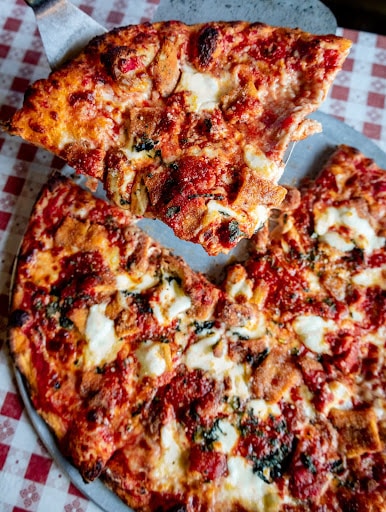 Q: What makes this pizza recipe healthy?
A: For starters, this recipe uses less mozzarella cheese than your traditional chicken parmesan pizza may, and the cheese is part skim, rather than your typical low moisture whole milk mozzarella.
Additionally, the low sodium tomato sauce or tomato slices are a lot better for you than regular preserved store bought pizza cheese.
And if that weren't enough, the whole wheat pizza crust is a generally healthier option than your standard pizza crust.
Q: Do I have to cook the chicken before adding it?
A: Absolutely. You can grill some chicken breasts, toss some tenders in the air fryer, shred up a rotisserie chicken, or even boil some chicken that you have in the fridge if you'd like. Just make sure that it's fully cooked before adding it to the pizza, and that you don't use ground chicken.
Q: What other kinds of crust could I use with my own pizza?
A: The sky's the limit! You can use a cauliflower crust, a piece of pita bread, some naan bread; even a gluten free pizza crust would be wonderful with this!
Q: What are other kinds of chicken pizzas I could make?
​A: Anything goes! I love chicken pesto pizza, buffalo chicken pizza, barbecue chicken pizza with homemade barbecue sauce and red onion, and anything and everything having to do with chicken cutlets and fresh herbs. Get creative; this is your time to shine!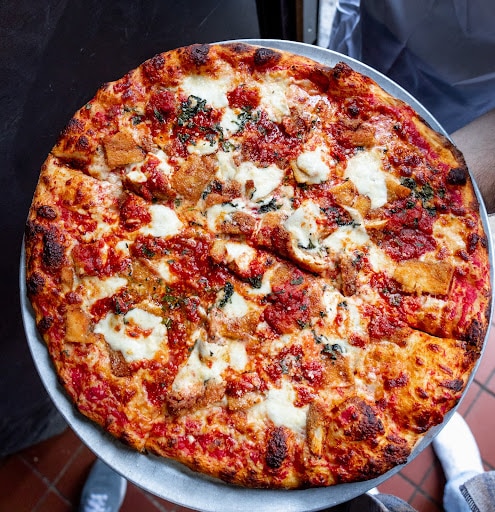 Print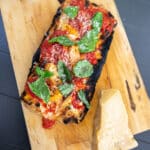 The Best Healthy Chicken Pizza Recipe; Quick and Easy
---
For the Pizza Crust:
1

whole wheat pizza crust (store-bought pizza dough or homemade dough) (can substitute cauliflower pizza crust for keto pizza)

1 tablespoon

olive oil
For the Tomato Sauce:
1 cup

low-sodium tomato sauce, or

one

whole tomato, sliced

1 teaspoon

dried oregano

1 teaspoon

dried basil

1/2 teaspoon

garlic powder

Salt and pepper to taste
For the Toppings:
1 cup

cooked and shredded boneless, skinless chicken breast (can substitute leftover chicken or any other chicken mixture)

1/2 cup

part-skim mozzarella cheese, shredded (can substitute fresh mozzarella cheese)

1/4 cup

grated Parmesan cheese

1/4 cup

fresh basil leaves, torn

Crushed red pepper flakes (optional)
---
Preheat the Oven: Preheat your oven according to the pizza crust instructions or to 400°F (200°C) if you're using homemade or store-bought whole wheat pizza crust.

Prepare the Tomato Sauce: In a small bowl, mix the tomato sauce, dried oregano, dried basil, garlic powder, salt, and pepper. Set aside.

Prepare the Toppings: Season the cooked and shredded chicken breast with a pinch of salt and pepper. Toss to combine.

Prepare the Crust: If using a store-bought crust, follow the package instructions for pre-baking or preparing the crust. If using homemade dough, roll out the dough with a rolling pin on a lightly floured surface to your desired thickness. Place the rolled-out dough onto a pizza stone or baking sheet.

Assemble the Pizza:

Brush the olive oil over the surface of the pizza crust to prevent it from getting too soggy.

Spread the prepared tomato sauce evenly over the crust, leaving a small border around the edges for the crust.

Distribute the cooked and shredded chicken evenly over the sauce.

Sprinkle the shredded mozzarella cheese over the chicken.

Bake the Pizza: Place the pizza in the preheated oven and bake according to the pizza crust instructions or until the cheese is melted and bubbly, and the crust is golden brown, about 10-15 minutes.

Finish and Serve:

Once the pizza is out of the oven, sprinkle the grated Parmesan cheese over the top.

Scatter torn fresh basil leaves over the pizza.

If desired, add a pinch of crushed red pepper flakes for some heat.

Slice and Enjoy: Allow the pizza enough time to cool slightly before slicing it into desired portions. Serve it warm and store in the refrigerator or freezer in an airtight container.