I've made a lot of meatballs in my life. I love trying different meatball recipes and one of my favorite ways to make Italian meatballs is frying them.
The crunchy coating on the outside of the meatballs is something special. Fried meatballs are probably the most flavorful meatballs in my opinion.
When I was younger I lived on the third floor of my grandparents' house. Every Sunday morning the smell of meatballs frying in the kitchen would wake me up. It was the best alarm clock in the world.
There are a lot of ways to cook meatballs.
You can bake them in the oven on a sheet pan.
You can put raw meatballs right into a pot of tomato sauce and let them slowly simmer until they are done.
You can also fry them. There's a good argument that frying meatballs is the best way to cook them. Deep frying them creates a nice crust on the outside that is really flavorful and holds in a lot of moisture. 
What I like about deep-fried meatballs is that they are really versatile. You can use them for your classic meatballs and spaghetti. You can also serve them as an appetizer at a holiday get together or party. 
Since you came here today wondering how to make fried meatballs, that's what we are going to talk about. This is a really delicious and easy fried meatball recipe.
It is a great way to put together a quick meal that everyone will enjoy. 
I am going to share a recipe with you so you can make some really delicious meatballs. I might be a little biased, but I think they are the best fried meatballs around.
This recipe will make about 2 dozen 2-inch meatballs. The prep time involved is basically just mixing up your ingredients.
Frying the meatballs will be a little bit of work, but well worth it in the end.
Pour yourself a glass of wine and let's start cooking.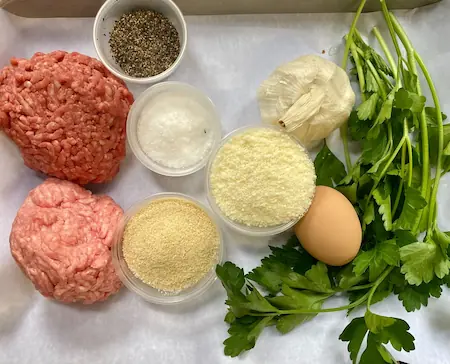 The Main Ingredients for Fried Meatballs
Making great meatballs only requires a handful of simple ingredients. Here are all of the ingredients you are going to need to make these amazing meatballs.
Meat
There are many different ways to make a meatball mixture. I am suggesting a meat mixture made of ground beef and ground pork. This combination of meats has always worked for me. 
You can make just beef meatballs if you prefer, but the pork adds a lot of flavors. You need enough fat to add flavor and moisture. 
I usually use ground beef that has 20 percent fat content. Lean ground beef needs fat to give it flavor. 
Garlic
Get some fresh garlic cloves and chop them up really fine. 
Parsley
You'll need fresh parsley. I like using flat leaf Italian parsley chopped really small. Fresh herbs are the way to go, but dried parsley will work fine. 
Grated Cheese
You want a good grated cheese for your meatballs recipe. Pecorino Romano or parmesan cheese will work. Just make sure it's a good quality cheese. 
Breadcrumbs
For this recipe I am recommending using bread crumbs because they are quick and easy to use. 
However, if you have the time, I suggest using some 72 hour fermented pizza bianca in your meatballs. Cut the pizza bianca into cubes and soak it in a little bit of milk in a small bowl. This is the best way to add some extra flavor to your meatballs. 
Eggs
You need some fresh eggs that will add as a binder for your meatballs. A good rule of thumb is one egg for every pound of meat.
Seasoning
All you really need is Kosher salt and black pepper. If you really love Italian seasoning, you can use it, but I normally don't. 
Oil
When you fry your meatballs you should use a neutral flavored oil. I like using a good light olive oil. Other oils that you can use are vegetable oil, sunflower oil, peanut oil or canola oil.
Keep in mind that cooking oils have different smoke points that you should consider. The following is a quick guide to what the smoke point of some of the oils are:
Olive oil → 325-375 degrees Fahrenheit;
Vegetable oil → 400-450 degrees Fahrenheit;
Sunflower oil → 440 degrees Fahrenheit;
Peanut Oil → 450 degrees Fahrenheit;
Canola Oil → 400 degrees Fahrenheit;
Keep in mind that the best temperature for frying the meatballs is approximately 325-350 degrees Fahrenheit. So choose your oil accordingly, and use a kitchen thermometer to check its temperature every now and then.
If you want to learn more, here's an interesting article by Healthline about the best cooking oils, and how you should use them based on their smoking point and qualities.

How to Make Your Fried Meatballs 
Get a large bowl and add all of the ingredients. A large mixing bowl is important because it will give you enough room to really work all of the ingredients together.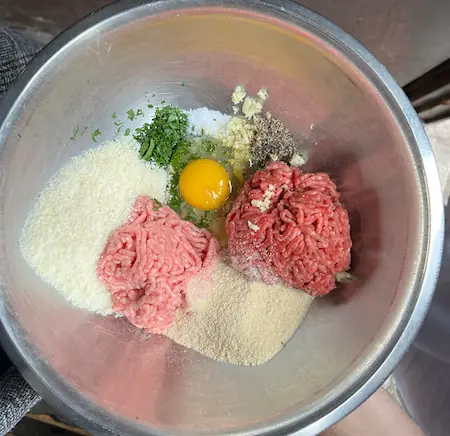 Start mixing everything together so all of the ingredients are evenly distributed throughout the ground meat. For the best results, use your hands to do the mixing.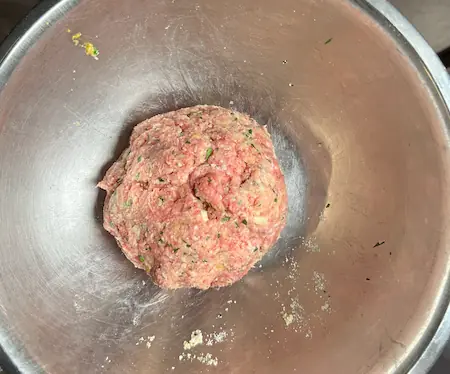 When everything is mixed together it's time to form your meatballs. 
The size of meatballs you make is up to you, but I think the perfect meatballs are the size of a golf ball. When I make meatballs I use a 2 ounce cookie scoop. You will end up with a 2 inch meatball.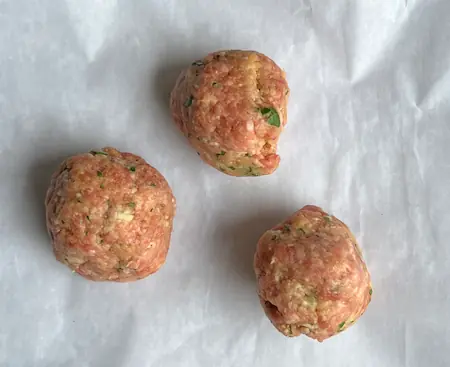 Get a large frying pan and add about a half inch of oil. Turn the stove on medium-high heat and let the oil get hot. As I was saying above, it should reach approximately 325-350 degrees Fahrenheit. 
If you don't have a thermometer, test the oil by sprinkling a few breadcrumbs in the pan. If they start to sizzle, the oil should be ready.
Now take your raw meatballs and roll them in the breadcrumbs. This will create a nice crust when you fry them.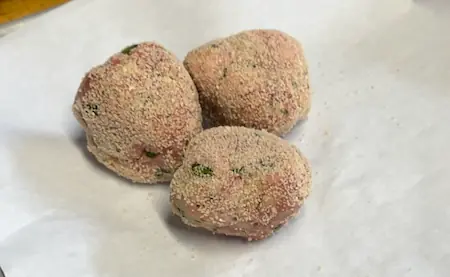 Place the meatballs in the hot oil in a single layer. Make sure you don't crowd the pan. Allow them to fry for 4-5 minutes, turning them once at the halfway point. 
If the oil seems too hot, turn the stove down to medium heat. 
You want the outside of the meatball to have a nice crust.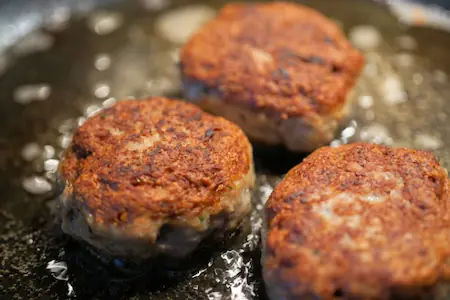 When the meatballs are done, remove them from the hot oil with a slotted spoon or tongs. Place them on a baking sheet or dish that has been lined with a paper towel. This will remove all of the excess oil. 
Check the meatballs with a meat thermometer to make sure the internal temperature is 165 degrees in the middle. 
Let the meatballs rest for 15-20 minutes once they come out of the oven.
Fried Meatballs FAQs
Can I put my fried meatballs in tomato sauce?
Yes. Place your deep fried meatballs in a pot of tomato sauce and let them simmer. They will add a lot of flavor to the sauce. 
Can I freeze the meatballs after they are cooked?
Yes. Leftover meatballs are great to have on hand. If you make a large batch of meatballs you can freeze them. Let your fried meatballs cool and store them in an airtight container or ziplock bags and store in your freezer. When you need them, just pull out the freezer bag and you can make a quick dinner.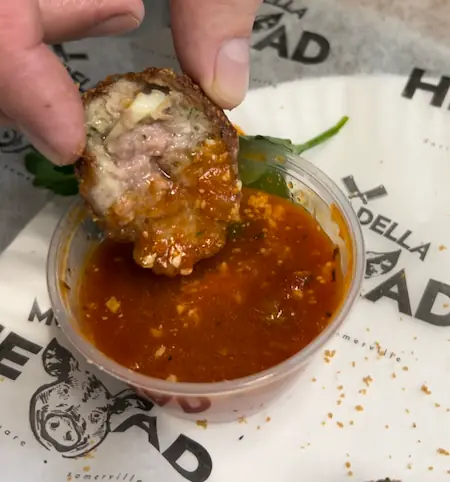 What else can I do with my fried meatballs?
Fried meatballs make a great appetizer at a party. When they are an appetizer I make small balls. Maybe about an ounce per homemade meatball.
Put out a tray of meatballs with toothpicks and some sauces to dip in. Fried meatballs are my favorite finger food because they are still perfect at room temperature. They can sit on the table for a while and still be delicious. 
Can I deep fry meatballs?
Yes. If you have a deep fryer you can use it to cook your meatballs. I actually use the deep fryer in the restaurant to cook meatballs sometimes. Deep fried meatballs come out really crunchy on the outside and juicy in the middle.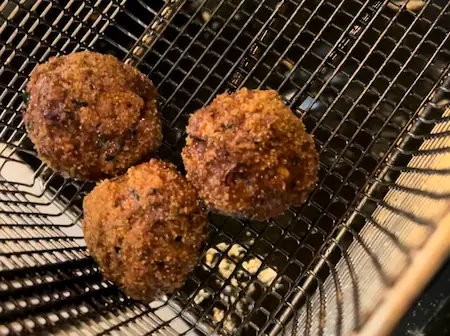 Can I make meatballs with different types of meat?
Yes. This recipe will work with ground turkey and ground chicken. Chicken meatballs and turkey meatballs are a healthy option. Serve your fried chicken meatballs with Buffalo sauce and blue cheese dressing.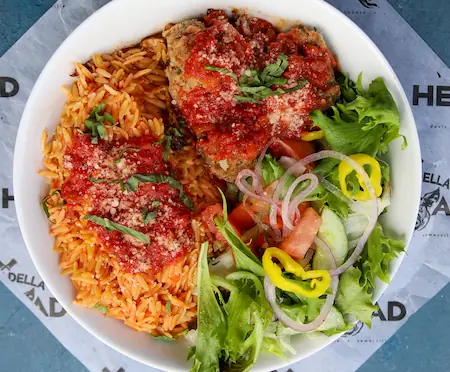 Do I have to serve the meatballs with pasta?
No. You can serve the meatballs as a main course with vegetables on the side. They go great with rice and a nice salad. This is a great healthy option if you are trying to lose weight. 
Making meatball subs is also a great way to use up your meatballs. Get some fresh rolls from the local bakery and let the whole family build their own meatball subs. Make a big pot of marinara sauce and meatballs and let everyone help themselves.
Print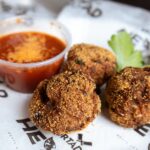 Fried Meatballs
---
Author:

Total Time:

35

Yield:

4

1

x
1 lb ground 80/20 beef
1 lb of ground pork
5 teaspoons finely chopped fresh garlic
2 tablespoon finely chopped parsley
2 teaspoons black pepper
2 eggs
1 cup plain bread crumbs
1 cup grated Romano cheese
2 cups of light olive oil or other neutral-flavored oil (choose one with a smoking point higher than 350°F)
---
Mix all the ingredients thoroughly in a large bowl. I like to use my hands because you can really get everything incorporated nicely. 

Form the meatballs with your hands. I try to get the meatballs about the size of a golf ball. I think that size is perfect for soaking up the sauce and staying nice and moist. 

Add a half inch of oil to a large frying pan on medium-high heat. Bring the oil to about 350 degrees fahrenheit.

Coat the raw meatballs in breadcrumbs.

Fry the meatballs in the hot oil for 4-5 minutes, turning once halfway through.

Place cooked meatballs on a paper towel lined plate to soak up the excess oil.

Enjoy!
Prep Time:

10

Resting time:

20

Cook Time:

5

Category:

Meatballs

Method:

Fried