Sometimes you don't need much to make your food awesome. This Italian seasoning recipe can be made in just 5 minutes, and will help you spice up countless meals.
I know, you can find Italian seasoning at a cheap price in nearly any store – why should you make it at home?
Well, first of all, loving DIY and homemade foods should be enough of a reason.
Secondly, homemade seasonings usually taste better than store bought ones. This is especially true if you grow your own herbs and spices, or know where to find quality ones. 😉
Finally, if you like custom foods, you can adjust the ingredients to your personal taste, creating a perfect mix. And speaking of adjustments, this is actually a 2 in 1 recipe, because I have a spicy variation that I want to share with you today.
Italian seasoning… an American blend
If you never heard of Italian seasoning, the first thing to know is that it's a pre-made blend of herbs and spices used in the Mediterranean diet. The second thing, is that it's actually an American product.
As someone who's lived in Italy for most of his life, I find it funny every time I think of it.
Don't get me wrong, people in Italy use those same spices to cook. It's just that we rarely buy pre-made blends, and we don't have a name for most of them.
It's much more common to have many separated herbs and to mix them to taste when we cook. Some people make their own blends at home, but they use generic names. Things like condimento ("seasoning") or mix di spezie ("mix of spices")… that is, if they use a name at all.
Long story short, it's fair to say that Italian seasoning as it is known in the US is just a product developed by brands to synthesize the way we use spices in Italy. There's no traditional recipe, therefore everyone can do it however they prefer. Which leads us to the next question.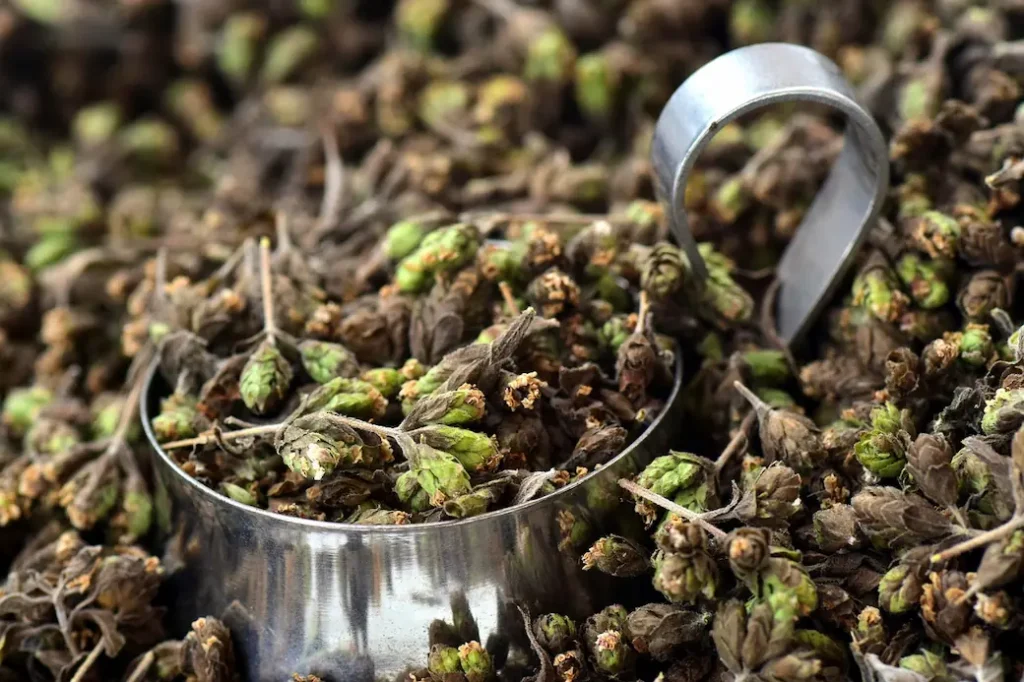 Which spices are used in Italian seasoning?
Each brand of Italian seasoning has its own blend of dried herbs and spices. Most contain basil, oregano, rosemary, and thyme. Others include garlic powder, sage, coriander and marjoram.
For example, McCormick Perfect Pinch Italian Seasoning contains marjoram, basil, rosemary, thyme, oregano, savory, and sage.
Everyone does it their own way, with no precise guidelines or ratios. Now let me tell you how I like it…
How to make Italian seasoning at home
This recipe for Italian seasoning is really basic.
It's basically the same mix many people arrange on the go here in Italy, only pre-blended.
It doesn't have basil or marjoram, as I prefer to use them fresh whenever I can. Drying or cooking them kills most of their flavor, so I don't see the point of doing that.
On the other hand, it has some spicy add-ons that I personally love. You can probably guess what they are, but stick with me for a minute. 😉
Ingredients
For a basic Italian seasoning, you could use a mix of:
1 tbsp dried oregano
½ tbsp dried chives
½ tbsp  dried rosemary
1 tbsp dried sage
1 tbsp dried thyme
The ratio depends on your personal taste. You can add other herbs and change the amount of each as you like.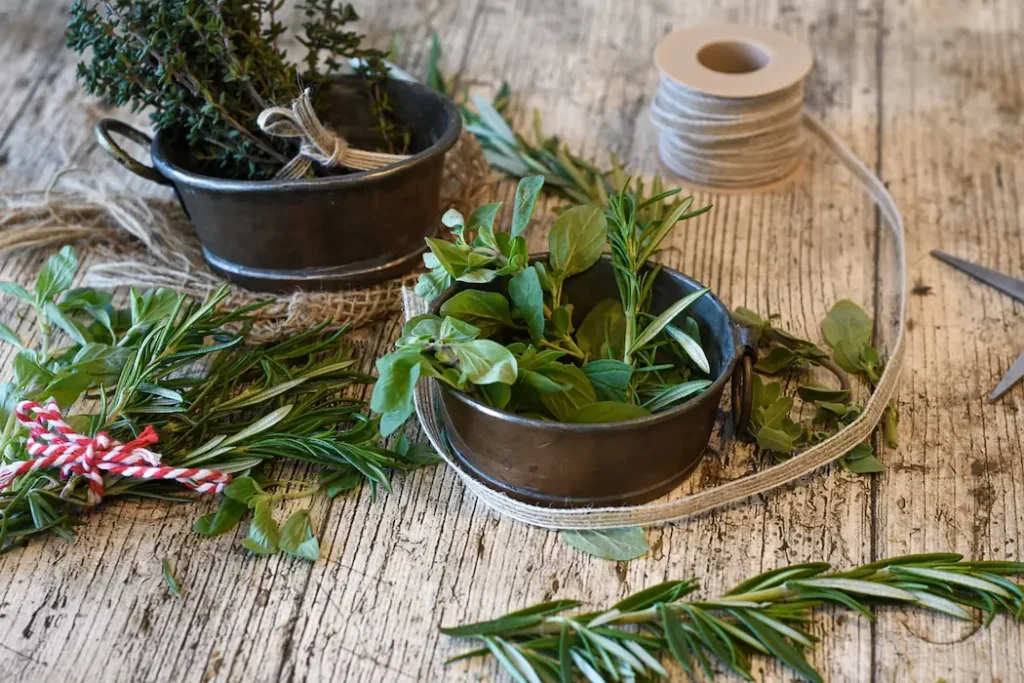 It's all pretty standard, but at the beginning of this post I said that this would be a recipe for those who like spicy food. So, here are the optional add-ons I was talking about:
The salt will help preserving the herbs and spices better. The chili flakes will add some color and heat… and the seeds will make your mouth mildly warm with their high amount of capsaicin.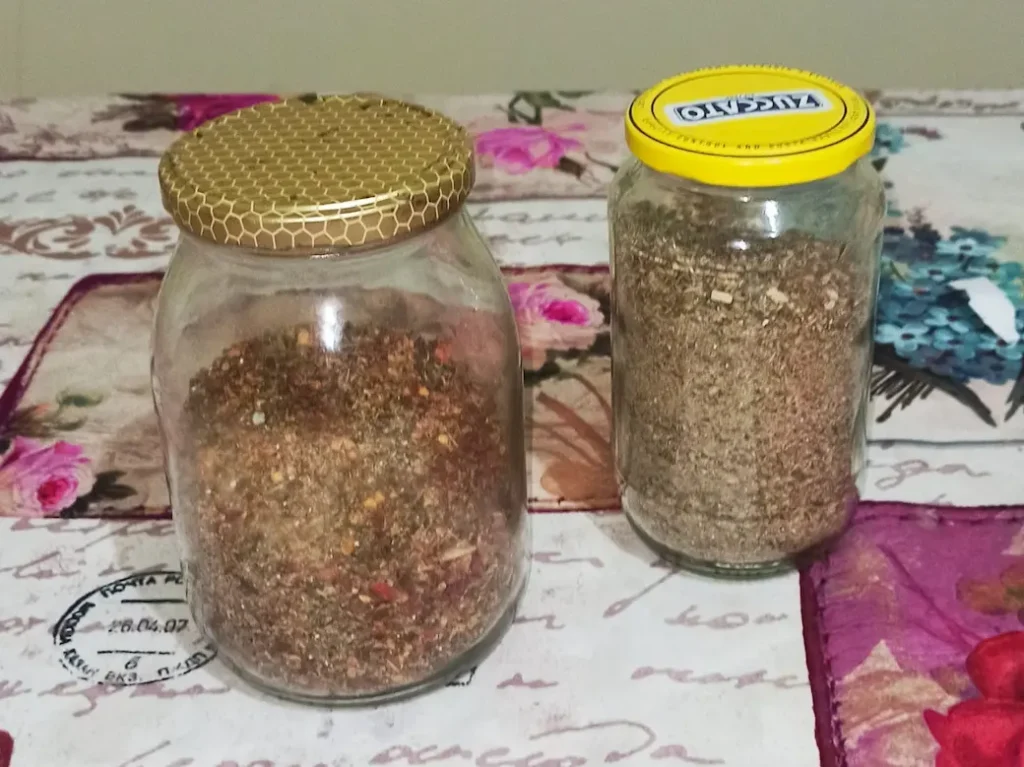 Drying herbs at home
If you grow your own herbs and don't have a dehydrator, the easiest way to dry them is to keep them in an oven at 175° F for at least one hour. Ideally, they should become so crispy that you can break them with your fingers.
It's important to dry them well, because if you don't do it enough they could develop molds when you store them, but if you heat them too much you'll spoil their flavor. Here's an interesting read about how to dry your herbs.
Chili pepper seeds and flakes, on the other hand, need about 6 to 8 hours to be properly dried. And if they're not well dehydrated, they could become home to  dangerous bacteria (+ other molds).
So, if you've never done it before, make sure you check some guides on how to make chili pepper flakes at home – and don't be lazy, read more than just the one in the link 😉 If you're not sure you can do them safely, consider using store bought ones just this time. I won't judge you 😀

Method
The "method" to make Italian seasoning at home simply consists of mixing the ingredients together and store them in a jar away from the light.
Easy, right? It's really all about what herbs and spices you use – and how well you dry them if you picked fresh ones.
I use this mix to season many white pasta dishes and baked or boiled potatoes. You can also use it to make a spicy tuna salad, or to flavor up steak and ground meat.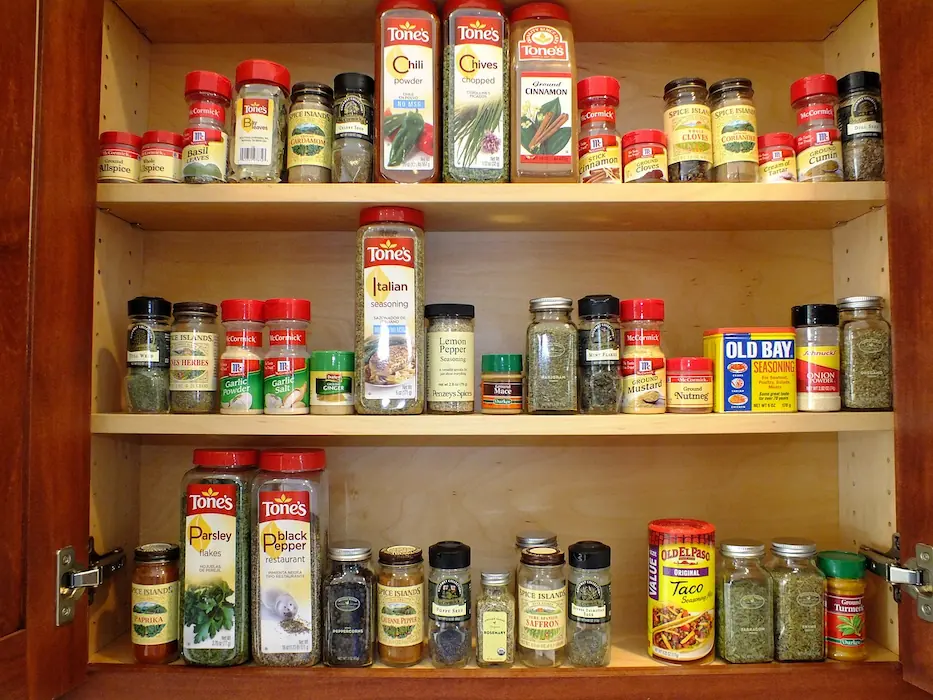 How to store homemade Italian seasoning
As I was saying, the best way to store your homemade Italian seasoning is inside a sterilized jar – possibly one where you can easily spot eventual molds. Seal it with a lid and keep it in a dry, dark place. Any kitchen cabinet will do.
Shelf life: Well dried herbs and spices are best used in about 6 months. After that, they start losing their taste, but you can keep using them for longer. For instance, the open jars you saw above are almost 1 year old.
Just make sure they're well preserved.
Have fun finding your favorite mix of herbs for Italian seasoning, and let me know what you come up with!
Print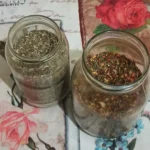 Italian seasoning with chili pepper flakes
---
Author:

Total Time:

5 minutes

Yield:

6

and 1/2 tablespoons

1

x
Description
Italian Seasoning is nothing but a simple pre-made blend of herbs and spices used in the Mediterranean diet. Here's how to make your own at home!
---
1 tbsp dried oregano

½ tbsp dried chives

½ tbsp  dried rosemary

1 tbsp dried sage

1 tbsp dried thyme

1 tbsp fine salt

1 tsp dried Calabrian chili peppers seeds

1 tbsp dried Calabrian chili pepper flakes
---
1) Mix all the herbs and spices together;
2) store in a sterilized jar away from light and humidity, and use to taste.
You can adjust the amount of each ingredient except salt depending on your personal taste.
Notes
You can add your favorite herbs and spices and adjust their ratio, except for salt. This recipe card automatically multiplies the amount of ingredients x2 or x3, but you don't actually need to add more than a tablespoon of salt even if you use more spices.
If you're using fresh herbs, consider they'll need at least 1 hour to be properly dried (6 hours for chili peppers).
Keywords: Italian seasoning, mediterranean cuisine, mediterranean diet, chili pepper flakes.