I have a recipe that is so good and so easy, it doesn't even make sense. It's called chicken rollatini. Or if you want to call it by its Italian name, it's Involtini di Pollo.
Whatever you decide to call it, it's an awesome stuffed chicken dish.
I'm going to show you how to make a stuffed chicken breast that is going to have people thinking you really know your way around the kitchen. The beauty of this recipe is that anyone can make it. 
Whether you're a seasoned chef or it's your first time throwing a dinner party… this is a recipe you should keep in your back pocket.
This recipe has everything you want in a chicken dish. It has a golden brown crust on the outside, it's filled with gooey cheese and it's covered in a delicious sauce.
Let's start cooking.

What You Need to Make Chicken Stuffed With Mozzarella and Parma Ham
The ingredients are really simple for this dish. You'll find everything you need at the grocery store.
Olive Oil. Get some good olive oil. It doesn't have to be a really expensive oil, but it should be good enough to use on a salad.
Bread Crumbs. I like getting unseasoned bread crumbs and adding my own seasoning. If you prefer Italian style breadcrumbs that will also work fine.
Chicken. This recipe needs boneless chicken breast. I usually buy whole breasts and butterfly them myself. You can get chicken cutlets that have already been trimmed if you prefer. 
Parma Ham. You need some nice thin slices of Parma ham. Parma ham is also called prosciutto. You can get it sliced at the deli counter or buy it pre-sliced in a vacuum sealed package in the supermarket. 
Mozzarella. You need cheese for this stuffed chicken. I like using a low moisture mozzarella cheese because it has a good flavor and it melts nicely.
Roasted Red Peppers. You can buy good roasted red peppers in the jar or make them yourself.
Wine. This recipe needs some white wine. Something light and crisp will work fine. You don't need anything expensive when you cook with it. I usually keep a bottle of chablis or pinot grigio in the house for cooking. 
Chicken Broth. You can make your own chicken broth or buy it in a box. Either way will work.
Butter. I always like to add a little bit of butter to a pan sauce to make it smooth and silky. Use unsalted butter so you have more control over the seasoning. 
Seasoning. As always, you'll need some salt and pepper. I suggest Kosher salt and fresh cracked black pepper. In addition to the salt and pepper you should get some fresh sage leaves and dried red chili peppers. I used Calabrian chili peppers for this recipe.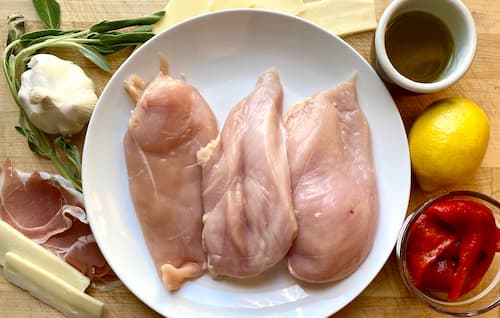 How To Make Your Chicken Stuffed with Mozzarella and Prosciutto
The first thing you need to do is preheat the oven to 375 degrees.
Now, if you bought big, fat chicken breasts, the first thing you need to do is make some thin cutlets. Take a sharp knife, butterfly the chicken breasts, and pound them out nice and thin.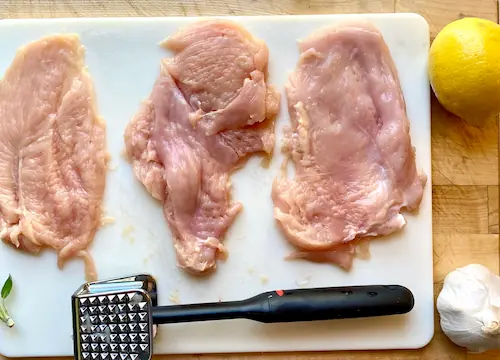 When you're done doing this, make sure you wash your cutting board.
Once you have some thin cutlets, you want to lay them down flat on a cutting board and
season them with salt and pepper.
On top of each cutlet, place a slice of prosciutto, a slice of mozzarella cheese and a piece of roasted red pepper.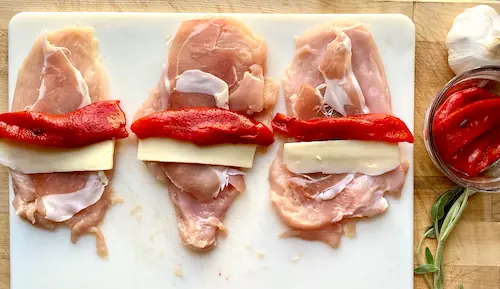 Now roll up the chicken cutlet nice and tight. Stick a toothpick in each end of the rolled up chicken to keep it closed. Set the stuffed chicken aside on a plate or baking sheet. 
After you're done stuffing the first one, do the same thing to the second chicken breast, and so on and so forth until they are all stuffed.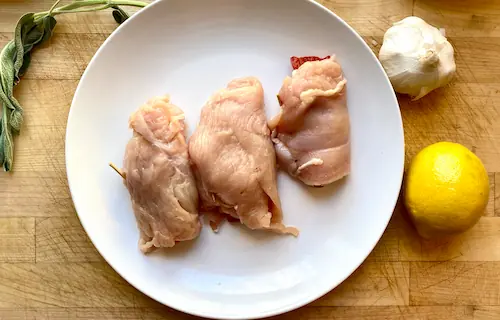 Now set up a simple breading station. Coat the stuffed chicken in flour, then an egg wash, then bread crumbs.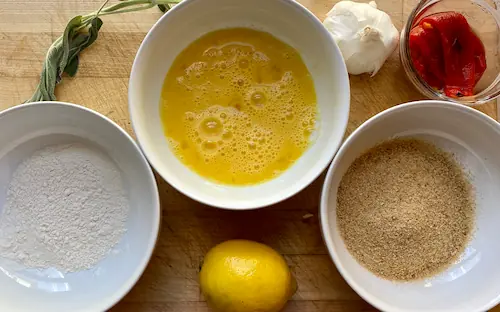 Take a large oven-safe saute pan and add a little oil. Place it on the stove at medium heat. 
When the oil is hot, add the rolled chicken breasts to the pan. Sear the chicken all over. You will probably need to flip them a couple of times. They should be golden brown all over.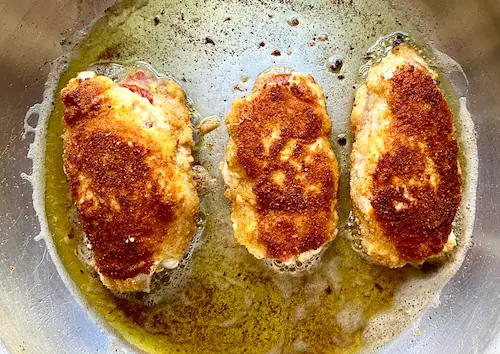 Add some minced garlic, a couple sage leaves, a sprinkle of salt, pepper and some chili pepper to the pan.
When the garlic starts to turn golden brown, add the wine and chicken broth to the pan and turn up the heat.
When the wine starts to boil, turn it down to a slow simmer and put the butter in the pan.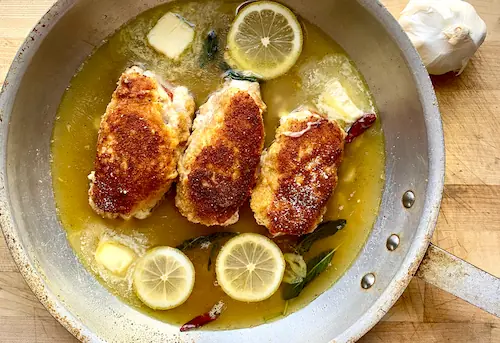 At this point you are starting to make a pan sauce. After a few minutes, the butter will melt and the wine will start to reduce. 
Once the wine is reduced by about half, put the pan in the over for 20-25 minutes.
When the sauce is thick enough to coat the back of a spoon it should be done.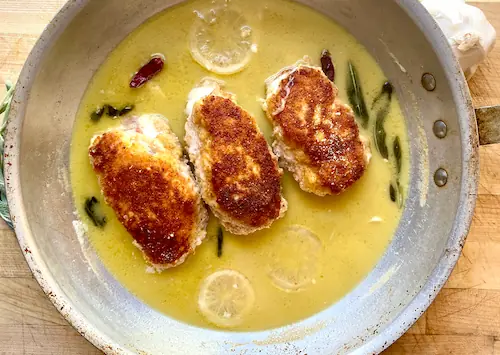 Remove the pan from the oven and let it rest for about 10 minutes. When the chicken is cooled down enough to touch, remove the tooth picks.
Slice the rolled and stuffed chicken into 1 inch round pieces. Place the sliced of stuffed chicken breasts on a plate and cover them with the wine sauce in the pan.
Serve with your favorite side dish and enjoy!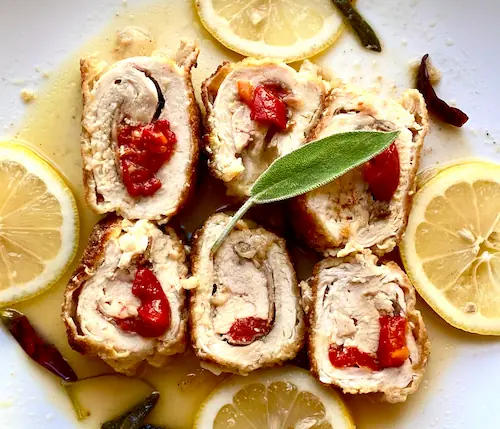 FAQs About Chicken Stuffed with Mozzarella and Prosciutto
Q: What herbs can I use besides sage?
If you don't like sage or can't find sage at the store, use fresh basil or parsley.
Q: What other cheese works well with this recipe?
You can stuff your chicken with Fontina, provolone or the Italian cream cheese called mascarpone.
Q: What else can I stuff the chicken breast with besides cheese and prosciutto?
You can also add spinach, sun dried tomatoes or artichoke hearts to your stuffed chicken breast.
What Should I Serve with these Chicken Rollatini?
Appetizer: A great appetizer is bruschetta made with cherry tomatoes, fresh basil and olive oil. Rub the bread with a garlic clove right after you toast it for extra flavor.
Wine: Pour yourself a glass of Sicilian Etna Bianca. I've been drinking it recently and it is a great wine with chicken.
Side Dish: If you want to keep it light, roast some zucchini, onions and eggplant in the oven with some fresh tomatoes. Toss the veggies in olive oil, salt and pepper before you put them in the oven.