Are you tired on thinking what to serve with those popular Italian dishes that you know?
Let me start with this story.
My Italian mother swears by one concept, and has for her almost 60 years of life:
A meal is only as good as its sides.
And to be honest, I agree 100%.
This woman will cook an entire prime rib, and finish the meal declaring her sauteed broccoli was her favorite part of the dish.
She honestly has a point.
While the meat or the pasta (in American culture) is oftentimes the show stopper, the highlight of the main course, the drinks, vegetables, and starches found on the side have the potential to absolutely elevate any dish at all.
In fact, on the contrary, if you paired a dish with a side that didn't compliment the main flavors at all, it could subsequently ruin any dish.
Take capers, for example.
They're salty, delicious, and taste well with any more savory dish, such as chicken piccata, chicken marbella, etc.
But if you put them in an Amatriciana sauce, you wouldn't catch me anywhere near that dish.
It all seems like common sense, except sometimes, you can become tired of pairing the same exact sides with your favorite dishes, each and every time.
Lucky for you, we've put together this master list of popular Italian dishes, and have listed out all of our favorite side dishes to pair with them. Whether it's a veggie, soup, starch, or salad, you're guaranteed to find some unique, new and cool options for these dishes.
If you try any of these, let us know in the comments section below!

23 Great Side Dishes To Serve With Chicken Marsala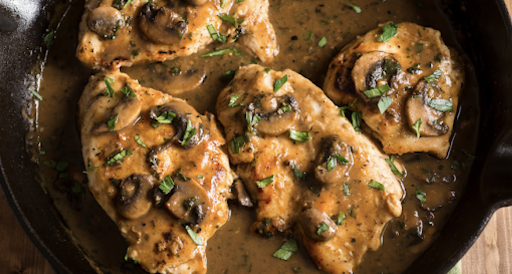 Chicken Marsala is pretty much a staple on every Italian-American restaurant menu. There's a reason for that—It's because people love Chicken Marsala.
In this article we'll find out what to serve with Chicken Marsala. This classic dish is usually made with boneless chicken cutlets, mushrooms, Marsala wine and sometimes a little chicken broth or chicken stock.
Some popular side dishes for Chicken Marsala include mashed potatoes, sauteed broccoli, zucchini noodles, caprese salad, and more.
What To Serve With Chicken Piccata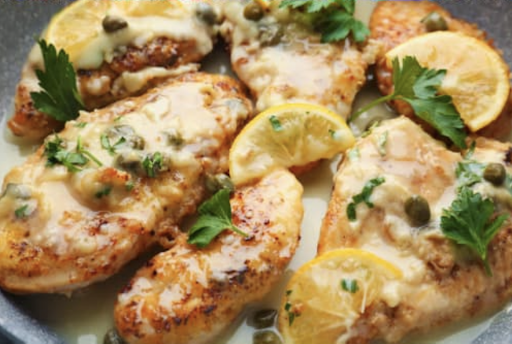 Piccata is a classic dish from the heart of the Milanese region of Italy. Traditionally, Piccata is made with veal. But once you head to the United States, people are more apt to make this with chicken.
Once the chicken is prepared, the sauce for the piccata is then made with white wine or chicken stock, the contents of the pan used to fry the chicken, and lemon juice. Here you can add garlic, green onions, fresh parsley, and capers. Butter tends to get stirred in at the end.
The result is a great dish that's perfect for any occasion, including those busy weeknight dinners where you just need to get food on the table.
Some popular side dishes include arugula with feta cheese and balsamic vinegar, angel hair, oven roasted artichokes, and many more.
10 Easy Dishes to Serve With Risotto
Risotto is considered a main dish in Italy, and is usually served with meat or light veggies.
It is very common to pair risotto with a couple of lemon escalopes, or with bresaola and arugula, but you can also use it as a side dish for roasted potatoes, or larger meats such as chicken or steak.
This all, of course, depends on which risotto recipe you use. For example, pumpkin or mushroom risotto goes well with dairy food like caprese salads or ricotta meatballs.
On the other hand, if you want to make something like shrimp risotto, it would be best served with a light salad, green beans, or roasted vegetables.
Read about all of our favorite side dishes for risotto above!
27 Best Dishes To Serve With Eggplant Parmesan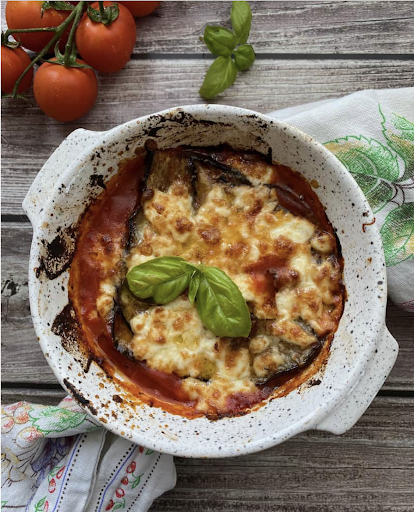 Eggplant parmesan (aka Eggplant Parmigiana) is a 100% truly authentic Italian dish.
This one is truly special because it can serve as both a main dish and a side course.
Have a big beautiful roast you've been dying to cook up? Nothing better to serve it with than a big ole dish of saucy eggplant!
Wanting nothing more than a dish of eggplant parm, straight to your face?
We have the solution for that, too.
Try serving this with roasted broccoli rabe, our Sauteed Dandelion Greens Recipe, arugula salad, and many other options.
Italian Meatballs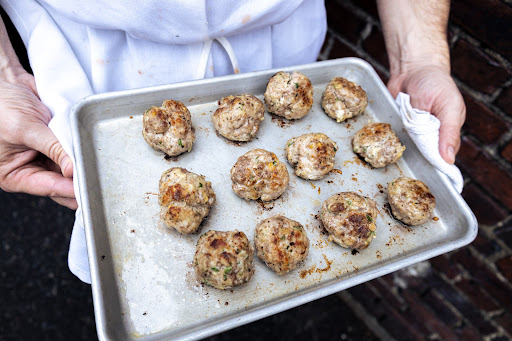 Italian meatballs are so incredibly versatile.
Cut them up and put them in your lasagna, or leave them whole and eat them with your favorite baked ziti recipe.
You can also eat them as an entree, and serve it with pasta, sauteed spinach, escarole, or even zucchini noodles.
The sky's the limit when it comes to Italian meatballs!
The Best 18 Ways To Serve Ratatouille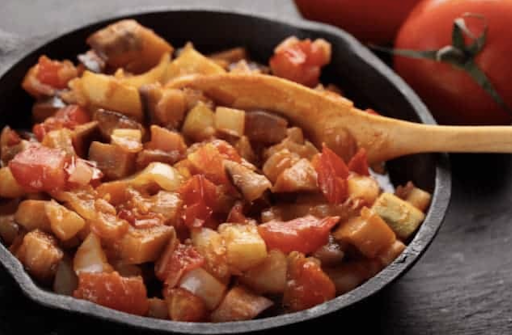 When your vegetable garden is bursting at the seams, there's only one proper thing to do—you make some delicious ratatouille.
However, ratatouille is really a pile of roasted vegetables, so you're going to need some things to pair along with it.
I would try adding it to pasta, using it with crostinis, using it on an Italian sandwich, and many many other options.
There's really so much you can do with it!
37 Appetizers And Sides To Serve With Pizza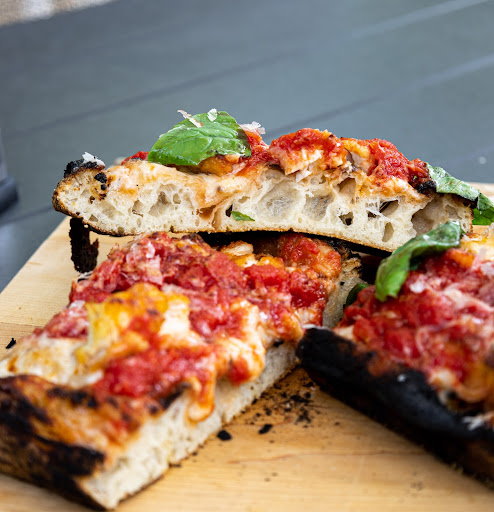 If you're human, you love pizza.
I don't make the rules.
Pizza parties are the best, but of course, you need something else to serve your guests too.
So next time you're having people over for a 'za, skip the normal garden salad and opt for an orzo salad, spinach and artichoke dip, or a bean salad instead.
The possibilities are endless! 
Best Wines To Serve With Chicken Parm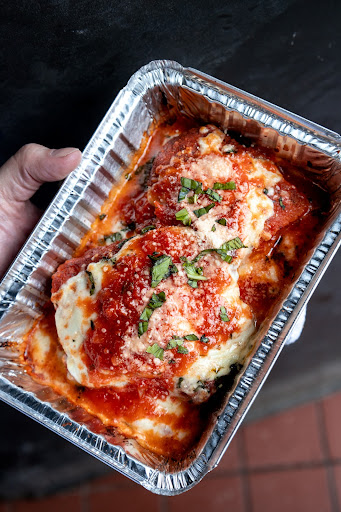 Okay, so chicken parmesan isn't technically Italian.
Who cares?!
It's still a good meal that's deserving of some delicious wine on the side.
So next time you're cooking up these saucy cutlets, try serving it with a nice Nero d'Avola, Barbera, Malbec, Chianti Classico, or many more listed in the article!
Simple Catering Side Dishes For Your Next Party
As you might already know, we do a lot of catering here at Mortadella Head.
Part of the fun of catering is coming up with new and exciting side dishes for all of our orders.
We like to keep 'em bright, fresh, and full of flavor.
Some of our favorite side dishes are a bean salad, potato salad, haricot vert, and more.
Check the article to see what we're doing!
Easy Italian Pasta Side Dishes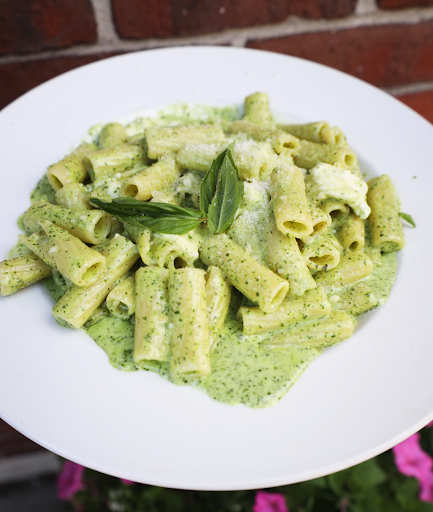 Picture this:
You're hosting a dinner party for your friends, and you have food in the oven. As the guests pile in, you get a pit in your stomach—is there enough food? You thought there was, but now you're second guessing yourself.
Lucky for you, these easy pasta side dishes are here to help.
With simple dishes like pasta puttanesca, orzo salad, pasta alla norma, linguini and clams, and more, a professional looking dinner will be on the table in no time. 
15 Best Side Dishes For Lasagna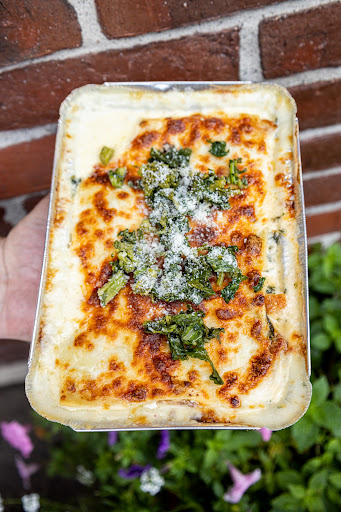 If you've been following us for awhile, you know:
Lasagna in all shapes and sizes, all forms and flavors.
But what we don't talk about enough, and we probably should, are the things that you should be serving with your lasagna.
But lucky for you, our blogger Michele threw together this list for all of your needs and wants in terms of lasagna side dishes.
From dishes like garlic bread with pesto, sauteed brussels sprouts, stuffed tomatoes, and many more, you'll never have to wonder what to serve with this iconic dish ever again.
Check out these other articles:
Planning a banquet for your kids' sport, or just want to get together with your friends for a good meal? Lucky for you, we have a guide to the perfect Banquet Dinner when feeding a crowd.