It doesn't get more Italian than this! This Sicilian staple is bursting with flavor from the eggplant and marinara sauce. All the best flavors of Italy, with record cooking time.
One thing to know about Italians: we love our eggplant. Eggplant parmesan, fried eggplant; you name it, we love it.
"Melanzane," as the motherland calls it, is a staple of southern Italian cooking. They're available year round, so they can constantly be found fresh at the local market.
That's right, this dish is even good in the heart of New Englands atrocious winters.
We're cooking Pasta Alla Norma, a traditional Sicilian pasta dish that features roasted eggplant, ricotta salata cheese, and basil. I promise you, you're going to love it.
My favorite part of this dish is the golden eggplant. The oils melt into the marinara sauce thus creating a beautiful, silky, savory flavor.
This dish is also extremely easy to make, and can be ready in just fifteen minutes.
Let Mortadella Head show you how it's done.
Here's What You Need: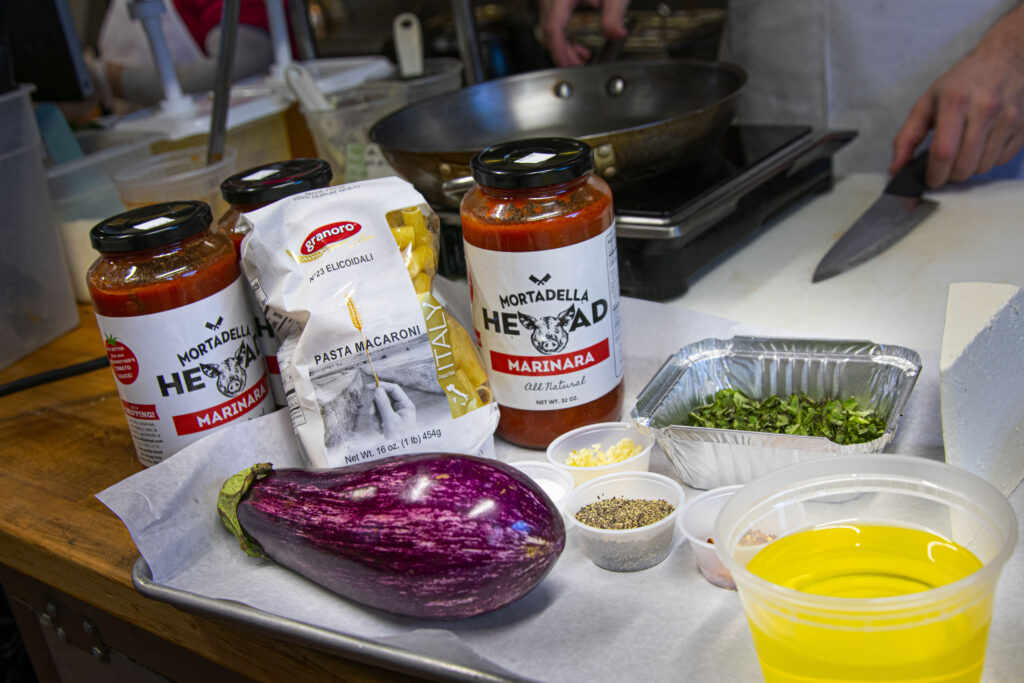 Eggplant: The firmer the better!
Rigatoni: Penne would also work wonderfully in this.
Marinara Sauce: Use a jar of your favorite marinara sauce, or make your own if you'd like.
Garlic: Fresh, minced, and the cardinal Mortadella Head rule—never jarred!
Salt & Pepper: We don't make bland food over here.
Calabrian Chilli Peppers: For a tiny kick.
Olive Oil: ½ cup to get that eggplant nice and crispy.
Basil: Roll up a few basil leaves into cylinders and slice them (we call this "chiffonade").
Let's put these to good use!
*Don't feel like reading? We get it! Watch our YouTube video on how to make Pasta Alla Norma below:
Directions:
Boil a pot of salted pasta water. At the same time, heat up your olive oil on medium high heat.
When oil is heating, begin to prepare your eggplant. Slice it in half, and then into ½ inch slices to cube.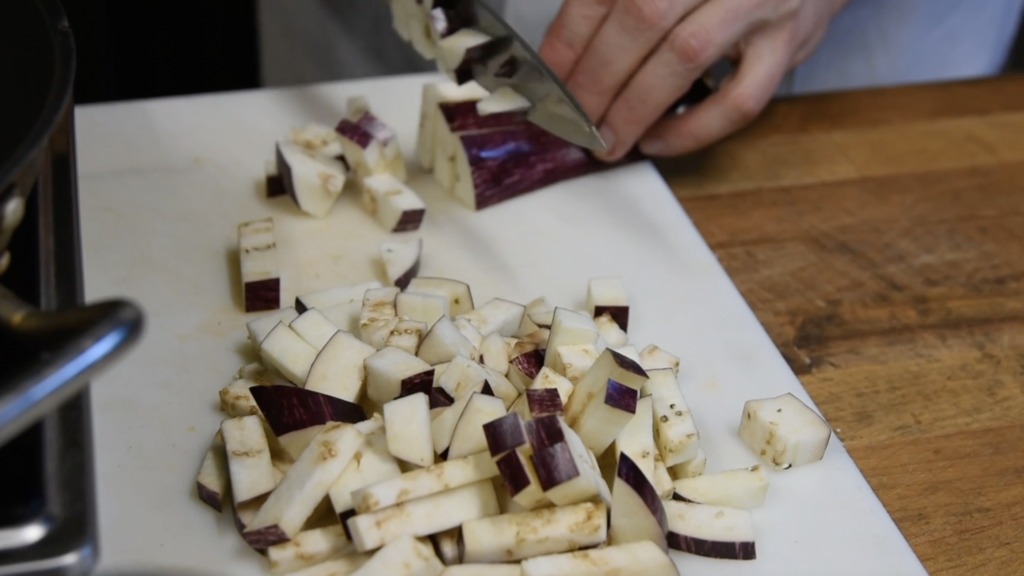 Take tongs and gently place your eggplant into the oil. Make sure you're gentle—you really don't want to burn yourself with the oil. Season with salt and pepper, and let fry until golden brown. It should look something like this: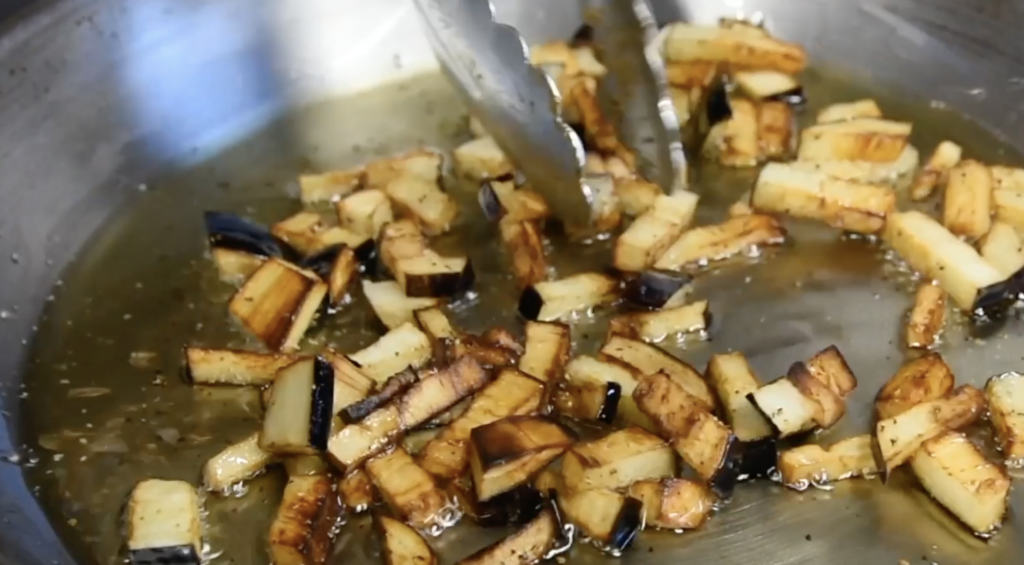 When your eggplant is done, transfer to a paper towel lined plate to soak up any excess oil.
Remove most of your olive oil, but keep a little bit in the pan to finish the dish. Begin to toast diced garlic and calabrian chilli peppers. Season with salt and pepper. Cook 'em' til you smell 'em!
Once garlic is cooked, add your eggplant back to the pan. Add about two scoops of marinara, and let simmer until heated through. It should smell delicious at this point.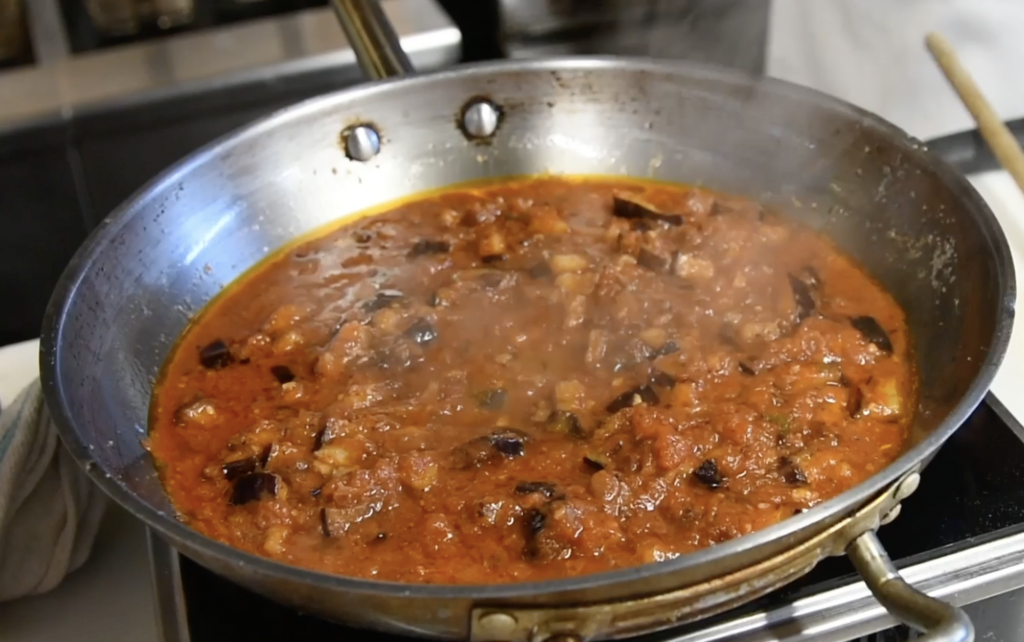 By this time, your rigatoni should be cooked. Once drained, add it into the pan, and coat the pasta by tossing it around.
Hit it with some fresh basil and Sicilian ricotta salata, and continue to toss and coat the pasta. Plate this and serve with extra basil and ricotta salata.
We told you it would be easy!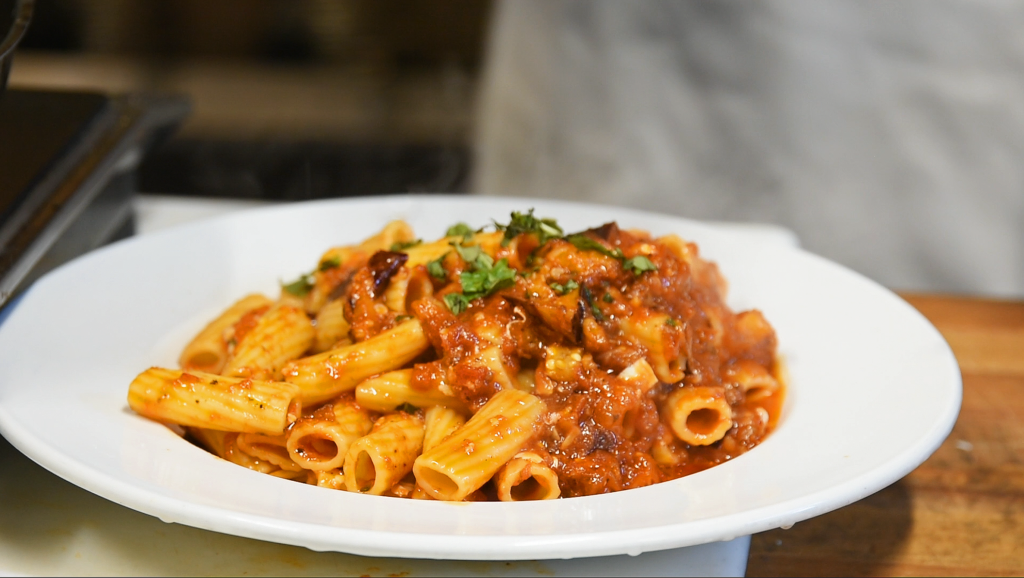 FAQS:
Q: I don't have ricotta salata. What else could I use?
A: Don't worry! Pecorino Romano or grated parmesan would be wonderful.
Q: What other kinds of pasta could I serve with this?
A: Penne is an excellent option.
Q: I don't have a lot of time to cook, how long does this take?
A: 20 minutes tops. Seriously, the hardest part is sautéing the eggplant!

What To Serve With Pasta Alla Norma:
Drink: In terms of wine, you really can't go wrong with pairing this dish just as the Sicilians would—with a nice Nero d'Avola red wine.
Appetizer: Some homemade bruschetta would be perfect with this.
Print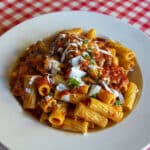 Authentic Pasta Alla Norma
---
Author:

Total Time:

20 minutes

Yield:

1

-

2

servings

1

x

Diet:

Vegetarian
Description
This dish is straight out of Sicily and perfect for a quick weeknight meal. All the perfections of Italian cooking, without the hassle.
---
1/2 ripe eggplant, diced
1/2 lb.- 1 lb. rigatoni
Jarred marinara sauce
1 tbsp. fresh minced garlic
Salt & pepper to taste
1 tsp dried Calabrian chili flakes
1/2 Cup olive oil
Fresh basil to taste
2 Tablespoons Ricotta Salata
---
Bring a pot of salted water to a boil.

In a saute pan, heat up the olive oil on medium heat.

Dice your eggplant into ½ inch cubes.

When your oil is hot enough, add eggplant, being sure not to overcrowd the pan.  You want to make sure each side of the eggplant turns golden brown. Do it in a couple batches if necessary. 

Season eggplant with salt and pepper.

Once the eggplant gets golden brown, transfer to a paper towel lined dish to soak off any excess oil.

Get rid of most of your oil, leaving a little bit at the bottom.

Add minced garlic and calabrian chilli peppers to the saute pan. Season with salt & pepper and allow the garlic to toast until fragrant.

Add your eggplant back to the sautee pan.

Add 2 cups of your marinara sauce to the pan with the sauteed eggplant, and let it simmer

When rigatoni is cooked to al dente, add it to the saute pan with the eggplant and marinara sauce. 

Coat the pasta with sauce by tossing in the pan.

Add fresh basil and some grated ricotta salata to the pan and toss with pasta.

Plate your pasta, and serve with extra basil and more ricotta salata on top.

Enjoy!
Prep Time:

5 minutes

Cook Time:

15 minutes

Cuisine:

Italian
Keywords: Eggplant Pasta Sicily Authentic Alla Norma Rigatoni Marinara