In this article we'll find out what to serve with Chicken Marsala. This classic dish is usually made with boneless chicken cutlets, mushrooms, Marsala wine and sometimes a little chicken broth or chicken stock.
Chicken Marsala is pretty much a staple on every Italian-American restaurant menu.  There's a reason for that.  It's because people love Chicken Marsala. 
If you do it right you wind up with a beautiful sauce that is sweet, savory and slightly syrupy.  The key is to let the Marsala wine reduce until the alcohol cooks off and the sugars in the wine come out in full force.
What made Chicken Marsala famous is the wine used to create that flavorful sauce everyone loves.  It's a fortified wine that comes from a town in the westernmost part of Sicily near Trapani.  To get there you fly into Palermo.
Marsala wine gets its name from the town where it originates from.  The town of Marsala has been making wine for a long time, but it was around 1773 when they started adding grape must and distilled spirits to it.  
This fortification gives Marsala wine its distinct taste that makes it so interesting.  It's also one of the reasons why cooking with it creates some really amazing dishes.
Marsala wine has a flavor that is described as fruity and raisin-like.  There is sweet Marsala wine and dry Marsala wine.  
For chicken Marsala, I suggest using a sweet to medium-sweet Marsala wine.  This will create a savory sauce that has just the right amount of the sweet taste you want.  
If you need a good recipe to make this classic Italian dish, keep reading.  I'll put it at the bottom of this article.   
You'll have an amazing main course to go with these really amazing side dishes.
The following is a list of the best side dishes to serve the next time you make your own chicken Marsala at home.
Broccoli Rabe
Sautee your broccoli rabe with garlic, olive oil, salt and pepper.  Finish it off with some grated parmesan cheese and a squeeze of fresh lemon.
Pepperonata
I think the slow cooked peppers really compliment the sweet and earthy flavors of the Marsala reduction sauce and tender chicken.
Sauteed Green Beans
This is an easy recipe on how to make green beans with pancetta and tomatoes.  You can use fresh green beans or frozen green beans.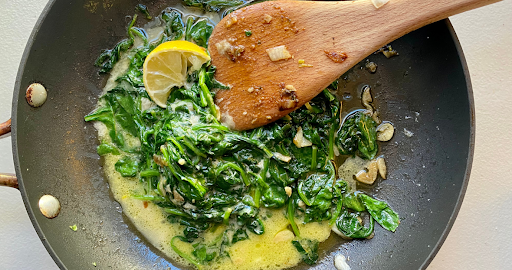 Sauteed Spinach
Italian style sauteed spinach with olive oil, garlic grated parmesan cheese is a perfect side dish with chicken Marsala.  It's quick and easy.  
Roasted Carrots
Julienne some carrots and roast them with thinly sliced red onion and honey.  It's so good with chicken Marsala.
Pasta with Vodka Sauce
This pink and creamy sauce made with penne or rigatoni is a fun side dish to serve with your chicken Marsala.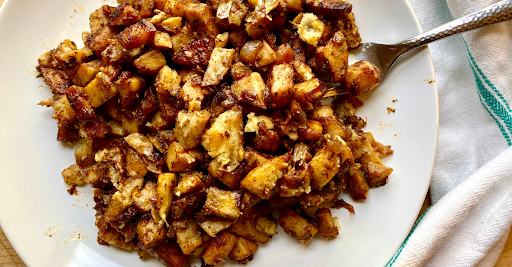 Sweet Potatoes
Saute some sweet potatoes with garlic and onions and serve it in the plate next to your chicken Marsala.  This is a really delicious and healthy side dish.
Mashed Potatoes
If you make your Marsala sauce the right way, it will be the perfect consistency to pour over your mashed potatoes like gravy.
Sauteed Brussels Sprouts
Brussels sprouts are all the rave these days.  They are even better if you give them a quick saute with onions, garlic and bacon.  Finish them off in a hot oven to make them crispy.
Risotto
The key to a creamy risotto is patience.  If you slowly stir and add your broth a little at a time you'll have a perfect side dish for your chicken Marsala.
Fava Beans
Saute some fava beans with onions, pancetta and a little bit of tomato.
White Beans
White beans really soak up the flavor of whatever you cook it with.  So cook your beans with garlic, olive oil and rosemary for a really delicious addition to your meal.
Sauteed Mushrooms
Sauteed mushrooms just go naturally with chicken Marsala.  Cook them in with the Marsala sauce and they will soak up the flavors like little sponges.  There are so many ways to use sauteed mushrooms.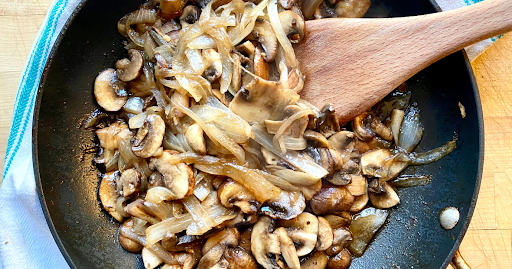 Sauteed Peppers and Onions
This is so easy and so delicious.  Use red and yellow bell peppers with Spanish onions and let them cook low and slow to develop the sweet caramelization.  This is one of the best side dishes for so many meals.  Cook the peppers and onions to bring out the sweetness.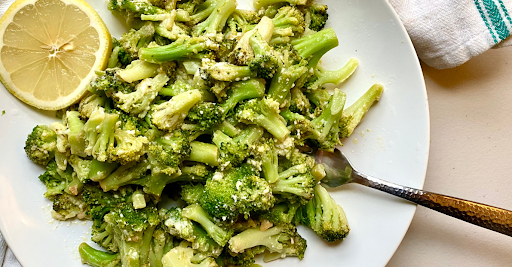 Sauteed Broccoli
A simple saute with garlic, olive and parmesan cheese is really good.  Add a squeeze of lemon for a touch of brightness.  You can saute your broccoli in advance and it will be fine when it's time to serve.
Garlic Bread
Lots of garlic, butter and cheese are the key ingredients to great garlic bread.  Make a batch and use it to mop up the sweet and savory Marsala sauce in the dish.
Caprese Salad
This is a simple dish that doesn't require cooking at all.  All you need are tomatoes, fresh mozzarella, basil and a good olive oil to drizzle on top.  Sprinkle some sea salt and fresh cracked black peppers and you're done. 
Rice
Rice is one of the most popular Chicken marsala sides.  You can choose from white rice or brown rice.  You can make plain rice or add some diced onion and bell pepper for extra flavor. The rice will soak up the delicious Marsala wine sauce. 
Zucchini Noodles
If you want to keep it healthy, zucchini noodles are the perfect vegetable side dish.  Saute them with olive oil, garlic and a little lemon juice.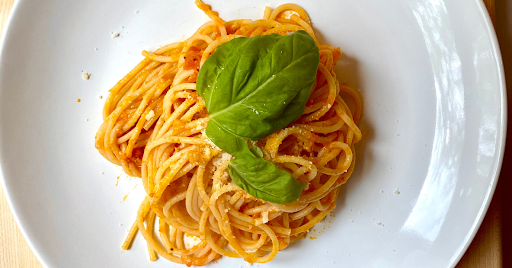 Spaghetti Pomodoro
Sometimes I like a nice simple plate of spaghetti with tomato sauce on the side of my Chicken Marsala.  A quick saute of the tomatoes with garlic, olive oil and basil is perfect. This is actually one of the best sides for a lot of main courses.   You can make it with fresh tomatoes or good canned tomatoes.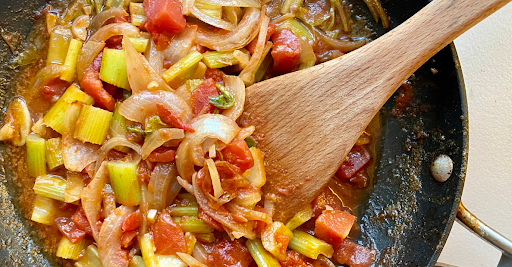 Celery and Tomatoes
Make some sauteed celery and tomatoes.  Cook them down with onions and they will become nice and sweet.
Toast up a good crusty bread and top it with garlic, olive oil, basil and tomatoes. 
Lasagna
If you want a nice cheesy pasta dish to go with your chicken marsala, go with a beautiful lasagna.  Layers of pasta, sauce and cheese will make everyone happy.
How to Make Chicken Marsala
Get your ingredients together.  
Here's what you need to make Chicken Marsala
This is a simple dish with a few simple ingredients.  It doesn't take much time.  You can do it!
Chicken
I suggest using boneless and skinless chicken breasts.  You can butterfly them yourself or buy chicken cutlets that are already prepared.  It's important to have thin and tender chicken breasts. 
Flour
Your standard all purpose flour is all you need.  This will help create a nice tender caramelized chicken.
Garlic
A few fresh cloves of garlic will do.  Chop them up nice and fine. 
Marsala Wine
The key to great chicken Marsala is using the right wine.  Get a wine from the liquor store that is good enough to drink.  Don't buy the cooking wines from the grocery store.
Olive Oil
Use good quality olive oil.  I suggest extra virgin olive oil.
Mushrooms
You can use your favorite mushrooms for this recipe.  I usually use your standard white mushrooms.  I slice them up about ¼ inch thick.
Butter
You can use unsalted butter or salted butter.  Just make sure to adjust the seasoning accordingly.
Seasoning
I use Kosher salt and black pepper for this recipe.
The Steps to Making Chicken Marsala
Step 1
Get a large skillet or frying pan and heat some olive oil on medium-high heat.
Step 2
Season your flour and dredge your chicken in the seasoned flour.
Step 3
Sear your floured chicken on both sides.  You want it to get a nice caramelized crust.  This will take about 2 minutes per side.  After they are seared, transfer the chicken to a plate.
Step 4
Add a little more olive oil to the pan and put in the chopped garlic.  When the garlic starts to toast, which should take about a minute, add the sliced mushrooms.  Season the mushrooms with salt and pepper.  Allow the mushrooms to soften.  This should take about 3 minutes.
Step 5
Pour about 2 cups of Marsala wine into the pan.  With a wooden spoon, scrape up any browned bits on the bottom of the pan.
Steps 6
Add the seared chicken back into the pan and bring the Marsala wine to a simmer.  Allow the wine to reduce by half.  This will probably take 5-7 minutes.  During the last 2 minutes add a couple pads of butter to the pan and allow it to melt into the Marsala wine.
Step 7
Transfer the chicken to a serving platter and pour the Marsala sauce and mushrooms over the top.  Serve with your favorite side dishes.
Chicken Marsala FAQs
Can Chicken Marsala be made with a cream sauce?
Yes.  If you like a creamy dish you can make a creamy Marsala sauce.  Just add some heavy cream with the Marsala wine.
What other proteins can I use to make a Marsala dish?
If you don't want to use chicken, you can make it with other meats.  I like making veal Marsala, shrimp Marsala and pork Marsala.  I even like making steak Marsala with a big juicy rib eye. 
Do I have to flour the chicken first?
No.  I think the flour helps to thicken the Marsala sauce, but feel free to skip that step if necessary.