I have a great pizza recipe for all of you mushroom lovers out there.
There are a lot of pizza places out there who put mushrooms on pizza. So maybe you're thinking to yourself, what's so good about this recipe?
I think what makes this mushroom pizza recipe so good is the fact that I saute the mushrooms first. I take fresh mushrooms and cook them down with a little olive oil, garlic and some other ingredients to make them really delicious before they go on the pizza.
When you saute the raw mushrooms first, you remove the excess water that can cause the pizza to become soggy. The heat from a pizza oven extracts the moisture from the raw mushrooms and you can end up with a soupy pizza.
So let's grab a lot of mushrooms, make some homemade pizza dough and bake a delicious mushroom pizza.
This is going to end up being a pizza night to remember and you'll probably have a new favorite pizza recipe.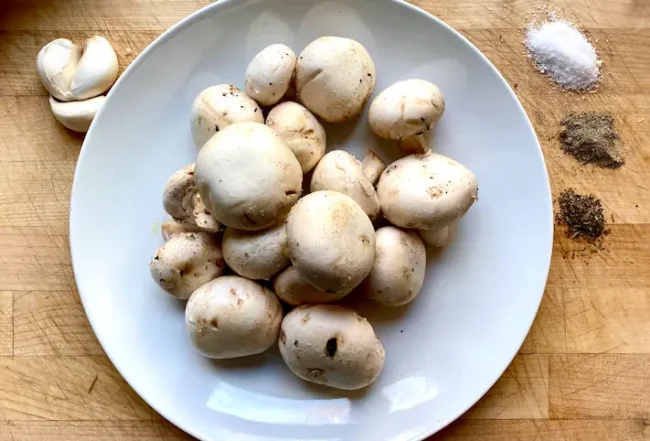 The Ingredients You Need to Make the Sauteed Mushroom Pizza
Mushrooms: you're going to need some fresh, whole mushrooms for this mushroom pizza. No canned mushrooms for this recipe.
You can use your favorite kind of mushrooms. You can even mix different types together. If you're wondering which ones are a good choice, you can go with white mushrooms or white button mushrooms. Baby bella mushrooms, oyster mushrooms and cremini mushrooms are also good choices. You can also go with portobello mushrooms, but they'd have to be sliced before you cook them.
Get creative and make a mushroom mixture that you really like.
Pizza Dough: for this mushroom pizza I am using the 72 hour dough recipe I learned from pizza master, Gabriele Bonci, when I was in Rome. It's a cold fermented dough that makes the pizza very flavorful. You end up with a pizza crust that is light and airy, but also very sturdy so you can load on the toppings.
I really think that it's the best pizza base you can make.
If you don't have the time to make your own pizza dough, store-bought dough will be fine. Usually bakeries sell good pizza dough.
Pizza Sauce: I like a really simple tomato sauce when I make pizza. I use a can of good quality crushed tomatoes and simmer them on the stove with salt. As they cook, the flavors of the tomatoes will develop and become sweet.
Cheese: this pizza is going to have grated parmesan cheese and aged mozzarella cheese. This combination gives you the classic flavors you expect from a great pizza.
Garlic: use fresh garlic cloves in this recipe. They should be chopped up fine and used to saute the mushrooms.
Olive Oil: I like using extra-virgin olive oil to saute mushrooms. The mushrooms absorb a lot of the flavor.
Seasoning: I am keeping it simple for this homemade pizza. A little Kosher salt, black pepper and some dried basil.
Garlic Aioli: make a quick garlic aioli with mayonnaise and roasted garlic.

How to Make A Sauteed Mushroom Pizza
Saute Your Mushrooms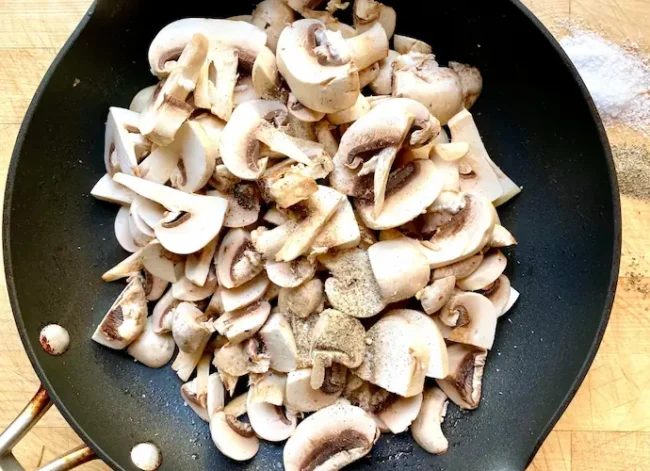 A simple saute is a great way to cook mushrooms for pizza. It will really help create a rich mushroom flavor on your pizza.
Clean your mushrooms with a paper towel.
Peel and chop your garlic gloves.
Take a sharp knife and cut your mushrooms into quarter inch thick slices.
Add the olive oil to a large skillet and place it on medium high heat.
Use a large pan so the mushrooms don't get crowded in the pan and they get a proper sear.
Put your garlic in the pan and let them turn golden brown, being careful not to burn them. This should take 1-2 minutes.
Add your mushrooms, salt, pepper and dried basil. Allow them to cook for about 7-10 minutes, stirring often.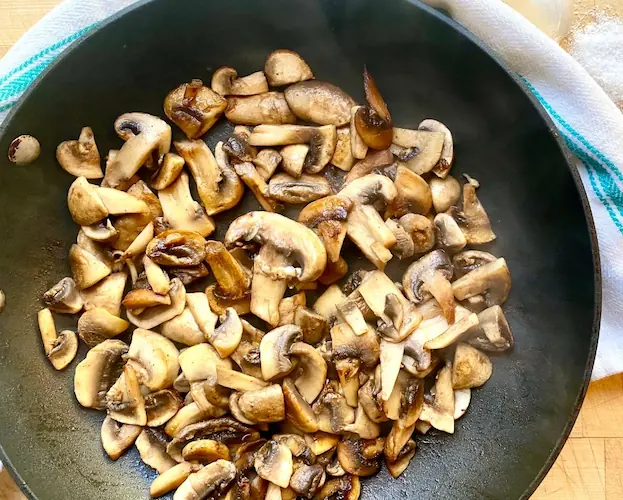 Make Your Pizza
Now it's time to make your pizza. This recipe is for a square pizza using a Roman style dough that is called pizza al taglio.
Before you start, it's important to let your dough ball come to room temperature before you make your pizza. This will make it easier to handle when you put it in the pizza pan.
If you are using the 72 hour dough recipe, make sure you follow the appropriate steps when forming it into the baking sheet. It's important not to stretch the dough in a way that removes the air bubbles that form during the fermentation process.
When you add the sauce to the dough, spread it right to the edge.
After the sauce is evenly covering the dough, add the mozzarella cheese.
Evenly distribute the sauteed mushrooms over the mozzarella cheese. Add a heavy sprinkle of grated parmesan cheese and a drizzle of olive oil.
Bake it in a preheated oven at 450 degrees Fahrenheit.
If you have a pizza stone, place your baking sheet on top. If you don't, put the sheet pan right on the rack.
While the pizza cooks, you may see some side cook faster if the heat isn't even distributed in your oven. If that happens, spin the pan halfway through the cooking process.
Your pizza should be done in about 12 minutes.
Sautèd Mushroom Pizza FAQs
Can I make a sauteed mushroom pizza without tomato sauce?
Yes. If you don't like to use red sauce on your pizza, you can make a white pizza. This can be done with just olive oil or you can use a cream sauce.
I like using a white sauce with garlic, cream and parmesan cheese. A white mushroom pizza made with sauteed mushroom is really delicious and you should give it a try.
What are some other pizza toppings that go with the sauteed mushrooms?
When making a sauteed mushroom pizza, add some sweet caramelized onions, Italian sausage and fresh basil leaves.
I like adding a drizzle of aioli on top of a sauteed mushroom pizza. It's a great way to finish a pizza
What else can I make with leftover sauteed mushrooms?
If you have leftover sauteed mushrooms you can serve them as a side with a steak.
You can caramelize some red onion and add them to the sauteed mushrooms and use it to top a burger.
You can reheat them with Marsala wine and pour the mushroom mixture over seared pork chops.
Can I make a round sautèed mushroom pizza?
Yes. You can make a round thin crust pizza. If you have a pizza stone at home that would be helpful. However, I strongly recommend trying the 72 hour pizza dough recipe that we use at Mortadella Head. It will become one of your favorite pizza recipes.
Print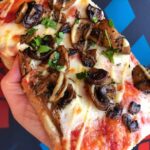 Sauteed Mushrooms for Pizza
---
Author:

Total Time:

20 minutes

Yield:

4

1

x
1 lb of your favorite mushrooms in ¼ inch slices

2 cloves of garlic finely chopped

2 tablespoons of olive oil

1 teaspoon salt

1 teaspoon pepper

1 teaspoon dried basil
---
Add olive oil to a large skillet and place on medium high heat.
Add garlic to the pan. Let the garlic cook for about 1-2 minutes. If you notice that the garlic is starting to burn, turn the stove down to medium heat.
Add sliced mushrooms to the pan and season again with salt and pepper.
Add the dried basil to the pan.
Allow the mushrooms to cook on medium high heat for an additional 5-10 minutes.
Stir every so often with a wooden spoon and loosen up any browned bits on the bottom of the pan.
Add them to your pizza and drizzle with the garlic aioli.
Enjoy!
Prep Time:

5

Cook Time:

15