Thinking of some delicious and mouthwatering Recipes with Pizza Dough and Ground Beef?
One of our most popular pizzas at Mortadella Head is the Mamaluke.
It's rich, cheesy, and delicious, topped with the best ground meatballs you will ever eat.
In my opinion, this is one of the best ways to make a pizza if you have extra lean ground beef; it's more diverse than a standard hamburger pizza, and is guaranteed to be different than anything you've ever eaten before.
What Makes The Mamaluke So Special?
There's lots of things that keeps everyone coming back for more when it comes to the Mamaluke.
For one, aside from the mozzarella cheese, you have fresh ricotta cheese dolloped on the dough at the very end. It makes for a creamier depth to the dish, and adds a sweet punch that you weren't really expecting.
The tomato sauce is as rich as ever, using marinara sauce for this one instead of our pizza sauce.
It's topped with our homemade meatballs, fresh parmesan cheese, and basil, and then served to you hot and fresh.
But the best part?
It's super easy to make this ground beef pizza for yourself in your very own kitchen.
All you need is a few simple ingredients!
And today, we are going to show you how to do it, so you can wow everyone with this great recipe on your next pizza night.
How Do You Make Your Meatballs?
Watch our video above to see our simple recipe for some really good homemade meatballs!
All you'll need is a pound of ground beef, a pound of ground pork, an egg for every pound of meat, salt, pepper, fresh chopped parsley, and chopped garlic cloves (no garlic powder for these).
Combine the ingredients until together, and form the meat mixture into balls with your hands.
Either fry them on the stove in a large skillet over medium heat (being sure to save some for the whole family to try), or toss them on a large baking sheet and put them in the oven for 30 minutes at 350°.
*If you're allergic to eggs, check out this eggless meatball recipe!

*Not feeling ground beef? Try substituting with ground turkey instead!
How Do You Make Your Homemade Pizza Dough?
We have a few different recipes that we use daily and love.
One dough you could use is our traditional Italian Round Pizza Dough recipe. Watch as Sebby teaches you how to make it below:
We are also known for our famous Roman pizza dough.
A couple of years ago, Chuck and Sebby flew out to Rome to learn how to make traditional Roman style pizza dough from the Michelangelo of pizza himself, Gabriele Bonci.
If you would like to learn more about how we make Roman pizza dough, check out our recipe!
Of course, you can also use any store bought pizza dough or any other dough recipe you love.
How Do You Make This Pizza?
Once you have the meatballs and dough all prepared, you're ready to start making your Mamaluke!
Print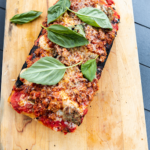 Pizza Recipe With Ground Beef | The Mamaluke
---
Author:

Total Time:

20 minutes
1

package of pizza dough of your choice

1

jar fresh

marinara sauce

8 oz

mozzarella cheese, freshly shredded

6

–

12

meatballs, broken up into quarters

1 cup

Ricotta cheese

1 cup

grated parmesan or Romano cheese

½ cup

fresh basil

2 tbsp

olive oil

1 tsp

salt

1 tsp

black pepper

1 tsp

parsley

1 tsp

crushed red pepper flakes
---
Preheat oven to 400°

Spread marinara sauce all over the surface of the dough, making sure to leave a bit leftover

Cover the sauce with the mozzarella cheese and meatballs

Sprinkle on olive oil and grated cheese

Place dough on a sheet pan, pizza pan, or pizza stone, and cook for 15 minutes or until the cheese is golden brown and bubbling

While the pizza is cooking, take the last bit of tomato sauce and mix it with the ricotta in a small bowl, along with the salt, pepper, red pepper flakes and parsley, until pink
Prep Time:

5 minutes

Cook Time:

15 minutes
Other Ground Beef Pizza Recipes To Try:
View this post on Instagram
You can never go wrong with a taco pizza! Personally, it's one of my favorite Mexican recipes. Cook ground beef with taco seasoning, and spread all over your pizza base with a red bell pepper, using cheddar cheese instead of mozzarella. Top ground beef mixture with sour cream, tomato salsa, guacamole, and any other taco toppings you love!

Ever have a big Mac cheeseburger pizza? If not, you're missing out! Slice some dill pickles, shred some lettuce and sweet onions, and try making our

Pig Mac

for yourself.

Not feeling pizza? Use your cooked ground beef and cheese to make a cheeseburger stromboli for yourself!