If you love Italian meatballs but have an egg allergy, I have a really good recipe for egg-free meatballs. Just because you can't eat eggs, doesn't mean you can't eat homemade meatballs.
If you know about meatballs you know that just about every homemade meatball recipe calls for eggs as a binding agent. After making a lot of meatball recipes, I think that the best egg substitute for meatballs is ricotta cheese. By using a good quality ricotta cheese you can have the perfect eggless meatballs. 
When you eat them you won't even miss the eggs. They will taste just as good as the traditional meatballs you know and love. 
There are many different ways to cook meatballs. If you've ever read my original recipe for meatballs you know you can choose one of the following cooking methods:
Bake your meatballs in the oven
Fry your meatballs on the stove
Deep fry your meatballs in a deep fryer
Put your uncooked meatballs directly in a pot of tomato sauce on the stove top. Just drop the raw meatballs in a pot of your favorite sauce and cook them on a low simmer. 
Since you came here today wondering how to make meatballs without eggs, that's what we are going to talk about. This is a really delicious and easy meatball recipe.
There are several eggless meatball recipes out there. Some call for plain yogurt and some call for mayonnaise. If you want to make some good meatballs, this is a great way to put together a quick meal that everyone will enjoy. It's perfect for quick weeknight dinners or big Sunday lunches with the whole family.
I am going to share a recipe with you so you can make some really delicious meatballs. You probably won't even notice that they are egg free meatballs. 
You'll probably get about 2 dozen 2 inch meatballs from this recipe. It's really simple and only takes about 20 minutes of actual prep time. While these simple meatballs are cooking, pour yourself a glass of red wine and relax.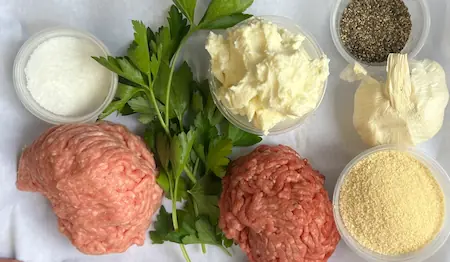 The Main Ingredients for Meatballs without Eggs
Making great meatballs only requires a handful of simple ingredients. For more accurate measurements check out the recipe card at the end of the post.
Here are all of the ingredients you are going to need to make these amazing meatballs. You'll be able to find everything at your local grocery stores.
Meat
There are many different ways to make a meatball mixture. I am suggesting a meat mixture made of fresh ground beef and ground pork. This combination of meats has always worked for me. 
You can make just beef meatballs if you prefer, but the pork adds a lot of flavor. You need enough fat to add flavor and moisture. 
I usually use ground beef that has 20 percent fat content. Lean ground beef needs fat to give it flavor. 
Garlic & Parsley

Get some fresh garlic cloves and chop them up really fine. I love using garlic in my meatballs.
You'll also need fresh parsley. I like using flat leaf Italian parsley chopped really small. 
Grated Cheese
You want a good grated cheese for your meatballs recipe. Pecorino Romano or parmesan cheese will work. Just make sure it's a good quality cheese. I'd also recommend grating it yourself. When you grate fresh parmesan cheeses yourself, you'll notice a lot more flavor in the meatballs.
Breadcrumbs
For this recipe I am recommending using one cup of breadcrumbs for every pound of meat. If you can, get good quality fresh breadcrumbs at your local bakery. Otherwise, supermarket bread crumbs will be fine.
However, if you have the time, I suggest using some 72 hour fermented pizza bianca in your meatballs. Cut the pizza bianca into cubes and soak it in a little bit of milk in a small bowl. This is the best way to add some extra flavor and the resulting meatballs will be great. If you don't have pizza bianca, use this same method with white bread. 
Alternatively, you can leave out the breadcrumbs if you want to make gluten-free meatballs.
Seasoning
All you really need is Kosher salt and black pepper. If you really love Italian seasoning, you can use it, but I normally don't.
Ricotta Cheese
Ricotta cheese is a great alternative for the eggs in meatballs. A good rule of thumb is one cup of ricotta cheese for every pound of ground meat. The ricotta cheese will make a good binding mixture.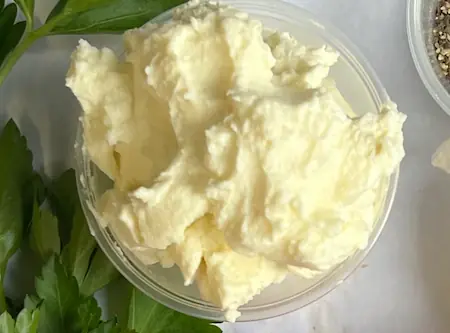 How to Make Your Meatballs without Eggs
The first step is to get your oven temperature ready. A preheated oven set at 400 degrees fahrenheit is important so you can start cooking as soon as your meatballs are formed. 
Now get a large bowl and add all of the ingredients. A large mixing bowl is important because it will give you enough room to really work all of the ingredients together.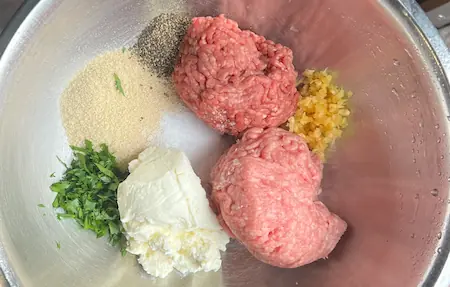 Start mixing everything together so all of the ingredients are evenly distributed throughout the ground meat. For the best results, use your hands to do the mixing.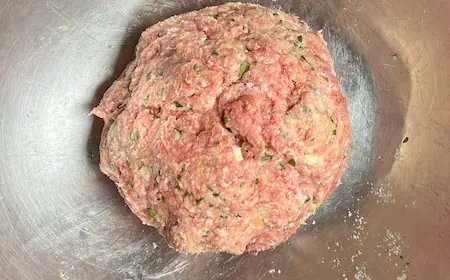 When everything is mixed together it's time to form your meatballs. Wet your hands with a little water before you start rolling the meatballs. It's a good trick and prevents the meatball mixture from sticking to your hands. 
The size of meatballs you make is up to you, but I think the perfect meatballs are the size of a golf ball. When I make meatballs I use a 2 ounce cookie scoop. You will end up with a 2 inch meatball. 
Get a large baking sheet and line it with parchment paper or aluminum foil. For the best results, if you use aluminum foil, spread some olive oil on it so the meatballs don't stick while they cook.
In a single layer, place the meatballs on the sheet pan giving them plenty of space. By not crowding them on the baking tray they will cook evenly on the outside giving them a nice crust. You want golden brown meatballs. The caramelization from the heat of the oven will create an extra dimension of flavors.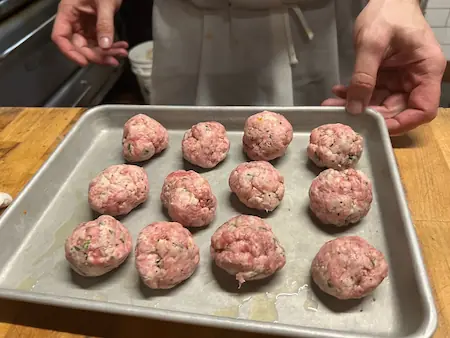 Place the sheet pan with the meatballs into the 400° F oven for 20-25 minutes. 
Remove the baking sheet from the oven. Check the meatballs with a meat thermometer to make sure they are 165 degrees in the middle. 
Have a large dutch oven or pot on the stove filled with tomato sauce. Place the meatballs into the tomato sauce and let them simmer and soak up all of the flavors.

Meatball Recipe without Eggs FAQs
Can I freeze the meatballs after they are cooked?
Yes. I love leftover meatballs. Make a double batch of meatballs and you can freeze them. Let your cooked meatballs cool and store them in an airtight container or ziploc bag and store in your freezer. Frozen meatballs are great to have on hand when you need a quick meal. 
Can I freeze my meatballs in sauce?
Yes. You can prepare meatball parmesan in advance. Take an oven safe baking dish and add tomato sauce to the bottom. Place your meatballs in a single layer and cover with more spaghetti sauce and mozzarella cheese. Cover the meatballs with aluminum foil and place the prepared baking dish in the freezer. When you are ready to eat the meatballs just take them out of the freezer and cook them in the oven.
Do I have to cook my meatballs at 400 degrees?
No. The oven temperature can change depending on how long you want to bake the meatballs and the size of your meatballs. If you want to bake your eggless meatballs for a longer period of time you should set your oven at a low heat. If you set your oven at higher temperatures the meatballs without eggs will take less time to cook. Please also note that smaller meatballs will take less time to cook than larger meatballs. 
Can I make meatballs with different types of meat?
Yes. This recipe will work with just about any meat. Try ground turkey and ground chicken. Chicken meatballs and turkey meatballs are a very healthy option if you are looking for something with less fat. 
There are quite a few meat substitutes on the market that will allow you to make vegetarian meatballs. If you decide to try one of these products, I suggest using all of the ingredients in the recipe I have provided, except the meat of course, but cook the vegetarian meatballs according to the instructions on the package. 
Can I substitute garlic powder for fresh garlic?
Yes. If you decide to use garlic powder, remember that you should use about ⅛ of a teaspoon for every fresh garlic clove. 
How many meatballs should I prepare per person?
How many meatballs you should prepare per person depends on the size of the meatballs. In my experience, after catering many parties over the years, you can average 2-3 meatballs per person if the meatballs weigh about 2 ounces each. If you are making small balls, make enough to give every person 4-6 ounces of meatballs. 
Are there any other egg substitutes for meatball recipes?
Yes. There are recipes that call for plain yogurt and mayonnaise instead of eggs. But keep in mind that mayonnaise is made with eggs. If someone has an egg allergy you should not use mayonnaise. 
Do I have to serve my meatballs with pasta?
No. Making meatball subs is a great way to use up your meatballs. Everyone loves a meatball sub. Get some fresh rolls from the local bakery and let the whole family build their own meatball subs. Make a big pot of marinara sauce and meatballs and let everyone help themselves. 
Meatballs are also a perfect main dish. Serve with sauteed greens and a side salad if you are on a low carb diet. These tender meatballs are an easy way to meal prep for the week.
Print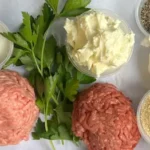 Easy Meatballs Without Eggs
---
Author:

Total Time:

50 minutes

Yield:

4

1

x
1 lb ground 80/20 beef
1 lb of ground pork
5 teaspoons finely chopped fresh garlic
2 tablespoon finely chopped parsley
2 teaspoons black pepper
2 cups ricotta cheese
1 cup breadcrumbs
1 cup grated Romano cheese
---
Mix all the ingredients thoroughly in a large bowl. I like to use my hands because you can really get everything incorporated nicely.
Form the meatballs with your hands. I try to get the meatballs about the size of a golf ball. I think that size is perfect for soaking up the sauce and staying nice and moist.
Place the meatballs on an oiled baking sheet and place in a 400 degree oven for about 20-25 minutes.
Remove them from the oven and allow them to rest for another 15-20 minutes.
Prep Time:

25

Cook Time:

25

Category:

Meatballs

Method:

Baked

Cuisine:

Italian American
Keywords: how to make meatballs without eggs, meatballs recipes without eggs