I have been obsessed with frozen meatballs lately. I'm on a mission to make the best meatballs you've ever had. And I'm freezing them and shipping them all over the country.
The feedback I've been getting from my customers is really amazing. Some people have written to me saying that they are as close to homemade meatballs as you can get. I put a lot of love into my meatballs, so I'm very happy when people tell me that they are their favorite Italian meatballs.
My goal is to let people experience the perfect Italian style meatballs that not only have delicious flavor, but also create a truly memorable family meal.  
Recently I decided to check out some other frozen Italian-style meatballs on the market. I came across a company called Cooked Perfect. They took up a lot of space in the freezer section of the supermarket so I figured they must be a reputable meatball maker.  
They weren't bad. It's a very different meatball compared to my recipe. However, if you are looking for some flavorful meatballs to try out some new recipes, then Cooked Perfect meatballs might be the perfect choice. 
About Cooked Perfect
Cooked Perfect is a company that specializes in manufacturing frozen meatballs. They claim to make their meatballs with select cuts of meat that are flame broiled to keep in the natural flavors.
Cooked Perfect is made by Home Market Foods, Inc. located in Norwood, Massachusetts.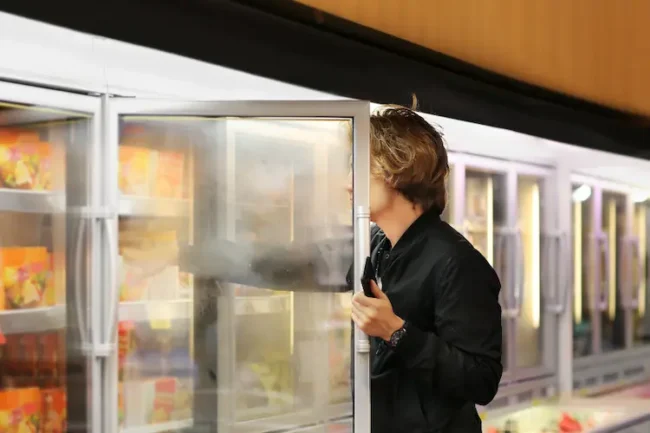 Home Market Foods, Inc. doesn't ship their Cooked Perfect meatballs. They advise you to purchase them in the freezer section of your local supermarket. 
The size of meatballs made by Cooked Perfect varies. They make ½ ounce bite sized meatballs and larger 2 ounce meatballs. The smaller meatballs are good to use as appetizers or in soups and the larger meatballs are good for meatball subs and pasta dishes. 
The Italian-Style Cooked Perfect meatballs are made with beef, pork, breadcrumbs, soy protein concentrate, dehydrated garlic, onion powder and other ingredients. 
Cooked Perfect meatballs come in a variety of different flavors and can be found in your local grocer's freezer. 
An example of the type of meatballs they produce are the following:
Italian-Style Meatballs made with Italian spices and parmesan cheese.
Angus Beef Meatballs made with parmesan cheese, Roman cheese and green peppers.
Homestyle Meatballs claim to be good for appetizers and as a pizza topping.
Korean Style BBQ Meatballs
Turkey Meatballs have a blend of herbs, onions and garlic.
Swedish Style Meatballs with nutmeg and allspice.
Gluten Free Italian Style Meatballs made with Italian spices. 
How to Use Cooked Perfect Meatballs
Cooked Perfect has a great collection of meatball recipes on its website. I spent a little time checking it out and saw some new ways to make meatballs. If you ever need a little help getting creative, check it out to get some ideas on how you can serve meatballs.
Use the inspiration from the website to cook your own homemade meatballs in different ways.  The recipes on the Cooked Perfect website will work with any meatball.
The cooking instructions on the Cooked Perfect website look pretty easy. Just put the frozen meatballs on a baking sheet and cook them in an oven at 350 degrees Fahrenheit. The cook time should be 15-25 minutes.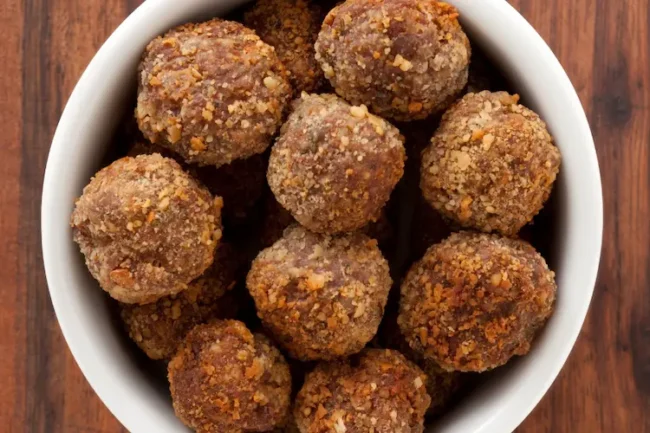 The same goes for the air fryer. Set the air fryer to 350 degrees and cook them for about 10 minutes. The high temperature of the air fryer will make the meatballs crispy. 
You can also simmer them in a sauce on the stove top for about 25 minutes. If you do it this way, the cooked meatballs will soak up all the great taste of the sauce. 
Some Cooked Perfect Meatball Recipes
Some interesting recipes you can make with the frozen Cooked Perfect meatballs are the following:
Mortadella Head Frozen Meatballs
At Mortadella Head, we make frozen meatballs that are traditional Italian style. Our meatball mixture has ground beef, pork, garlic, onion, parsley and Romano cheese. A combination of beef and pork gives the meatballs a lot of flavor. 
In a large bowl, I mix everything together really well and form the meatballs. The meatball size that I think is best is 2 ounces. It's perfect for making meatball subs and for eating with pasta. 
We cook the meatballs in an oven until they become golden brown. This is done on a baking sheet with the meatballs in a single layer.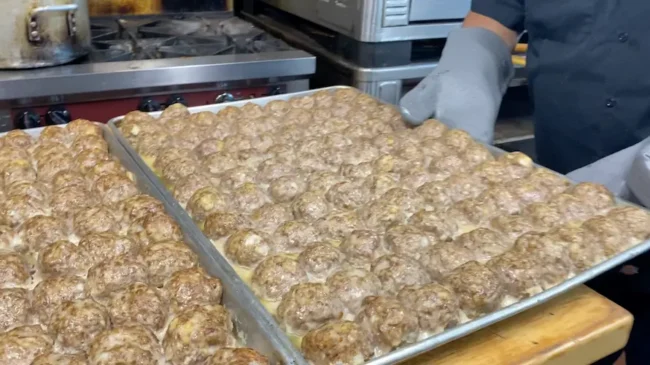 When I'm at home I sometimes like to fry my meatballs on the stovetop. I fry them in olive oil on medium-high heat. It's the best way to get a nice crust on the outside of the meatball. There's nothing better than fresh meatballs right out of the frying pan.
Before I freeze my meatballs, I put them in a tray covered with marinara sauce and mozzarella cheese.  Once they freeze they are ready to ship. I ship them in an insulated, temperature-controlled box with dry ice or ice packs.  
It's a great way to have real Italian food on a busy weeknight when you don't have enough time to cook.  When you are ready to eat my meatballs, you can cook them while frozen.  
All you need to do is preheat a conventional oven to 400 degrees fahrenheit. Remove the cover and put the tray in the oven. The cooking time is 35-45 minutes if thawed and 65-75 minutes if frozen. 
My frozen meatballs are for people who would never even think about eating frozen meatballs.