Each and every year, my friends and I throw the best Christmas gathering known to man.
You could say that it's because of the amazing drinks we make, our classic Yankee swap, or any of the games that we play.
But anyone who knows us knows it's because every single one of us loves to cook.
We all team up and make tons of cool new appetizers and different dishes to try.
A few years ago, however, I was getting a bit of a creative block—I had no idea what to make.
I tried looking up blogs, recipe Instagram accounts, even different Youtube accounts. I couldn't think of anything that I wanted to make.
I knew I wanted something warm, and I knew I wanted comfort food. But how could I achieve both of those things at the same time?
That's when it hit me: stuffed mushrooms.
But not just any stuffed mushrooms.
Mushrooms stuffed with crab meat. And topped with gouda.
Genius.
It was such a huge hit that it's now one of my most requested appetizers whenever I am going to a holiday event. And while it is a bit time consuming (it can take anywhere from 45 minutes to an hour to make this), it's oh so worth it.
Print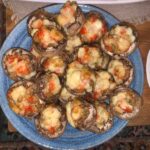 Stuffed Mushrooms With Crab Meat Recipe
---
Author:

Total Time:

45 - 60

Yield:

6

1

x
2 packages of whole baby bella mushrooms
3 tbsp bell pepper, chopped
3 tbsp white onion, chopped
3 tbsp celery, chopped
3 tbsp garlic, chopped
Onion salt, to taste
Chili powder, to taste
Paprika, to taste
Salt and pepper to taste
1/2 cup unseasoned breadcrumbs
1/2 pound lump crab meat or imitation crab
3/4 cup gouda
---
Preheat oven to 350°
Remove the stems from your mushrooms and thoroughly wash under cold water, making sure all of the dirt and grime is removed
Save a handful of stems, and finely chop into small pieces
Arrange the mushrooms on a foil lined baking sheet, with a drizzle of olive oil
In a saute pan with butter or olive oil, begin to saute the chopped mushrooms, celery, peppers, and onions, with all of the seasoning. Make sure you cook until onions and celery are translucent
Pour into a mixing bowl with cheese, breadcrumbs, and crab, making sure to save some cheese for the top of the mushrooms
Begin to stuff everything in the mushrooms, hitting the top of them with some extra cheese at the end
Bake for 20 minutes or until the mushrooms appear soft
Stuffed Mushrooms With Crab and Gouda FAQs
Q: Why are my stuffed mushrooms soggy?
A: It could be because you didn't dry the crab meat well enough. Crab meat is extremely watery, and needs to be drained and pat dry. If you went through these steps, next time make sure you thoroughly dried your mushrooms. Water can sneak into the crevices and build up.
Q: How long can I keep stuffed mushrooms in my refrigerator?
A: These can be stored from 3-5 days in the refrigerator.
Q: My mushrooms are too soft. How can I fix this?
A: Try baking your stuffed mushrooms anywhere above 400°. They should get nice and firm in the oven.
Q: Can I prepare stuffed mushrooms the night before?
A: Even better, you can prepare them way in advance! You can freeze them for months before if you really wanted. My only suggestion would be to add the crab meat fresh right before popping them into the oven. You'll notice a huge difference.

What To Pair With My Stuffed Mushrooms
Drink: Maybe I'm biased because it's my favorite, or maybe red wine just tastes amazing with this. Regardless, I recommend enjoying your mushrooms with a pinot noir. They'll contrast perfectly with each other.
Appetizer: If you wanted to eat these with any other appetizer, I would recommend making a charcuterie board with this. It'll be just the right amount of food, and when done right, can really impress your friends.
Dessert: Want something sweet but don't want to spend a ton of money? Check out this→ easy $10 cake recipe!