I'm about to teach you how to make the best sautéed green beans you've ever had. Seriously, we are taking these to the next level.
The beauty of this recipe is that if you have a few staples in your kitchen, you can whip it up in a moment's notice.
I'm going to blow your mind by showing you the best way to turn a bag of frozen green beans into a show stopper.
I'm telling you the truth. When I made these I had my 10-year-old
son, Matty, taste them to get his opinion. He literally ended up destroying the entire plate in a couple of minutes.
So if you need a sautéed frozen green beans recipe for fast weeknight dinners, a big holiday meal or if you just want your kid to eat some vegetables, this is a great option.
Here's a little advice for you. Keep a few bags of frozen vegetables in your freezer. You never know when they're going to come in handy.
I'm a big believer in the idea that you can turn a bag of frozen veggies into a really delicious side dish with the right cooking method.
Frozen vegetables are actually very healthy. Freezing vegetables at their freshest state actually locks on a lot of the nutrients that you want in a vegetable. That means using frozen beans is a great way to whip up a really healthy side dish for the whole family.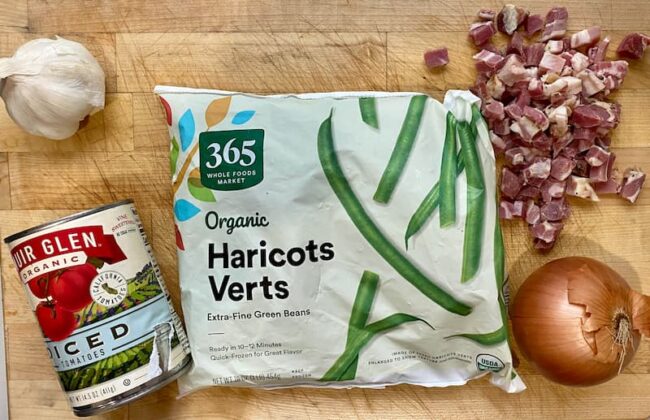 I prefer frozen green beans over canned vegetables for the most part. They usually have the best texture, with a little snap and crunch. I also like the bright green color of the frozen green beans compared to canned green beans.
Frozen vegetables don't have to be boring and tasteless. If you know how to use the right cooking process you can create a really tasty side dish with fresh flavors.
Right now I'm going to show you how to make some sauteed frozen green beans that will knock your socks off. This recipe is so easy and so good!
It's such an easy green bean recipe you can put it together fast on busy weeknights, but at the same time it's so good it belongs on the Thanksgiving table or any other special occasion.
The Main Ingredients for Sauteed Frozen Green Beans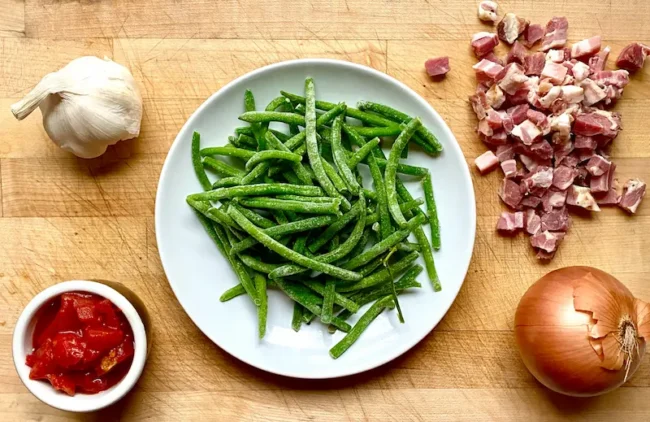 This recipe calls for a few really simple ingredients. You might already have them all in your kitchen.
Green Beans: Usually you'd have a few different options to choose from for this recipe. Since I'm focusing on frozen green beans for this recipe we can rule out fresh green beans.
When you get to the freezer aisle you see a couple different types of green beans. You'll probably see regular cut green beans and haricots verts.
Haricots verts are a French style of bean and they are usually longer and thinner than the typical green bean. These French green beans have a nice snap and texture.
Both types will work fine for this sauteed green beans recipe.
Olive Oil: I suggest you use a good quality extra virgin olive oil to saute the green beans. It will add some really good flavor to this simple side dish.
Garlic: I always prefer using fresh garlic when I cook. It's much better quality than the minced garlic that comes in a jar.
Onions: You can use yellow onions, white onions or red onions. Make sure whatever you decide to use, you slice them thin.
Pancetta: Pancetta is an Italian pork product that is similar to bacon. The difference is that it's cured, but not smoked. You should be able to find a good quality pancetta at your local grocery store.
Cut it into small cubes with a sharp knife.
Tomatoes: A can of diced tomatoes works just fine for this easy side dish. You can also use your favorite tomato sauce.
Salt and Pepper: I like using Kosher salt and freshly ground black pepper.


How to Cook Sauteed Frozen Green Beans
First, put some olive oil in a large skillet or frying pan. Place it over medium heat and add your cubed pancetta.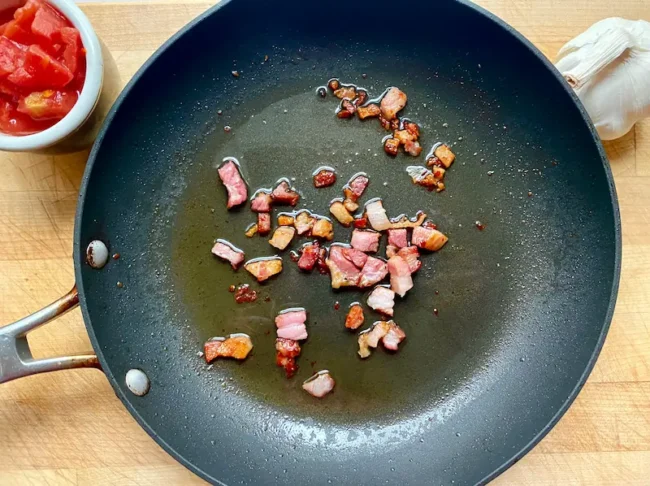 When the pancetta starts to become crispy add your sliced onion to the same frying pan. Season the onions with salt and pepper and allow them to cook for about 5 minutes.
As soon as the onions start to soften up, add your chopped garlic to the pan and allow it to cook with the onions for another 5 minutes.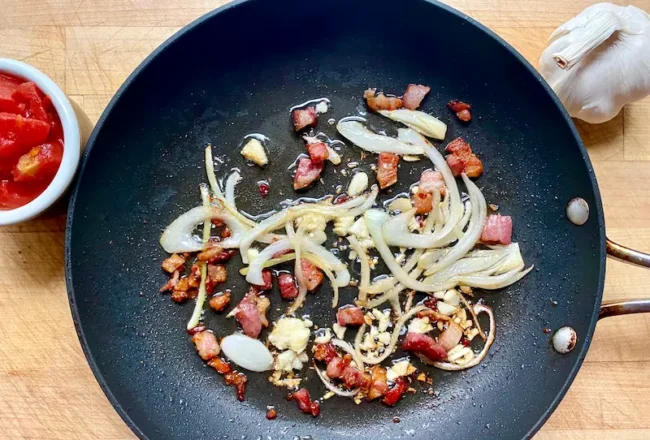 Add your frozen green beans to the pan with the sauteed garlic and onions. Turn the heat up to medium-high heat and continuously toss them around with the onions and garlic until they defrost. This should take about 5 minutes.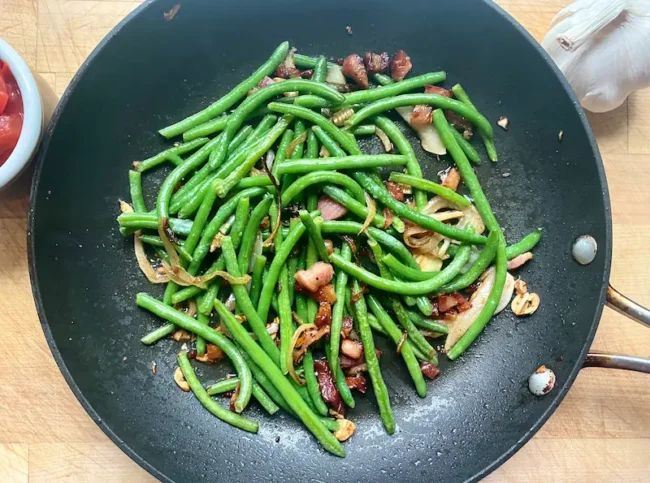 Put the tomatoes in the pan and season with a little more salt and pepper.
Let everything cook together on the stove for another 10 minutes.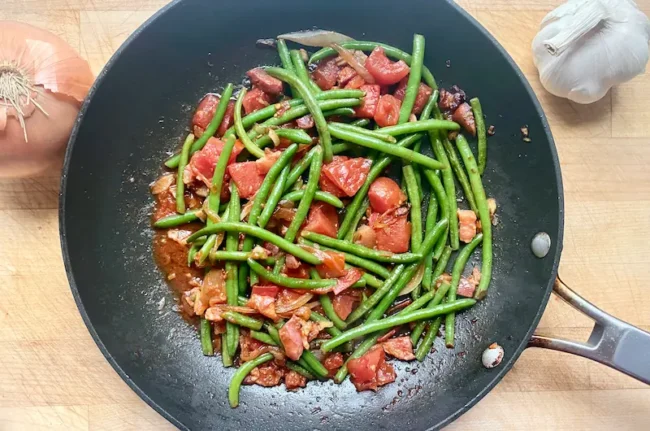 During the last 2 minutes of cooking time, add some grated parmesan cheese to the pan and stir it in.
Transfer your sauteed green beans to a plate and top it off with some extra grated parmesan cheese. Enjoy!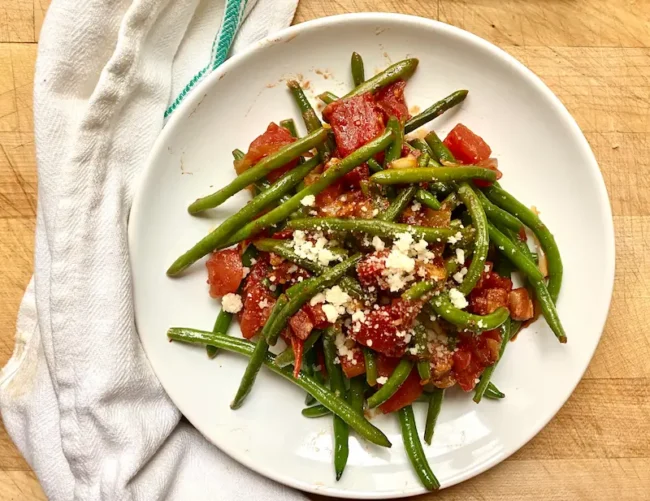 Sauteed Frozen Green Beans FAQs
Q: What if I can't find pancetta at the grocery store?
A: If for some reason you can't find pancetta, you can use bacon or prosciutto. Just make sure you cut it up nice and small.
Q: Can this recipe be made with fresh ingredients?
A: Yes. If you make this recipe with fresh green beans I suggest you blanch them in boiling water first. It will give the beans the tender-crisp texture that you want with a vegetable.
You can also use fresh cherry tomatoes. A pro tip is to cut your cherry tomatoes in half before you put them in the frying pan. They will cook faster and the juice from the tomatoes will create a nice sauce.
Q: What other ingredients can I add to the sauteed frozen green beans?
A: If you want to get creative, try adding some roasted red bell peppers and Italian seasoning to the frying pan. This simple recipe can have a lot of different variations by adding your favorite ingredients.
Q: Can these sauteed green beans be frozen after being cooked?
A: Yes. Like most vegetables, if you make a big batch, just store them in an airtight container and store in the freezer.
What to Serve with the Sauteed Frozen Green Bean
Wine: These green beans are bright and fresh with a lot of rich flavor from the pancetta. Drink something white like a Sicilian Etna Bianca.
Meat: You can serve these beans with a casual weeknight meatloaf. They are also fancy enough to serve at Thanksgiving or Christmas dinner.
Pasta: This recipe has enough flavor that it could be turned into a main course by tossing it with some penne and extra grated parmesan cheese.
Print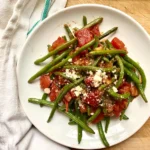 Sauteed Frozen Green Beans
---
Author:

Total Time:

30 minutes

Yield:

4

- 6

1

x

Diet:

Vegetarian
1 lb bag of frozen green beans

1 cup of cubed pancetta

½ an onion sliced thin

3 garlic cloves chopped fine

14.5 oz can of diced tomatoes or tomato sauce

1 tablespoon of olive oil

1 tablespoon of grated parmesan cheese

Salt and pepper
---
Heat olive oil on medium heat and add pancetta cubes.
Allow the pancetta to become crisp, which should be about 5 minutes.
Add the sliced onion to the same pan as the pancetta and cook for an additional 5 minutes.
Add garlic to the pan and season with salt and pepper. Allow the garlic to brown for about 5 minutes.
Add the frozen green beans to the pan and turn up the stove to medium-high heat. Toss the green beans into the onions and garlic and allow to cook for about 5 more minutes or until green beans defrost
Add the tomatoes to the pan and season again with salt and pepper. Let everything cook together for about 10 minutes. During the last 2 minutes add half of the parmesan cheese.
Transfer the contents of the pan to a plate and finish with more grated parmesan cheese.
Enjoy!
Prep Time:

5

Cook Time:

25