My life involves a lot of lasagna these days. At Mortadella Head we make and sella a lot of it. We even ship lasagna in the mail. Who would have ever thought that was a thing?
I'm always testing new lasagna recipes to keep things interesting. I love all types of lasagna from ones with a simple pomodoro sauce to ones with a garlic cream white sauce stuffed with chicken cutlets and broccoli rabe.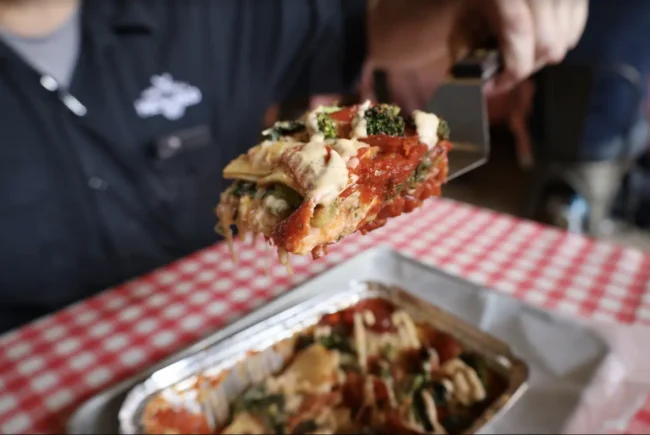 But even though lasagna is something I make everyday at work, there's something about this time of year that makes me want to cook lasagna at home too.
That cool and crisp autumn air is a time for cooking comfort food. On Sundays I like to put a big pot of tomato sauce on the stove, pour a glass of wine, and spend the day in the kitchen.
If you want to make something special for your family at this time of year, try a homemade lasagna. The layers of pasta, cheese, and sauce make it a dish everyone will love.
And if you like Bolognese sauce, you should make a lasagna al forno. It's a classic lasagna recipe from Northern Italy with a slow-cooked beef ragu. 
You can make your Bolognese meat sauce in advance to make this easy lasagna recipe even easier.
When you make your lasagna al forno you can add a couple different types of meat to the pasta sauce. You can make the sauce with beef and pork, or you can leave out the pork and stick to an Italian beef lasagna.
My opinion is that pork makes everything better, so I'm adding it.
Let's make lasagna al forno.
Visualizza questo post su Instagram
Here's What You Need To Make Your Lasagna Al Forno
Pasta
You're going to need "lasagne". Did you notice how I put the "e" at the end of the word instead of an "a"?
That's because "lasagne" is the plural of "lasagna" in Italian and we're going to need more than one pasta sheet.
Lasagna pasta is a wide and flat noodle that is meant to be layered. 
If you want to get fancy you can make your own homemade pasta. It's really not that hard if you have a pasta machine at home. 
Either way, you need to get lasagna sheets and you can make them or buy them. For the best results I suggest buying fresh pasta sheets if you have an Italian specialty store near you. 
The silky sheets of pasta that are made by hand are much better than the dry lasagna pasta you find in the supermarket.
Cheese
To make a good lasagna you're going to need a few different types of cheese. Ricotta cheese is probably the most important. You need to get a good quality ricotta cheese. I like a New York style ricotta.
You are also going to need a good melting cheese. I like using low moisture mozzarella and provolone. Low moisture mozzarella is better for melting than fresh mozzarella cheese in my opinion.
Provolone is good because it adds a lot of flavor to your lasagna al forno.
Next up is a good grating cheese.
Parmesan cheese is an aged cheese that is commonly used for grating.
You can also try Pecorino Romano cheese which is made from sheep's milk and is popular in the Lazio area around Rome.
Sauce
While Lasagna al Forno means a lasagna that is good in the oven, it is usually made with a meat sauce.
The sauce can be made with onions, carrots and celery which are sauteed in olive oil. Then ground beef is added and cooked slowly with tomato puree and tomato paste. To make it taste even richer you can add some beef stock and let it simmer on the stove.
Herbs
It's always good to use fresh herbs if you can get them.
I really like using basil leaves in the sauce. At the end I cut up a few basil leaves into thin ribbons and sprinkle them on top.
Fresh parsley is what I like to put in my ricotta cheese mixture. Chop it up really small first.
Olive Oil
The olive oil you use doesn't have to be the most expensive or fanciest olive oil available. However, it is really important to use an olive oil that is extra virgin. I find it helpful to check olive oil reviews online before trying new ones.
Seasoning
I keep it very simple when it comes to seasoning. I use Kosher salt and black pepper. I don't think you need much more in this dish because there are so many other great ingredients with big flavors.


Now Let's Make the Lasagna Al Forno
Make the Sauce
First, let's start cooking our sauce. Take a large skillet or medium sauce pan and put it on medium-high heat. Add some olive oil and cook the onion, carrots, celery and saute meat. It's important that the vegetables get soft and the meat starts to brown.
If your vegetables and meat start to burn, turn the stove down to medium heat. 
When you brown beef you will get some bits stuck to the bottom of the pan. Take a wooden spoon and loosen up the bits caused by the brown beef. They have a lot of flavor. 
Now add tomatoes and a little water. Turn the heat up to high and bring the sauce to a boil. After it starts to boil, turn it down to low heat and let it simmer. Let it cook on a gentle heat for at least two hours. This will bring out some big flavors. ì
Visualizza questo post su Instagram
Mix Your Cheese
Get a big bowl and add the ricotta cheese, salt, pepper, grated parmesan, and parsley. Mix it up really well and add a little bit of the sauce.
The heat from the sauce will make the cheese mixture easier to spread when you build your lasagna.
Cook the Pasta
It's time to boil lasagna noodles.
Take a large pot and fill it with cold water. Add a good amount of salt and bring it to a boil on high heat. 
Because the pasta pieces are wide and long, when you boil lasagna sheets it's important to have plenty of boiling salted water. 
If you are using fresh pasta sheets you only need to boil them for a few minutes.
If you are using dry pasta sheets, you should follow the package directions. 
Now It's Time to Build the Lasagna Al Forno
Visualizza questo post su Instagram
Construct your lasagna al forno in a casserole or baking dish.
Get some sauce and spread it all over the bottom of the baking dish.
Now add a layer of pasta on top of the sauce. If your sheet of pasta isn't big enough to cover the entire bottom of the pan, that's fine. You can use two. Just place pasta sheets down so there is a slightly overlapping layer.
If you cut your sheets to the size needed after you boil them it will make this part easier. 
Get some of the ricotta mixture and spread it evenly over the layer of pasta. 
On top of the ricotta you can add the mozzarella or provolone and some grated cheese. 
It's important to have many thin layers of lasagna so don't go too heavy on the ingredients. The more layers you have will help you get a nice moist lasagna.
Now you need to repeat layers until you get to the top of the baking dish. When you get to the top last layer. finish it off with sauce, mozzarella and grated cheese. I like to add some fresh basil at the very end.
Bake the Lasagna al Forno
Visualizza questo post su Instagram
It's time to bake the lasagna al forno. Preheat an oven to 400 degrees. 
Cover the lasagna with aluminum foil and put it in the oven.
It should have about 45 minutes to cook. After about 30 minutes, remove the foil and let the top layer get brown and crispy.
Remove it from the oven and let it cool for about 20 minutes. You don't want to cut into it while it's still piping hot or all of the cheese will come running out.
Letting the lasagna rest a little allows the cheese to set up so it's easier to cut and eat.
Lasagna al Forno FAQs
Visualizza questo post su Instagram
Q: What is the difference between lasagna al forno and pasta al forno?
A: When you make a pasta al forno you use a short tubular maccheroni like ziti or rigatoni. Check out my article that explains the difference between the two. 
Q: What if I can't find ricotta cheese in the store?
A: I have heard of people using cottage cheese in place of ricotta cheese, but I've never tried it. I'm sure if the rest of your ingredients are top quality, your lasagna will still be great. 
Another alternative is using bechamel. Bechamel is a sauce made with butter, flour, milk and usually a little nutmeg. Authentic Lasagna al Forno from Northern Italy is actually made with bechamel instead of ricotta cheese. 
Q: Can I use a jar of marinara sauce from the supermarket?
A: If you don't have time to make a homemade beef ragu you can use a jar of sauce from the store. Make sure you get a good quality tomato sauce. Brown some beef in a frying pan and drain fat. Add the jar of tomato sauce and let it cook together for about 20 minutes on low heat.
Print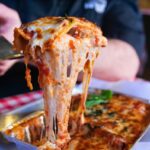 Lasagna Al Forno
---
Author:

Total Time:

235

Yield:

6

1

x
For the meat sauce:
3 tbsp olive oil
1 can crushed red tomatoes
1/2 onion, chopped
1 celery stock, diced
1/2 carrot, shredded
4 cloves of garlic
1/2 lb ground beef
1/2 cup basil leaves
1/2 cup parmesan cheese
salt and pepper
For the ricotta mix:
32 ounces of ricotta cheese
1 cup grated parmesan cheese
1 cup of the previously made meat sauce
1 tablespoon fresh parsley, minced
salt and black pepper
To assemble the lasagna:
1 lb. lasagna sheets
the rest of the meat sauce
the ricotta mix you just made
1/4 lb sliced provolone cheese
1 cup mozzarella cheese (shredded, low moisture)
2 tbsp grated parmesan cheese
Salt & pepper to taste
Basil to taste
---
Meat sauce: 
Heat up olive oil in a sauté pan

Add your veggies and let sauté

Add beef and brown it

Season with salt and pepper

Add crushed tomatoes, parmesan, and half of the basil leaves, and let simmer for two hours, stirring often.
Ricotta mix: 
Get a large mixing bowl
Put everything in bowl and mix thoroughly
Building the lasagna: 
Heat oven to 400.

Boil lasagna sheets until al dente, drizzling olive oil between each cooked lasagna noodle.

Spread tomato sauce on the bottom of a baking sheet

Cover sauce with lasagna sheets.

Add ricotta mixture and spread evenly

Add provolone slices to fully cover the ricotta mixture

Add meat sauce and distribute evenly.

Add more sauce and grated cheese.

Repeat this process until your layers reach the top of the pan.

Top layer should be lasagna sheets, sauce, mozzarella, parmesan, and basil.

Bake for 40-50 minutes covered with foil. 

Remove foil for the last 15 minutes in the oven.

Remove from the oven and let it rest for about 20 minutes before cutting into it.

Enjoy!
Prep Time:

25

Resting time:

15

Cook Time:

195

Category:

Lasagna

Method:

Cooking & Baking

Cuisine:

Italian
Keywords: lasagna al forno, homemade lasagna recipe