Whenever I have to cook for a big crowd I always need a pasta dish, I'm constantly going back and forth between lasagna and baked ziti.
These are my fallbacks for a couple of reasons. One is that they are pretty easy to make. The other is that everyone loves a classic Italian American pasta bake.
Both of these pasta dishes have the stuff people want… the creamy ricotta, the melty mozzarella and beautiful red sauce.
These cheesy dishes are also great when cooking for a big crowd because you can make them in advance. Get your ingredients ready, load up the baking pan and leave it in the fridge until you're ready to go. They are both the perfect make-ahead meal.
While they are pretty similar, they aren't the same. Let's take a closer look.
The Similarities Between Baked Ziti and Lasagna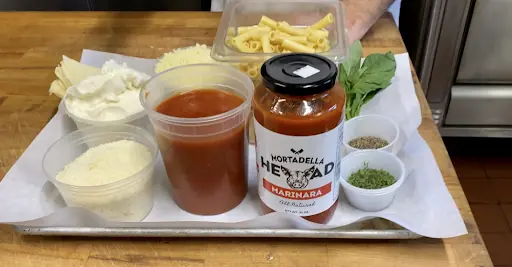 If you dissect a baked ziti and a lasagna you'll notice that most of the ingredients can be used interchangeably. There are a lot of different ingredients you can use to bake both. If you have what you need to make one of them, you can probably make the other as well.
The Cheese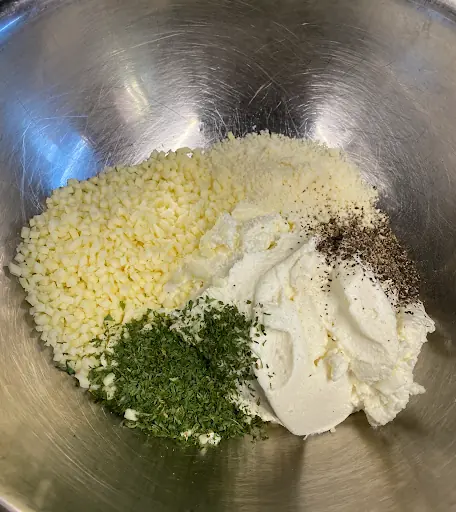 When we talk about a great dish like lasagna or baked ziti, you know it's going to have cheese.
Both baked ziti and lasagna can have different types of cheese. The ones you will usually find are ricotta cheese, mozzarella cheese, and parmesan cheese.
You can also use provolone, Pecorino Romano and Asiago.
I've also seen some people substitute the ricotta cheese for cottage cheese and sour cream. I've never tried this, so I can't recommend it.
The important thing with every classic baked pasta dish is to have a really good cheese mixture. I'm talking about lots of cheese. I like to make my ricotta mixture in a large bowl with ricotta, pecorino Romano, provolone, black pepper and parsley. I also like to add a little marinara sauce for extra flavor. Adding the tomato sauce also smoothes the mixture out to avoid any lumpy layers.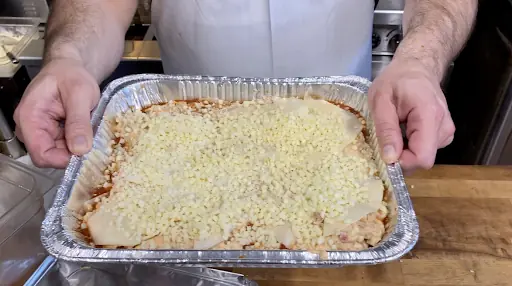 The Sauce
Just about every baked ziti and lasagna has some type of sauce. Usually, it's a tangy tomato sauce or a meat sauce.
It could be a rich ragu with ground meat or Italian sausage. It could also be something white and creamy like an Alfredo sauce or a bechamel sauce. It's actually pretty common in Italy to see a lasagna and a baked ziti with both a rich meat sauce and bechamel layered in the casserole dish.
Whatever pasta sauce we're talking about, it needs something good enough to coat each beautiful layer of cooked pasta.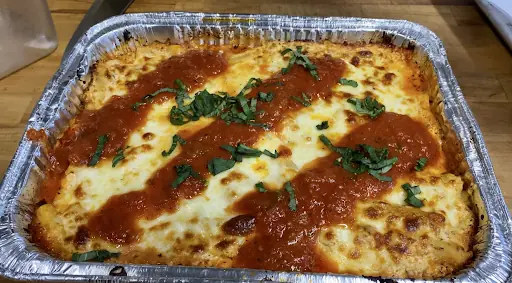 The Difference Between Baked Ziti and Lasagna
So, by now, we know that most of the ingredients in a baked ziti can be used to make a lasagna and vice versa. But we haven't talked about pasta yet. We all know that a hearty dish like baked ziti or lasagna needs pasta.
Baked ziti is usually going to be made with ziti noodles. Pretty obvious…right?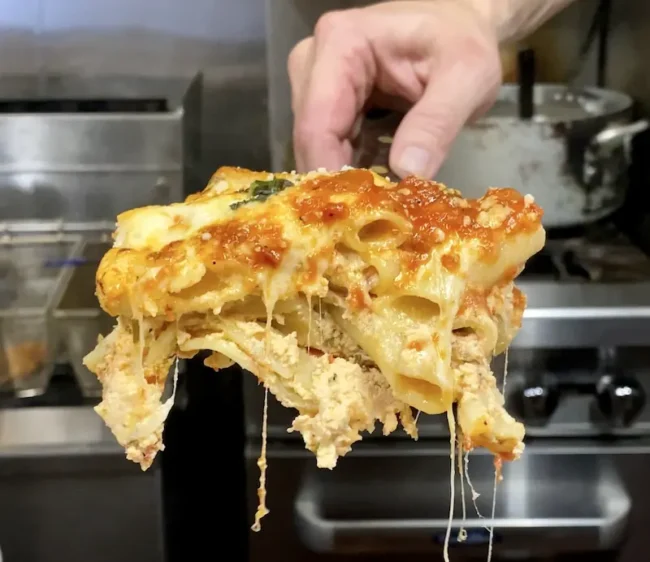 But the term "baked ziti" is commonly used for variations that don't actually use a proper ziti pasta. It could be penne pasta of any pasta shape that is similar. As long as it's a tubular pasta it is probably going to be called a baked ziti.
You can use the tube-shaped pasta known as rigatoni which is a pretty common pasta shape.
Whatever type of pasta you choose, it's best to get a substantial short pasta shape that will hold in all of the sauce and melted cheese in every bite.
On the other hand, when you make lasagna you will be using large, wide and flat noodles. Lasagna noodles can be made fresh or purchased in the supermarket. There are some lasagna pasta noodles that need to be boiled first and some that can be layered into the pan while dry.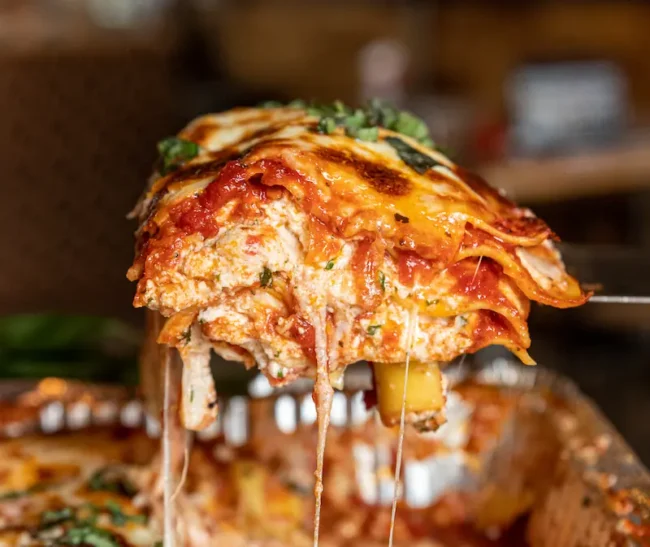 I suggest making your lasagna with lots of layers. This helps evenly distribute all of the sauce and cheese appropriately. I don't like lasagna with thick layers of ricotta cheese. It gets dried out in the oven. With lots of layers, every bite will have the perfect amount of sauce, cheese, and pasta.
Whether you're making a baked ziti or a lasagna, make sure you cook the pasta properly.
Boil a large pot of water with plenty of salt. Follow the directions on the package.
Cook your pasta "al dente". I like cooking the pasta for one minute less than the directions say. This will leave the lasagna noodles and unbaked ziti a little firm. You want to avoid overcooking the pasta because it's going to continue to cook in the oven.
How to Make a Quick Tomato Sauce for Baked Ziti and Lasagna
If you're going to put together a baked ziti or a lasagna, you need a good sauce. An easy baked ziti recipe needs an easy tomato sauce recipe…right?
A good sauce doesn't have to sit on the stove all day long if you know what to do. It can actually be ready in no time.
Here are a few easy steps to making a quick tomato sauce for your baked ziti or lasagna.
Step 1:
Put a tablespoon of olive oil in a large saute pan over medium-high heat.
Step 2:
Add some minced garlic and half of a small onion that you've diced.
Step 3:
Season the onions and garlic with salt and pepper. Add a little tomato paste.
Step 4:
After about 5 minutes, when the onions are soft, add tomatoes to the pan. You can use whole tomatoes that you've squished up with your hands or you can use tomato puree.
Step 5:
Add about a cup of water and a few leaves of fresh basil. Turn the heat down to a simmer and let it cook for 15-20 minutes.
If you don't feel like making a homemade sauce, feel free to use a good jarred sauce from the grocery store.
And here → you can find other lasagna recipes with different sauce ideas for you to try.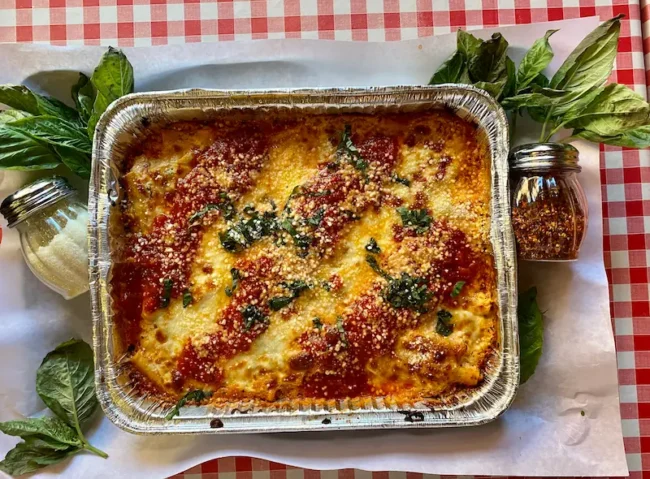 Baked Ziti v. Lasagna FAQs
Q: Can baked ziti and lasagna be frozen?
A: Yes. You can always make a baked ziti and a lasagna in advance and store them in the freezer. Wrap them tightly with plastic wrap and aluminum foil to avoid freezer burn. As long as you heat them up the right way, they will be as good as fresh when you serve them.
Q: How much baked ziti and lasagna should I make per person?
A: This depends on the size of the tray. It also depends on what other food is being served alongside the lasagna or baked ziti. If you are using standard-sized serving trays, a half tray usually serves 10-12 people and a full tray serves 20-24 people.
Q: How much sauce should I make for my baked ziti or lasagna?
A: This depends on the size of the baked ziti or lasagna. I suggest you make enough sauce so that you have plenty to layer into the baked ziti or lasagna. Make sure you have enough so you have put the rest of the sauce out on the table. People love putting extra sauce on top.

What to Serve with Baked Ziti and Lasagna?
Appetizers: A good old-fashioned antipasto salad is a great way to start the meal.
Side Dishes: An Italian American pasta bake always needs some garlic bread and meatballs served on the side.
Wine: A Chianti or Montepulciano are both good matches for the baked ziti or classic lasagna casserole.