Straight from Naples, this wicked easy Pasta Puttanesca is perfect if you're in a hurry but are dying for something tasty. The flavors blend together so nicely to give this the touch of umami you've been craving.
This Is One Of Our Favorites!
I have to be honest: I've never been a huge fan of anchovies. That fishy, salty flavor is really powerful.
BUT, in this dish, it works really well. The way the anchovies melt into the olive oil and garlic is perfect; you won't even notice it's there. It blends together to give the dish that touch of umami that you want.
Straight Outta Naples:
Puttanesca has a WILD history. Back in the day, Italian women would put the dish in the windows of bordellos to lure men inside. It's distinct scent quickly became famous, making the dish world renown.
Rushing out the door trying to get to your kid's soccer game? This is the perfect pasta dish for you. You have everything in the pantry, and it's ready in just ten minutes!
Ingredients: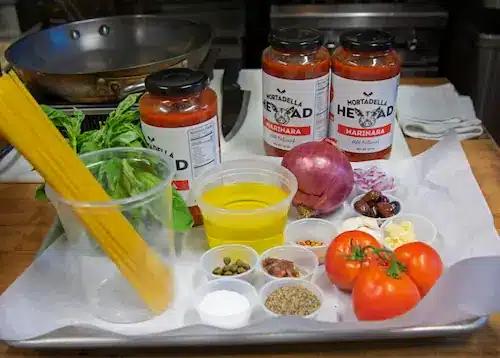 Extra Virgin Olive Oil: To saute the veggies and anchovies. 2 tablespoons will work.
Fresh Minced Garlic: Be sure to mince this yourself—we don't use that jarred stuff here!
Red Onion: Go ahead and dice 1 cup to easily pack flavor into every bite.
Tomatoes: The bigger the better. Dice 2 cups.
Fresh Basil Chiffonade: This sounds much fancier than it is. Roll up a stack of basil into a tight cylinder, and slice the leaves perpendicular to the role.
Olives: Dice two tablespoons of Gaeta or Kalamata olives.
*PRO TIP: It's way cheaper per pound to get your olives from the bulk bin at the market.
Capers: 1 tablespoon will compliment the olives very nicely.
Anchovy Filets: You have to trust us on this one. Remember, the umami flavor!
Marinara Sauce: Buy your favorite! Try to use one with all natural ingredients, it tastes much better.
Spaghetti: Cook a heaping pound al dente.
Romano Cheese: The icing on the cake for this dish. Get a quality block from the grocery store and grate it yourself—you'll be glad you did.
Red Pepper Flakes: What's a traditional Italian dish without a little kick!
*Don't want to read? We got you! Watch our video on how to make Pasta Puttanesca below!
Let's Get Cooking!
Before anything, make sure your ingredients are prepped to perfection. Dice red onion, tomatoes, and olives. Mince the garlic and anchovies, and put a large pot of salted water on high.
Go ahead and heat your olive oil in a decent sized pan. Once oil is heated, add the garlic and red pepper flakes. Heat em' til fragrant!
Now you're ready to add your onions. Cook them until translucent, then season with salt & pepper to taste.
When onions are cooked through, add olives, capers, anchovies. All together, it should look something like this:
Go ahead and add your tomatoes when fragrant. You're gonna want to saute until the tomatoes are nice and soft.
At this point, if your pasta water is boiling, go ahead and add the spaghetti and cook until al dente.
Now for the easy part! Add your marinara sauce to the pan and simmer for 5 minutes on medium heat.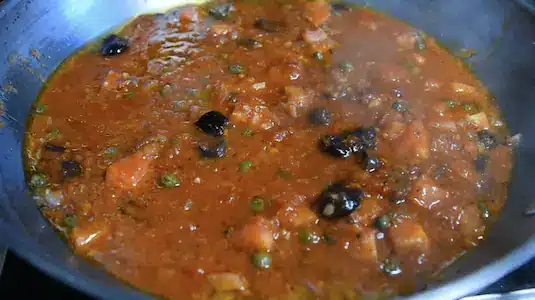 Once the pasta is cooked and the puttanesca sauce has simmered, add the pasta and basil to the mixture.
Toss in some grated Romano cheese and mix everything together until the cheese is well incorporated throughout.
Serve with even more cheese! Don't be shy!

FAQS:
Q: Do I have to use anchovies?
A: No! Leave them out, and it's still a great dish.
Q: Can I use another pasta shape?
A: Absolutely. I think ziti is perfect for this pasta puttanesca.
Q: What if I don't like capers?
A: Don't worry, just leave them out and just use more olives.
Q: Can I add some more protein to this?
A: Yes, throw in some shrimp. You'll love it!

What To Serve With Pasta Puttanesca:
Drink: A dry, red wine would go really nicely with this dish. A merlot or a cabernet sauvignon will really help to bring out the touch of umami that we have created here.
Side dish: You really can't go wrong with pairing any pasta dish with sauteed dandelion greens.
Antipasta: Some nice, salty meats and cheeses pair perfectly with our Pasta Puttanesca. Try prosciutto or salami with aged parmesan cheese.
Print
Pasta Puttanesca-In Ten Minutes!
---
Author:

Total Time:

10 minutes

Yield:

1

-

2

servings

1

x
Description
Straight from Naples, this wicked easy pasta dish is perfect if you're in a hurry but are dying for something tasty. The flavors blend together so nicely to give this the touch of umami you've been craving.
---
2 tablespoons Extra Virgin Olive Oil

1 tablespoon Fresh minced garlic

1 cup Red Onion Diced

2 cups Tomato Diced

2 tablespoons Fresh Basil chiffonade

2 tablespoons Gaeta or Kalamata olives Diced

1 tablespoon capers

2 anchovy filets minced

1 pint marinara sauce

1 pound spaghetti or ziti cooked al dente

2 tablespoons grated Romano cheese

½ teaspoon red pepper flakes
---
Heat oil in a large saute pan
Add garlic and red pepper flakes and allow to cook on medium heat until fragrant
Add onions and cook until translucent
Season with salt and pepper to taste
Add olives, capers and diced tomatoes and allow to saute until tomatoes are soft
Add Marinara sauce and allow to simmer for 5 minutes on medium heat
Add pasta and toss with rest of ingredients
Add Romano cheese and toss all ingredients together until cheese is incorporated throughout
Transfer to dish and add more Romano cheese
Enjoy!
Prep Time:

3 minutes

Cook Time:

7 minutes