Ever since I was a little kid, Christmas Eve has always been my favorite night of the year. And it has nothing to do with Santa Claus or toys. It's the food.
When I was younger, we always spent it at my grandparents' house on my father's side. That was my Italian side of the family and in case you didn't know, Christmas Eve is a pretty big deal to Italian families.
I'd get to see all of my aunts, uncles and cousins and we'd have a ton of laughs and fabulous food. It was a family tradition that still happens today, only now it's at my aunt's house.
My grandparents aren't around anymore so it's really nice to have a family member that is willing to continue our traditional Italian Christmas Eve dinner.
Christmas Eve and Seafood
Christmas Eve in Italy, or La Vigilia as it's known, has always been considered a day of fasting. The religious tradition for fast days in the Catholic Church is that you aren't allowed to eat meat. And when you can't eat meat, you have to eat fish.
You need to save the lasagna with meat sauce and the big antipasto platter loaded with deli meat for Christmas Day.
As a result, this meatless meal on Christmas Eve turned into a dinner table loaded with lots of different seafood dishes.
When the Italians immigrated to the United States, they brought their traditional Italian Christmas Eve menu with them. Now, for so many families, it's an Italian-American tradition that gets passed on from generation to generation.
Most of the Italians that came to Boston, New York City and other major cities in the United States came from Southern Italy. So a typical Christmas Eve meal for Italian American families is going to be full of fish recipes that originated in that part of Italy. Not all of the fish will be the same, because using locally caught fish makes for a better meal. But the preparation techniques and recipes will be those brought over from the old country.
Of course, families that came from Northern Italy or Central Italy will have their own favorite recipes and fish dishes.
No matter what part of Italy a family comes from, their holiday dishes will be made of different types of seafood cooked with Italian recipes in many different ways. Christmas Eve is an Italian-American celebration about fish.
The Feast of the Seven Fishes
So what is the traditional Italian Feast of the Seven Fishes anyway? Is it even an Italian tradition? Maybe not.
They say this is an Italian-American concept. While they do eat fish on Christmas Eve in Italy, there is no Feast of the Seven Fishes Dinner. In fact, the Christmas Eve meal is not even considered a feast because it is supposed to be a day of fasting. Christmas day is actually the feast day in celebration of the birth of Jesus.
In an Italian-American family, the Christmas festivities begin with the Feast of the Seven Fishes. The reason it's seven fishes is because the number seven is very significant in the Catholic Church. The Vatican is in Rome and there are seven hills in Rome. There are also seven Sacraments in the Catholic Church. Somehow, there were seven fishes at the Christmas Eve dinner party with Italian-Americans.
In reality, most families don't have a set number of fish that they serve on Christmas Eve. It's usually a multi-course meal made up of a bunch of different seafood dishes. There are a handful of recipes that you'll probably find on everyone's menu.
If you are a big fan of Italian food and want to whip up your own traditional Italian Feast of the Seven Fishes, here is a list of some dishes you should make. You don't have to be Italian or Italian-American to have your own Christmas Eve dinner.
Just roll up your sleeves, pour yourself a nice glass of red wine and start cooking some of your own Christmas traditions.
*And if you don't want to spend the Holidays cooking, we can ship some delicious Italian food right to your doorstep. If you're in the Boston area, we're also organizing Christmas catering services. Let us help you amaze your guests!*


Italian Christmas Eve Recipes You Should Try
Here is a list of recipes that I want to share with you for your next Christmas Eve. It is a mix of things you might see at a Christmas Eve celebration in Italy or at an Italian-American family's traditional Feast of the Seven Fishes.
It is not meant to be a catalog of traditional Italian Christmas foods that you'll only find in a small village on the coast of Italy. I want it to be more of a representation of things you'll see made by people who are serious about their Italian culture and heritage, while at the same time utilizing the local ingredients available to them here in the United States.
I've curated this list of recipes from a few different places. It includes meals I've had while traveling in Italy, dishes that my family has always made on Christmas Eve, and ideas from friends and colleagues who have shared their own Christmas traditions with me.
These recipes are perfect for the seasoned veteran who's been whipping up Italian cuisine on Christmas Eve for decades, or someone who is doing it for the first time.
Appetizers to Serve at an Italian Christmas Eve
I'm listing these dishes as appetizers for purposes of organization, but in reality any of them could be served as a main course. It's actually very common for all of the food, whether appetizers, main dishes or side dishes, to be put on one big table. Everyone helps themselves to what they want and fills their plates.
Sauteed Calamari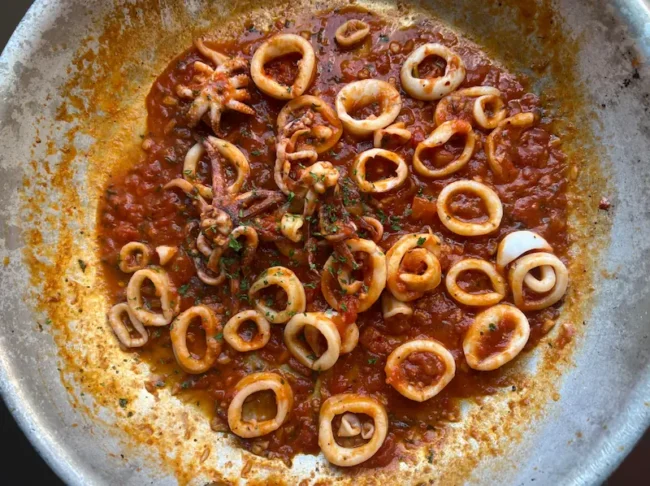 This is a quick and easy recipe that cooked up in a few minutes. Get some cleaned calamari, tentacles and rings, and put them in a frying pan with olive oil, garlic and parsley. Add a little white wine and let it reduce. If you prefer it red, add a little tomato sauce at the end.
→ Go check the full recipe to learn how to saute calamari! You can also pair it with our 72-hour pizza dough recipe and make a delicious Calamari Fra Diavolo Pizza like Sebby does in the video below!
Clams Casino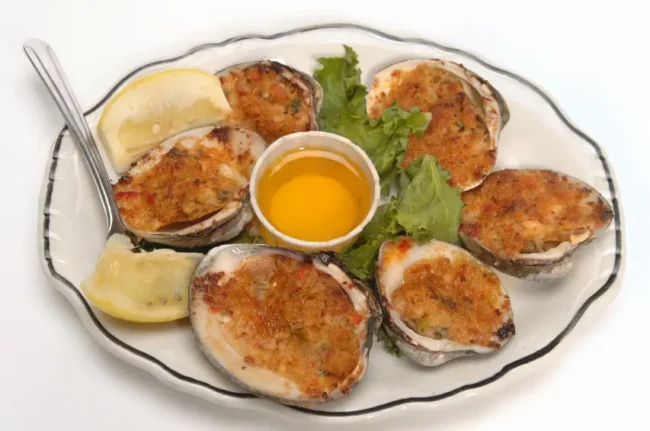 This is a recipe that is really common on menus at Italian restaurants here in the United States. It's usually a quahog or hard shell clam that is opened up and stuffed with a mixture of breadcrumbs, olive oil, garlic and herbs. It's then baked in the oven until the breadcrumb stuffing is golden brown. Clams casino is an Italian-American classic.
Shrimp Scampi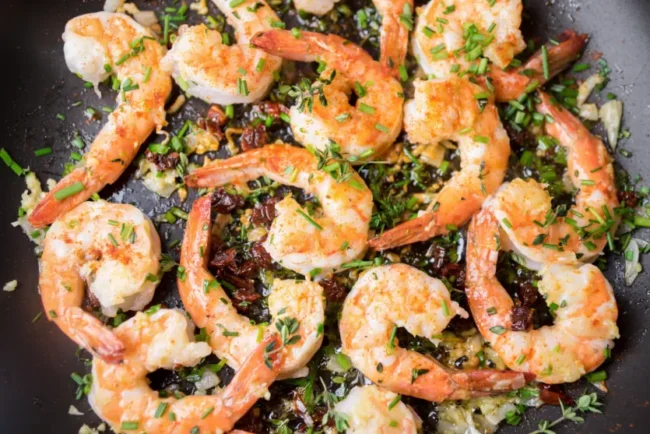 This is a nice appetizer to serve with some garlic bread toast point to soak up the sauce. My shrimp scampi recipe calls for olive oil, lots of garlic, a little butter, white wine and parsley. At the end squeeze on some fresh lemon juice.
Fried Smelts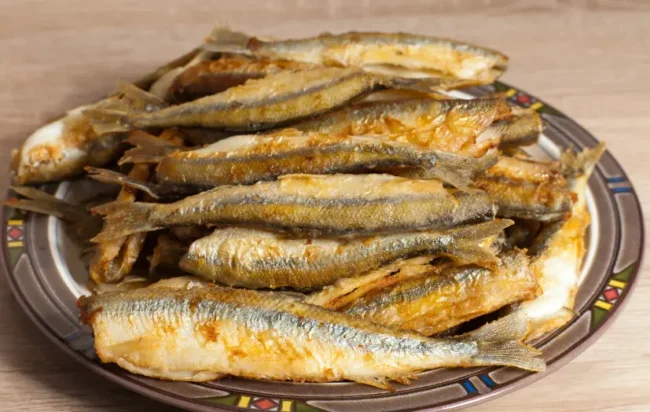 This is one of the things you'll find on just about every table at an Italian Christmas Eve. Smelts are tiny little fish that get dusted in flour and quickly fried in olive oil. Season them with salt and pepper and squeeze on the lemon. Pop the whole thing in your mouth… you can eat the bones and the head – they're so small.
Octopus Salad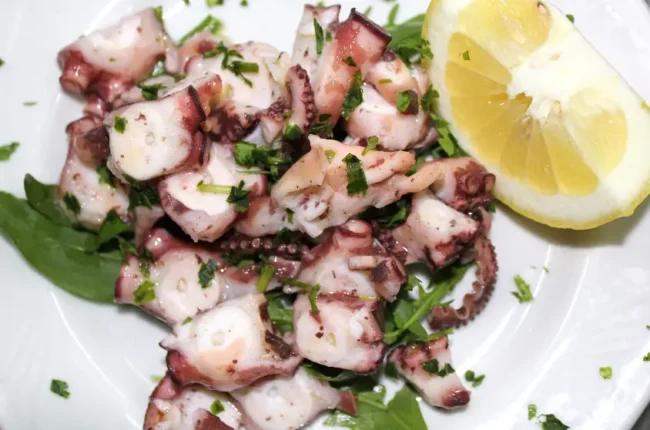 There are a lot of opinions on the best way to prepare the octopus. Some say it should be smacked on the ground to make it tender. Some say to boil it with a wine cork in the water. Whatever you do, make sure it is cooked right and add some simple ingredients. I like an octopus salad with garlic, celery, olives and fresh parsley. Toss it with olive oil, lemon juice, salt and pepper. It's so simple, but so good.
Calamari Salad
When you make a calamari salad you should boil your calamari first. After it's cooked, let it cook and toss it in thin sliced red onion, celery, olives, capers, olive oil and a little vinegar.
Sauteed Mussels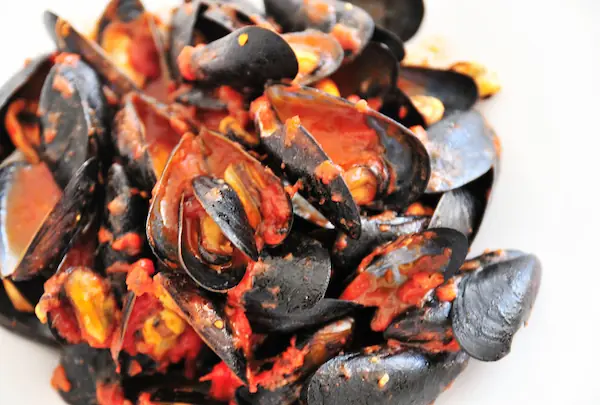 Mussels are one of those things that I can eat and never get full. I like an easy recipe with olive oil, garlic, parsley, white wine and chopped tomatoes. Add a little butter at the end and cover the pot. When the mussels open up, they're ready.
Fried Baccala
Baccala is the Italian word for salt cod. Most European cultures have their own versions of a salt cod recipe, but one of my favorites is from a little restaurant near the Campo dei Fiori in Rome. They soak the salted cod in water for a few days to rinse out the salt. Then they dip it in a really light batter and fry it up. It sounds like no big deal, but when you squeeze on some lemon and take a bite, you'll understand.
Fish Balls
This is a recipe my grandmother made every Christmas Eve and my aunts still make it now. It's basically a meatball, but instead of ground beef, it's made with haddock or any other flaky white fish. Mix the fish with breadcrumbs, grated parmesan cheese, parsley, garlic and and egg. Then ball it up and fry it in a pan. Put them in some tomato sauce to simmer for a bit and you have a delicious first course.
Seafood Salad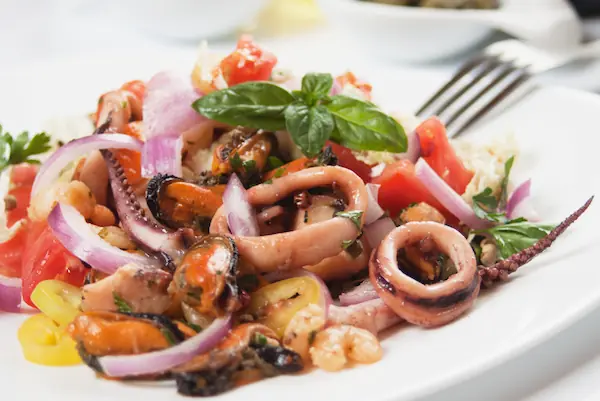 This is a dish that I've had over some friends' houses on Christmas Eve, but I have to admit, I've never made it myself. It's sort of a cold fish salad and can be made with different ingredients, based on what you like and what's available. There's one impressive seafood salad that stands out in my mind that had baccala, mussels, shrimp and calamari marinated in a really nice vinaigrette.
Fried Calamari
This is a simple recipe. Just toss the calamari rings and tentacles in flour seasoned with salt and pepper. Fried them in olive oil and serve them with fresh lemon wedges, or with our spicy aioli sauce and some garlic bread.
→ Go check our air fryer calamari recipe! 
Raw Cherrystones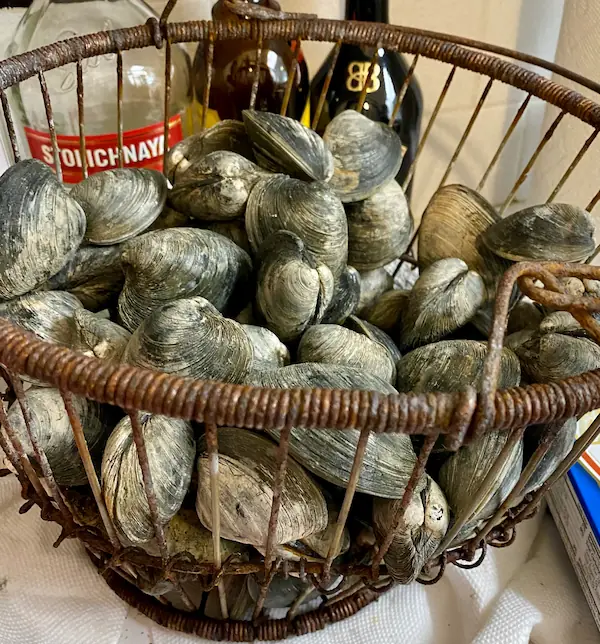 These hardshell clams can be served raw with a squeeze of lemon and cocktail sauce. It's a New England seafood favorite that's become common at an Italian-American Christmas Eve dinner.
I picked this basket of clams right out of the bay myself last year.
→ If you need more inspiration, go check Gianna's favorite seafood appetizers for Christmas!


Main Courses
Now, let's talk about the main courses. As you can expect, Italy has a lot of excellent pasta with seafood recipes that are perfect for a Christmas Eve menu. And then, there are baked or stuffed dishes that are great for any special event.
Here are my favorite ones.
Squid Ink Pasta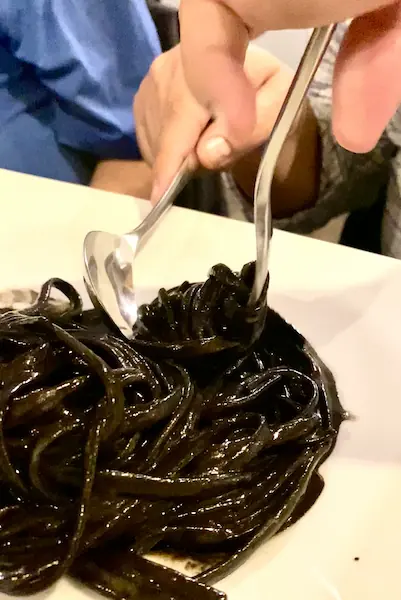 If you can find it, buy it. That strange-looking black spaghetti is worth giving a shot at. It's also fun to freak people out when they come over and have never seen it before. It's a fresh pasta that is made with the ink from the squid. It turns dark black and is really interesting to taste. It's not fishy and overpowering like you'd expect. When you eat it you'll notice a delicate balance of the taste of the ocean and whatever sauce you toss it in.
Zuppa di Pesce
A zuppa di pesce is a mix of different seafood usually stewed in a rich tomato sauce. In New England it will usually have clams, shrimp, mussels, calamari and a type of white fish. It can be served tossed with spaghetti or linguine. It can also be eaten with a spoon like soup. You'll have fun pulling the seafood from their shells.
@mortadellahead Replying to @jennleo89 The moment you've all been waiting for! Save this video to try for yourself! FULL RECIPE BELOW 👇 Ingredients: -3 28 oz. cans of crushed tomatoes -½ cup olive oil -2 cups ¼ inch diced yellow onion -2 tablespoons minced fresh garlic -1 tablespoon kosher salt – ½ tablespoon black pepper – 6 to 8 fresh basil leaves -2 ½ cups of water Instructions: Place stock pot over medium heat and add olive oil. Add onions and garlic. Season with salt and pepper. Saute on medium heat until onions turn translucent. This should be approximately 5 minutes. Add tomatoes and water. Bring to a boil. Once boiling, bring heat down to a simmer. Add basil leaves. Let it simmer on low heat for at least 30 minutes or up to 4 hours if you really want a thick, rich sauce. Stir often so it doesn't burn and stick to the bottom of the pot. #DidYouYawn #bostonfoodies #bostontiktok #recipesoftiktok #tiktokhowto #marinarasauce ♬ I Can Love You – Mary J. Blige
Frutti di Mare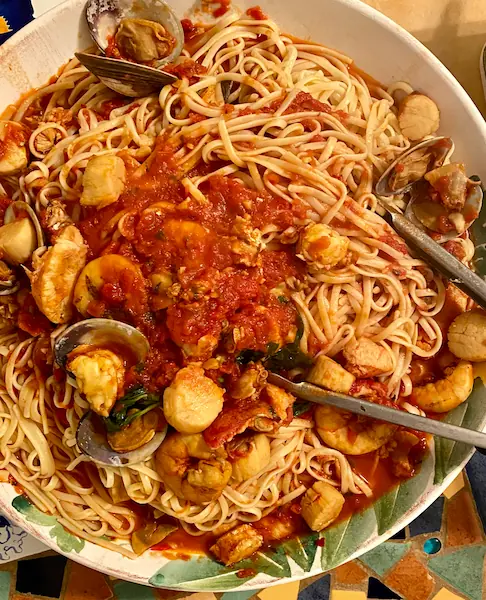 A frutti di mare is very similar to the zuppe di pesce. This is almost always served with long thin pasta. It can be in a red or white sauce. The sauce is usually heavy on the garlic and is better if it's made with a good fish stock.
Lobster Fra Diavolo
In New England a lobster fra diavolo is a dish you'll see on just about every Italian restaurant menu. It's not really a classic Italian dish that you'll find in Italy, but it is a great example of how the Italian immigrants took their style of cooking and combined it with local ingredients. It's a spicy dish, hence the name. "Diavolo" means "devil" in Italian. Turn up the heat to your liking by adding red pepper flakes to the sauce.
Baked Stuffed Lobster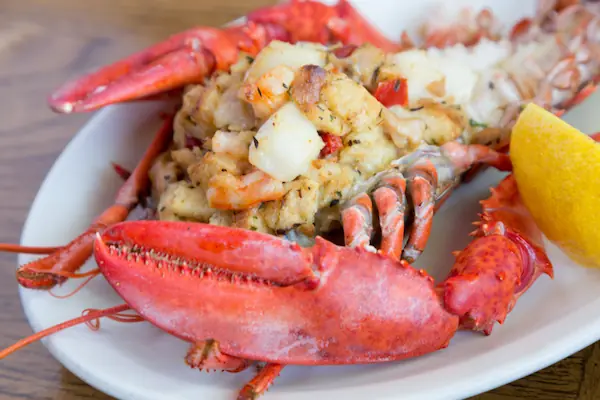 I usually only see this dish on special occasions and it's really not even Italian. I'd call it a New England classic. But for some reason I see it served at so many Italian households on Christmas Eve. It's a big New England lobster, split down the middle, and packed with a stuffing made from breadcrumbs, butter, garlic and lots of other seafood.
It probably made its way to the Italian-American Christmas Eve dinner table because of it's association with special occasions.
Stuffed Calamari
I usually see this dish made with the long tubes of the calamari. They get filled with a mixture of breadcrumbs, parsley, garlic, pine nuts and other ingredients depending on the family recipe. It then gets simmered in a tomato sauce until the calamari is nice and tender.
Roasted Whole Fish
Take a whole fish, clean out the guts and season it with olive oil, salt, pepper and fresh herbs. Roast it in the oven and serve it as a centerpiece on the table. The eyeballs are a nice touch and will keep the little kids entertained.
Swordfish Puttanesca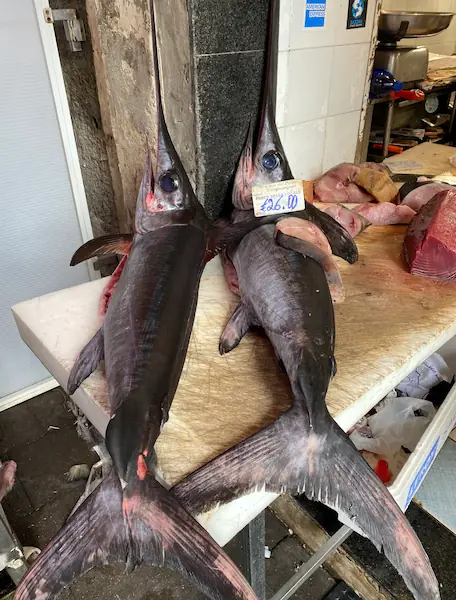 This is a really simple, but beautiful dish. Sear some swordfish steaks and then let them simmer in a sauce made with tomatoes, olives, capers, onions and garlic.
I took this photo when I was walking through the fish market in Ortigia, Sicily. The swordfish there was impressive.
Tiella di Gaeta
This is a recipe that I always had at my grandparents house when I was younger. It is common in the city of Gaeta which is on the coast of Italy, between Rome and Naples. It's a simple dish made with octopus or calamari, tomatoes, garlic and parsley baked in a pie crust.
Spaghetti and Clams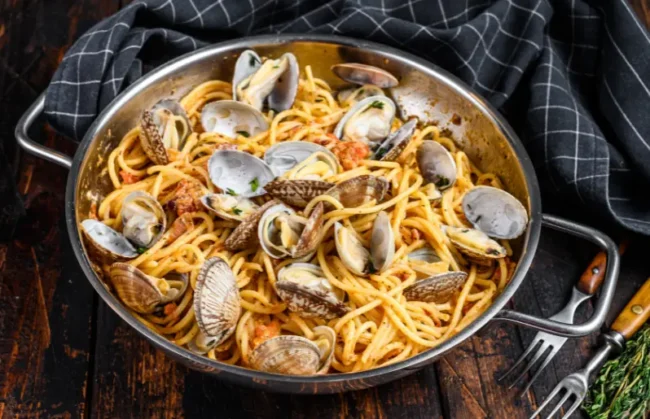 Spaghetti and clam sauce or "Spaghetti alle vongole" as it's called in Italy, is a classic Italian dish. Make this recipe with small hard clams. Heat some olive oil in a frying pan and add garlic, red pepper flakes, and parsley. Add the clams and some white white. When the clams open up add some al dente linguine and give it a good toss.
Side Dishes to Serve at an Italian Christmas Eve
Eggplant Parmesan
Eggplant parmesan is the perfect side dish or meatless main course. It's layers of fried eggplant, cheese and tomato sauce baked in the oven. It's one of my favorite dishes of all time. I have a really great recipe that everyone loves.
Sauteed Broccoli Rabe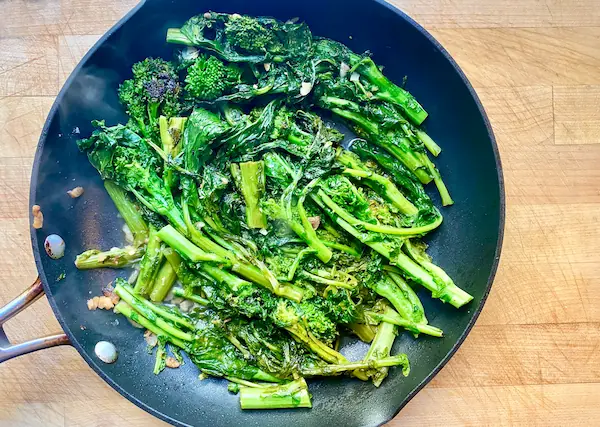 The bitter flavor of broccoli rabe is a great compliment to any main course. It cleanses the palate and gets you ready for the next bite of your big Italian meal. It's something I make all of the time and the recipe is really easy.
Eggplant Rollatini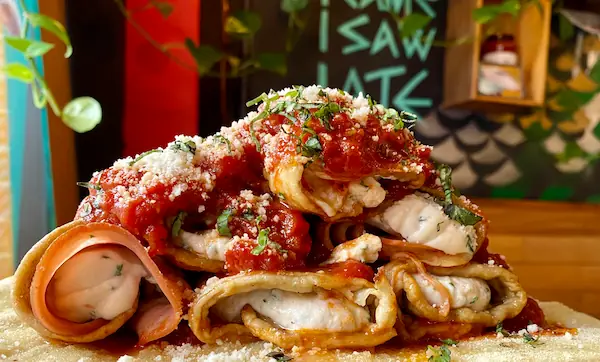 It's also known as eggplant involtini. This is another dish that can be a side or a main course. It's fried eggplant stuffed with ricotta cheese and whatever else you decide you want. I've seen it stuffed with roasted peppers, spinach and even leeks. It's then covered in tomato sauce and cheese before it's baked in the oven. You'll love it when you make it with my eggplant involtini recipe.
Pepperonata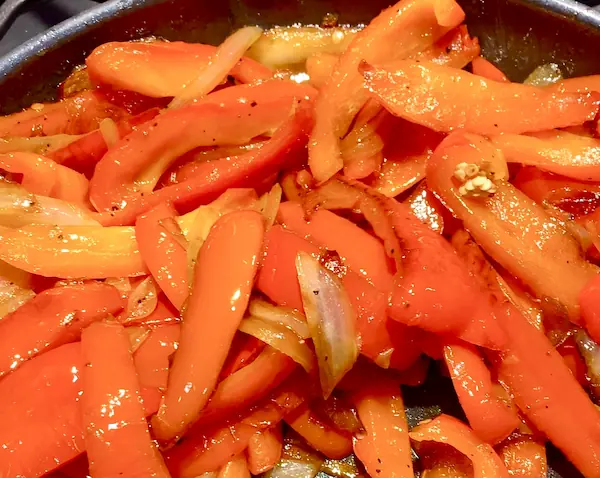 Take some colorful bell peppers and cook them low and slow with onions and olive oil until they are caramelized and sweet. Add a little vinegar or capers for acidity and it's the perfect side dish. I think they are best when served at room temperature.
Sauteed Dandelion Greens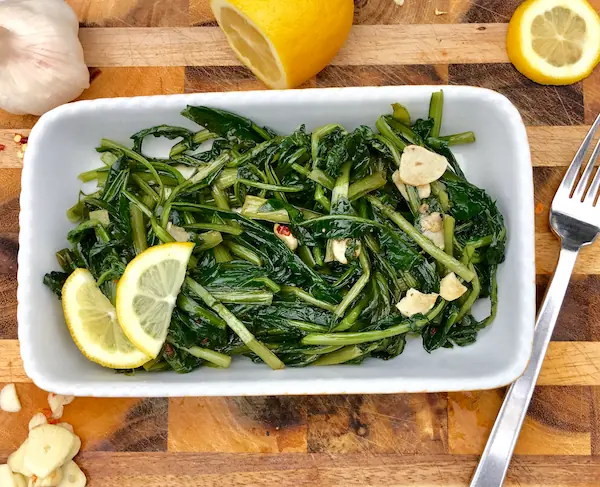 This is another great bitter green. It's very common in the area surrounding Rome. It's called "cicoria" in Italian. You may also see it called chicory in the United States. A simple process of blanching it in boiling water and then sauteing it in olive oil and garlic is all you need to do. Give it a squeeze of lemon at the end like I do in my personal recipe.
Sauteed Mushrooms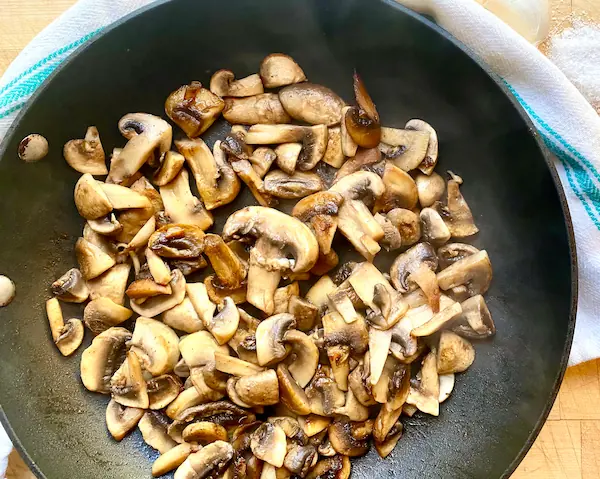 There are so many different mushrooms to choose from. A simple recipe of slowly cooking them in olive and garlic with lots of salt and peppers makes them a simple and delicious dish.
Sauteed Green Beans with Pancetta and Tomatoes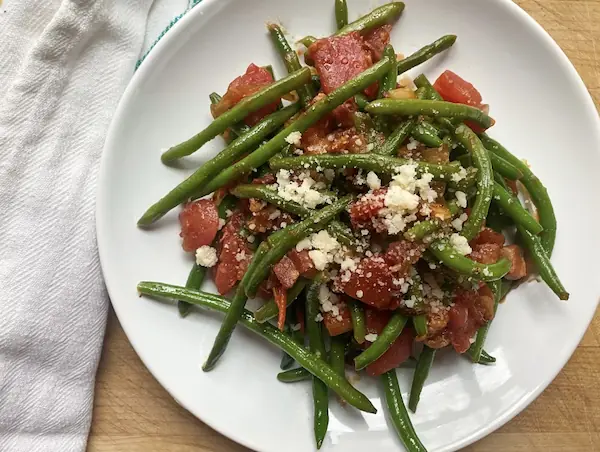 This is such an easy recipe. Render your pancetta first and then let the beans cook in the fat. The tomatoes and onions make a really nice sauce for the beans to simmer in. It's a recipe that my kids really love.
→ Go check the full recipe!
Sauteed Green Beans with Bell Peppers, White Wine and Butter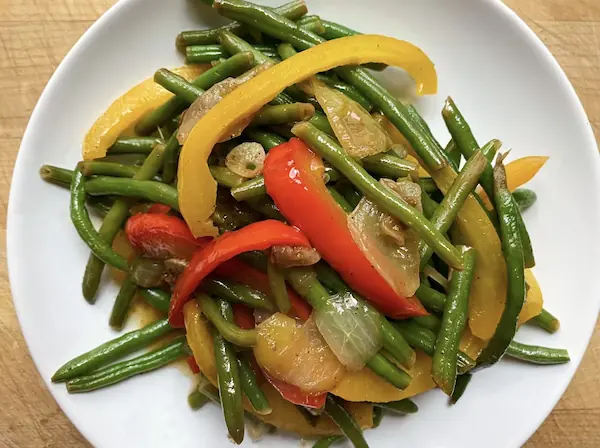 This is another recipe that will make people want to eat their veggies. The green beans get cooked over high heat and the peppers and onions add a ton of flavor. You don't have to cook it too long. You want a little crunch on the beans. When you make this recipe once it will be in your regular rotation.
→ Go check the full recipe!
Sauteed Spinach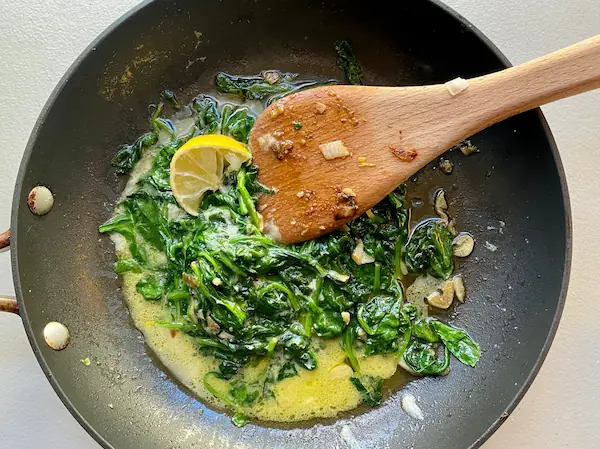 I love getting spinach with a big fat steak. The good thing is that it also goes well with seafood. I use a simple recipe made with olive oil, garlic, parmesan cheese and lemon. Give it a try and you'll see why I love it.
Sauteed Celery in Tomato Sauce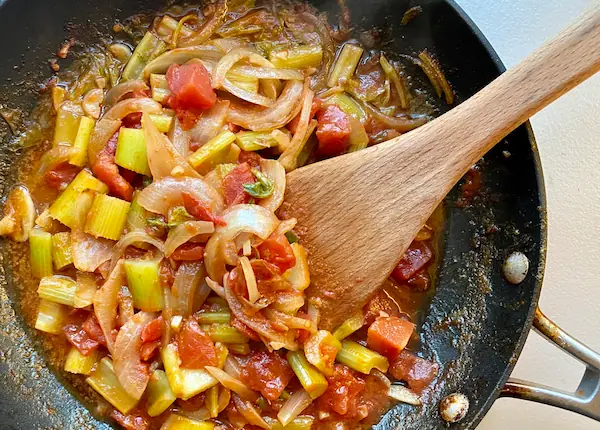 When I first saw this recipe I thought it sounded a bit strange. Celery is something that is always part of a recipe, but not the star of the show. In this recipe, the celery cooks in a really nice tomato sauce until it's soft and tender. Add some grated parmesan at the end and you'll have a really delicious side dish.
Caprese Salad
This is a side dish everyone enjoys. It's better in the Summer when you can pick some vibrant red tomatoes right from the garden. But, with the help of a good olive oil and some fresh mozzarella, even the Caprese Salad in the winter is a nice side dish.
→ Go check our Caprese salad recipe!
Caesar Salad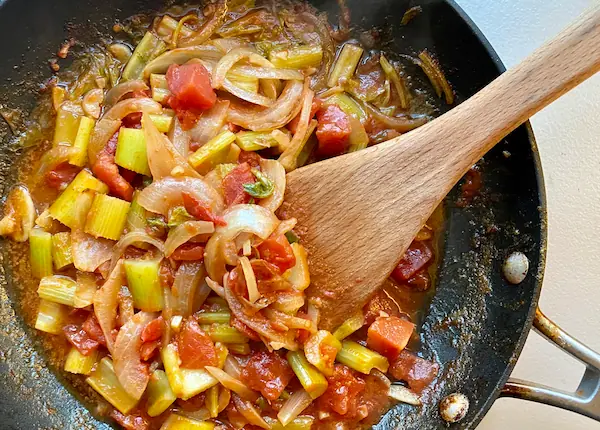 The classic Caesar salad with romaine lettuce, shaved parmesan cheese, and homemade croutons is the perfect side dish. I like to make it with a simple homemade Caesar dressing that I make at the restaurant. It's quick, easy and delicious.
Whether it's Merry Christmas or Buon Natale at your house this Christmas Eve, try making some of these recipes and it will be a night to remember.