No inspiration for your holiday menu?
Here are 6 of my favorite seafood appetizers for Christmas.
Go check them out and amaze your guests!
Growing up Italian, seafood was always a staple in my house, especially around the holiday season.
I'm not just talking about the occasional lobster dinner or oysters Rockefeller at a restaurant.
I'm talking about real seafood. Authentic Italian seafood. Spaghetti with clam sauce or tuna fish sauce, baked haddock every Friday night without fail during lent, and calamari as a right of passage when out to dinner.
Even the non-Italian options, like crab rangoon, sushi or grilled Mexican style swordfish were huge hits in my house growing up.
So it's no surprise that on Christmas eve, we didn't sit around a huge cheese ball making conversation. We each had our own individual classic shrimp cocktail plates, along with all of the salmon dip, crab cakes, and all of the other great appetizers that you could think of.
I think my family may have cursed me permanently by doing this, because now I love seafood. I really can't get enough of it, especially in the form of easy appetizers.
Any time I go to an event, I always make sure that whatever appetizer I bring has some component of seafood in it. It's a great way to try new things, and to attempt to sway the opinions of those who think they don't really care for seafood.
These are all of the Christmas appetizers that have been tried and true to myself and my guests over the years. Try them one, or try them all. Just know they are tested and approved by myself and the many holiday parties that I find myself at.
Enjoy these different seafood appetizer recipes, add them all to your holiday menu, and Buon Natale!


Crab Rangoon Dip
We're starting this off strong with something that isn't Italian *gasp*. Even though this isn't a traditional Italian dish, this creamy dip is something that everyone tends to go crazy for at your next party.
Not only is this crab rangoon dish delicious, it's also extremely easy to make, and will be ready in less than a half hour. Paired with wontons, and you have bite-sized versions of your favorite Chinese appetizer to exist.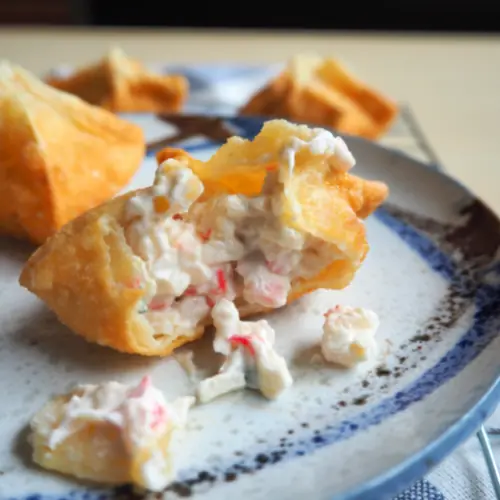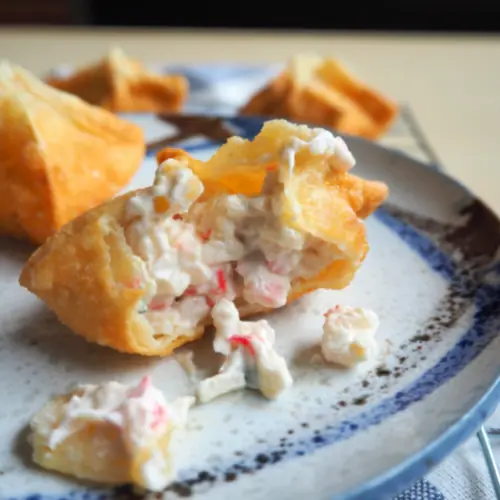 Ingredients:
12-16 oz of crab meat
1 block cream cheese, softened
½ cup mayo or plain greek yogurt
¼ cup sour cream (can also do more greek yogurt)
¼-½ cup grated Romano cheese or parmesan cheese
½ cup Mozzarella cheese, freshly shredded
2-3 cloves garlic, minced
1 dash of Worcestershire sauce
A dash of lemon juice
Salt and pepper, to taste
Directions:
Preheat oven to 375°
Beat cream cheese, mayo/greek yogurt/sour cream, lemon juice and Worcestershire sauce on low until cream cheese is light and fluffy
Gently add the rest of the ingredients, making sure some mozzarella is saved to top the dip with
Spray a casserole dish with cooking spray and fill with the mixture, topping with extra cheese at the end
Bake for 20 minutes or until cheese is melted, brown, and bubbly
Serve with wontons or nacho chips for dipping, garnish with green onions if readily available
Salmon Dip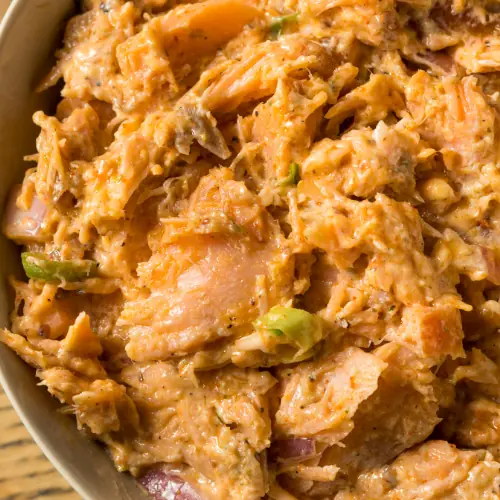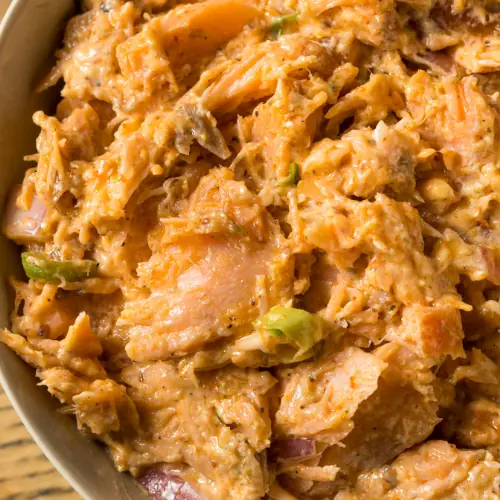 I'll have to be honest, when I was a kid I always liked this one the least when compared to other Christmas appetizer recipes. The color was odd, it was filled with tangy seasoning, and I couldn't visualize seafood in dip form.
But now that I'm older, I can't get enough of this delicious seafood appetizer.
Here's the version that my family has always used for every holiday.
Ingredients:
1 14 oz can of salmon
2 blocks cream cheese, softened to room temperature so it doesn't curdle
A few drops of smoky coconut aminos (I use Trader Joe's brand)
½ cup white onions, caramelized if you prefer for better flavor
Scallions to garnish
Salt and pepper to taste
Directions:
Drain your salmon
Combine everything together in a bowl and thoroughly mix
Refrigerate overnight, topping with scallions when you go to serve the dip
Serve with Ritz crackers
Hot Crab Dip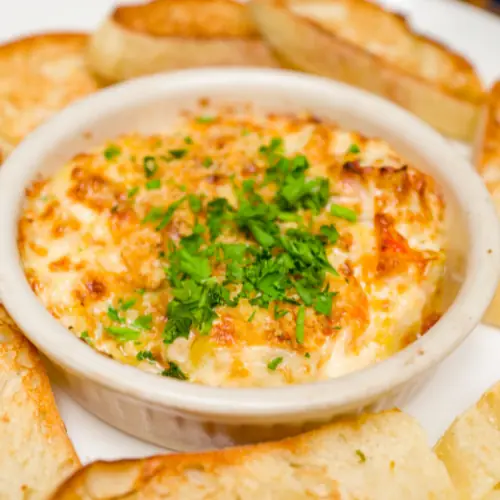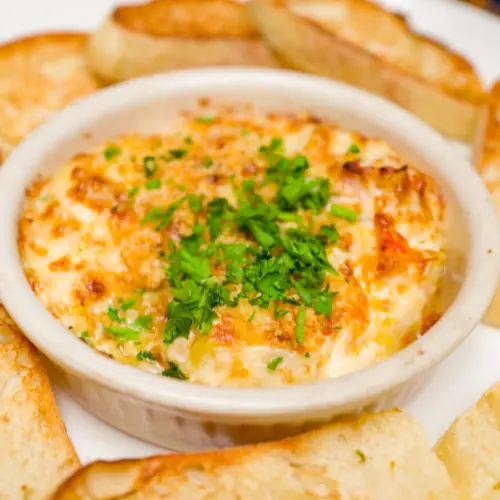 I could scream it from the rooftops how much I love this dip, or I could just show you how to make it yourself.
Today, I'll do both.
This is one of my favorite recipes on here, and I guarantee you'll love it too. My one strong suggestion is that you buy lump crab meat instead of imitation crab. Once you try this with the real stuff, you'll never go back.
You can also make this as a lobster dip by using fresh lobster meat, but it will be more expensive. No matter which way you choose to enjoy this, it'll taste great regardless.
→ I've recently posted a complete hot crab dip recipe. But if you're here just for the instructions, here's what you need to do. 


Ingredients:
1 block cream cheese, softened at room temperature
½ cup ranch dressing or creamy blue cheese
1 cup freshly grated sharp cheddar cheese
1 cup freshly grated pepper jack OR colby jack cheese
Onion salt to taste
Garlic powder to taste
Salt and pepper to taste
Franks red hot, as much or as little as you prefer
1 lb lump crab meat
Directions:
Preheat oven to 350°
Combine everything together in a mixing bowl, leaving some cheese aside to top
Grease a casserole dish and add the mixture. Top with remaining cheese
Bake for 25 minutes or until cheese is melted and bubbling on top
Serve with tortilla chips and enjoy!
Crab Stuffed Mushrooms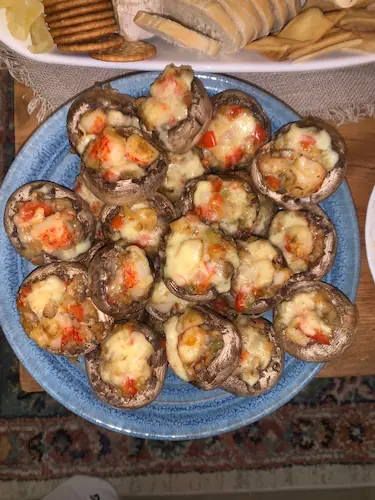 This is another one of my favorite recipes, and I guarantee you will be hooked.
I'll admit, the first time I tried this I was a bit hesitant. Gouda? On crab meat? But trust me, this is the perfect way to go.
The result is something so smokey and delicious, and always a huge hit at any party.
→ If you want to try this at home, go check my full post on Crab Stuffed Mushrooms, or follow the instructions below!
Ingredients:
2 packages of whole baby bella mushrooms
3 tbsp bell pepper, chopped
3 tbsp white onion, chopped
3 tbsp celery, chopped
3 tbsp garlic, chopped
Onion salt, to taste
Chili powder, to taste
Paprika, to taste
Salt and pepper to taste
½ cup unseasoned breadcrumbs
½ pound lump crab meat or imitation crab
¾ cup gouda
Directions:
Preheat oven to 350°
Remove the stems from your mushrooms and thoroughly wash under cold water, making sure all of the dirt and grime is removed
Save a handful of stems, and finely chop into small pieces
Arrange the mushrooms on a foil lined baking sheet, with a drizzle of olive oil
In a saute pan with butter or olive oil, begin to saute the chopped mushrooms, celery, peppers, and onions, with all of the seasoning. Make sure you cook until onions and celery are translucent
Pour into a mixing bowl with cheese, breadcrumbs, and crab, making sure to save some cheese for the top of the mushrooms
Begin to stuff everything in the mushrooms, hitting the top of them with some extra cheese at the end
Bake for 20 minutes or until the mushrooms appear soft
Calamari Fritti
Visualizza questo post su Instagram
This recipe is perfect for the little ones who "hate seafood," but will eat just about anything that's fried (the best way for your kids to try new food!)
It's so incredibly easy, and is ready in about 20 minutes when made in your air fryer. Once you try it this way, you'll never go back to making calamari the same way ever again.
Check out → our very own Calamari Fritti recipe!
Bacon-Wrapped Scallops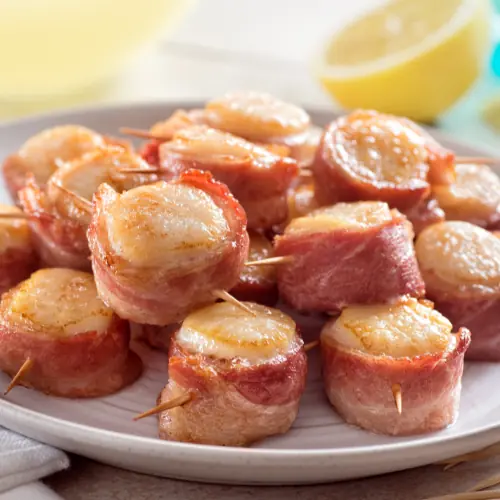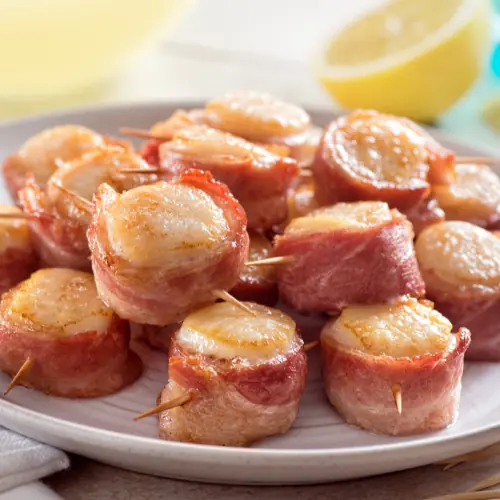 Last but not least is the classic recipe, that has never once failed me (not that any of the others have, but, you get the point).
This recipe is so simple and just so delicious. I am confident that with zero self control, I could polish off an entire pan of these.
To celebrate finally writing this recipe down, I just might.
They're just that delicious. I'm confident that all of your guests will rave about these and beg you to make them for each and every party.
Ingredients:
10 fresh sea scallops
5 slices of thin bacon, cut in half
Salt, to taste
Pepper, to taste
Onion salt, to taste
Garlic powder, to taste
Directions:
Preheat oven to about 415°
After scallops are thoroughly washed, begin to wrap each one with a piece of bacon, securing with a toothpick at the end
Season with salt, pepper, garlic powder, and onion salt
Drizzle some olive oil on a baking sheet and lay the scallops diagonally down on the sheet
Bake for 6 minutes, so bacon gets nice and crispy on one side, and flip over
Let the other side of the scallops cook for another 6 minutes
Serve immediately!