I love a quick and easy recipe that people think is way fancier than it actually is.
Maybe it's just me, but when I see "haricot verts" on a restaurant menu, I want to order them with a French accent.
Usually, when I think about a green bean recipe, I get a vision of a casserole made with standard green beans from a can, cream of mushroom soup and fried onion rings.
On the other hand, when I picture the haricot vert, I envision fresh green beans straight from the farmers' market and quickly turned into healthy recipes fit for a proper Francophile.
The truth is that both traditional green beans and haricot verts can be turned into really great recipes with little effort. There are a lot of ways to make this versatile side dish the shining star of the dinner table.
If you're like most people, you probably don't think much about the best ways to make green beans, let alone have your own favorite way to make them.
I'm going to show you how to make one of my favorite green bean recipes right now. If you pay attention for a few minutes, you can probably surprise your family with them at dinner tonight.
What is a Haricot Vert?
Haricot verts just means "green beans" in French. People will also call them French beans because of the name.
The best way to explain what the haricot verts are is to say they are regular green beans that are usually a bit longer and thinner. They may also be picked earlier than the thicker and sturdier version of the green bean.
The young green beans, when picked early, are believed to be more tender.
You'll also see them being called string beans at times, but that name is no longer necessary.
The term "string beans" came about because in the past, you actually had to remove a very fibrous string from the pod before you ate it. I remember sitting at the kitchen table with my grandmother helping her pull it out and trim green beans before dinner.
The new varieties of green beans don't have that fibrous string on them, but when you say "string bean" everyone knows what you mean.
Now let's make some haricots verts.


Here's What You'll Need for your Sauteed Haricot Verts
These ingredients are so simple. So is the recipe. This is going to be delicious.
Haricots Verts: these simple French green beans can be fresh or frozen for this recipe. I decided to use frozen because I already had a bag on hand. If you decide to use fresh haricot verts, I suggest blanching them first.
Olive Oil: use a good quality extra virgin olive oil to saute the haricot verts. The better the olive oil, the better the flavor.
Garlic: get a head of fresh garlic and chop up a couple of cloves. Use American garlic. It's better and you'll feel patriotic.
Onions: you can choose from yellow onions, white onions or red onions. The most important thing is that you slice them thin.
Bell Pepper: I suggest getting some fresh peppers at the grocery store. I like red bell peppers and yellow bell peppers. They are much sweeter than the green peppers and the red peppers add some great color to the dish.
Get a sharp knife and cut them into thin strips.
Butter: use unsalted butter so you have more control over the seasoning.
White Wine: you want to get a wine that is good enough to drink, but it doesn't have to be fancy or expensive. I always have a bottle of chablis or pinot grigio in my kitchen for cooking.
Salt and Pepper: get some Kosher salt and fresh ground black pepper.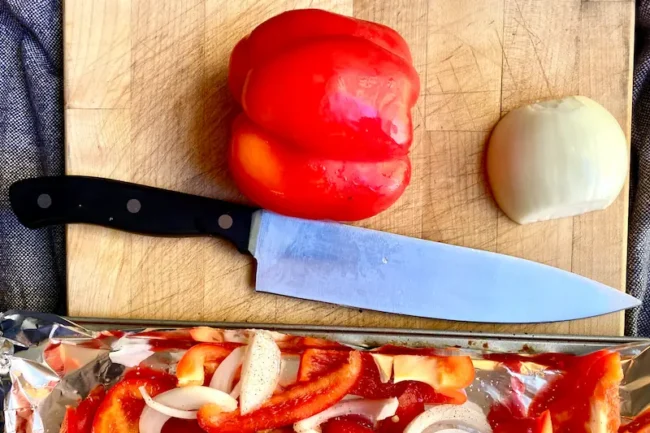 How to Cook Sauteed Haricot Vert
If you follow a few basic steps you are going to knock it out of the park with these green beans.
Let's start cooking.
How to blanch fresh beans.
Put some cold water in a pot and bring it to a boil. Add some salt to the boiling water and toss in the green beans. Have a large bowl of ice water ready.
Put the beans in the boiling water for 2-3 minutes and remove them.
Plunge them into the ice bath. The iced water will stop the cooking process making the beans bright green and crisp-tender.
Now you're ready to saute.
Step 1: Start off by adding olive oil to a large skillet or large saute pan. Put the pan on medium-high heat and let the oil get hot. Add your pepper, onions and garlic to the pan. Season them with a pinch of salt and pepper. Let them cook down until they get soft. It should take about 7-8 minutes.
If they start to cook too fast or seem like they are burning in the hot pan, turn it down to medium heat.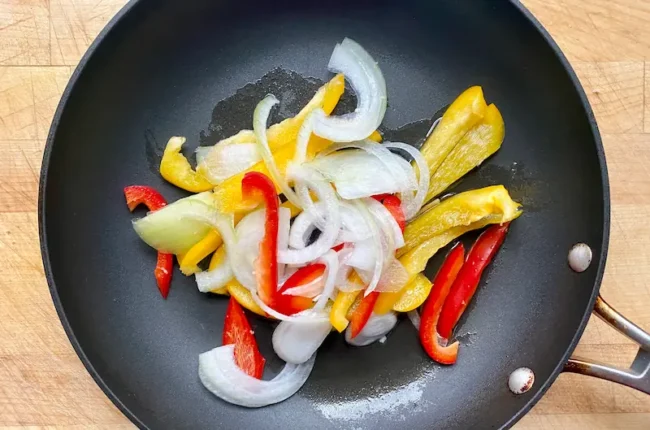 Step 2: Add your haricot verts to the pan. Season them with salt and pepper. Seasoning in layers is the best way to get the most flavor in your dish.
Toss them around with the peppers and onions for a couple of minutes.
Step 3: Add the butter and wine to the pan with the sauteed green beans. Let the butter melt and the wine reduce for about 10 minutes on medium high heat.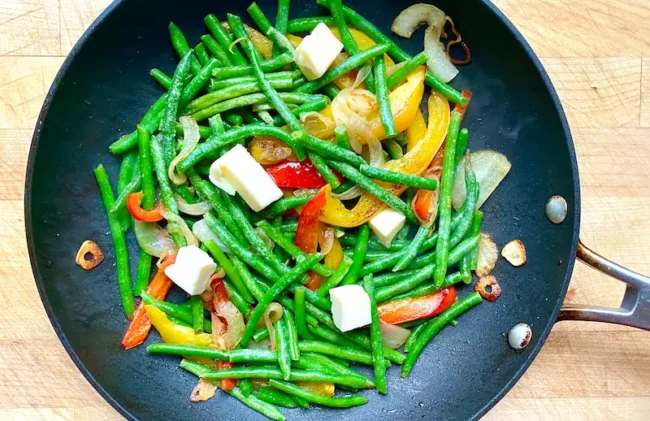 It will start to thicken slightly and create a sauce.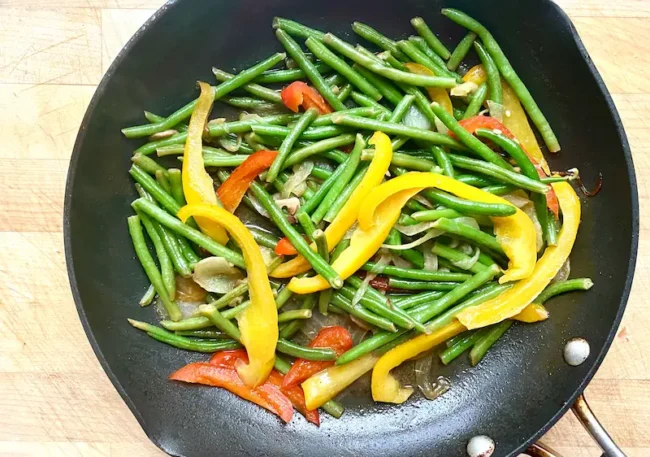 Finally, transfer everything to a serving bowl or plate. The vibrant green color is beautiful!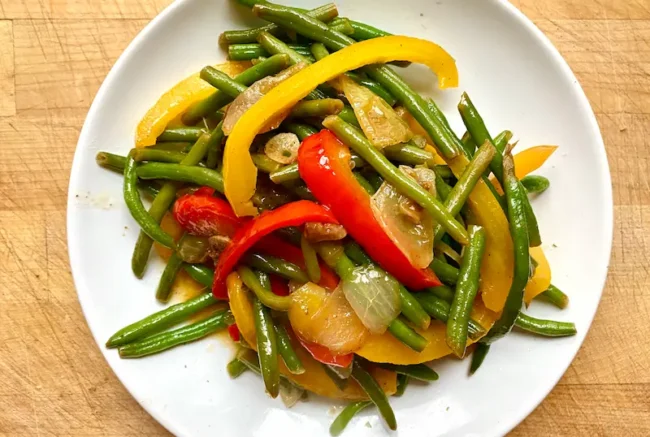 Sauteed Haricot Verts FAQs
Q: What if I can't find haricot verts at the grocery store?
A: If you can't find the long and thin green beans called haricot verts, you can just use regular green beans. As a regular sauteed green beans recipe it will still be great.
Q: If I don't like peppers can I use another vegetable with the haricots verts?
A: Yes. You can substitute the peppers in this tasty side dish for cherry tomatoes or julienned carrots. The colors will still be great.
Q: Can these sauteed haricot verts be frozen after being cooked?
Yes. Like most vegetables, if you make extra, store them in an airtight container and put it in the freezer. Take it out and microwave it when you need an easy side dish that's already done.
What to Serve with the Sauteed Haricot Verts?
Wine: If you want wine with these tasty beans pour yourself a glass of chardonnay. If you're in the mood for a red wine, go with a pinot noir.
Main Course: Slather a chicken with garlic butter and herbs, then roast it in the oven. If you aren't interested in chicken, serve the great side dish with seared pork chops in a Marsala sauce.
Salad: Make a simple salad with tomatoes, celery and red onion tossed in a white balsamic vinaigrette. Sprinkle it with some feta cheese and oregano before serving.
Print
Sauteed Haricot Verts with Wine and Butter
---
Author:

Total Time:

30 minutes

Yield:

4

1

x

Diet:

Vegetarian
1 lb bag of frozen green beans

¼ red bell pepper sliced thin

¼ yellow bell pepper sliced thing

½ an onion sliced thin

3 garlic cloves chopped fine

½ cup white wine

1 tablespoon of olive oil

¼ cup of butter

Salt and pepper
---
In a large saute pan, heat olive oil on medium high heat.
Add the sliced onion, pepper and garlic to the same pan. Season with salt and pepper. Allow vegetables to cook for 7-8 minutes.
Add the frozen haricot verts to the pan and toss for 2-3 more minutes or until the green beans defrost. Season the beans again with salt and pepper.
Add the butter and wine to the pan. Let everything cook together for about 10 minutes.
Transfer the contents of the pan to a plate and serve.
Enjoy!
Notes
If you're using fresh green beans, I suggest blanching them first. Have a large bowl of ice water ready, and boil the haricot verts in hot salted water for 2 – 3 minutes. Then, plunge them into the ice bath until you're ready to sautee them. This will stop the cooking process and make the beans bright green and crisp-tender.
Prep Time:

5

Cook Time:

25

Category:

Side Dishes

Method:

Sauteeing

Cuisine:

French